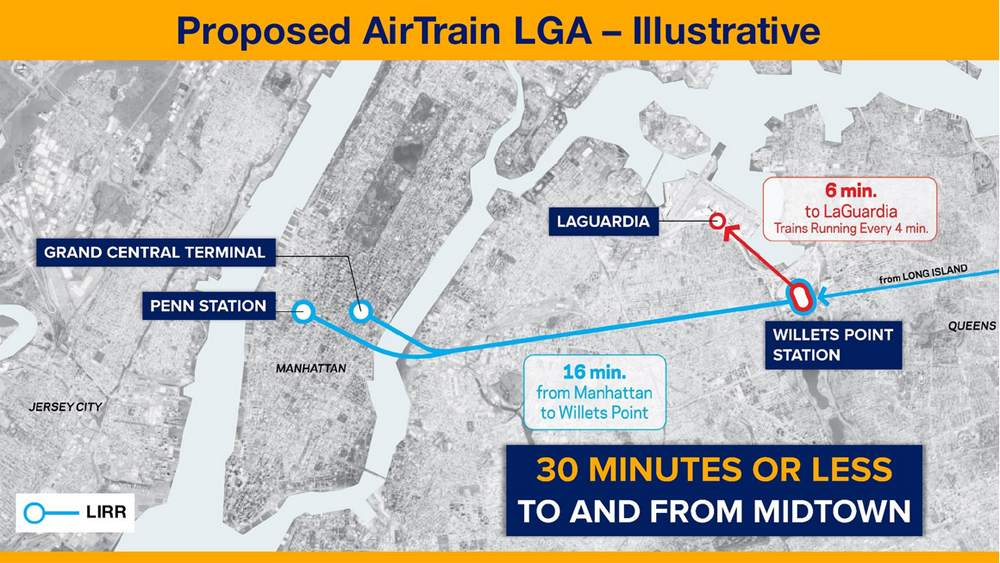 NEW YORK — After a recent pause to consider objections from environmentalists, residents, and legislators, the Federal Aviation Administration has approved La Guardia Airport's  Air Train project.
The New York Times reports the approval means preliminary work could begin later this summer for the construction of the 1.5-mile line connecting the airport to subway and Long Island Rail Road lines at Willets Point in Queens.
The FAA had delayed final approval of the $2.1 billion project in June in light of questions about the environmental review process, as well as concerns from community groups [see "Digest: Canadian government proposes delay …," Trains News Wire, June 21, 2021].
The project was first proposed by Gov. Andrew M. Cuomo six years ago, and has seen its estimated cost grow from $450 million. Its indirect route — a 6-minute trip to the southeast to Willits Point, where passengers would transfer to the No. 7 subway or LIRR to head west to Grand Central or Penn station — has drawn criticism, as has its potential impact on nearby residents.
The Port Authority of New York and New Jersey, which oversees La Guardia, has requested proposals to design, build, and operate the AirTrain. It plans to choose a winning bidder next year, with operation beginning in 2025.