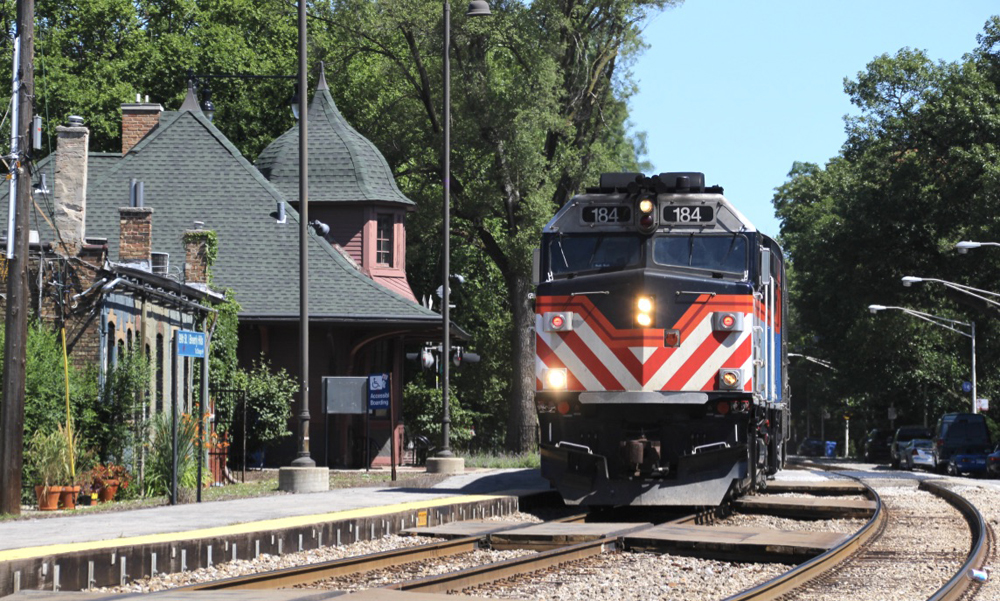 ---
CHICAGO — Metra's plan to convert at least three of its oldest F40PH-3 diesel locomotives to battery power is on hold after the commuter operator was "not able to secure an agreement" on a contract, Metra CEO/Executive Director Jim Derwinski said Friday.
Derwinski, responding to a question during a joint presentation with South Shore President/General Manager Mike Noland, said the transit agency was "looking to redo" the project.
Metra spokesman Michael Gillis said today (Monday, Feb. 20) that has "not been able to reach an agreement with Progress Rail, the manufacturer that was awarded the initial contract. Our intention now is to try again by issuing a new [Request for Proposal] later this year, probably in the summer."
Metra first announced its interest in converting some of the F40s to battery power in spring 2021, and the Metra board approved an agreement last year to convert at least three and as many as six of the locomotives under a $34.6 million contract [see "Metra board approves deal …," Trains News Wire, Aug. 18, 2022]. At that time, Progress was expected to perform the conversions at its facility in Patterson, Ga., with the first three locomotives to be produced in about 3½ years. The locomotives were intended to be tested on the Rock Island District line, where the Beverly Branch, with frequent, closely-spaced stops, would be particularly suited to electric operation.
In other news from Friday's presentation:
— Derwinski said two of the remanufactured SD70MACH locomotives are now on the property; the first — wearing a RTA heritage paint scheme — is now testing and he anticipates it will enter revenue service next month.
Metra is receiving 15 of the locomotives under a $71 million contract approved in 2019 to rebuild freight locomotives for passenger service [see "Metra board approves locomotive purchase," News Wire, Feb. 20, 2019]. The locomotives will bring AC traction to the Metra fleet along with a B1-1B truck configuration, with the axles nearest the fuel tanks unpowered. This allows one of the AC inverters to be used for head-end power for the passenger cars, with another as a spare for traction or HEP [see "New Chicago Metra six-axle commuter locomotives," Trains.com, Nov. 1, 2022].
— The first cars in Metra's order for new multilevel cars from Alstom are on pace for delivery in November 2024, with a new facility to build up to 500 of the cars now complete in Hornell, N.Y.
"We are now in final design review," Derwinski said, "and shells should start to be put together later this year.
"I'm excited about those. It's going to totally transform the way people experience a car. If you've ever ridden on a Metra Electric car or a South Shore car, the airbag [suspensions] are very quiet. Go ride on a diesel car — very, very loud. People that have never ridden on an airbag car, they are going to be extremely pleased when we start getting these new cars in place."
— Noland, discussing the major construction projects under way on the South Shore — the Double Track project between Gary and Michigan City, Ind., and the West Lake Corridor, creating a new branch along the Illinois/Indiana state line to Dyer, Ind. — noted that level boarding, or floor-level platforms, are a major part of the construction. And he explained why that matters.
"It's going to not only make it more accessible for our customers with disabilities or our older customers, it's going to improve the opportunities for bikes on trains," he said. "And it reduces dwell time in and out of the station. Our largest station is East Chicago, and we can board 400 people in about 25 seconds. I can pick up a hundred people [in Michigan City] at Carroll Avenue, with suitcases, going up stairs the conductor has to lay down, and it takes 3 to four minutes
"It's a major difference in time that we're saving and it adds a huge amount of improvement from a service delivery standpoint."
Derwinski and Noland spoke as part of Northwestern University's Sandhouse Rail Group series.