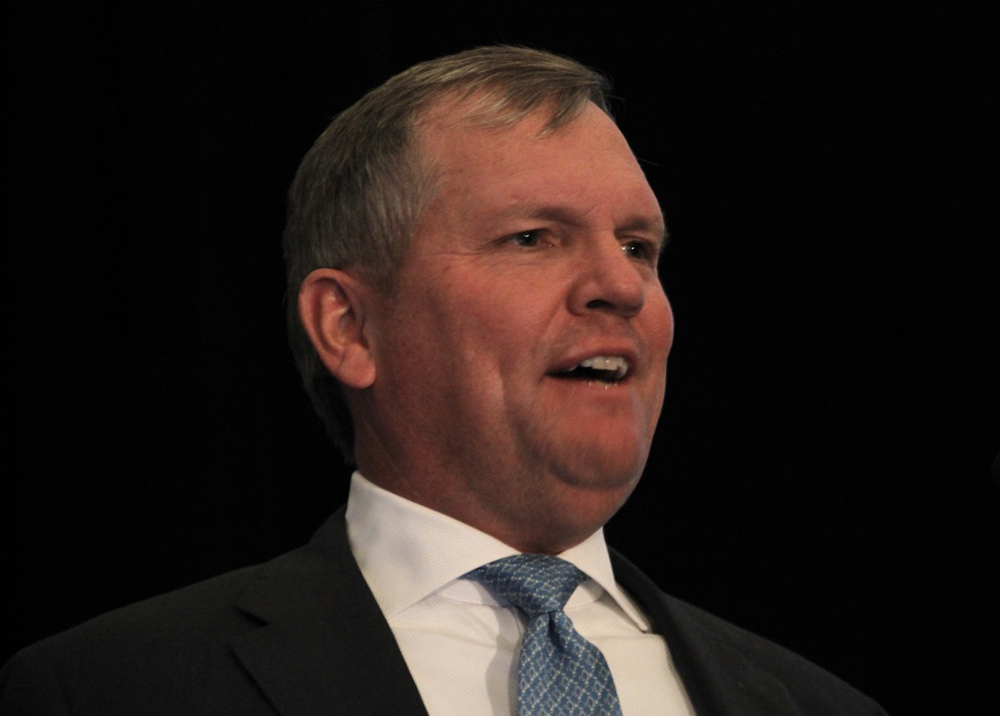 ---
LOMBARD, Ill. — Notes from Wednesday's appearances by Class I CEOs at the Midwest Association of Rail Shippers Winter Meeting:
Meet the new boss
New Norfolk Southern President Alan Shaw showed a nice touch of self-deprecating humor in his Wednesday luncheon speech before MARS and the Traffic Club of Chicago, as demonstrated with his description of his first interaction with NS crew members after his promotion.
"It was important for me to be out in the field on that first day," he said. "So I was in Toledo, because that's our single largest crew-change point on our system, and it's a very important corridor for us during peak season … I wanted to thank [employees] for their dedication to Norfolk Southern and our customers, and I wanted to get their input into how we fix service and how we continue to improve our productivity. …
"It was like 30 minutes after the announcement. And I see some crew members sitting outside the crew-change room, and I walk up to them … they're looking at some dude they don't recognize, and I'm wearing khahis and boots, and a collared shirt. Not necessarily a nice shirt. And they're like, 'Oh, great, here comes an operations supervisor.'
"So I walk up and introduce myself. They told me their names, and one of the guys said, 'Well, what do you do?' I said, 'Well, I'm the president'. And he looks at me, and I'm like, 'Not Joe Biden president, but president of Norfolk Southern.' And the other dude pulls out his phone, and he's like, 'Oh, yeah, yeah, yeah, I see the announcement. Congratulations!'
"So that made me feel good. And then the one guy looks at me and says, 'What craft did you come from? … Were you mechanical, or engineering, or a conductor, or an engineer?'
"And I was like, 'No, I started in finance.' He was really not impressed with that. He goes, 'Man, at some point, we're going to have a craft employee running the railroad.' …
"It is somewhat humbling when you go out there and talk to them, because they've got their own expectations."
Shaw also shared what he said was his first conversion with the NS board of directors following his election as president, and as the railroad's next CEO. He'll assume that job in May, when Jim Squires retires.
"Their primary message to me was, 'Don't mess up,'" he said. "Now, it was a little more forceful than that. I'll let you use your imagination what the real verb was that they used.
"We've got some good momentum, and I need to continue that."
Changes for CP at Bensenville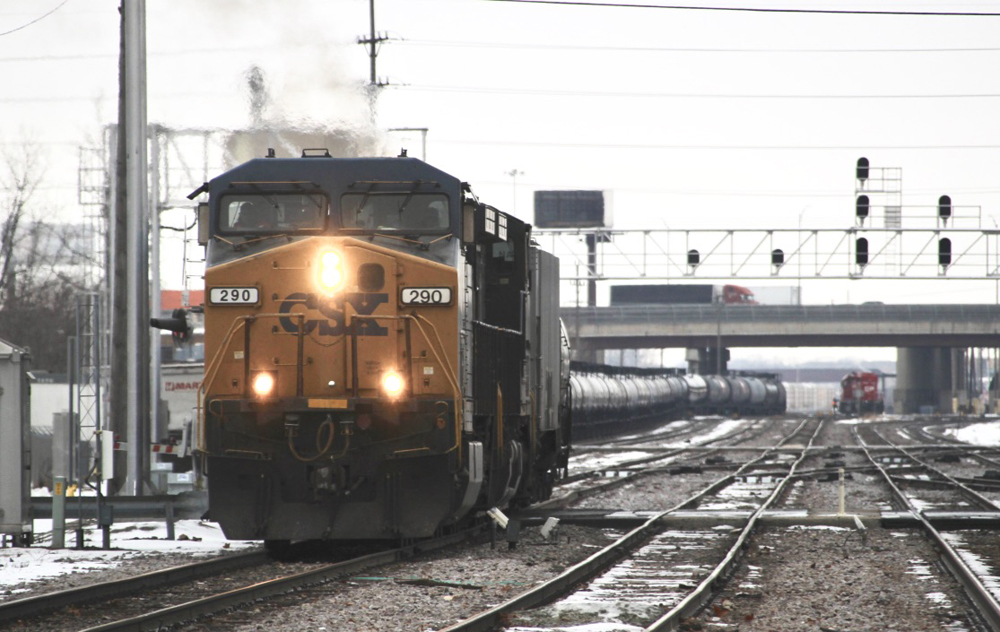 During his joint appearance with KCS CEO Patrick Ottensmeyer, Canadian Pacific's Keith Creel said big changes were coming at CP's Bensenville Yard in Franklin Park, Ill., thanks to the 2020 settlement of a dispute with the Illinois Tollway over the agency's plan to build a toll road to reach the west side of O'Hare International Airport [see "CP, UP, and Illinois Tollway reach agreement …," Trains News Wire, May 21, 2020].
Bensenville was converted from a hump yard to flat switching in 2012, Creel noted. "There's a big footprint there, but it's not optimized. We haven't spent a tremendous amount of money reconfiguring the yard." Part of the problem has been a Union Pacific line that crossed over the middle of the yard; for the most part, that route crossed the CP property on a berm that pinched the shape of the facility into an hourglass. "Everything on the west side is a storage yard," Creel said. "It can store cars but it's not serving a tremendous utility when it comes to processing cars. And it limits our utility to optimize that land."
That is about to change. As part of the agreement between the two railroads and tollway, along with related acquisition of land that had included some industrial properties, the UP line will be placed onto a bridge, paralleling the bridge for the tollway and eliminating the physical barrier between the two halves of the yard.
"It unlocks all of that land that used to have buildings sitting on it. So effectively, we'll … almost double our footprint in Bensenville," Creel said. The railroad will use that regained land, and spend about $300 million to build a "state-of-the-art" switching facility, he said, along with an intermodal terminal and auto facility. That last has particular benefits given its location next door to O'Hare airport. "That airport is the No. 1 consumer of rental vehicles in North America," Creel said. "So if you're a [manufacturer], and you need a place to land those finished vehicles, it offers a pretty compelling value proposition."
The CP-Amtrak deal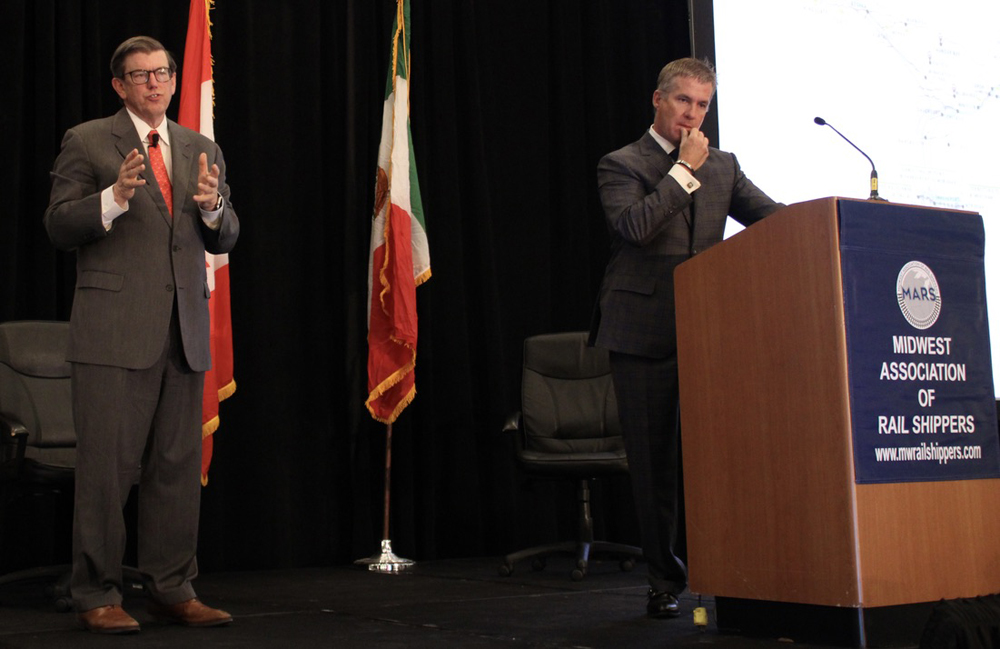 Creel said CP was "proud" to reach its agreement with Amtrak to allow for the prospect of additional passenger service on the merged CP-KCS routes, which led Amtrak to offer official support for the merger [see "Amtrak backs CP-KCS merger …," News Wire, Jan. 6, 2022].
Creel said he's well aware, after 30 years as an operating officer, that it's not easy for a freight railroad to coexist with passenger service.
"I understand the conflicts sometimes and the tradeoffs sometimes when you mix high speed passenger rail with what is, in comparative terms, low-speed freight rail," he said. "I understand the track geometry challenges, I understand the speed challenges … But I also understand that if you prioritize right, and there's tradeoffs, and balance in a partnership, you can succeed. And that's the approach we've taken at CP.
"Five years ago, six years ago, we didn't lead the industry in Amtrak service. We have for the last five years. And that same spirit of partnership and trust and respect that we built in accomplishing that is what allowed us to reach an agreement with Amtrak."
Creel said the ability to include KCS lines in that agreement — after KCS has previously not welcomed overtures from Amtrak — reflects the fact that "there are a lot of things that have changed today that allow us to do what we've done with Amtrak that Pat [Ottensmeyer] never had the benefit of embracing." Among them: the Amtrak funding in the recently passed infrastructure bill.
"Those billions of dollars of infrastructure support that the White House has given Amtrak to invest in the networks to grow service, that's all part of the story," Creel said. "But without the relationship that we've enjoyed and the trust that we've built … it wouldn't have been possible."