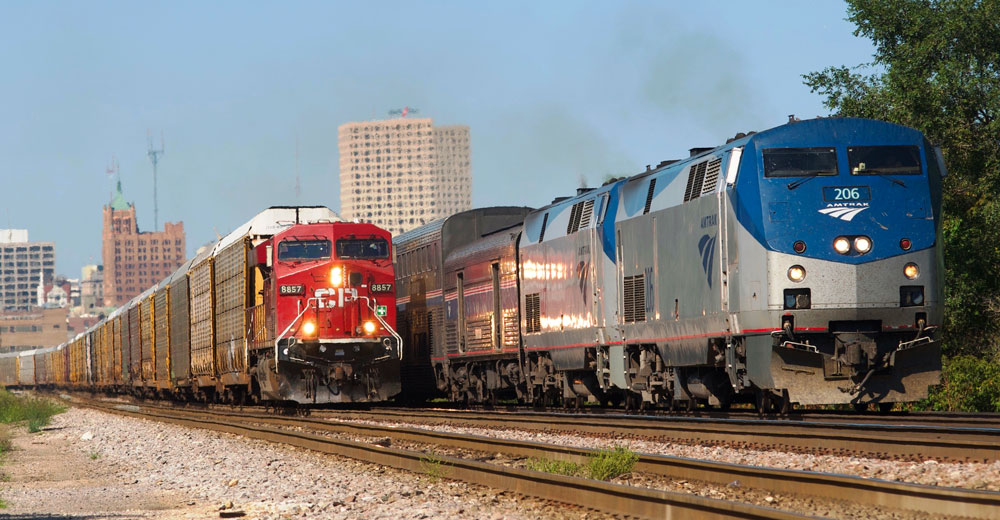 WASHINGTON – Canadian Pacific today won Amtrak's support for its proposed merger with Kansas City Southern after CP and Amtrak reached a deal to expand passenger service in the Midwest and South.
CP agreed to more frequent Amtrak service on the Hiawatha route linking Chicago and Milwaukee, as well as extending the corridor to St. Paul, Minn., with the addition of a daily Chicago-Milwaukee-St. Paul train. CP also said it would host passenger service from Michigan to Ontario via its Detroit River Tunnel.
Subject to approval of the merger, CP agreed to the launch of Amtrak service on KCS's route between New Orleans and Baton Rouge, La. CP also said it would work with the Southern Rail Commission to study passenger service linking Meridian, Miss., and Dallas via the KCS Meridian Speedway.
"Given CP's consistent record as an Amtrak host, we support CP's proposal to expand its network," Amtrak President Stephen Gardner said in a statement. "This is exactly what Congress and the Administration are seeking: Amtrak and the freight railroads working together to benefit freight customers, Amtrak passengers, our state/regional partners and the general public."
CP CEO Keith Creel thanked Amtrak for its support. "CP is pleased to continue to support Amtrak and its infrastructure projects to provide capacity needed to accommodate additional service," Creel said in a statement.
CP has consistently received an A rating from Amtrak in its annual host railroad report card, recognizing its industry-leading on-time performance record. CP is also the first Class I railroad to complete certification of its Amtrak schedules to the Surface Transportation Board.
Transportation officials in Minnesota and Wisconsin applauded the agreement, as did the Southern Rail Commission.
"We appreciate the work Amtrak is doing to unite more of the south with passe
nger trains, from Mobile to New Orleans to Baton Rouge and now opening the door in this agreement to directly connect Mississippi and Louisiana with Texas on the I-20 Corridor," said SRC Chairman Knox Ross of Mississippi.
"The SRC continues to be impressed by CP welcoming the start of new Amtrak service west of New Orleans to Baton Rouge, while other railroads have fought new Amtrak service," Knox added, referring to Amtrak's standoff with CSX Transportation and Norfolk Southern about new service between Mobile, Ala., and New Orleans.