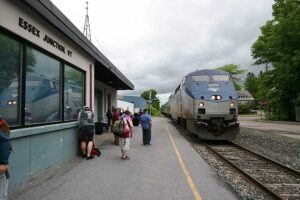 WASHINGTON — The $1.69 billion Congress authorized for passenger rail economic stimulus relief when it passed the $1.9 trillion American Rescue Plan Act of 2021 last month was formally conveyed to Amtrak Tuesday by U.S. Transportation Secretary Pete Buttigieg.
"This new assistance for Amtrak will get employees back to work and restore service on routes across the country at a time when this help is urgently needed," Buttigieg says in a statement.
Here's a recap of how Congress divided the money:
Northeast Corridor: $969.4 million
Of this amount, $109.8 million goes to states and commuter railroads to cover their share of capital costs Amtrak charges them for using the Northeast Corridor
Another $100.8 million is for debt relief that Amtrak incurred before the legislation was signed by President Biden on March 11, 2021
Long-distance and national network regional trains: $728.6 million
$174 million must be used to offset what Amtrak charges states for routes they sponsor
Congress made the entire grant contingent on Amtrak returning long-distance service to daily operation, which management announced would happen even before the bill was passed. Trains that had been running every day before lockdown restrictions caused ridership to plummet last year are returning over a three-week period beginning May 24 [see "As Amtrak restores long-distance service, best prices are on 'new' dates," News Wire, March 11, 2021].
However, although states and regional operating authorities had already received economic stimulus funds throughout the pandemic and have known more aid is coming, they are under no obligation to immediately bring back all previously operated corridor services.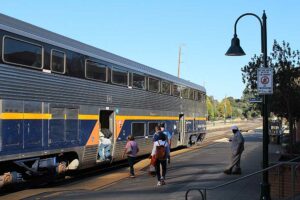 Updating state-supported route offerings Trains News Wire surveyed last month [see, "Some states begin restoring Amtrak corridor frequencies; others continue planning," News Wire March 25, 2021], California's Capitol Corridor Managing Director Rob Padgette announced that on June 6, it would be increasing weekday round trips between Sacramento, Cal., and the San Francisco Bay Area from 16 to 22 weekdays and 10 to 18 weekends.
"This plan will result in a return to our full, pre-pandemic service between Oakland and San Jose and sets us on a path to restore our complete pre-pandemic schedule by 2022," he emailed riders yesterday. Limited "grab and go" food service is also returning after a year-long hiatus.
The corridor has been able to access a total $52.85 million in relief funds to date, most of it as funds provided to Amtrak in lieu of payments the operating authority would have owed for expenses incurred.
In addition to North Carolina Department of Transportation's return of full Raleigh-Charlotte Piedmont service on April 5, a full complement of Boston-Brunswick, Maine, Downeaster round-trips launch with a new schedule next Monday, May 3, and Wisconsin's seven weekday and six weekend Hiawatha round trips resume on May 23. The following day, additional frequencies will be added in the Pacific Northwest [see "Amtrak Cascades to add two round-trips May 24," News Wire April 20].
Service restoration date plans have yet to be firmed up in Illinois, which has been running only two of four Chicago-St. Louis trains each way and one of two Chicago-Carbondale, Ill., and Chicago-Quincy, Ill., round trips for more than a year on routes where long-distance trains have been running triweekly. Michigan's Chicago-Pontiac, Mich., Wolverine corridor has also operated one of three round trips.
In Vermont, daily Ethan Allen round-trips to Rutland from New York City and on the Vermonter to St. Albans from Washington, D.C., will not begin until July 19. With the Canadian border still closed, New York's Adirondack to Montreal and Maple Leaf service to Toronto remain suspended.
The availability of relief funds announced Tuesday may give states an additional incentive to give riders they serve more travel options sooner rather than later.