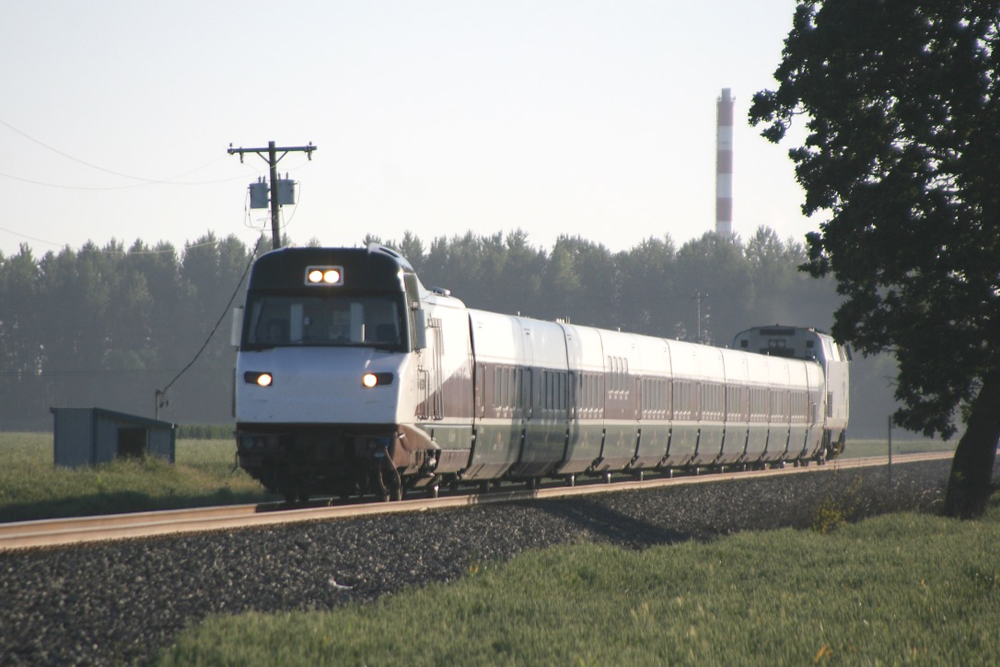 SEATTLE – After months of periodic sellouts at the 50% capacity limit on a single Seattle-Eugene, Ore., round trip — the only daily Cascades corridor service for more than a year — the Washington and Oregon Departments of Transportation plan to add two additional round trips on May 24.
But because Talgo, Amtrak, and the state of Washington's rail division do not have a joint maintenance and purchase or lease agreement, Oregon's two Talgo Series 8 trainsets will rotate with Amtrak Horizon equipment when the new schedules begin.
Schedule restores three of four Seattle-Portland round trips, both Portland-Eugene trains
An additional full-corridor departure will depart Seattle at 7:25 a.m. as train No. 503 and return from Eugene as No. 508 at 4:40 p.m., arriving at 11:00 p.m. To fill the other scheduling gap, train 507 will leave Seattle at 6:10 p.m., spend the night in Portland, and return the next day at noon as No. 504. This restores three of the four Seattle-Portland round trips and both Portland-Eugene roundtrips that were operating before pandemic-related reductions.
Currently, an Oregon-owned Talgo trainset leaves Seattle as train No. 505 at 2:20 p.m. each day and departs Eugene the following morning as train No. 500 at 5:30 a.m., arriving in Seattle at 11:50 a.m. The tentative restoration plan shared with Trains News Wire in March called for moving that departure from Eugene to later in the morning, but host railroads Union Pacific and BNSF Railway "foresaw a problem with changing to 8 a.m.," says Washington Department of Transportation Communications Manager Janet Matkin.
Two Cascades trains in each direction between Seattle and Vancouver, B.C., remain suspended because Canada's border is closed to non-essential travel. This continues through at least April 21, but is expected to be extended another month. Although an Amtrak Thruway bus round trip has been operating as far north as Bellingham, Wash., it has been lightly patronized, according to Ron Pate, rail director of Washington DOT's Rail, Freight and Ports Division.
Once the border opens, he expects to restore one round trip to the Canadian city in July. "If it is open sooner and Amtrak has crews qualified, we would be happy to restart that train earlier," he tells Trains News Wire.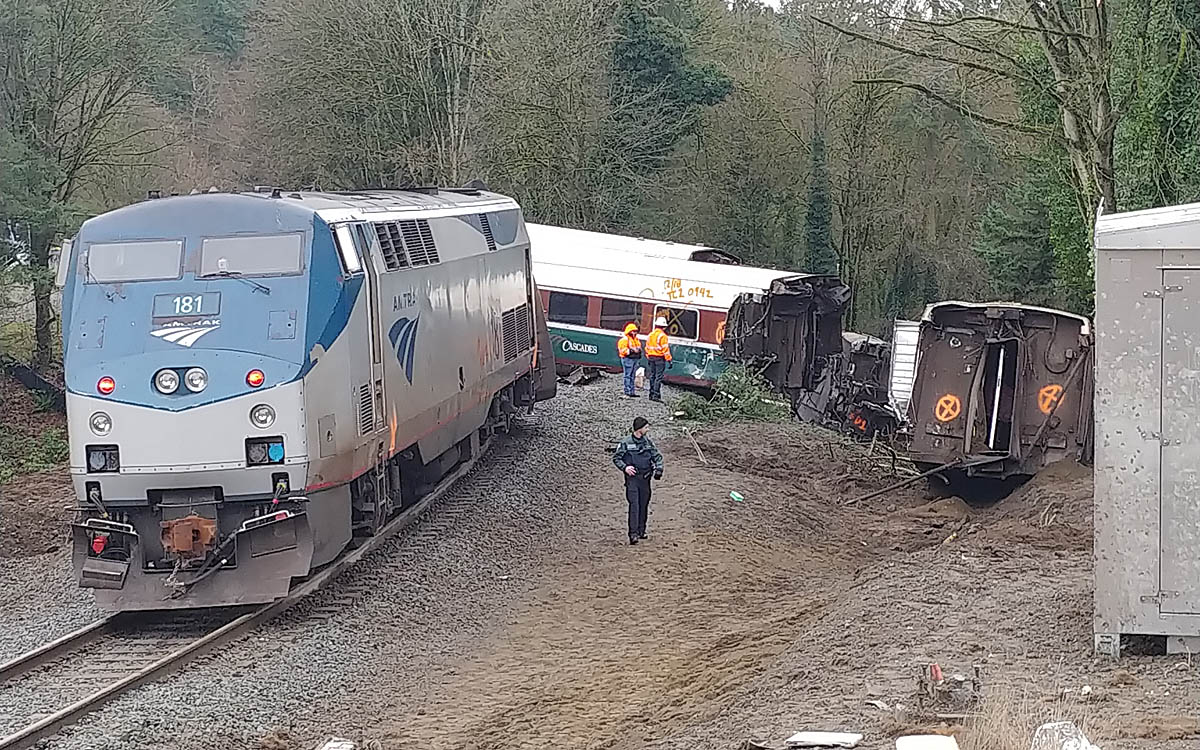 Shifting Seattle-Portland trains to the Point Defiance Bypass south of Tacoma, Wash., may take longer. "We anticipate late summer or early fall and are excited about getting back on the bypass, but it's pretty much up to Sound Transit — they are the host railroad," Pate says, adding, "They did dynamic testing in February and they are working through the crew qualification process." The move was shelved in the aftermath of the deadly high-speed derailment of Cascades No. 501 at Dupont, Wash., on Dec. 18, 2017 [see "National Transportation Safety Board says multiple state and federal agencies failed …," Trains News Wire, May 21, 2019].
Amtrak's reservation system shows the new trains beginning May 24, the day the company is eliminating its nationwide 50% coach-capacity sales limit. However, Washington DOT's Matkin says, "In compliance with Washington and Oregon's 'Ride Safe' Initiatives, Cascades will continue to operate at a maximum of 50% of total seating capacity to allow for physical distancing until COVID-19 trends decline." However, she tells News Wire that limited food and beverage service will start on or before May 24.
Horizons to alternate with Talgos
The new round trips will require changes to the existing equipment assignments. As part of Talgo's continuous preventive maintenance procedures, one of the two Oregon-owned Series 8 trainsets now goes to the Seattle facility overnight once it arrives from Eugene, while the other Talgo makes the Eugene run that day.
To protect against the possibility that one or both of the trainsets are unable to operate, Amtrak has been furnishing two sets of Horizon coaches with a café-business class car. These have substituted for the Talgos only occasionally since Washington DOT's Rail Division made the decision to remove four Talgo Series VI trainsets on June 30, 2020, when its maintenance agreement with the manufacturer expired.
The state subsequently sold its Series VI trainsets to a scrap dealer [see "News photos: Talgos' final resting place," News Wire, March 12, 2021]. The two Amtrak-owned trainsets are stored at the Beech Grove Heavy Maintenance Facility in Indiana.
"Washington doesn't have a contract with Talgo or any vendor, and the [maintenance] contract is between Oregon and Talgo," Pate tells News Wire. The state is looking to be the first recipient of new rolling stock from an Amtrak procurement not yet finalized with manufacturers. "We have leveraged state funds for a federal match and are also using insurance proceeds from the derailment to purchase a good chunk of the equipment," he says, "And Amtrak has committed to make sure we have equipment until we get there."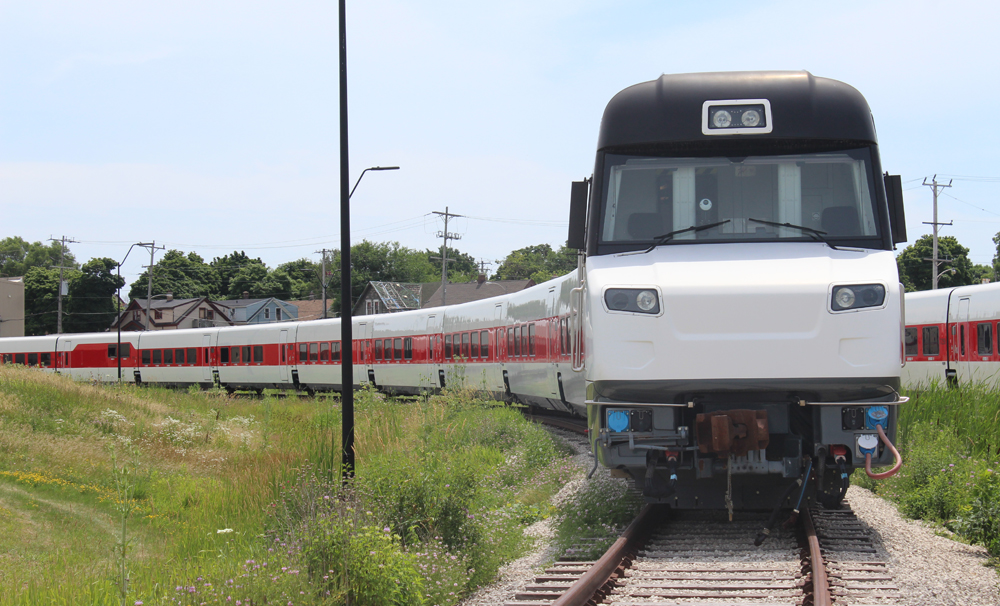 As part of that commitment, Amtrak negotiated with Talgo for over a year to work out an arrangement acceptable to Washington's DOT to maintain and lease or buy Series 8 trainsets, nearly identical to the Oregon equipment, ordered but rejected by the Wisconsin Department of Transportation. Modifications requested by Amtrak, including positive train control and WiFi installations, were nearing completion at Talgo's Milwaukee facility in the summer of 2020, when an agreement could not be reached. Amtrak agreed to instead provide Horizon equipment.
The plans for the additional Talgos were so far advanced that one of two business class cars was removed from each of Oregon's Series 8s last fall so they could be added to the two Wisconsin sets, which were built without business class cars. A Talgo spokeswoman says the cars will be restored to the Oregon trainsets "as soon as pending clarifications between Oregon and Amtrak take place."