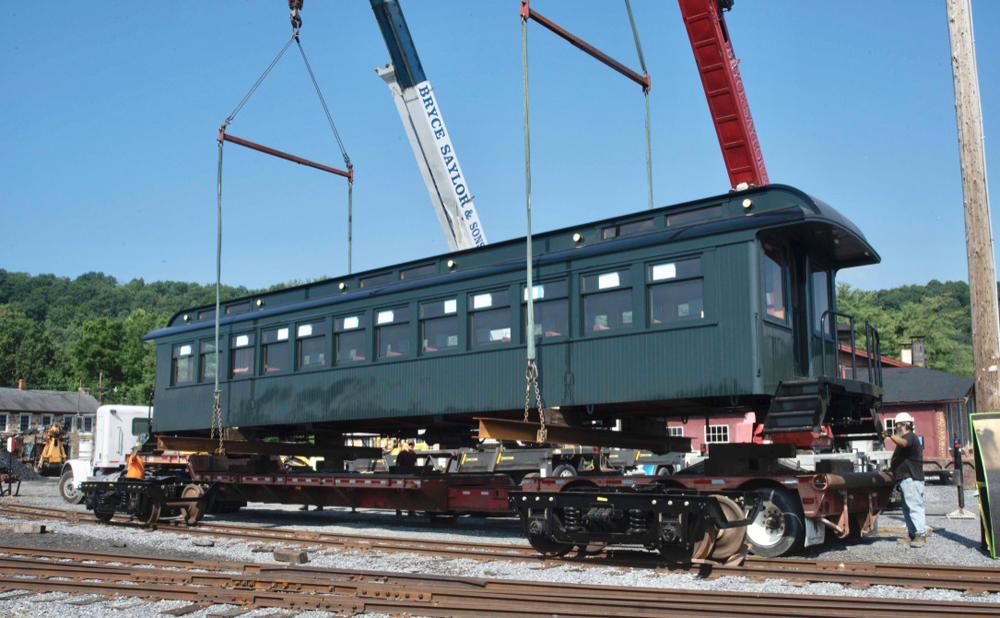 ---
ROCKHILL FURNACE, Pa. – "The newest passenger car in the United States."
That's how Brad Esposito, general manager of the East Broad Top Railroad, described the rolling stock that arrived Tuesday, July 19, at the narrow gauge tourist line and National Historic Landmark. It is the railroad's first new passenger coach in more than a century.
After the gleaming, dark-green car made a week-long cross-continent trip via low-boy truck from Hamilton Manufacturing in Bellingham, Wash., cranes gently set it on new trucks that ride on modern-day Timken roller bearings.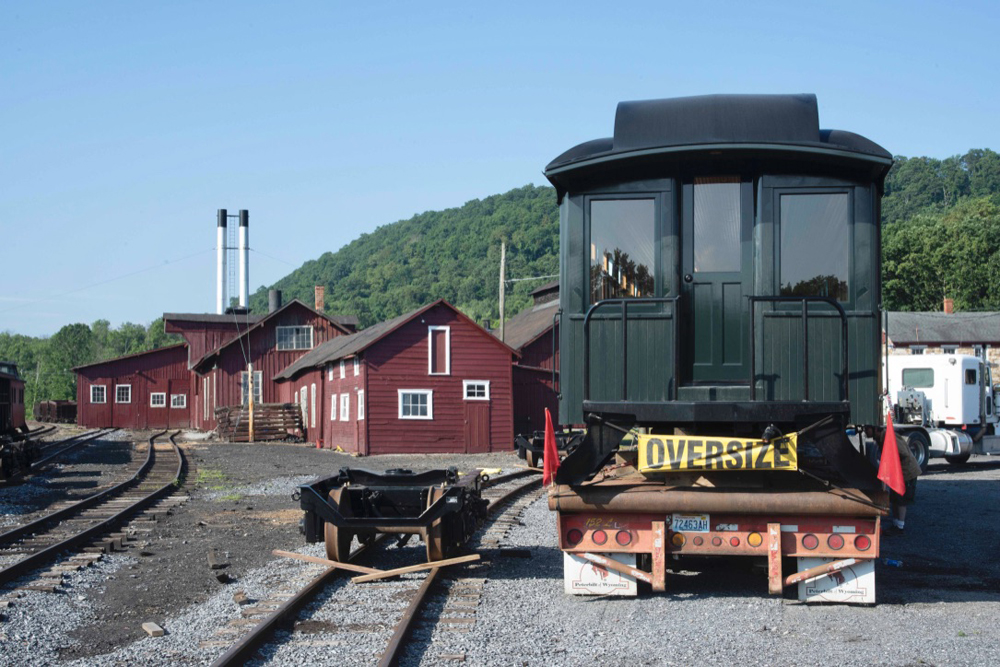 Although constructed of modern materials, the car resembles EBT's circa-1890 rolling stock used during the first half of the 20th century. Hamilton has built dozens of similar-looking narrow gauge parlor cars for the White Pass & Yukon Route Railroad in Alaska.
The 53-foot-long car – the first of four – brings sorely needed inside seating capacity to EBT. Since its revival in 2020, EBT has relied on a collection of open-air cars, converted in the 1960s from boxcars and flatcars, and two wooden cabooses. Sparingly used are two other pieces, a 1907 Billmeyer & Small office car, No. 20, and a 1926 Brill steel gas-electric car designated M-1.
Additionally, EBT's roster contains three 19th-century wooden-body cars, but they are well-worn and are in various stages of restoration.
The new cars will allow EBT to reduce the wear and tear on the historic fleet when it returns to service, says Wick Moorman, president of the nonprofit EBT Foundation, Inc., and retired head of Norfolk Southern and Amtrak. In a statement, he says: "They'll enable us to recreate the experience of a trip on the EBT in years gone by, while saving the original equipment for special occasions which will prolong their life."
Longer by three feet than any of EBT's existing coaches and three inches higher, the new car holds 52 passengers. It will be joined shortly by two additional coaches and a 40-seat combine that is equipped with dual power lifts, one on each side, and capacity for four wheelchairs.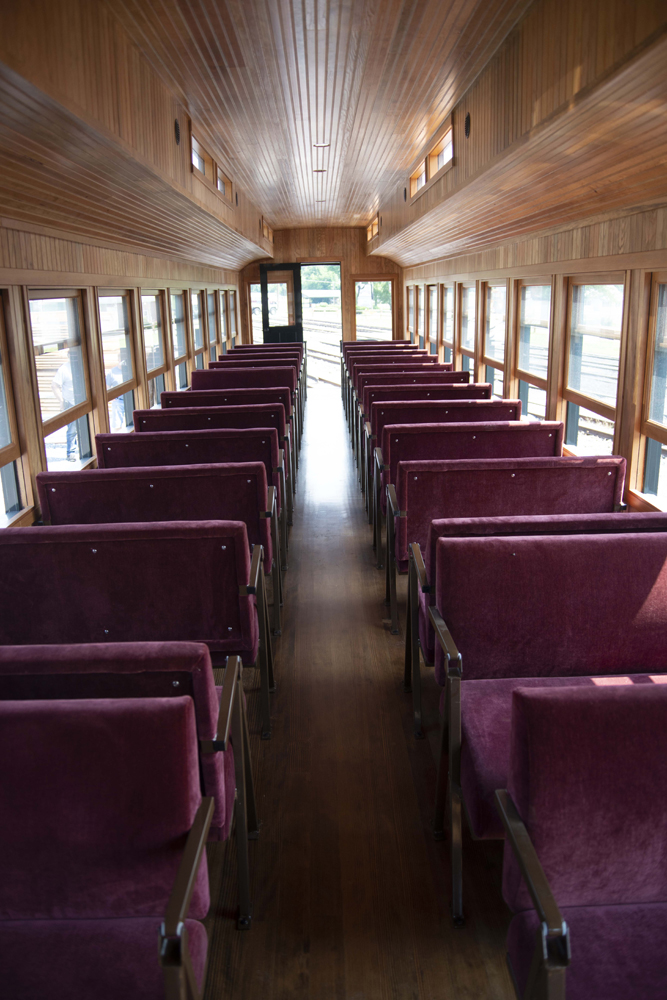 With a steel underframe and superstructure, the car features composite-material, PVC-like sides that give the appearance of tongue-and-groove wood siding. Inside, natural wood paneling throughout, with wooden window frames, completes the vintage look. The car is equipped with electric lighting, an audio system, a modern toilet, and a Baker heater and baseboard ducts for cold-weather operation. The trucks were fabricated by Hamilton, but the wheelsets are being supplied by Olympic Railway Supply of nearby Tipton, Pa.
The Hamilton coaches are patterned after, but don't exactly mimic, EBT cars No. 14 and 15, which the line bought secondhand from the Boston, Revere Beach & Lynn Railroad in 1916. The other existing EBT coach is No. 8, also bought from BRB&L the same year.
Esposito says the railroad relied on the expertise of DuPont de Nemours, Inc. (now DowDuPont) to closely match the paint color to that of EBT's existing passenger rolling stock. The brand selected is Imron, a durable industrial grade that is used on many railroad restoration projects. Lettering – probably in a goldish-yellow hue — will be hand-applied in the next few weeks, Esposito says. Orange lettering on Nos. 8, 14 and 15 is believed to have been strictly a tourist-era application, he adds.
While the converted open cars have served steadily, the railroad has eagerly awaited the new fleet, says Jonathan Smith, the foundation's director of sales and marketing. "This is the product people expect when they come for a train ride," he says. "We're moving the bar up a bit."
The first car — to be numbered 21 — is expected to go into service next week after testing and break-in. Esposito consulted with veteran EBT historian and author Lee Rainey to determine an appropriate series for the new cars. The coaches will be numbered 21-23 and the combine will be numbered 17.
After the car was lowered onto its trucks, foundation staff added finishing touches, installing brake rigging, brake hoses, truss rods, and new Sharon-style three-quarter-size knuckle couplers.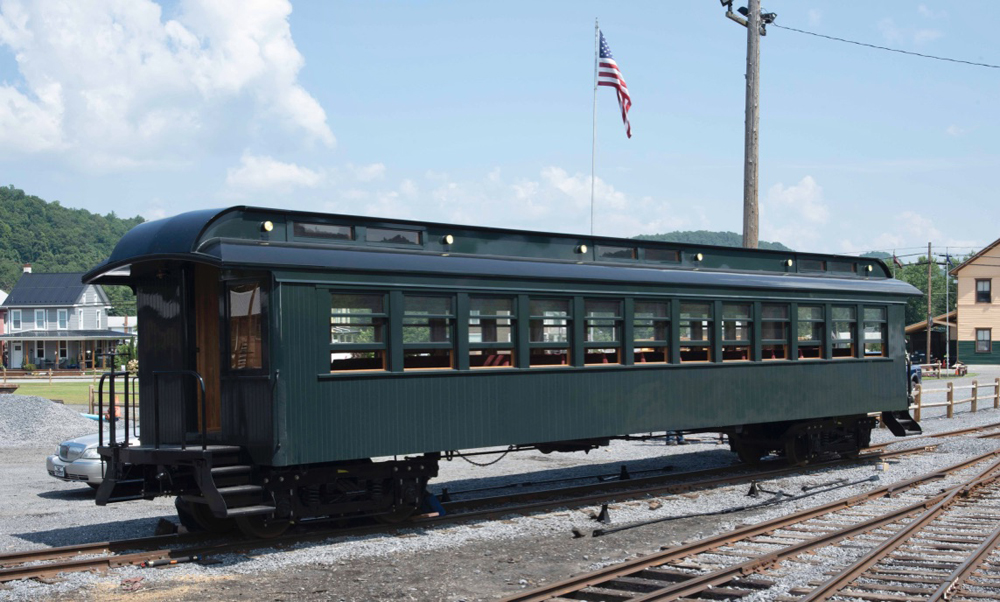 As this was going on, former railroad owner and current foundation board member Joe Kovalchick pulled in to size up the scene. Asked his reaction to seeing a new car on a 150-year-old railroad, he said, "I'm in awe over the whole damn thing, the whole rebirth. There's no turning back now. This has been a godsend to have this whole thing unravel the way it has."
EBT is in a revival after being shut down from 2011 to 2020, when the foundation was formed to purchase from the Kovalchick family 27 miles of the 33-mile former coal carrier. Also part of the deal were six Baldwin 2-8-2 Mikado steam locomotives, freight and passenger cars, and historic shops, eight-stall roundhouse, station, and general office. It was Kovalchick's father Nick, an Indiana, Pa., scrap dealer, who had bought the line and saved it from scrapping in 1956 after the end of its common-carrier days.
The father reopened the railroad in 1960 as a seasonal tourist-hauling line on 4-1/2 miles of its original 33-mile main line, starting with engines Nos. 12 (1911) and 15 (1914). Over the next several years, EBT also restored Nos. 14 (1912) and 17 (1918) to operating condition. The foundation has stated its intent to eventually restore all six engines, starting with No. 16 (1916), which is nearing completion. [See "Work on East Broad Top 2-8-2 …," Trains News Wire, May 31, 2022]
Further on the horizon is the restoration and reopening of parts of the main line that have lain untouched since the 1956 closure [see "East Broad Top begins restoring main line south," News Wire, June 3, 2022].
The foundation revived limited scheduled diesel public passenger service in 2021, and opened this season with an expanded five-day-a-week program, running Wednesdays through Sundays.
Later this year, EBT will mark the 150th anniversary of the start of construction in 1872. For more about the East Broad Top Foundation and the volunteer Friends of the East Broad Top, see www.eastbroadtop.com and www.febt.org.