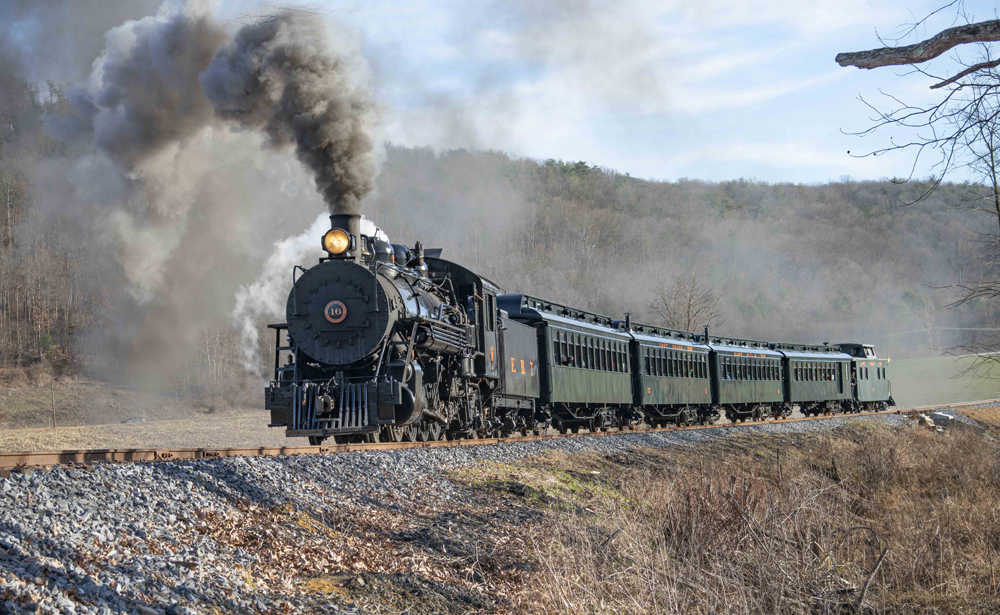 ---
ROCKHILL FURNACE, Pa. — East Broad Top Railroad's freshly restored 2-8-2 Mikado locomotive No. 16 delighted admirers over the weekend by pulling a full schedule of eight passenger trains and two photo freights for the road's annual Winter Spectacular. All trains were sold out.
The event was a landmark in several ways. First, No. 16 (Baldwin Locomotive Works, 1916) has not run since 1956, when the original common-carrier version of the 33-mile narrow gauge coal railroad in south-central Pennsylvania shut down for the first time. After a three-year restoration, the engine was steamed up two weeks ago and has made break-in trips in the yard and on the main line [see "EBT No. 16 limbers up …," Trains News Wire, Feb. 10, 2023].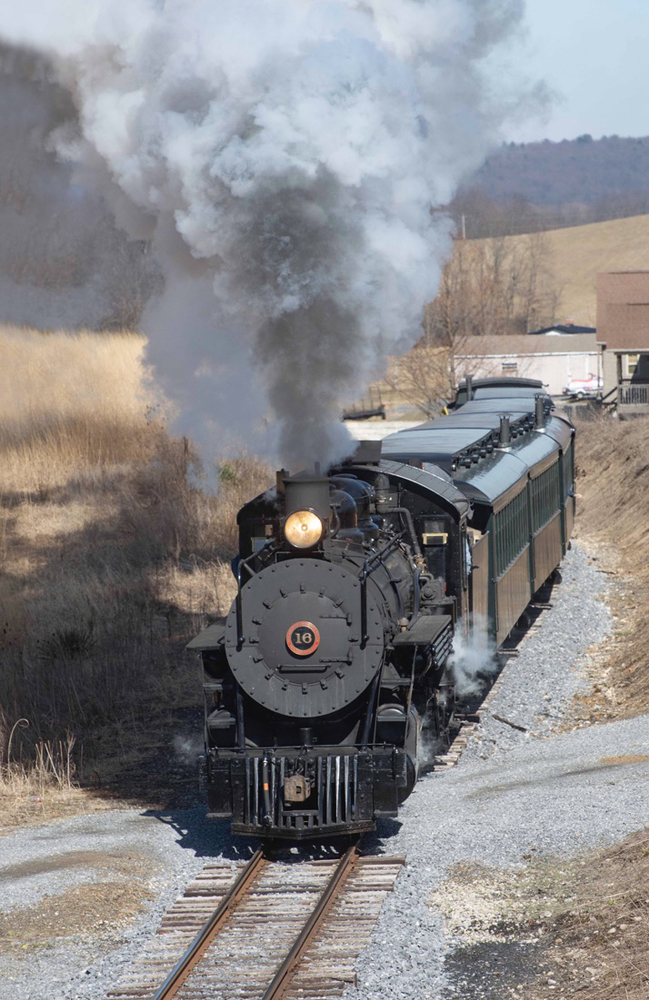 Master Mechanic Dave Domitrovich, who oversaw the restoration and served as engineer for some trips, declared the engine's performance in its new public role to be "perfect — couldn't ask for anything more."
The second item of note is that this was the first steam-powered edition of the winter event in 42 years. As a steam tourist carrier from 1960 to 2011, EBT held a tradition of running an annual winter railfan festival on the weekend preceding Presidents' Day. After the February 1981 event, the celebration eventually moved to fall.
Finally, this was the first time the railroad deployed all four of its new passenger cars, built by Hamilton Manufacturing of Bellingham, Wash. The first of the cars was delivered last July [see "First new coach arrives …," News Wire, July 20, 2022].
The first three cars were 52-seat coaches, but the body of the fourth car in the order, a 40-seat combine with electric wheelchair lifts on both sides, arrived just a week ago. EBT rushed to get it roadworthy for the weekend, and, at least on Sunday, it was actually used for that purpose.
The added seating capacity came none too soon. All passenger and freight trains were sold out, as was the M-1 gas-electric car – a 1927 Brill Co. baggage-coach built in the EBT shops.
"Rough numbers show eight sold-out steam trains with 1,600 passengers, and six sold-out M-1 trips at 120 total passengers," said Jonathan Smith, EBT's director of sales and marketing. He also reported "two sold-out station tours, two sold-out hostling tours, and a sold-out evening photo session."
---
Crowds were large on both days. Local authorities placed flares on the centerline and on both sides of U.S. 522 for a quarter-mile to remind train-chasers to drive safely. The highway parallels the track for about 3 miles. At one spot, cars were parked bumper-to-bumper on both sides of the highway.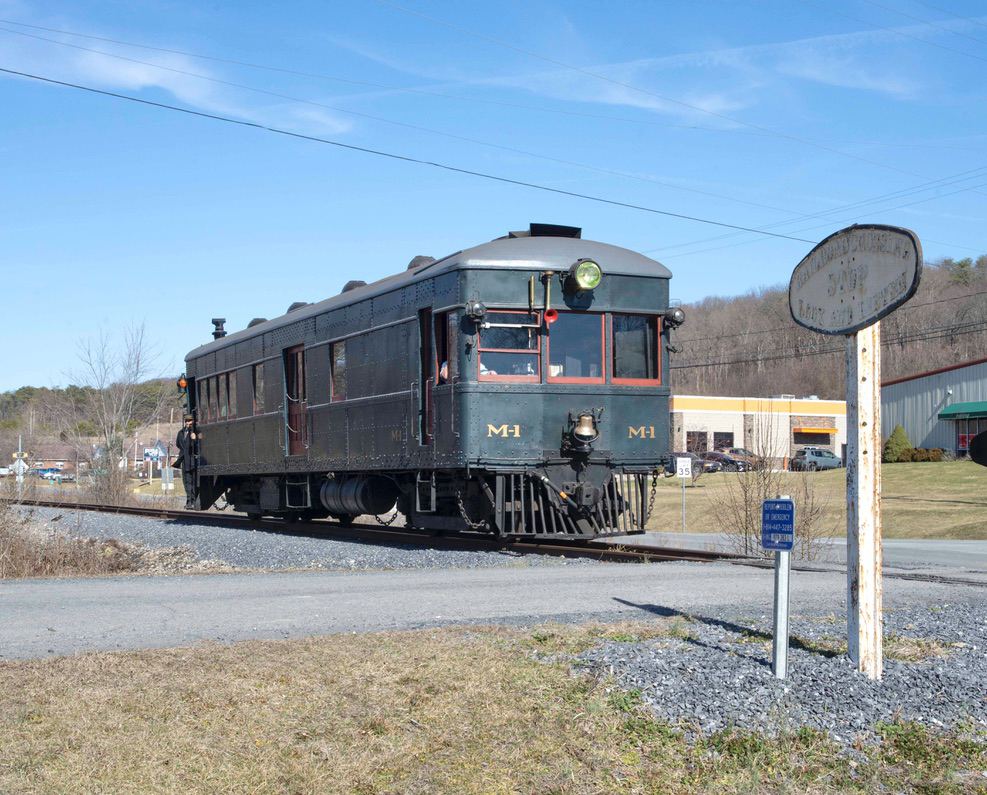 In addition to the regular trains and M-1 gas-electric, the road's five-seater M-3 gas-powered inspection car, converted from a 1928 Nash auto, carried a total of more than 200 riders on short hops. These trips toured trackwork that is advancing southward on the main line about a mile, with a goal of eventually opening up the line as far as Three Springs, Saltillo, Coles, and Robertsdale.
A crew comprising both EBT Foundation staff and Friends of the East Broad Top volunteers is at work cutting brush, setting aside rail, rehabilitating roadbed, and inserting relay ties. The near-term goal is to reopen the main line from Rockhill to Pogue for light equipment by the end of this year. The agenda also calls for restoring switches in Rockhill Yard that haven't been operated in decades.
Other Friends tasks under way, according to Friends President Andy Van Scyoc, include continuing to add exterior siding and interior woodwork on 19th century combine No. 14, and rebuilding a lean-to shed that connected a stone farmhouse and a storehouse in the historic Rockhill shops complex.
A National Historic Landmark, EBT was rescued by scrap dealer Nick Kovalchick, who reopened a short segment in 1960 as a steam-powered tourist carrier. EBT reactivated four of its six Baldwin Mikados, but not No. 16, which prompted great interest in its restoration. The railroad shut down for a second time in 2011, then languished until the 2020 formation of the EBT Foundation as a non-profit organization to buy, preserve, and restore it.