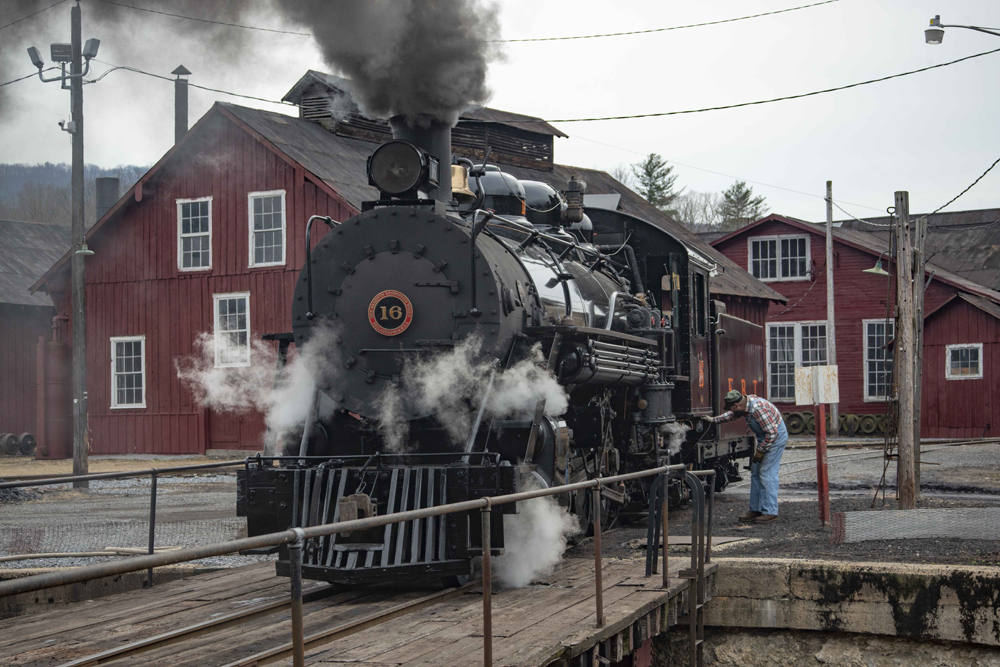 ---
ROCKHILL FURNACE, Pa. – East Broad Top's 1916 Baldwin 2-8-2 Mikado steam locomotive, under restoration for nearly three years, stretched its legs Thursday (Feb. 9) in preparation for the narrow gauge railroad's annual Winter Spectacular railfan weekend. Expanded to a two-day event this year, it is scheduled for Feb. 18-19.
The 81-ton engine has created a flurry of excitement for historians and railfans, because it has not run since 1956, when the coal-hauling, common-carrier version of EBT shut down. From 1960 to 2011, the railroad restored four other of its six Baldwin Mikados for seasonal tourist service, ending with No. 15 (built 1914). A National Historic Landmark, EBT closed in 2011 and was sold in 2020 to the nonprofit EBT Foundation, Inc., which has begun to restore segments of the 27-mile main line it owns.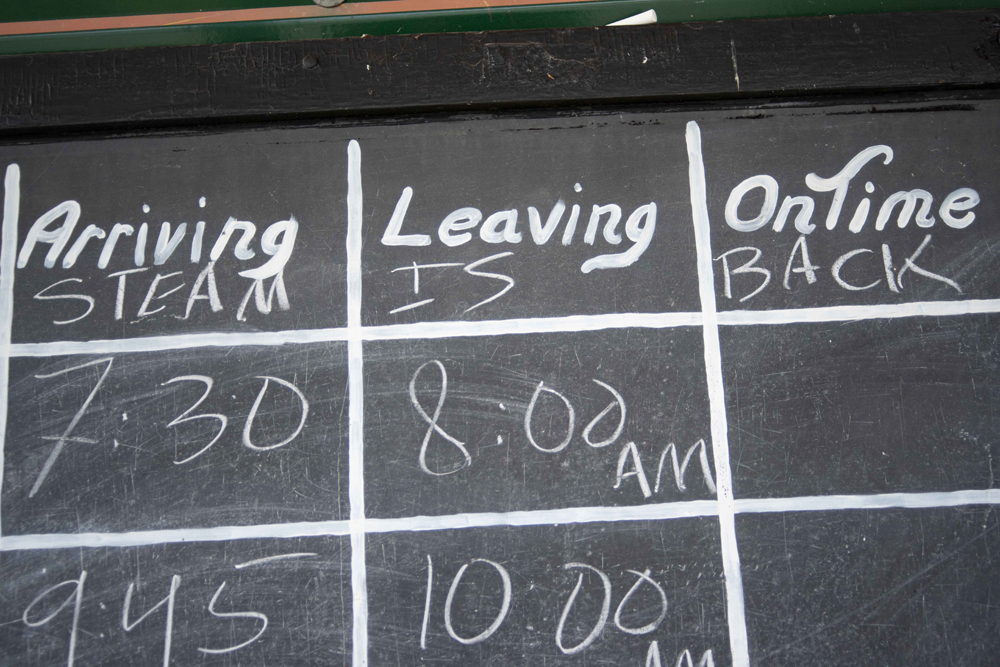 With Master Mechanic Dave Domitrovich at the throttle and Nevin Byers firing, No. 16 performed for TV broadcast-news camera crews from the two largest nearby cities, Altoona (WTAJ) and Johnstown (WJAC).
Director of Marketing Jonathan Smith said reservations for scheduled trains during the Spectacular — all to be powered by No. 16 except for gas-electric runs with EBT's 1927 M-1 Brill car — are sold out for Saturday, Feb. 18, and are filling up for Sunday, Feb. 19. When No. 16 made its first movements under steam last week during an EBT Foundation, Inc., board meeting, the railroad quickly announced that all regular trains for both the Spectacular weekend and the coming regular season would be steam-powered.
In addition, EBT added a Saturday morning freight train, offering $250 tickets for caboose seats, allowing passengers to be among the first 10 people to ride behind the restored No. 16. Those sold out quickly, prompting EBT to add a second freight run Sunday morning. As of Thursday, eight tickets for that run were still available.
Doubly significant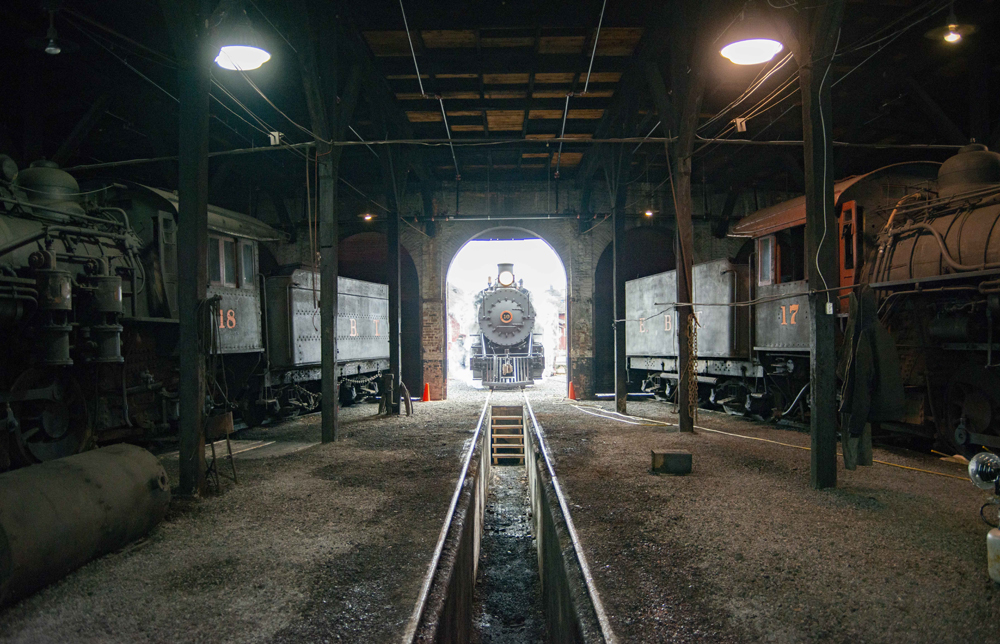 ---
The return of steam both to the railroad and to the Winter Spectacular marks a milepost in the three-year-old revival of EBT. The previous owners, the Kovalchick family of Indiana, Pa., ran steam on seasonal tourist trains during summer and fall, but in 1966, the neighboring Railways to Yesterday (now rebranded as Rockhill Trolley Museum) chartered the M-1 for a February weekend, and soon steam was added to the wintry event.
As a result, the weekend of President's Day became the subject of an annual ritual for steam followers. At one point, four engines (Nos. 12, 14, 15, and 17) were operable, leading to doubleheaders and tripleheaders that became a hallmark of the event. Another signature celebration was the "whistle salute," in which all four engines were lined up, each crew sounding its whistle in succession (each being one musical pitch higher than the previous one) as a tribute to all former EBT employees. The Winter Spectaculars ended with the 1981 edition, replaced later by a fall railfan weekend.
As in the past, Rockhill Trolley Museum plans a full schedule of electric-powered trips with a variety of trolleys on Saturday only to complement EBT's activities. Trolley passes ($15 adult, $10 child ages 2-12) are good all day. Information is available at the Trolley Museum website.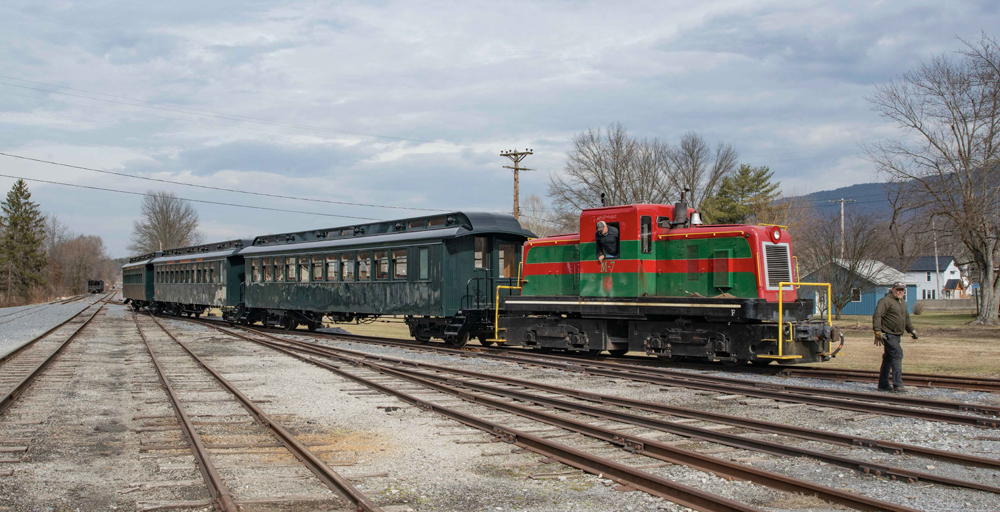 ---
While No. 16 was puttering back and forth for the cameras on the turntable lead and running north and south through the yard, General Manager Brad Esposito and EBT Director of Engineering James Roslund took the General Electric center-cab diesel-electric switcher M-7 and made a round-trip run over 4½ miles of restored main line to the wye and picnic area at Colgate Grove. The purpose was to test a third new coach (of a planned four cars) built for EBT by Hamilton Manufacturing of Bellingham, Wash. The final car in the order is a combine with wheelchair-elevator access, and its new trucks are already standing ready to receive the carbody when it arrives.
On an adjacent yard track, Chief Car Inspector Ron Freitag and Alex Esposito were handling welding tasks on a hopper car, one of several that will make up a freight consist for the Spectacular. Other personnel, including Andrew Greene, gift shop manager and a qualified conductor, and archivist Julie Rockwell, emerged from the station/office building to watch No. 16.
While past Spectaculars were intricately orchestrated, the event under Foundation management began modestly as one-day affairs, with the only equipment available being the M-7 diesel pulling open cars and cabooses, and the M-1 gas-electric car. The return of No. 16 – with other engines in line for restoration – along with resumption of a two-day schedule, offers a forecast for a revival of the winter events of the past.
Other EBT news
— Brush clearing, tree removal, and the temporary setting aside of rail for roadbed improvement continues on three miles of main line south from Rockhill to a siding at Pogue. This is the first step in EBT's plan to restore the mountainous route to the coal mines that once produced the loads it carried.
— The nonprofit support group Friends of the East Broad Top Inc. continues working to complete restoration of the buildings in EBT's circa-1920 shops complex. Most notable on Thursday's visit was new framing on a series of six large doors at the south end of the Car Shop. According to FEBT volunteer Justin Santichen, restoration of a two-foot-gauge track for moving materials inside the shop is under way, as is a plan to provide a permanent wooden floor to replace the century-old stew of dirt, oil, coal dust, and sawdust.
— A joint EBT-Friends track crew has recently restored several tracks in the south end of Rockhill Yard, including a Lumber Shed lead, a Car Shop lead, a repair-in-place or RIP Track, and a switch leading to the coal tipple loading track.
— The Friends group also recently reported progress on its 2023 fund drive. Through January, the group has raised $173,754, or 96.5 percent, of its $180,000 goal for the entire year.