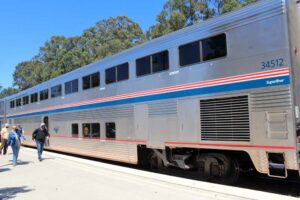 WASHINGTON — During a presentation to the Rail Passengers Association this week, Amtrak's Chief Marketing and Revenue Officer, Roger Harris, revealed that beginning some time in October, business class passengers on the Seattle-Los Angeles Coast Starlight will be permitted to purchase food in the train's dining car.
But he also said restoring coach and sleeping car capacity to long-distance trains "will take some time" because of decisions made to sideline equipment and reduce mechanical forces more than a year ago.
Harris defended the decision to initially limit traditional dining to sleeping car patrons, whose meals are included in the ticket price, "to get the service right" while not burdening already-limited onboard crews, many just returning from furlough, with collecting cash and implementing COVID restrictions. "Our intention all along was to get to a point where we could offer it to coach customers," Harris says.
Regarding the Starlight trial run, "The idea is to start small and work through the issues that we inevitably will encounter by opening up the dining car to more customers," Harris says. "Then if the test is successful, we will roll it out to additional markets."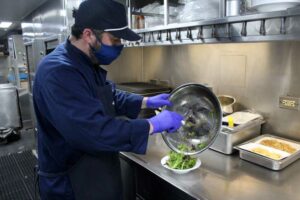 In June 2020 the company cut onboard staffing and expanded its "flexible" meal-in-a-bowl format from overnighters operating east of the Mississippi River (except Auto Train) to the entire system. In late June 2021, full-service dining returned to all western Superliner-equipped trains except the Texas Eagle.
"Western dining was chosen because it was where we had the ability to restore employees on the trains and also where dining is such a critical part of the experience," Harris says. "We wanted to live up to the expectations of our customers there." However, he didn't offer a reason why the Eagle wasn't included; that train's potential passengers might be aboard for as many as five meals, the same number for those riding the Coast Starlight between its endpoints.
The Starlight is the only Superliner-equipped long haul that sets aside a standard coach for business class travelers, who currently get a free bottle of water and an "onboard credit for food and beverage purchases." An Amtrak call center agent contacted by Trains News Wire believes the "credit" includes a non-alcoholic beverage and sandwich, but could only say, "you'll find out from the lounge car crew when you get on the train" after trying to get information from someone at Amtrak in Los Angeles.
 Eastern food prospects
Asked if meal offerings and service restrictions on eastern trains will change, Harris says the company is working with a new food vendor, "that is helping us with a lot of menu items to find out what will work well within the constraints of single-level dining cars." The vendor has been involved with recent Northeast Corridor Acela enhancements that also incorporated some items from the western launch.
"We're also looking at putting on new types of ovens and other kitchen equipment to be more creative in the types of food offerings we have," Harris adds, "because the feedback we have from customers is that we have very repetitive food options. By trying to offer different types of foods that are more appealing," he says, "we think we can substantially upgrade the food offerings on the East Coast."
Limited capacity to continue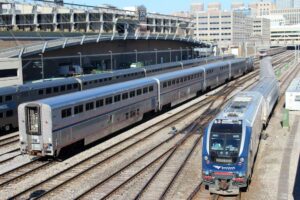 Addressing concerns of Rail Passengers Association members about numerous sellouts and high prices that have occurred as a result of reduced long distance train consists, Harris confirmed that the company continues to be affected by non-reviewed decisions, made in the summer of 2020, to put some equipment in "temporary storage."
"Eighteen months ago we had to decide how much fleet we were going to be able to run and how much money we were going to spend on overhauls and how many employees we thought would be able to work on the equipment," Harris says, "because we didn't have enough demand to justify keeping the system running at historical levels and we didn't think we would have enough money from Congress at that point."
Amtrak had plenty of evidence beginning as soon as last October that original patronage projections for long distance trains had dramatically low-balled demand even as COVID-19 cases began spiking [see "Coming back: Amtrak's steps (and missteps) to recover from pandemic," November 2021]. Yet continuing to stick with a plan that kept idle cars and locomotives from earning revenue again after federal funding was assured early in 2021 has now created a maintenance logjam.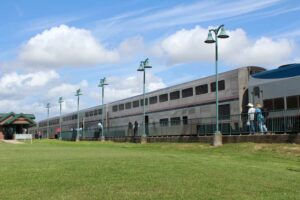 "So what you see running on the system is all the equipment we have available," Harris explains. "We had some employees who decided to leave us with early retirement, so we have a reduced mechanical base. We have to re-recruit for some of those [positions]; there is this unintended effect, but at this point unavoidable where we have to work through this backlog to get back to what was once our historic fleet availability, and that will take some time."
Acknowledging the ongoing strength of private room sales, Harris says, "Making sure we don't have to continue to put employees in sleeping cars — that's a priority. But it will require working through the winter to get a lot of those sleeping cars, and by that I mean [transition sleepers], back into service."
Harris also talked about changes in Northeast Corridor pricing strategies and advancements to ensure mechanical failures are properly addressed. Trains News Wire will examine those initiatives in separate reports.