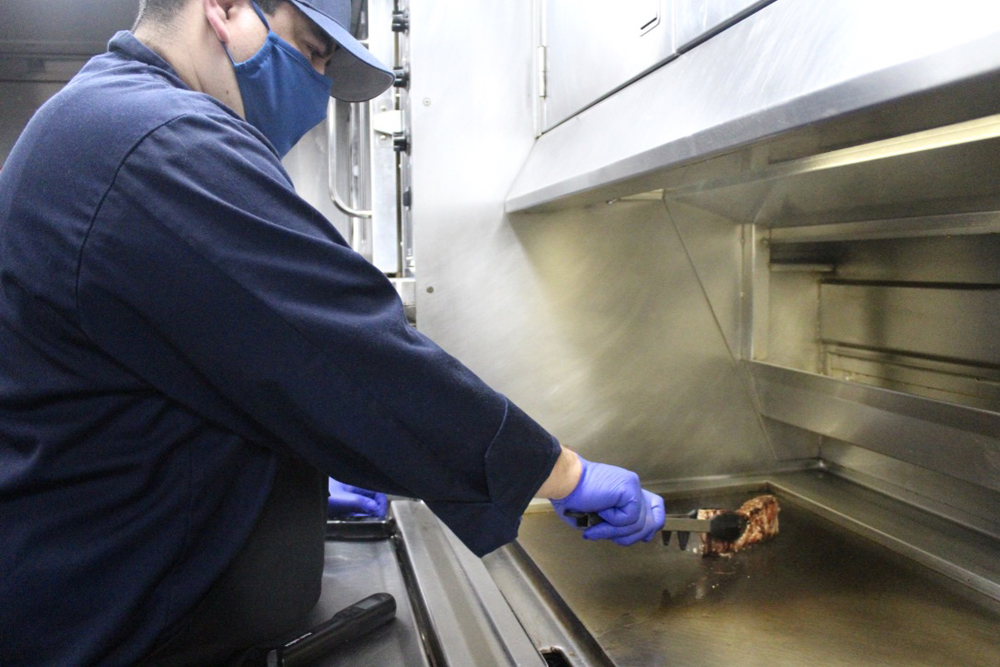 First of two parts
ABOARD THE SOUTHWEST CHIEF — A month after Amtrak revamped dining-car menus on the five long-distance trains that serve the West Coast — replacing pre-packaged meals in a bowl with freshly-prepared breakfasts, lunches, and dinners — it's clear the company is aiming for a higher standard than what it previously offered.
"I was really surprised," observes Chef Frank Villasenor, who, with Food Specialist Brian Garrigues, is manning the Southwest Chief's kitchen, on the lower level of the Superliner dining car, out of Chicago on July 22. "This is a step above where I thought we would go, especially with the direction we were going."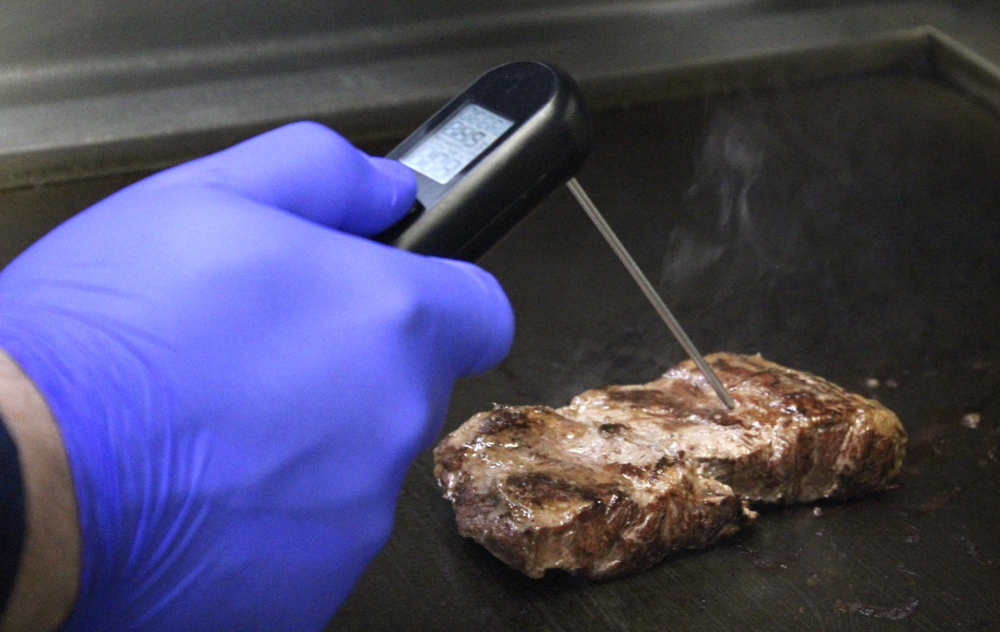 Los Angeles-based Villasenor has toiled in Amtrak dining cars for eight years. He wasn't around in the mid-1990s when the City of New Orleans featured blackened catfish and bread pudding, while the Texas Eagle offered low-priced barbecue and baked beans to lure much-needed cash from coach customers. But he did see how airline-accustomed management's cost cutting took its toll on the Coast Starlight when the train lost its "Pacific Parlour Car" for sleeping-car passengers. Several years ago, there was also a directive removing all but the most basic spices from dining car kitchens, further tamping down chef creativity in favor of standardization.    
Now he leads one of dozens of crews working the Chief, Starlight, Empire Builder, California Zephyr, and Sunset Limited, implementing a menu that brings back restaurant-style meals and service after a year's absence resulting from COVID-19 health concerns.
Big differences at dinner
Cash-paying coach customers used to be welcomed in all Amtrak dining cars prior to the introduction of single-course, complementary "flexible" meals for sleeping car passengers on the Capitol LImited and Lake Shore Limited in 2018. The lower-cost service model was extended to the City of New Orleans and eastern overnighters (except Auto Train) in 2019. It moved to the western long-hauls in June 2020, with the portability of the single-course meals becoming useful quality during the pandemic, when many people became more comfortable eating in their rooms.
Because the sleeper-only restriction remains in place, there are no food prices on the menu, but serving fewer passengers has triggered significant changes in selection and presentation, especially with the three-course meals (including a dessert) at dinner.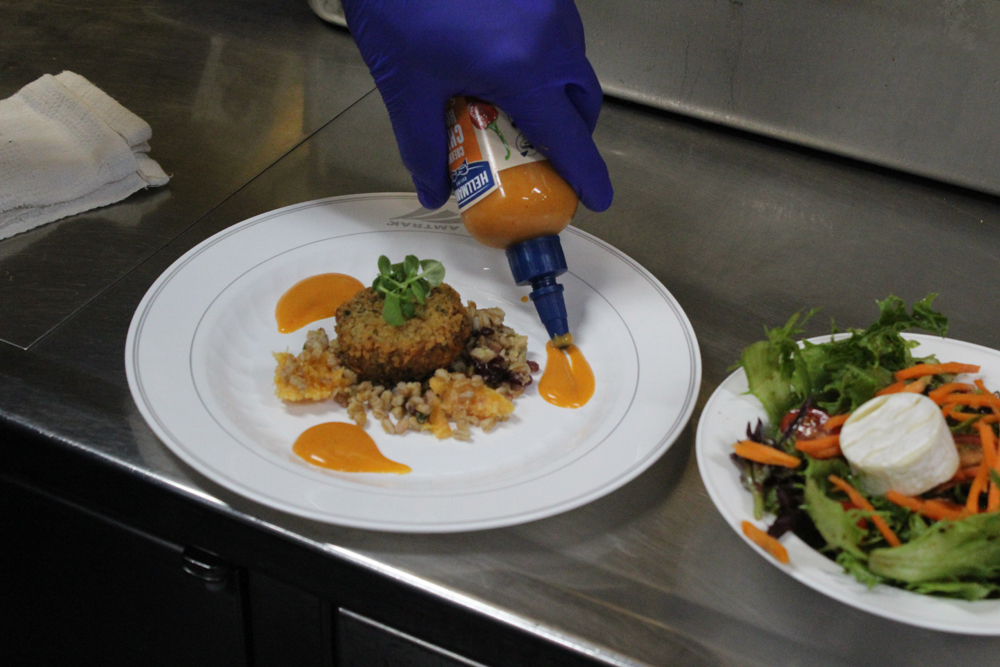 Appetizers: Instead of preparing trays of unremarkable lettuce and tomato salads, Food s can now exercise his creativity on three appetizer choices: a tossed-to-order salad of baby greens and tomatoes topped with a generous dollop of brie cheese, an inventively-presented lobster cake, and a green cheese tamale.
To ensure proper execution, says Garrigues, "Executive Chef David Gottlieb held training classes at every crew base, going through all the dishes step-by-step to show how it should be done — all procedures. We are experienced people, so we just needed a run-through for everything."
The lobster cakes are pre-fried and brought up to temperature just before serving. "They are a step up from the crab cakes we used to have — the binder wasn't so great," notes Villasenor, adding, "These hold up; there's a crunch outside with a soft, meaty center."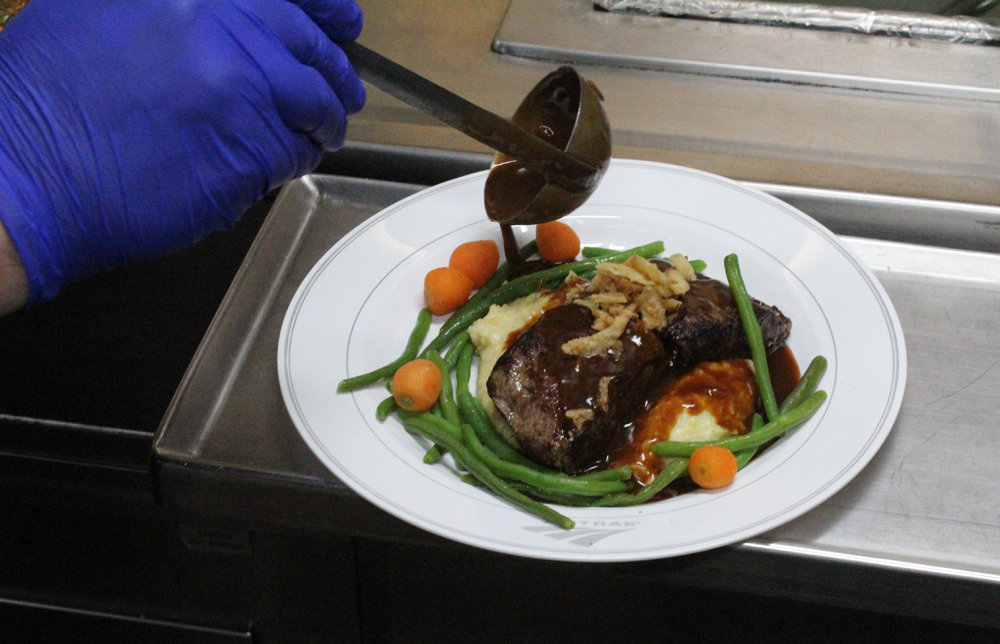 Entrees: "Amtrak's signature flat iron steak," chicken breast, and salmon — all previously offered in various iterations — are now joined by a tri-color cheese tortellini pasta dish. Yet the addition of colorful garnishes, ambitious seasoning and multiple sauces, and a fresher vegetable selection has elevated them to the next level.
"Freshness and the quality of our product is vastly superior," Villasenor observes as he puts a steak on the grill. "It's the same cut, but these have more marbling and are a lot more dense. Preparation for all these dishes is more intensive, but it's effective in getting the point across about what we are trying to do." In a nod to traditionalists, a baked potato is still offered, though he notes how well the creamy polenta works with the steak's Bordelaise sauce.
You can tell from this crew's enthusiasm that the new menu has emancipated them from the purgatory of furloughs or being relegated to heating frozen food.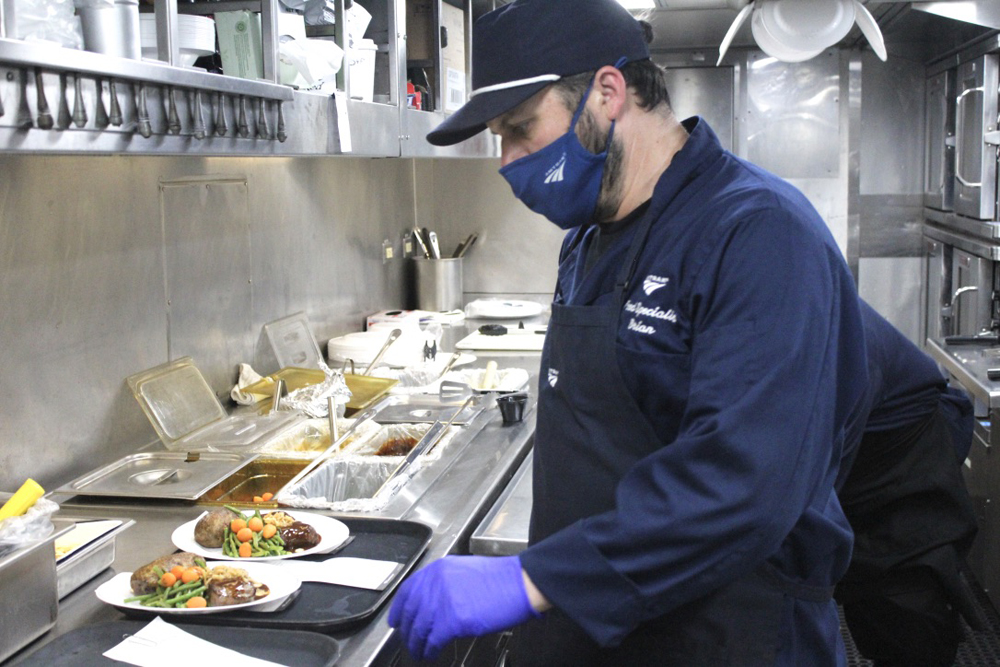 Breakfast, lunch changes
Improvements from previous offerings are subtler for breakfast and lunch, but move the needle away from the "unacceptable" level under "flexible" service. "Instead of oranges and grapes we jumped up to berries at breakfast," says the chef. Most travelers will especially appreciate the return of "Amtrak signature French toast" (whipped cream optional) and made-to-order omelets (still no "eggs over easy" or toast, which has been missing since the 1990s).
At lunch, the Angus beef burger is back, but the vegetarian item is chili, either served in a bowl or in a baked potato; it can be "loaded" with cheese, bacon, scallions, and sour cream. The Cesar salad, freshly tossed, comes with shaved parmesan croutons with an optional chicken breast.
The full "traditional menu" for the western trains is available here at the Amtrak website.
Full disclosure: Trains.com was given the option of eating entrees prepared by Villasenor and Garrigues when informed that the food would otherwise sit too long to be offered to passengers that were just getting appetizers. Amtrak Media Relations Manager Marc Magliari and I accepted their offer. Chalk it up to "research." 
Part 2 of this report, on service in the dining area and prospects for expanding the meal program, is available here.