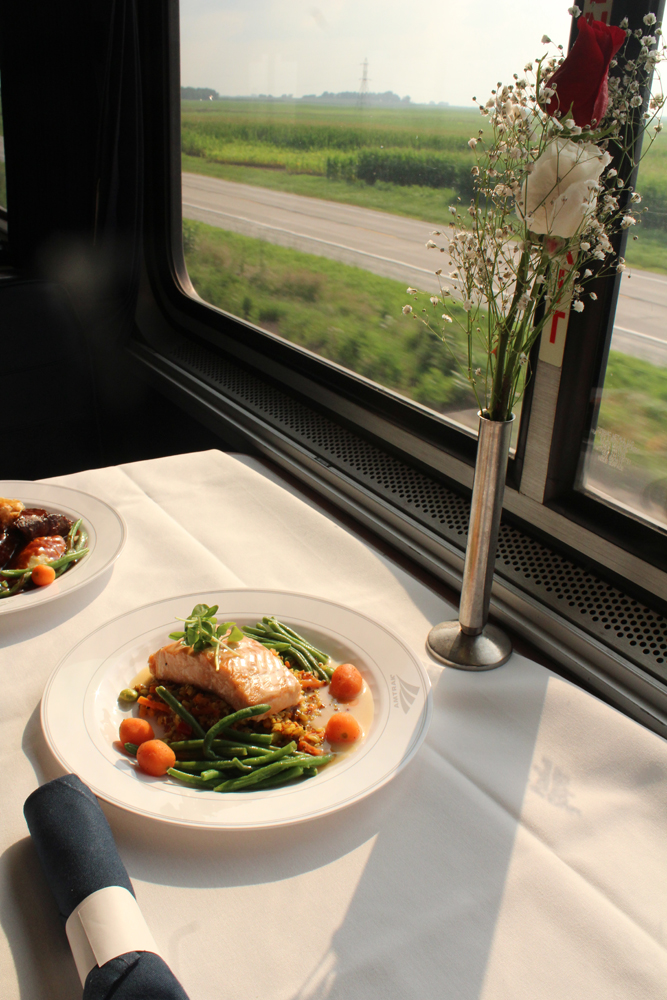 Second of two parts. Part One is here.
CHICAGO — An expanded menu selection and increased emphasis on food quality and preparation aren't the only changes in Amtrak's reinvention of dining car service on five western long-distance trains this summer.
"They have made some really good choices," observes Michael Provost, a Los Angeles-based server on a recent Southwest Chief departure from Chicago. "The desserts are top quality; we've got sauces to decorate the flourless chocolate torte and cheesecake, and the carrot cake has edible flowers on top of whipped cream. Before they used to say the food was good when finishing a meal, but now you hear, 'This is really delicious.'"
Provost and Lead Service Attendant Christy McDuffy have also seen a sharp uptick in alcoholic beverage sales under the new format, which has jettisoned inexpensive Barefoot wine in single-serve plastic bottles in favor of top-shelf spirits for mixed drinks and wines sold by the bottle or glass.
"More people are choosing to buy a cocktail with dinner, and they are more likely to order a second drink even though the first one is free," says Provost. McDuffy adds, "The prices went down too, so it's better for the customer."
The two split serving duties, with each one handling one half of the Superliner diner, with all but one table on each side used to accommodate four dinner seatings on this trip. Meals served on tables with linen and fresh flowers will soon feature custom-made china, now on order. It will replace disposable plastic dishes that had been stored when restaurant-style service was dropped in 2020.
A gulf between experiences in east and west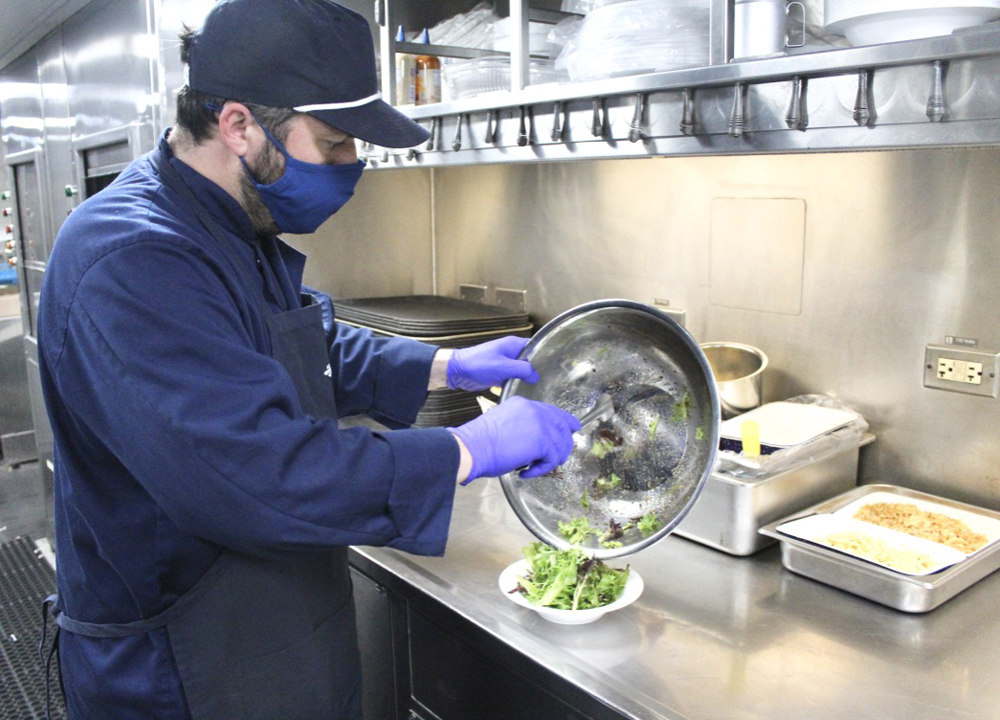 This reinvented dining service has enhanced the onboard experience for sleeping car travelers aboard the Chief and four other Superliner-equipped long-distance trains operating west of Chicago. A glaring omission is the Texas Eagle, whose passengers can potentially spend as much time traveling as those riding the Coast Starlight. When the train returned to daily operation in June, management significantly downgraded the Eagle by shelving its Sightseer Lounge car; a third coach, operating Chicago-San Antonio; and a transition sleeper to house Amtrak personnel. That car would provide up to eight additional roomettes for sale instead of subtracting four or five for employees from the regular sleeper.
The thoughtful menu and presentation upgrades in the west have also introduced a wider gulf between the western experience and other Amtrak overnighters, which continue to offer the same limited meals-in-a-bowl lunch and dinner options, as well as  a crusty microwaved breakfast omelet.
Again, passengers riding eastern trains like the Crescent and Florida-bound Silver Star and Silver Meteor could be onboard for as many as five or six meal periods, and pay per-mile sleeping-car prices as hefty as those out west. And a food-service upgrade could boost the fortunes of the Lake Shore Limited, Capitol Limited, Cardinal, and City of New Orleans by giving travelers in some of the country's top population centers more incentive to ride.    
What about coach passengers?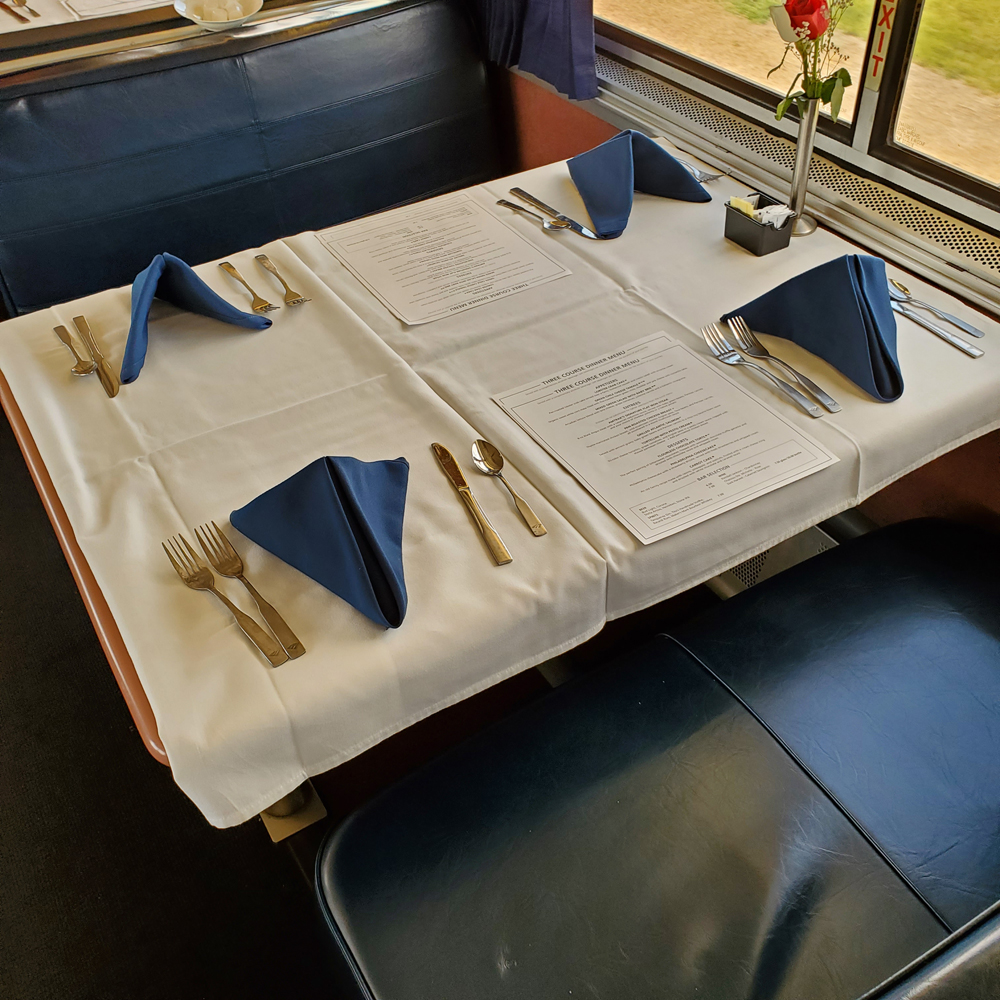 Allowing coach passengers to purchase meals may be more difficult to achieve with the current menu without more kitchen and serving staff to speed table turnover. Prices would have to be added to the menu, along with some less labor-intensive selections sold at lower costs, but continuing to take reservations onboard would maintain sleeping car priority. Most importantly, attracting coach travelers pulls in more cash, since with the exception of alcohol sales, sleeping-car customers paid for food when they bought tickets.
Robert Jordan, Amtrak's vice president of operations and customer service, explained the decision factors to Trains.com at a June media event in Chicago [see "Amtrak plans to offer dining car service to coach passengers …," Trains News Wire June 15, 2021]. The company, he said, wanted to gauge passenger reaction to the menu before proceeding. He also said it was possible service for coach passengers would be on a take-out or delivery basis.
Well, the returns are in. As Southwest Chief Chef Frank Villasenor explains while the first orders for the 5 p.m. Chief seating cascade down the chute from upstairs, "We are getting a lot of good feedback. People are trying everything on the menu and enjoy coming into the dining car — even on the third day — saying they love the food."
That kind of a ringing endorsement from customers, which portends good word-of-mouth and repeat business, should prompt management to budget for menu and service expansion to more trains and coach clientele in the 2022 fiscal year beginning Oct. 1, 2021. The improvements so far have been worth the wait.