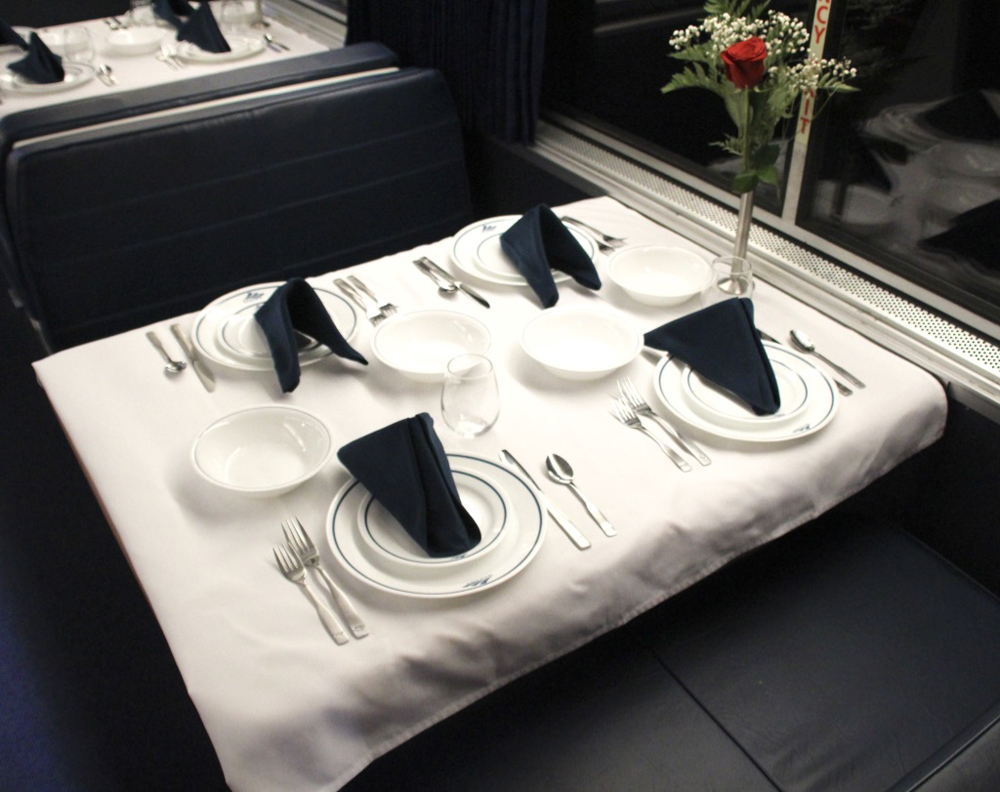 CHICAGO — Amtrak plans to again offer dining car meals to coach passengers, and to again offer meals prepared onboard on its eastern overnight trains, as part of coming enhancements to its long-distance operations.
Dates and details for the roll-out of those changes are still to come, says Robert Jordan, vice president operations and customer services, at.a Tuesday event at Chicago Union Station previewing the return of traditional dining and interior improvements to the Superliner car fleet.
The exact timing and nature will largely depend on reaction to the new dining-car menu, to be rolled out on western long-distance trains as of June 23.
"A lot of it is centered on two things," he says. First will be passenger reaction to the menu. "Do we need to make any adjustments? What is the most popular, and how long each of those items takes to cook, because we imagine that whatever is popular with our [sleeping-car passengers] is going to be as popular with our coaches,
"And then, once we understand that, we'll figure out the logistics of what's going to make sense. Is it opening up the dining room or additional tables for coach customers, or is it more of a take-out kind of menu, or is it a delivery? Those are the things we have to weigh. It is a priority for us to roll it out for coach customers, so hopefully within three or four months we can do that."
Eastern trains will probably "a version" of the new menu, but probably not the exact version," Jordan said. 
"You're only talking three or four meals, so I don't know if we have to have every single menu item. …. It will probably be an abridged version of this." That change could come late this year or early next year, Jordan said.
The new full meal service will debut on on the California Zephyr, Coast Starlight, Empire Builder, Southwest Chief, Sunset Limited, and the San Antonio-Los Angeles portion of the Texas Eagle [see "Amtrak to restore full meal service …," Trains News Wire, June 3, 2021].
It features the return of linen tablecloths and napkins, new flatware and glassware, and — in a few months — new dining china. Initially, table settings will use plastic plates.
"It's almost impossible to get new china right now, particularly custom-made, in the volume that we want," Jordan says. " So in three or four months, we'll have real china
All of this, says Roger Harris, executive vice president, chief marketing and revenue officer, reflects an understanding that premium prices should be accompanied by premium service.
"We have so much demand that prices go up, because we're a little bit of. Supply-and-demand world," Harris says. "We look at it, and go, wow, if we're going to charge people more, we better do a better job of looking after them. … It's not just a tablecloth. The food product is better."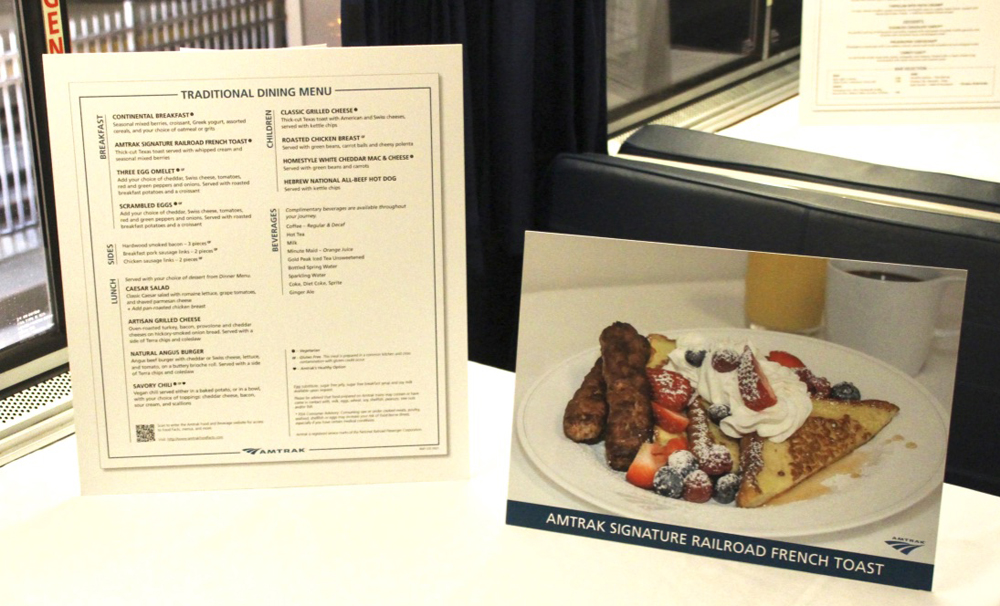 The menu, Jordan says, was developed with the input of both in-house and outside chefs. Cuisine Solutions — which, among other items, makes the sous vide egg bites served at Starbucks — was involved in several of the items; Aramark and other distributors are also represented on the menu.
"We also flew our own chefs in from Seattle, LA, and Chicago, once we were down to a near-final menu," he says, "and they didn't change a thing, which was a real ring of endorsement for us."
The final menu features a mix of signature Amtrak items (Railroad French Toast, an Angus Beef Burger, and Flatiron Steak) as well as new entrees. Jordan says it reflects "a lot of experimentation, a lot of tasting, a lot of feedback from a lot of experts in the field.
"Overall, we wanted healthy items, whole food items — fairly traditional, but we wanted to simplify it to some extent, as well," he says. "Our previous menu had 18 items; this one has, not counting the appetizers, 12 items. So customers are not overwhelmed by the choices and it makes it easier for our chefs to prepare these."