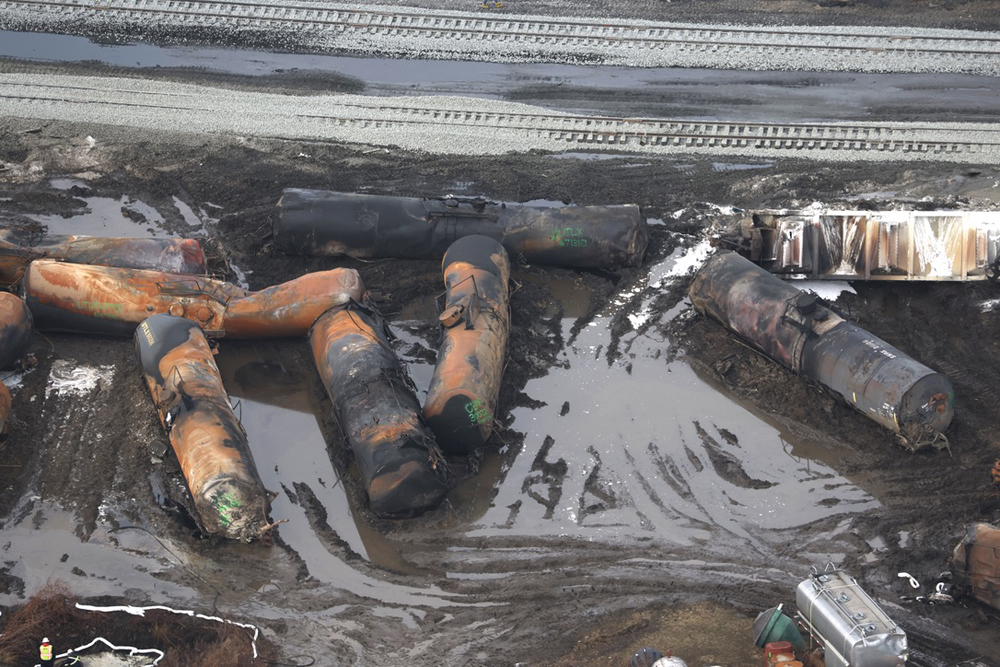 ---
WASHINGTON — The U.S. Department of Justice is suing Norfolk Southern over the East Palestine, Ohio, derailment, seeking recovery of costs and civil penalties for pollution from the release of toxic chemicals as a result of the Feb. 3 incident.
The suit, filed Thursday in U.S. District Court for the Northern District of Ohio, Eastern Division, is on behalf of the Environmental Protection Agency. The 28-page document asks that the railroad be held accountable "for unlawfully polluting the nation's waterways and to ensure it pays the full cost of the environmental cleanup."
It says NS is subject to penalties of $64,618 per day per violation of section 301 of the Clean Water Act, for discharge of pollutants into waters of the United States; and of $55,808 per day or $2,232 per barrel of oil or unit of hazardous substance per violation of Section 311 of the Clean Water Act, for discharge of oil or hazardous substances into waters of the United States. It also seeks to hold the railroad responsible for response costs, wants NS ordered to take appropriate actions "to remedy, mitigate, and offset the harm to public health and the environment" caused by those violations, and asks for "such other relief as the Court deems just and proper."
NS CEO Alan Shaw has apologized for the derailment in two appearances before Congress, and the railroad has repeatedly promised to "make right" for the resulting damage. The website it established to address its efforts in the community says the company has spent $27.9 million in the community to date, and it has pledged to take such actions as establishing a long-term medical compensation fund, protection for home sellers if their property loses value, and long-term protection of drinking water.
The railroad continues to be buffeted by lawsuits, including a number from local residents and business owners, one from the state of Ohio [see "Ohio sues Norfolk Southern …," Trains News Wire," March 14, 2023], and a series by or on behalf of stockholders [see "Norfolk Southern sued over stockholder losses …," News Wire, March 17, 2023].