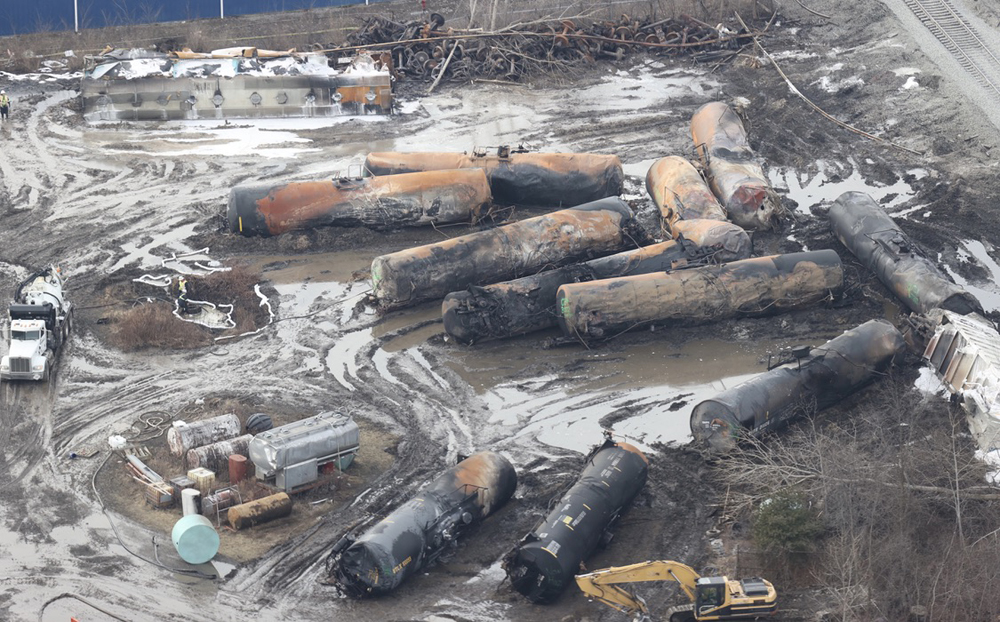 ---
COLUMBUS, Ohio — The state of Ohio is suing Norfolk Southern over the Feb. 3 derailment in East Palestine, Ohio, claiming the incident was "entirely avoidable and the direct result of Norfolk Southern's practice of putting its own profits above the health, safety, and welfare of the communities in which Norfolk Southern operates."
The 58-count, 106-page lawsuit, filed today (March 14) in U.S. District Court for the Northern District of Ohio, seeks civil penalties "including compensatory and punitive damages." It argues that the railroad violated state and federal laws, including those regarding air and water pollution and hazardous wastes, and wants NS held responsible for all costs from the derailment. That includes reimbursing the state for its costs to respond to the derailment, damages suffered by local residents, and restoring "public natural resources to their pre-derailment condition or to replace those resources that are gone forever."
It also would require NS to provide future monitoring of soil and groundwater in the area near the derailment.
Cleveland.com reports that Ohio Attorney General Dave Yost, who filed the suit, when asked what dollar figure he was seeking, said, "lots — maybe lots and lots." He was unwilling to provide a specific figure but said cleanup will require "significant dollars to put the people of East Palestine back as close as possible to the position they were before February.
Yost also said that while NS has promised to take responsibility for the damages caused by the derailment, the lawsuit is meant to ensure the railroad delivers on those promises.
Norfolk Southern, in a statement issued Monday after the suit was filed, said it had met earlier this week with Yost to discuss three additional programs for residents — a long-term medical compensation fund, "tailored protection" for home sellers if their property loses value, and long-term protection of local drinking water.
"We look forward to working toward a final resolution with Attorney General Yost and others as we coordinate with his office, community leaders, and other stakeholders to finalize the details of these programs," the statement concludes.