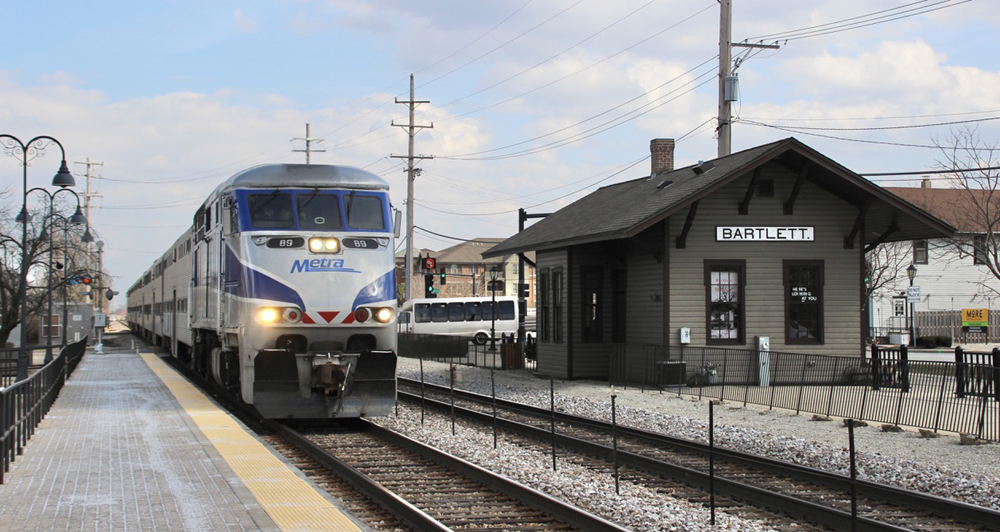 ---
WASHINGTON — As part of their merger, Canadian Pacific and Kansas City Southern will work with a group of Chicago-area communities on voluntary measures to address traffic concerns in those communities, the railroads say in the final Environmental Impact Statement released today (Friday, Jan. 27) by the Surface Transportation Board's Office of Environmental Analysis.
The final report largely reached the same conclusion as the preliminary document reached last year, that environmental impacts would be "negligible, minor, and/or temporary" [see "Final environmental review finds few problems …," Trains News Wire, Jan. 27, 2023].
The CP plans for the communities of Bartlett, Benseville, Elgin, Itasca, Hanover Park, Roselle, Schaumburg, and Wood Dale, along with DuPage County — which had formed a vocal opposition group, the Coalition to Stop CPKC — are part of a series of voluntary mitigation efforts that also include the Houston area, as well as 10 communities where CPKC had previously negotiated agreements.
The plan in the western Chicago suburbs, along the CP line shared with Metra's Milwaukee West commuter service, call for four forms of mitigation:
— Funding toward the implementation of quiet zones, subject to "necessary FTA approvals and practicability."
— Installing and funding a system connected to existing grade crossing signals, to deliver advanced notice of blocked crossings to residents, first responders, and others.
— Installing and funding ITS Interconnect for Advanced Warning Signs at strategic locations to give drivers information about occupied crossings, allowing them to make better decisions.
— Funding and installing positive train control technology tie-ins at crossings adjacent to Metra platforms, which will minimize the activation of crossing gates.
The report notes that because Metra owns this trackage, it would have to approve much of this work. CP and KCS say they would work with Metra, the communities, and relevant agencies to obtain needed approval.
The communities in the Coalition to Stop CPKC at one time were seeking more than $9 billion in mitigation measures; by the time of the STB merger hearing last September, they had lowered that figure to $400 million [see "CP and KCS tout and defend their merger …," News Wire, Sept. 28, 2022]. Coalition members and politicians representing the area had also asked the STB to halt consideration of the merger until after it conducted a separate study on its impact on the Chicago area [see "Chicago-area opponents ask regulators to delay decision …," News Wire, Oct. 5, 2022].
In the Houston area, CPKC says it will meet regularly with community representatives and work to address any merger-related impacts communities may experience. It also says it will work alongside other Houston-area railroads — "notwithstanding that it will own no track there" — to address the impact of rail operations. CPKC will also provide Houston community leaders with ways to report issues.
CP and KCS has previously reached agreement with the Iowa communities of Davenport, Bettendorf, Muscatine, LeClaire, Clinton, Washington, and Fruitland; Hampshire and Pingree Grove, Ill.; and Liberty, Mo. The final recommendation by the Office of Environmental Analysis incorporates those agreements, as well as any similar agreements the railroad may still reach. It also recommends that the railroad establish a community liaison position for both the Houston area and the Chicago area, to be funded and staffed for five years following approval of the merger. That liaison will be available for public meetings and to conduct periodic outreach to local public officials.