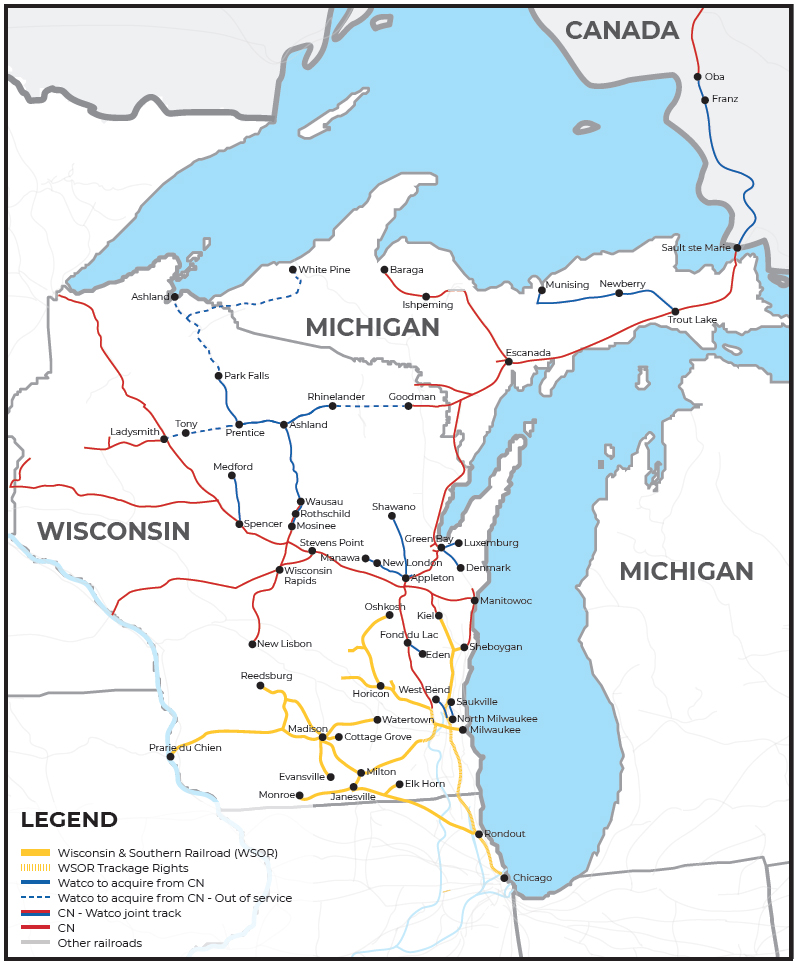 WASHINGTON – Canadian National and Watco have urged the Surface Transportation Board to lift the hold it placed on the transfer of nearly 500 miles of former Wisconsin Central branch lines.
Watco, in a filing on Tuesday, told the board that it has been preparing to launch service on the routes in Wisconsin and the neighboring Upper Peninsula of Michigan while awaiting a board decision.
"Watco has hired and trained over 40 team members (T&E, track laborers, etc.) and has purchased or leased and positioned equipment including 24 locomotives and track maintenance and inspection equipment," the short line operator said. "Our desire is to start these operations as safely and efficiently as possible. To that end, we are eager to commence operations before the onset of winter and snowfall which can pose multiple challenges, particularly to new operations."
Watco said it has worked with shippers to identify several opportunities for growth in rail traffic on the lines. "To execute on those opportunities will require upgrades to track and bridge infrastructure," Watco said. "However, the window for making those upgrades this year will soon close with the arrival of winter."
The lawyer for CN's Wisconsin Central Lines subsidiary last week told the STB that the railroads "desire to complete the proposed line sale transactions prior to the onset of winter and snowfall that could disrupt the efficient start-up of Watco operations. WCL encourages the Board to issue decisions to accommodate the timely transfer of the subject rail lines."
The STB in April indefinitely postponed the proposed sale of 471 miles of former Wisconsin Central branches in the Badger State and the neighboring Upper Peninsula of Michigan [see "STB delays Watco's acquisition …," Trains News Wire, April 27, 2021]. At the time, the board ordered Watco to respond to concerns that some shippers, shipper associations, and U.S. Rep Tom Tiffany, R-Wis., had raised about the sale.
The transaction, which would create the 328.52-mile Fox Valley & Lake Superior and the 142.64-mile Grand Elk Railroad, typically falls into a category that would make it exempt from board review. Watco had hoped to begin operating the routes by June 30.
The line-sale deal, announced in March, has won broad support from shippers, major shipping groups, economic development groups, and business leaders and transportation officials in Wisconsin [see "Support grows for Watco purchase …," News Wire, April 16, 2021]
— Updated at 8:50 a.m. CDT Oct. 13 with information from Watco filing.