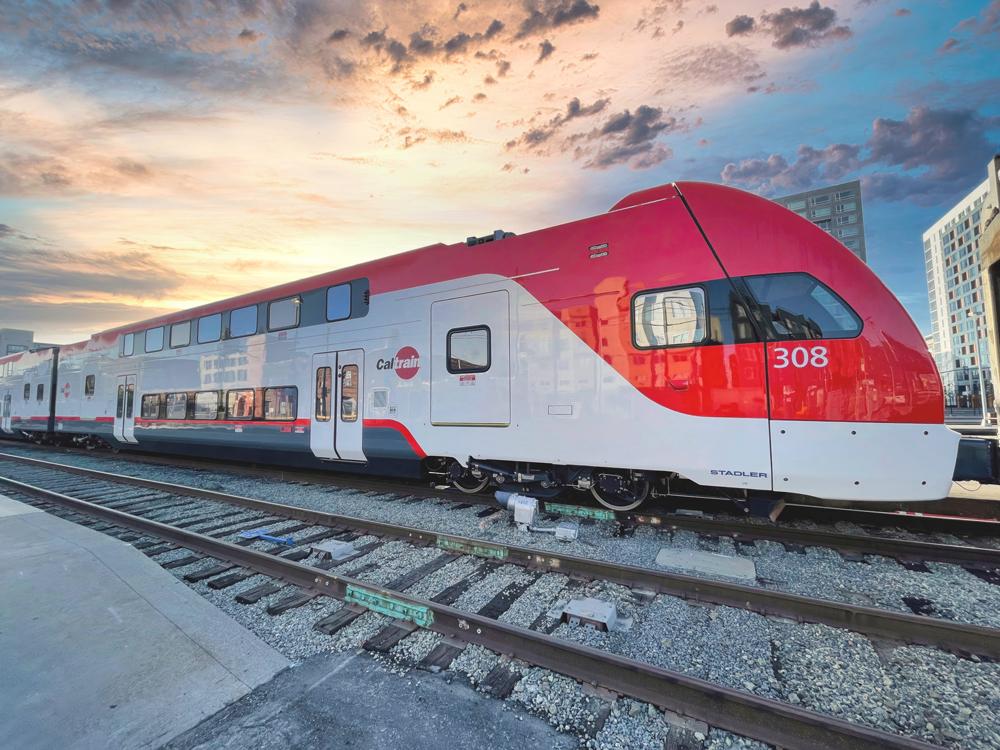 ---
SAN MATEO, Calif. — Caltrain will purchase a battery-electric version of the Stadler electric multiple-unit passenger equipment it has purchased for its upcoming electrification, allowing operation beyond the limits of system electrification.
The California Transportation Commission has approved the funding for the purchase of a single battery-electric trainset and related maintenance and charging facilities, Caltrain announced Thursday. It will be a first-of-its-kind pilot program in the U.S. for battery-electric commuter rail equipment, and will allow the train to continue beyond the end of electrification in San Jose to Caltrain's Gilroy station.
"This efficient, state-of-the-art train – made possible by an award through our Transit and Intercity Rail Capital Program – will lead to improved service for riders and cleaner air between San Francisco and Gilroy," California Transportation Secretary Toks Omishakin said in a press release, "as well as serve as a demonstration train for expanded battery-electric intercity rail service in the future."
Funds will come from an $80 million award from the California State Transportation Agency.
Current plans call for the battery-electric train to charge while running on overhead power on the electrified San Francisco-San Jose line, then run on batteries to Gilroy. It will also make intermittent demonstration trips to Salinas, Calif. If successful, Caltrain says the concept could not only reduce greenhouse gas emissions and improve air quality but lead to service upgrades thanks to better performance of the electric units, decreased service costs, and increased reliability in case of overhead power system failures or utility outages.
The funding also covers the cost of testing at the Transportation Test Center in Pueblo, Colo., and upgrades to Caltrain's San Jose maintenance facility and Gilroy layover area to facilitate charging and maintenance.
The purchase of the battery-electric equipment comes after the Caltrain board exercised an option earlier this month to purchase four additional electric multiple-unit trainsets from Stadler.
"Stadler is proud to continue our partnership with Caltrain and our shared mission of helping California provide zero emission travel," said Martin Ritter, CEO of Stadler US. "With additional double-deck EMUs and this first-of-its-kind BEMU for Caltrain, Stadler is able to expand our overall portfolio for the U.S. market, especially in the zero-emission product line."
Two earlier efforts to bring battery-electric technology to U.S. commuter service have, to date, faltered. The Long Island Rail Road announced a plan in 2021 to modify existing equipment to allow battery-electric operation on its Oyster Bay Branch, but dropped that effort last year after determining the retrofitting was not feasible [see "Long Island Rail Road ends development …," Trains News Wire, July 27, 2022]. And Chicago's Metra announced plans in 2021 to convert some F40PH-3 diesels to battery operation, then approved a deal for conversion of up to six locomotives in 2022, but ultimately was unable to reach agreement with Progress Rail on a contract [see "Metra faces delay in plan for battery conversion …," News Wire, Feb. 20, 2023].
— Updated at 8:45 a.m. CDT with information on other battery-electric projects.