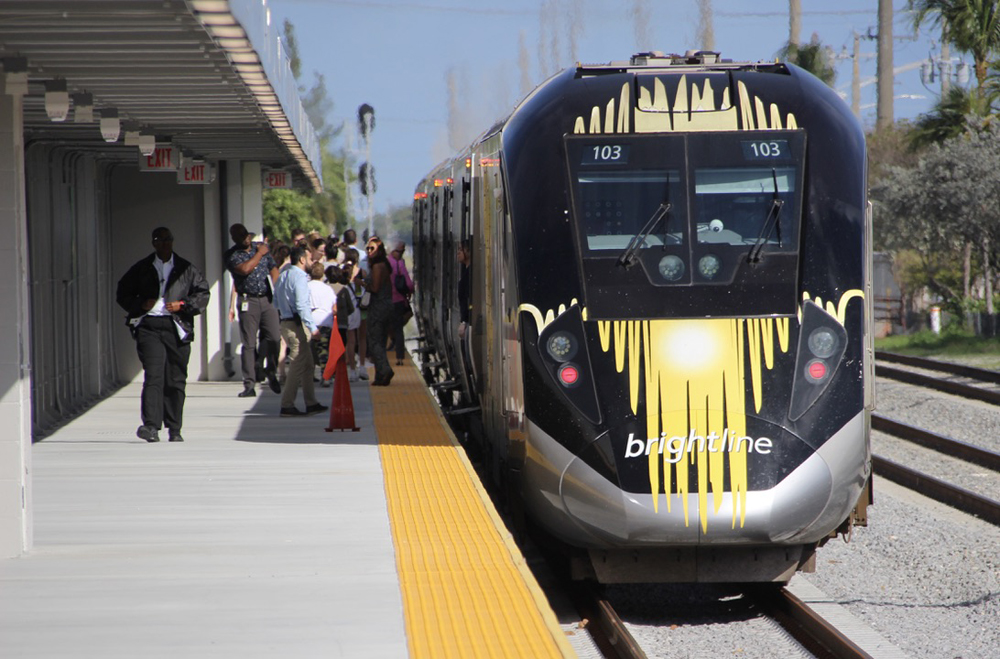 ---
MIAMI — Aided by its seasonal Polar Express promotion and discounted $10 rides celebrating the opening of stations at Boca Raton and Aventura, Brightline's Miami-West Palm Beach service carried 183,920 passengers in December 2022, generating $5.1 million of ticket revenue. Both are monthly records since service began in early 2018. The new stations only opened the week before Christmas, but they contributed nearly 10% to the December ridership total.
The report to bondholders, published by the Florida Development Finance Corp., says more than 1.23 million passengers were carried in calendar 2022. Annual revenue came in at $32 million, as the average fare per passenger climbed to $20.03 from $11.32 in service-shortened 2021.
One of the keys to Brightline's continued growth is near-continuous engagement with anyone who has ever bought a ticket. Between August and December, outreach averaged a dozen reason-to-travel emailed suggestions per month. These included dedicated "Home Runner" shuttles from MiamiCentral to the Florida Marlins stadium in the summer and listings of Miami Heat home opponents once the basketball season began. Promotions involving Miami Art Week, the Boat Show, Polar Express, as well as midweek trips offering complimentary mimosas and Bloody Marys, were also part of Brightline's active marketing mix.
Uber ride-share partnership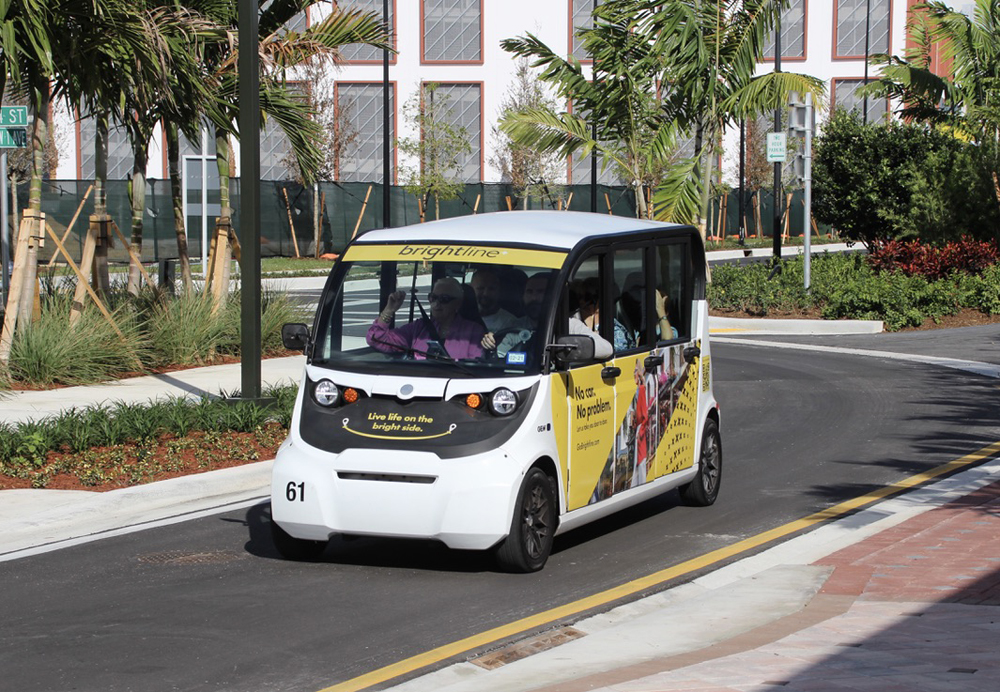 The importance placed in completing the "first mile-last mile" component of travel was underscored by the announcement Brightline is partnering exclusively with Uber to provide pre-booked private and shared rides to and from its five South Florida stations.
Through ticketing options are linked through the Brightline website and app, augmenting walk-up fixed-route and electric golf vehicle shuttles and BrightBike rentals. The company also offers dedicated bus shuttles between its stations and Miami International Airport, as well as Miami Beach.
Premium-class passengers are entitled to complimentary rides within a 5-mile radius of stations, while Smart-class patrons can add a ride to and from stations for a fee without distance restrictions. The partnership represents the first time Uber has linked directly to an intercity rail service in the U.S.
Orlando development district proposed
 The week before the company revealed its vision for the under-construction Orlando terminus [see "Brightline unveils 'first look' of its Orlando Airport station interior," Trains News Wire, Jan. 9, 2023], Universal Orlando Resort filed an application with Orange County to form the Shingle Creek Transit Utility Community Development District to help finance the 11-mile joint SunRail-Brightline "Sunshine Corridor" from the airport to a station adjacent to the Orange County Convention Center [see "Orlando businesses pledge $125 million …," News Wire, May 6, 2022].
Forming the taxing district will allow Universal to sell private activity bonds and compete for federal transit infrastructure grants. The company is proposing to provide $125 million through bonds and would contribute $2 million annually for operation and maintenance of the joint SunRail-Brightline convention center station.
International Drive business participants, as part of the Orlando Right Rail Coalition, would contribute to the district's guarantee of $13 million in annual ticket sales, the estimated yearly operating cost of the 11-mile corridor.
The station, on 13 acres of land owned by Universal, is expected to open by 2030. It will be an intermediate stop on Brightline's route to Tampa, which will utilize the median of Interstate 4 south of the Convention Center site.