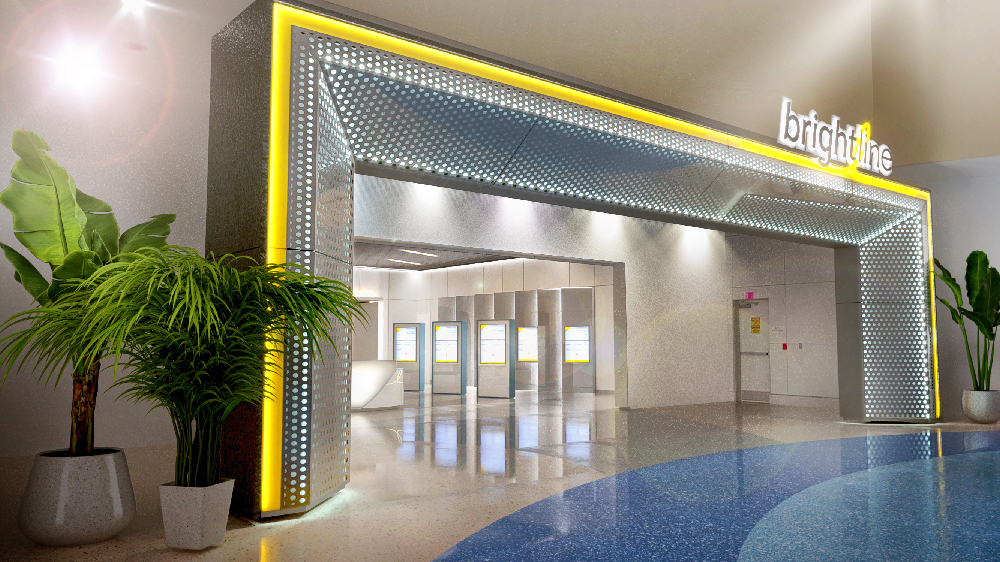 ORLANDO — In what Brightline is billing as a "rendering reveal video," the company snappily mixes images of its now-under construction station in Terminal C at Orlando International Airport with video photography of current operations both onboard and at its MiamiCentral terminal.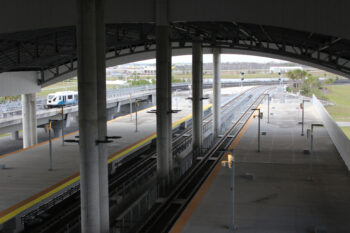 The interior build-out was just beginning last February when Trains News Wire visited the facility. Station trackwork and platforms had been completed in 2021, and the 125-mph route from a junction with Florida East Coast's north-south main line will soon be hosting test trains [see "Brightline update: PTC plans outlined for 125-mph operation," News Wire Jan. 3, 2023]. Revenue service won't begin until extensive Federal Railroad Administration testing requirements are met; Brightline will only say that it expects that long list will be checked off in 2023.
The 37,500 square-foot station is an integral part of an 80,000 square-foot complex at the south end of the airport with gates for Jet Blue and foreign carriers, food and gift shop concessions, and Parking Deck C, which will have 350 spaces reserved for rail travelers.
Part of Brightline's upstairs welcoming area will feature the Mary Mary Bar, serving "craft cocktails and lite bites," which overlooks arriving and departing trains on the platforms below.
The setup harks back to the windowed waiting room on the second floor of Chicago's Dearborn Station, where passengers could watch over Santa Fe, Wabash, Chicago & Eastern Illinois, and Erie Lackawanna trains loading and unloading below. Trains exited after Amtrak entered the picture in 1971, but the building still stands.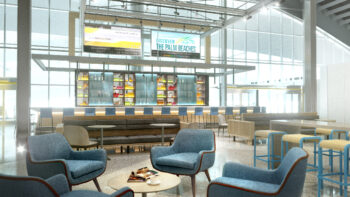 Another nod to the past will be what the company's press release characterizes as a "flip-flap message board that can rotate alphanumeric text and/or graphics (to) provide updated train schedules, boarding times, news of the day and other announcements complete with the flip-flap sound reminiscent of the first passenger train stations in America."
Veteran rail travelers know these as Solari departure boards, named after their Italian manufacturer, which Amtrak has been decommissioning around the country for more than a decade. Philadelphia's William H. Gray III 30th Street Station and New York's Penn Station were the last major stations to lose the "flappers" several years ago.
The boards pictured over the Mary Mary Bar are narrow versions tucked under a video screen. One of their unsung advantages, as passengers anxiously waiting for tracks to be posted know, is that the sound means new departure information is available. That will get the attention of preoccupied bar patrons, who might otherwise miss their train to West Palm Beach or Miami.