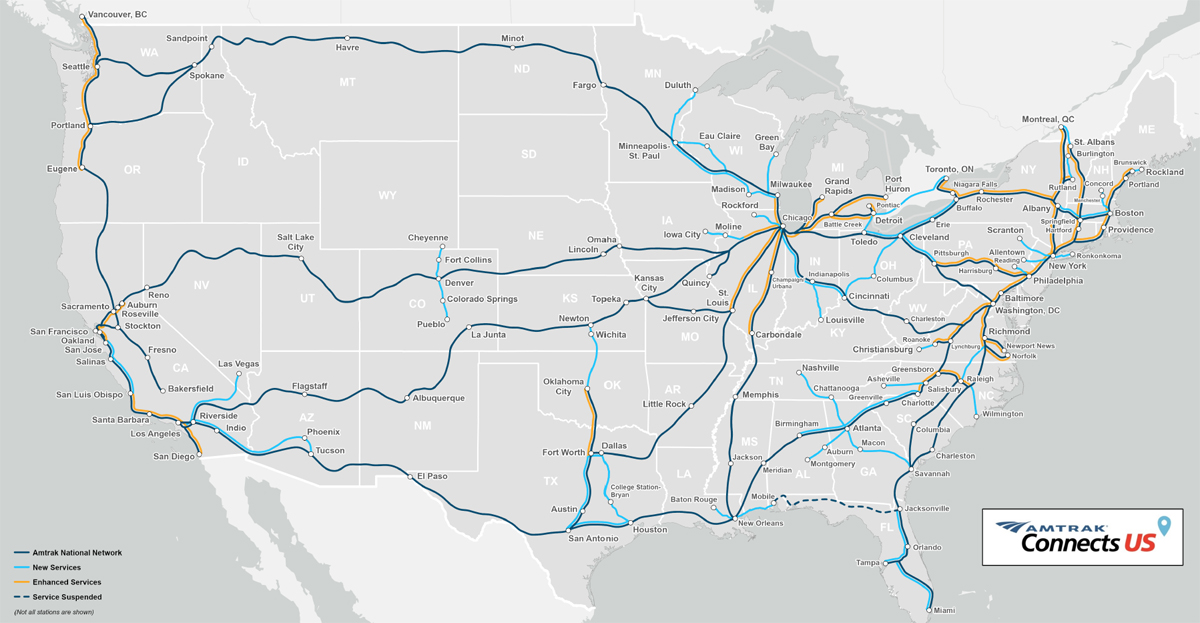 WASHINGTON — On the day it marks the 50th anniversary of its launch, and the day after an event marking that anniversary that featured President Joe Biden, Amtrak is reiterating its desire to add up to 160 communities to its network through an expansion of routes and train frequencies over the next 15 years.
At Friday's event at Philadelphia's 30th Street Station, Amtrak CEO Bill Flynn said the expansion plan would ensure 47 of the nation's 50 largest cities would have Amtrak service, while also increasing service in more than half the 50 states. "America needs a rail network that offers frequent, reliable, sustainable and equitable train service. Amtrak has the vision and expertise to deliver it, now we need Congress to provide the funding for the next 50 years," Flynn said.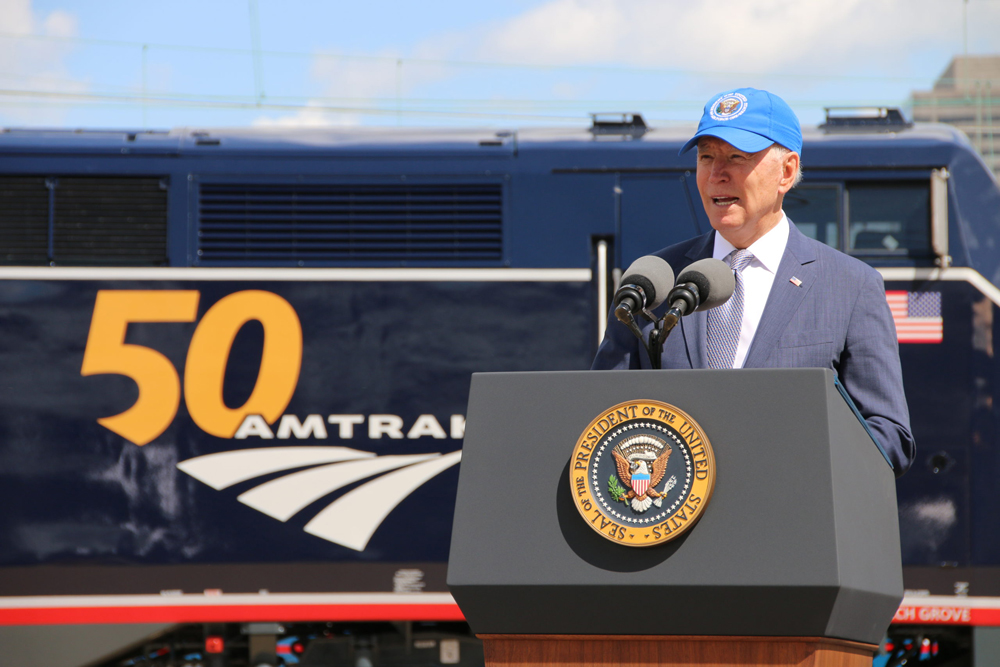 Biden, as part of a speech touting his larger $2.3 billion infrastructure plan, called for support of the plan: "Today we have a once-in-a-generation opportunity to position Amtrak, and rail, and intercity rail … to play a central role in our transformation of transportation and economic future."
Amtrak's expansion plans generally focus on the short-distance, state-supported corridors that Amtrak began promoting as its future under previous CEO Richard Anderson. Because such routes require state partnerships and funding, the new routes shown on the map released in March [see "Amtrak unveils 'Connect US' map …," Trains News Wire, March 31, 2021] are largely aspirational. Along with legislative support at the state level, such new service will also require operating agreements with host railroads, which can be extremely difficult to obtain, as is being illustrated in the current fight with CSX Transportation and Norfolk Southern over efforts to restore service in Louisiana, Mississippi, and Alabama along the Gulf Coast [see "Analysis: Amtrak defends its Gulf Coast access request …," News Wire, April 29, 2021].
For these reasons and others, Amtrak has yet to outline a time frame or other details for initiating service. In its funding and legislative request to Congress earlier this week, Amtrak did ask for money for a key element of its route expansion plan: the ability to fully pay for the first two years of new multi-frequency routes, after which it would gradually shift costs to states or local operating agencies [see "Amtrak establishes priorities …," News Wire, April 29, 2021]. But the actual expansion of service figures to be a slow-moving process.
Video of Friday's anniversary event is available here.