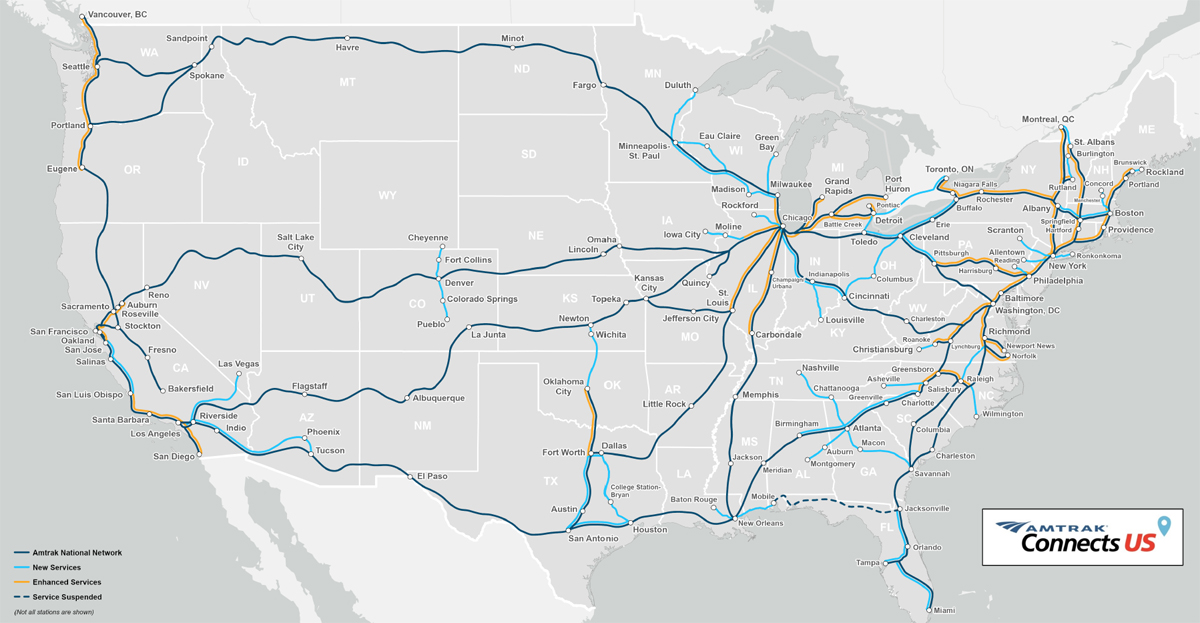 WASHINGTON — Citing the need to finally attack a multi-billion dollar backlog of century-old Northeast Corridor bridge and tunnel replacements, Amtrak CEO Bill Flynn followed President Joe Biden's American Jobs Plan announcement with the first outlines of a proposal that would jump-start expansion of state-supported intercity corridors with an infusion of upfront capital assistance.
"President Biden's infrastructure plan is what this nation has been waiting for," Flynn says in a statement, adding, "Amtrak must rebuild and improve the Northeast Corridor, our National Network and expand our service to more of America." The wide-ranging $2 trillion Biden plan includes $621 billion for transportation infrastructure, with $80 billion of that for passenger and freight rail.
Along with Flynn's statement, the company released a "Amtrak Connects US" fact sheet and map, available here, that shows existing routes, including those with "enhanced service," and suggests where new routes might be added as part of what Amtrak calls "Our 2035 Vision."
The map is similar to one the company made available to advocacy organizations as it sought to garner support from states which might be interested in sponsoring short-distance corridors.
The outline claims there would be "up to 160 more communities served; multiple daily trips in 15 more states; up to 30+ potential new routes; and up to 20+ existing routes with more trips." Details are not provided because all those proposed additions would require a buy-in by states, or groups of states, to make a long-term commitment to fund operations.
The map shows corridor extensions to Las Vegas, Nev., from California, and between Dallas and Houston, Texas — routes where private developers are nearing the construction phase for high speed projects. It does not indicate service on Florida's Miami-Orlando Brightline route (while showing the existing Amtrak long-distance route between those cities), or acknowledge the effort in Montana to revive service on the North Coast Hiawatha's former route. The map does show that the Sunset Limited's route east of Mobile, Ala., to Jacksonville, Fla., is still "suspended."
There are no details how state-Amtrak partnerships would be structured, but the fact sheet does make clear that Congress must act to supply "increased funding … to support operating and capital costs for new and improved corridor routes."
It also makes clear that lawmakers must also facilitate "a streamlined and expeditious process for accessing freight lines and determining reasonable capacity improvements," and help develop "new enforcement tools for Amtrak's existing right to preference over freight trains to ensure our riders arrive on-time."
Flynn concludes, "America needs a rail network that offers frequent, reliable, sustainable, and equitable train service. Now is our time; let's make rail the solution."