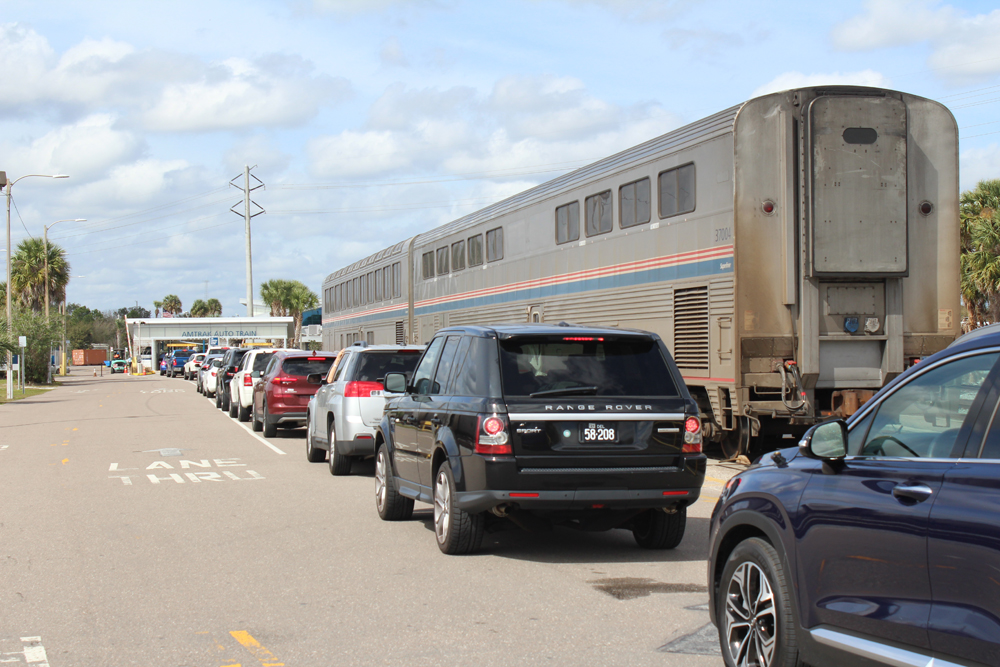 WASHINGTON — Amtrak's fiscal 2021 results saw ticket revenue and ridership both off 63% from 2019, the last year when the October-September fiscal calendar was not impacted by COVID-19 travel restrictions and massive service cuts.
Long-distance trains, however, suffered less of a setback than state-supported and Northeast Corridor operations.
For the fiscal year ending Sept. 30, the company generated $882.8 million, compared with the $2.3 billion in 2019, according to data obtained by Trains News Wire. Combined ridership of long distance, state-supported, and Northeast Corridor service totaled 12.8 million passengers, compared with the 32.8 million carried between October 2018 and September 2019. Patronage plummeted with pandemic-related cancellations beginning in March 2020, so that fiscal year's results were impacted by early and precipitous service drops, as indicated in the table below.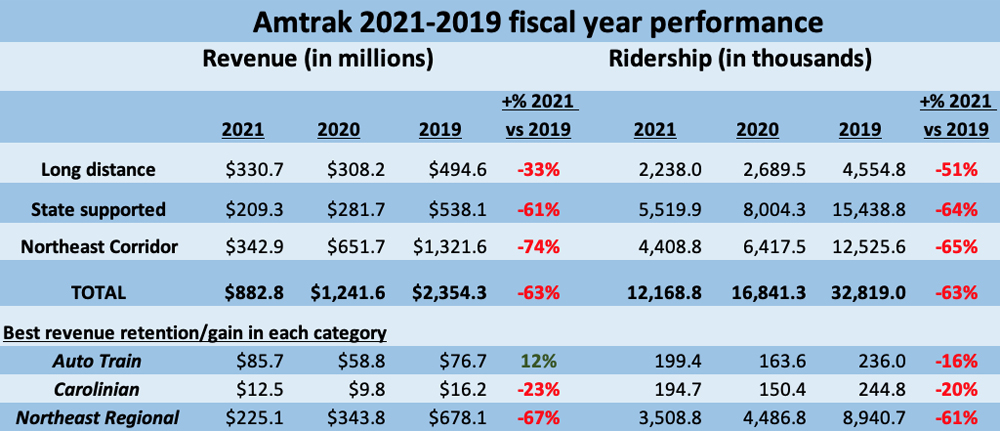 Breaking down the three service segments:
Long distance
This segment consistently outperformed multiple-round-trip corridors, despite reductions of 12 interregional trains to triweekly frequencies from October 2020 through May 2021, followed by constricted equipment assignments causing sold-out conditions on many routes during the summer. [See "Dining car access to be extended to Coast Starlight business class," Trains News Wire, Sept. 23, 2021.]
Auto Train's figures are especially noteworthy. It is the only overnight train Amtrak management maintained as a daily operation through the pandemic and separately promotes outside of company-wide fare sales. The Lorton, Va., to Sanford, Fla., service also dealt with reduced consists that limited coach and sleeping car capacity, but benefitted from the nationwide shortage of rental cars and exorbitant pricing for Florida autos.
As a result, it was the only segment of Amtrak's business that beat fiscal 2019 ticket revenues, delivering $85.7 million in 2021. This helped offset challenges for the category elsewhere, such as extensive weather and fire-related cancellations and truncations for the Coast Starlight, Sunset Limited, City of New Orleans, and Crescent.
State-supported trains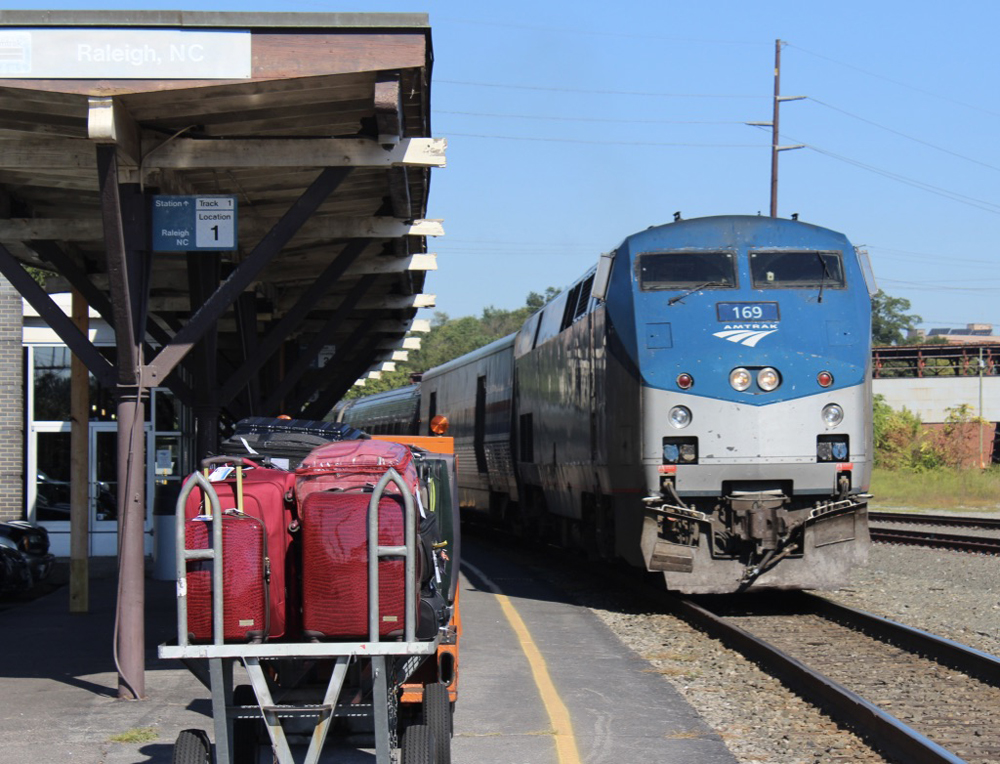 Services that historically relied on relatively short-distance daily commuter, school, or business travel suffered the most when operating authorities were slow to restore frequencies. Although COVID-19 relief funding provided a cushion against anticipated lagging revenue, most states and regional operating authorities declined to add more round trips until the late spring and summer of 2021.
With Canadian citizens still not permitted to cross the Canada-U.S. border (though U.S. citizens can now travel north), the New York-Montreal Adirondack, two Seattle-Vancouver, B.C. Amtrak Cascades round trips, and the Niagara Falls-Toronto extension of the New York-sponsored Maple Leaf are still sidelined.
It's not surprising that this category's big winner is the once-daily Carolinian. Traveling 704 miles, the New York-Charlotte, N.C. train sneaks under the 750-mile demarcation between state-supported and long-distance trains. That figure was established in 2008's Passenger Rail Investment and Improvement Act to keep North Carolina paying to run the Carolinian while avoiding discontinuance of the 829-mile New York-Savannah Palmetto or the 780-mile Chicago-Washington, D.C. Capitol Limited if state funding failed to materialize.  
Northeast Corridor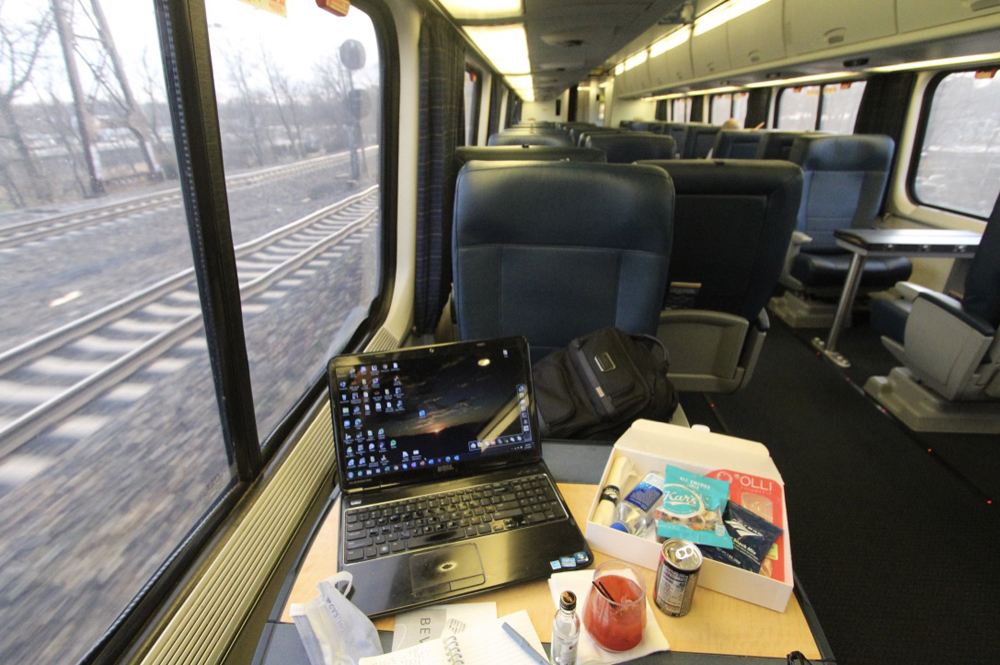 Even though Amtrak has been regularly restoring Boston-Washington, D.C. frequencies since June of 2020, both Acela and Northeast Regional revenues and ridership have suffered the most compared with 2019. They have been historically responsible for the lion's share of the company's revenue and capital investment, and thus have attracted significant attempts to stimulate demand.
While the "Ticket Revenue Per Rider" metric supplied by route with the monthly reports doesn't show whether management is doing the best job possible in maximizing both indicators, it does reveal the relationship between demand, capacity, and pricing. Comparing 2021 with 2019, here is the change in the average fare:
Acela                             -27.8%
Northeast Regional   -15.4%
All state supported     +8.8%
All long distance       +36.1%
The bottom line: with plenty of seats to offer, Amtrak has been able to lower Northeast Corridor fares to win customers who might not have otherwise chosen to ride the train, but that strategy doesn't exist elsewhere on the system.
Trends
Despite a surge in COVID-19 cases toward the end of the summer (which caused flattening of results for state-supported and Northeast Corridor services), all categories have made steady gains throughout the year, as evidenced by comparisons illustrated in the table below: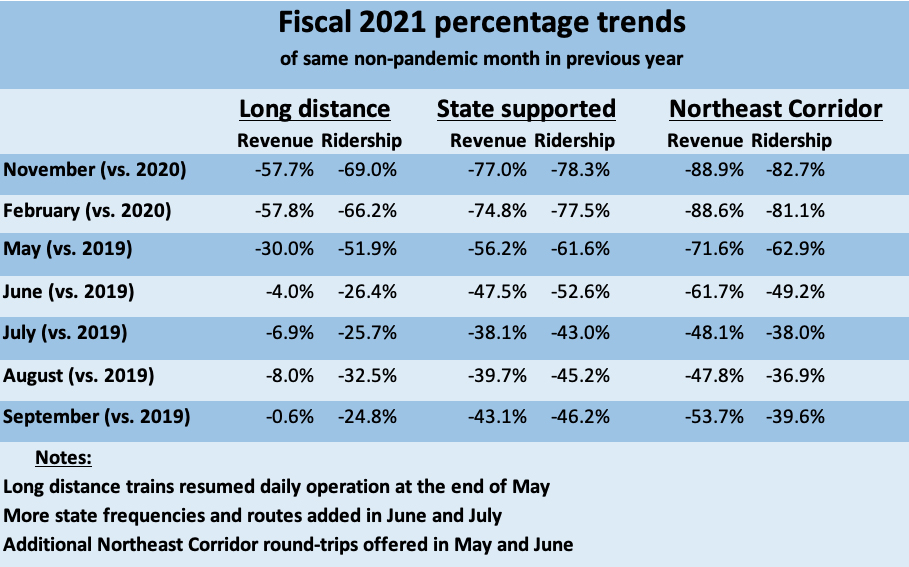 Even with limited long-distance departures and capacity, the strength those trains exhibit is clear. Additional frequencies to be implemented in late October on all three California corridors and those recently added in Virginia will soon help boost state numbers. And Acela First Class food has been enhanced in an effort to differentiate the product and justify higher prices for that class of service [see "Amtrak introduces upgraded meals in Acela First Class," News Wire, Aug. 5, 2021].
Now it is up to Amtrak management to keep the momentum going by making enough equipment available at optimum price levels for everyone who wants to ride.