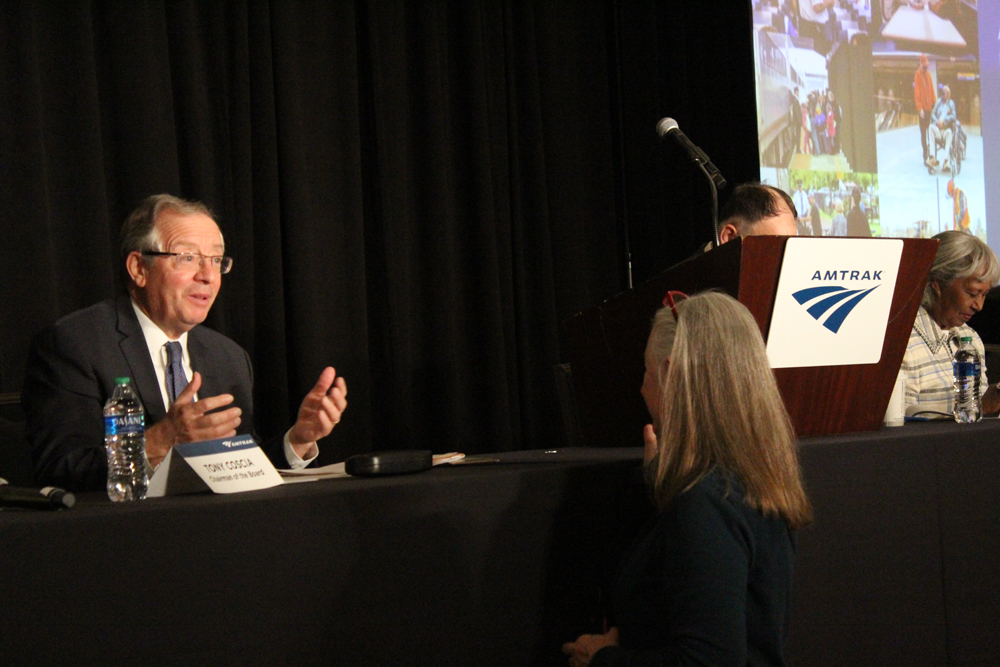 ---
ST. LOUIS — Amtrak CEO Stephen Gardner told attendees at a public Board of Directors meeting that no mechanical personnel were furloughed at the beginning of fiscal 2021, although positions remained unfilled as employees opted to retire or take other jobs.
Current board members and Amtrak's management team held the meeting at St. Louis' Union Station Hotel ballroom on Thursday.
The first hour reprised recently released fiscal 2022 results [see "Amtrak fiscal 2022 report lists accomplishments …," Trains News Wire, Nov. 30, 2022], plus a summary of the company's 2023 business goals and ongoing initiatives. Gardner and Board Chairman Anthony Coscia later answered questions posed by attendees and an online audience.
Workforce issues from attrition, CEO says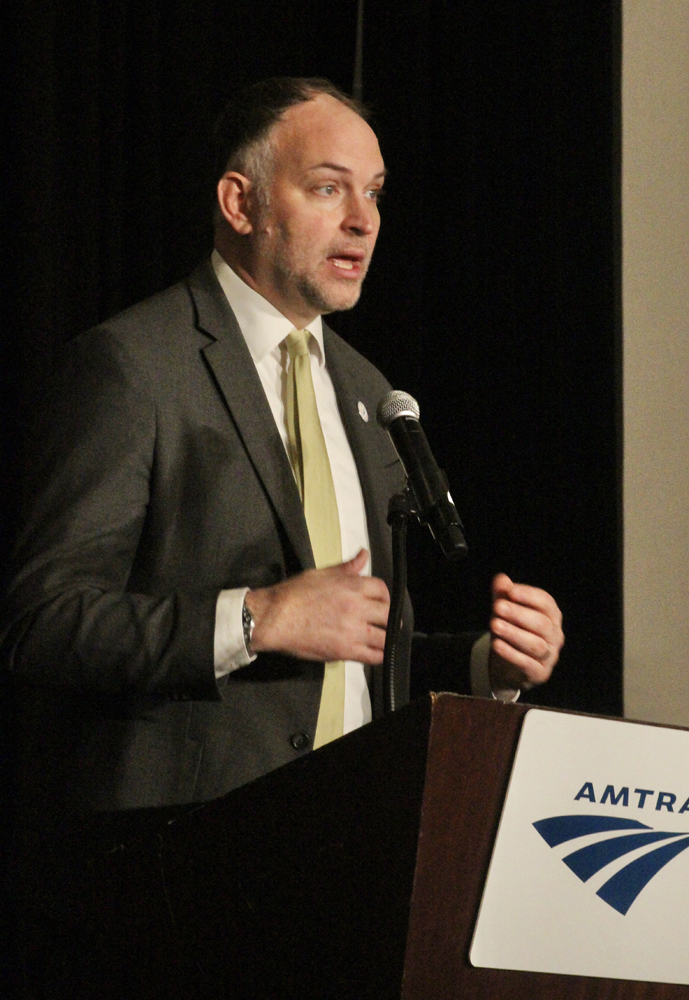 Asked about ongoing workforce and equipment constraints by Rail Passengers Association CEO Jim Mathews, Gardner said, "We did not furlough engineering and mechanical employees; that's not what happened. What did happen is that over this period of time when we were not able to hire and didn't have additional funding…we were not able to overcome the attrition rate."
Quoting workforce figures for the company as a whole, Gardner added, "Last year we hired 3,600 people or so, but we lost 1,600 people due to retirements, change in jobs, and relocations." He says Amtrak is building "a huge apparatus to bring people into the company" but there are "acute challenges, particularly in some of our mechanical crafts — electricians and machinists are really tough to be able to get in different locations."
Gardner pointed to new apprenticeship and entry level training programs as evidence Amtrak is "working every angle to restore people to make the trains available and serve our customers; we just need a little more time through this year but you can be sure that every stone is being [turned] so we can bring great people to this company both to restore service and then grow."
Revised map of potential routes, new initiatives for 2023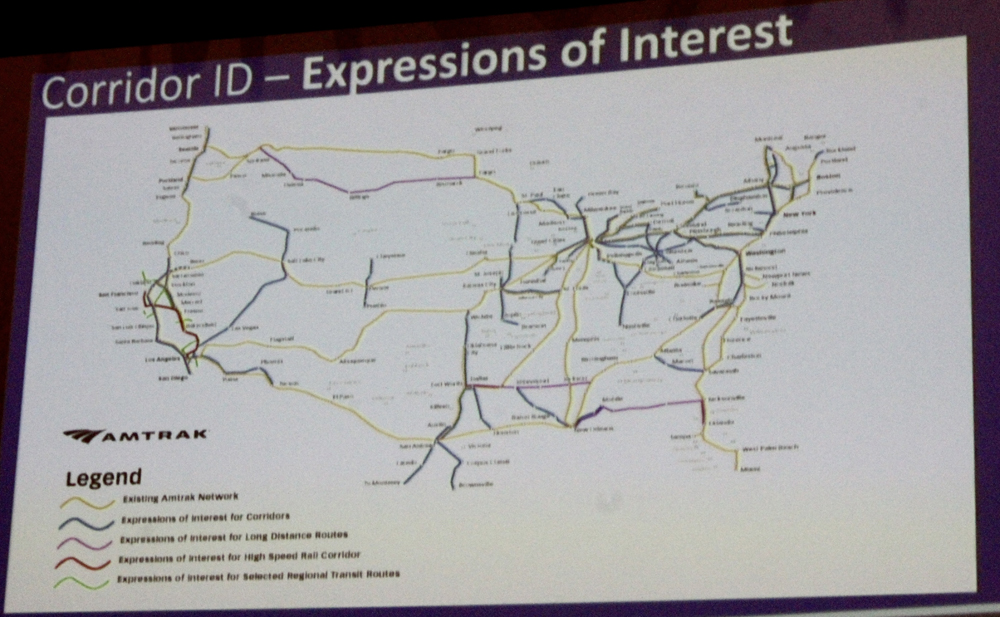 Noteworthy among presentations that looked ahead was an updated "Expressions of Interest" map unveiled by Executive Vice President Dennis Newman that updates the "ConnectsUS" corridor map [available here] by adding routes where entities have expressed a formal desire to add service through the Federal Railroad Administration's Corridor Identification and Development Program.
The new map adds the former North Coast Hiawatha's Fargo, N.D. to Spokane, Wash., route; a proposed Los Angeles-Las Vegas, Nev., Salt Lake City-Boise, Idaho, service; and a Dallas extension to the New York-New Orleans-Crescent. The additions all represent instances where grassroots support has surfaced for new regional or long-distance trains.
Other presenters offered a look at initiatives for fiscal 2023:
— President Roger Harris outlined previously unannounced efforts to "improve the customer experience across the Amtrak journey." These include upgrades to the ticketing website and smartphone app; distribution of handheld devices to all onboard employees "to get more consistent delay information out to customers;" and introduction of food-cart service on the Northeast Corridor. He also announced a redesigned Customer Satisfaction Index survey "that gives us actual feedback [from passengers] so we can go back and fix the product." A "self-serve" rebooking option is rolling out now, Harris said, that will allow travelers to change to another departure when their train is late without having to call Amtrak's reservation phone number.
— Executive Vice President and Chief Financial Officer Tracie Winbigler said the company is projecting a 25% increase in ticket revenue to $2.2 billion and a 61% increase in capital spending to $3.6 billion.
— Laura Mason, executive vice president of capital delivery, said $1.4 billion of the capital funds will be spent on significant Northeast Corridor megaprojects, such as replacing Baltimore's B&P Tunnels, leveraged with federal grants. Three concurrent fleet replacement programs for Acela, Amfleet, and long-distance rolling stock are also underway [see "Long-distance capacity to remain tight …," News Wire, Nov. 16, 2022].
Attendees ask about equipment, marketing
Gardner told attendee Terri Hudson area that Amtrak can't expand long-distance routes without additional funding from the federal government.
Answering a question from audience member Dave Randall, about the lack of sufficient Superliners to run long-distance service, Gardner said "stored equipment that is no longer commercially viable are essentially donations to the parts supply; we also have to analyze the dollars available. [Obtaining] additional capital necessary to put equipment back in service requires support funding to do that." He said the challenge every day is how to get more equipment back in service "just to catch up on overhauls and maintain the current fleet."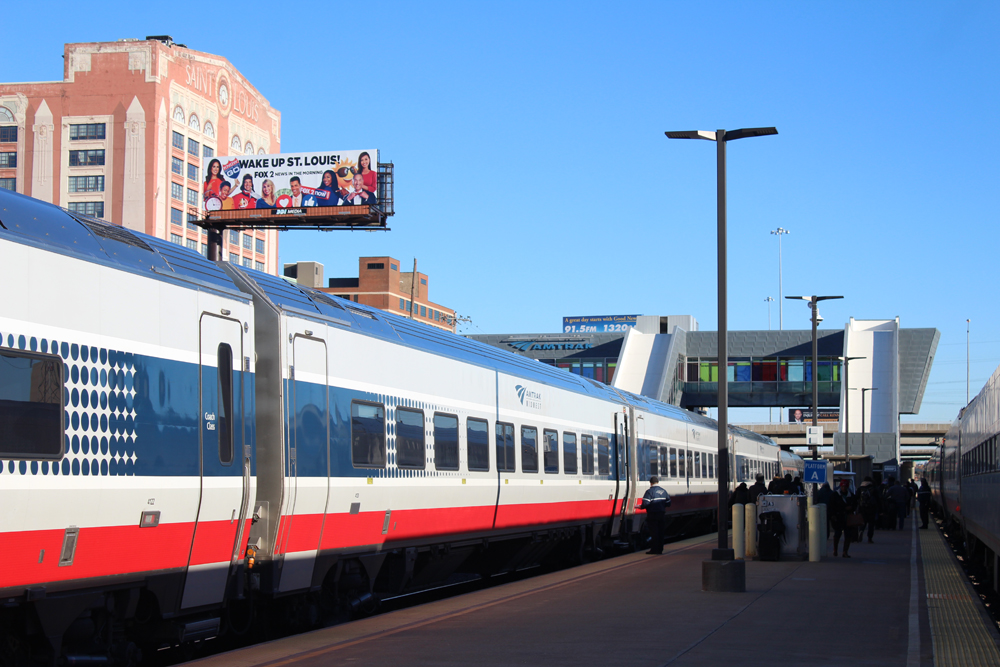 Gardner also revealed Amtrak had expected 60 Siemens Venture cars purchased by Midwest states would be operating in 2022, but production and quality-control issues resulted in operations where "35 cars fewer" are available.
He noted that the challenge with equipment procurement is that U.S. affiliates of foreign carbuilders have no incentive to offer "off the shelf" U.S. models because orders are limited. "The 28 high-speed [Acela] trains being built here corresponds to many hundreds [built] in Europe," he said, adding, "the vehicles we're purchasing these days are incredibly complex; they offer many more features but take longer to construct."
Other speakers expressed disappointment in Amtrak's regional marketing efforts and uneven financial support by states such as Missouri, where recurring funding shortfalls have resulted in periodic discontinuances of the second Missouri River Runner round trip. Coscia admitted, "There is a meaningful difference between states in terms of their ability to be supportive of passenger rail," but emphasized that Amtrak's outreach efforts are continuing and are best demonstrated by running trains well around the country.
Just before the end of the session, an attendee told the Amtrak executives and board members that the Texas Eagle operating without a Sightseer Lounge and dining car meals available to all passengers was "an abomination," and urged that the lounge be restored "as quickly as possible." With time running out, "thank you" was Coscia's response as he took the final question.
— Updated Dec. 5 at 4:50 p.m. CST to clarify and correct information about "expressions of interest" map shown at board meeting.