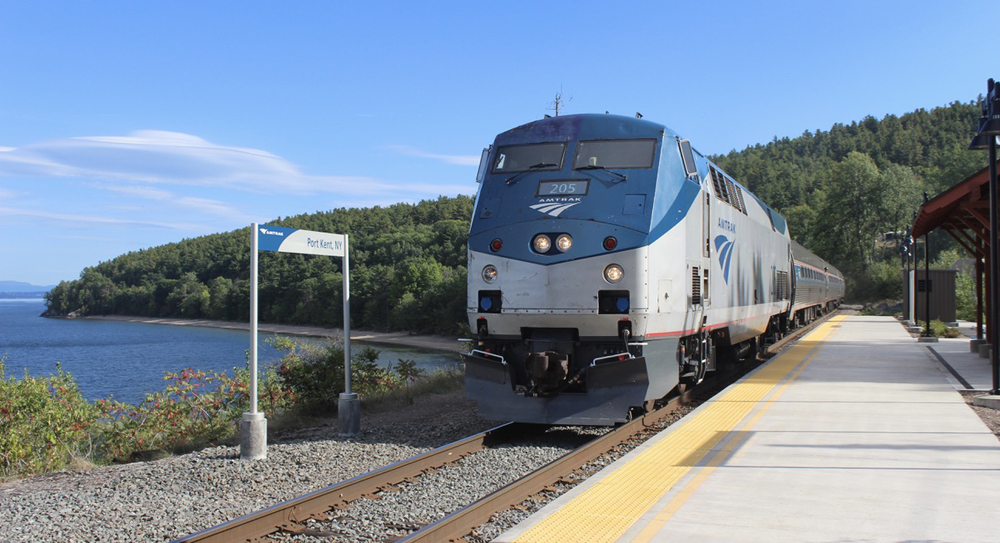 ---
ALBANY, N.Y. — Amtrak's long-idle New York-Montreal Adirondack service — the only train still not running after being suspended by the passenger operator at the start of the COVID-19 pandemic — will resume operation in April, according to New York's two U.S. senators.
U.S. Sens. Charles Schumer and Kirsten Gillibrand made the announcement Friday afternoon, the Albany Times-Union reports. Schumer wrote on Twitter that Amtrak will restore full service "as soon as April 3."
Last May, an Amtrak spokesman told Trains News Wire that "ongoing challenges with operations, border facilities, security and staffing" had prevented resumption of service to Montreal, while "servicing, staffing and train operations challenges" kept Amtrak from running the U.S. portion of the route as far north as Plattsburgh, N.Y. [see "Delayed return of 'Cascades' to Canada …," News Wire, May 19, 2022].
The train's lengthy suspension attracted bipartisan attention from New York's congressional delegation, with the two Democratic senators and Republican U.S. Rep. Elise Stefanik, who represents an upstate district north of Albany, questioning Amtrak CEO Stephen Gardner about the train's status in correspondence last summer [see "Adirondack's uncertain return …," News Wire, July 21, 2022]. Schumer said Friday return of service is "finally restarting this vital economic engine for the North Country and Capital Region."
Stefanik welcomed the news, North Country Public Radio reports, saying in a statement that "families throughout Upstate New York and the North Country rely on the Adirondack line for transportation, and it serves as a significant economic driver … to our region." Schumer said the
Requalification runs on the Canadian portion of the route began last October [see "News photo: Preparing for Amtrak's return …," News Wire, Oct. 20, 2022], but no resumption date was ever announced.
The Montreal Gazette notes the train's return is expected to boost Montreal tourism, given that New York state is one of the city's biggest sources of U.S. tourists. It reports that the province of Quebec set aside $1 million in its budget last year to study and plan for a customs center at Montreal's Central Station, a move that could eliminate the Adirondack's long stop at the Canada-U.S. border and cut an hour or more from the train's travel time.