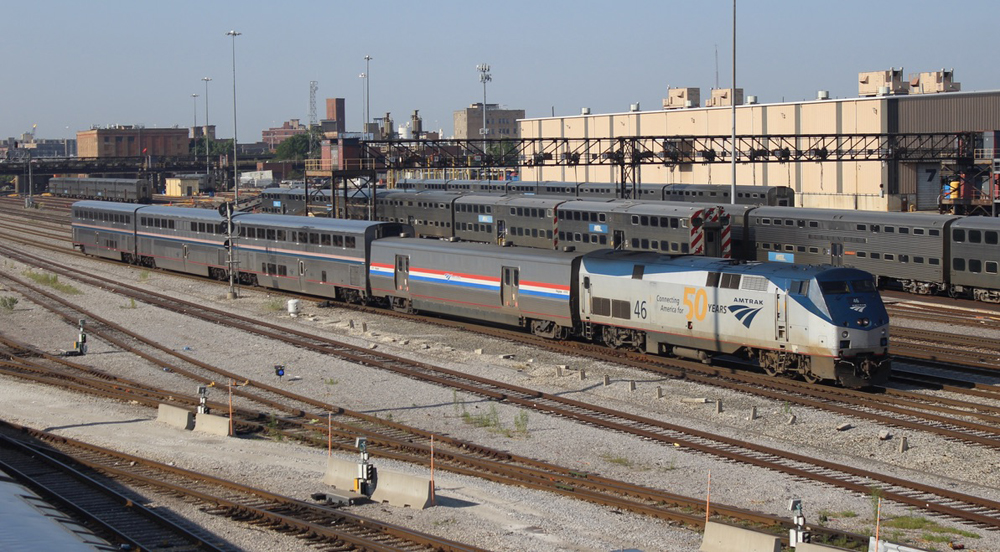 ---
CHICAGO — Passenger rail continues to be left out of travel discussions, in part because Amtrak lacks equipment to handle everyday cross-country demand, not to mention potential traffic surges triggered by holidays flights grounded by bad weather.
Meanwhile, revisions to Amtrak's reservation system make it harder for travelers seeking sleeping car rooms to make informed decisions on how to get the best fare.
Here's an update on capacity and other issues facing those considering long-distance travel.
Capacity changes, timekeeping challenges
 There has been improvement on some routes since post-Memorial Day Trains News Wire reports [see "Amtrak continues to provide mobility in uneven fashion," June 1, 2023, and "Overcoming Amtrak's equipment shortage …," June 2, 2023].
A third Viewliner sleeper has recently been added to the New York section of the Lake Shore Limited (diverted from the New York-Miami Silver Meteor, as in years past). But the New York/Boston-Chicago train still runs with only five coaches west of Albany-Rennselaer, N.Y., compared to six in pre-COVID-19 pandemic years. The result is continued sellouts out of New York.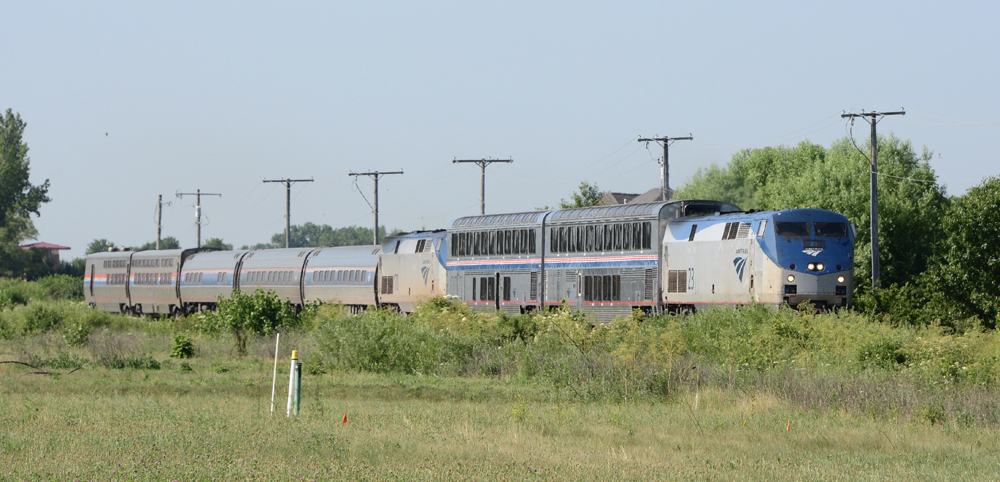 Curiously, the Capitol Limited has lost one of two Superliner sleeping cars since Memorial Day and still operates with only one Superliner coach. This means east-west connectivity is virtually non-existent, when also taking into account the makeup of the triweekly Cardinal: two Amfleet II coaches, one Viewliner sleeper, and a handful of roomettes sold in the train's baggage-dorm. On News Wire's recent journey from Florida [see "Dining experience worthy of Viewliners …," News Wire, July 5, 2023], Amtrak travel through Washington, D.C., wasn't possible, making a United Airlines flight from Reagan National Airport the fallback choice.
In the West, Amtrak is still missing one of four Coast Starlight equipment sets following a highway grade crossing collision last week [see "Coast Starlight derails …," News Wire, June 28, 2023], resulting in the train's continued cancellation south of Emeryville, Calif., through at least July 8. Pacific Surfliner service between Los Angeles and San Luis Obispo resumed June 30.
The Southwest Chief has gained a third Superliner coach and been spotted with additional sleeping cars, though the Chief, California Zephyr, and Empire Builder continue to suffer significant delays between Chicago and the West Coast.
The Builder's latest setback involved a July 4 detour over its pre-Amtrak Chicago, Burlington & Quincy (now BNSF Railway) route between Chicago and La Crosse, Wis., to get around a freight derailment [see "CPKC train derails …," News Wire, July 4, 2023]. As of today (Wednesday, July 5), both eastbound and westbound trains encountered substantial delays waiting for clear track through the wreck site. An equally route-disruptive incident occurred July 2 when unspecified mechanical issues inflicted an 8-hour delay at Chicago on the westbound departure. It short-turned at Spokane (passengers were bused to and from Seattle and Portland, Ore.) but the eastbound train was still running 4 hours late today.
Sleeping car sellouts difficult to discern
Amtrak recently altered its fare display on www.amtrak.com to show rates for the different sleeping car accommodations, but in so doing removed the customer's ability to discern how many rooms might be available. Fares for each type were previously accompanied by an "at this price" qualifier. This served a similar function to the sellout percentages offered for coach tickets on all routes with reserved seating.
Demand usually varies by day and city pair. With accommodations extremely limited, Amtrak tends to keep prices high according to the historical demand, or booking curve, for each train on a specific date. Previously, if a fare was in an upper "bucket," or level, and there were "4 available at this price," there was a good chance inventory managers or algorithm-driven programs might reduce the fare if fewer travelers purchased the space as the departure date approaches.
This is exactly what happened on the News Wire trip June 22 from Orlando, Fla., to Alexandria, Va. A roomette was originally booked with 25,063 Amtrak Guest Reward points — $706 in cash — on June 8. But on June 16, the fare dropped to $508 with the notation, "1 room available at this price."
A quick call to Amtrak's reservation number netted a refund of 7,029 points and a room switch from No. 5 in car 9210 to No. 8 in 9211. The change was especially good news, because even-numbered Viewliner roomettes are always on the left side, meaning a dirty window could be washed at Raleigh, the lone station with a high-level platform south of Baltimore. After the points purchase, the Orlando-Alexandria fare quoted to other prospective travelers rose one level to $607.
It is still possible to know if you are getting a "deal" by checking adjacent dates (as shown by the difference between a comparison at noon today of $508 Orlando-Alexandria price on July 7 versus $798 on July 9), but gauging a sense of urgency to act is now missing — and clearly existed for both those prices. By 6 p.m., the fare on July 7 had risen to $706, and roomettes on July 9 were sold out.
This the latest example of Amtrak deciding passengers don't need some form of information — joining onboard maps, route guides, and printable grid timetables.