The many faces of Conrail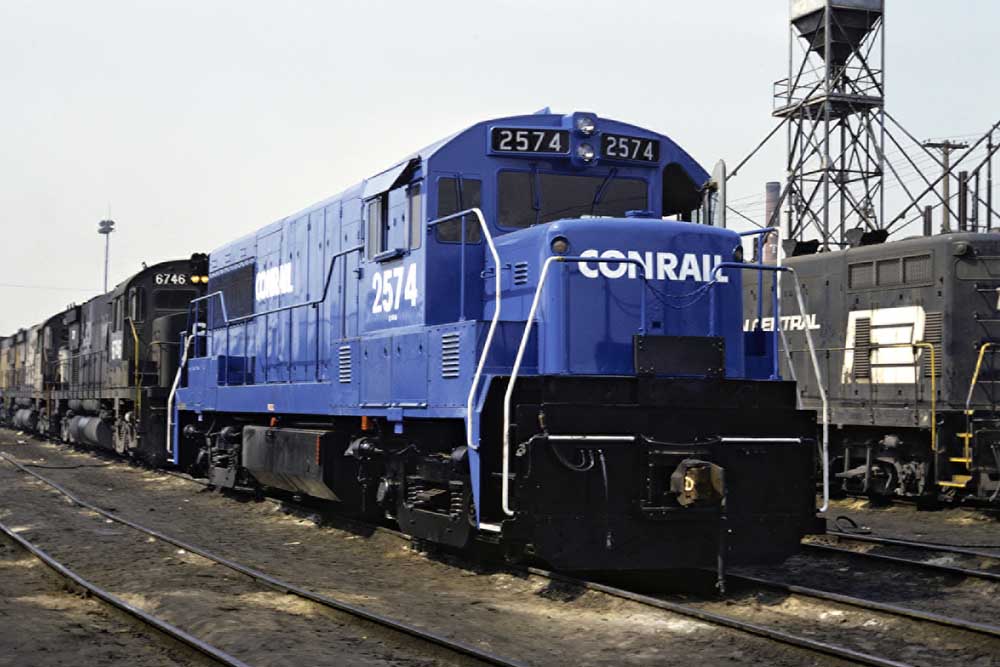 Conrail, the amalgamation of many financially struggling Eastern railroads both big and small, was born April 1, 1976. When it began, the system operated thousands of locomotives on about 19,000 route-miles in 15 states and two Canadian provinces. Its mandate: to revitalize rail service in the Northeast and Midwest as a for-profit company. Within five years, a slimmed-down Conrail began turning a profit.
By 1998, with Conrail now a successful operation, it was officially acquired by Norfolk Southern and CSX. The two systems restructured it as a switching and terminal railroad with about 1,200 miles in three regions: Northern New Jersey, Southern New Jersey/Philadelphia, and Detroit. Later operations included Staten Island, N.Y.
The most visual aspect of Conrail over the years was the many paint schemes and patch jobs its equipment received. With a myriad of slapped-on logos, for many years lineside observers were regularly treated to a rainbow of fallen-flag paint schemes. Eventually the railroad settled on a blue design with white lettering and logos.
While corporate identity was extremely important to solidify the nascent system's forward-looking plans, dozens of individual railroads had to be brought under one banner. The major players included Penn Central (itself a merger of majors New York Central, Pennsylvania, and New Haven) Monongahela, Lehigh Valley, Reading, Pennsylvania-Reading Seashore Lines, Lehigh & Hudson River Railway, Central Railroad of New Jersey, and Erie-Lackawanna Railroad. Smaller short lines and regionals rounded out the list.
An item many outside the merger were not familiar with is that while there was a tremendous commonality among locomotive builders on the consolidated roster, there were other factors to be considered.
A former Pennsylvania EMD GP35, for example, that survived Penn Central may look externally identical to a New York Central unit, which may look like one from another of the merged railroads. But they may not be equipped with the same accessories. Some units might not have dynamic brakes, others would. Fuel tanks could be of different sizes, and signaling equipment and certain controls might vary from unit to unit. Those factors also had to be considered when putting together the right units for a specific freight train. Management and crews eventually worked everything out, but it was never as easy as it might have appeared from afar.
For years there were dozens of Conrail paint schemes all mishmashed together providing a plethora of hues leading almost every train. If you never had the opportunity to see it yourself, just ask anyone who experienced it.  For better or worse, we all thought it was an incredible display. Here are some examples:
Conrail paint schemes gallery

Traces of two former owners are visible on U30B No. 2849 at Buffalo, N.Y., in April 1979. Built as a New York Central unit with the same number, the 2849 still shows remnants of a white NYC frame stripe and a later Penn Central logo. Brian M. Schmidt collection


GP40 No. 3097 displays the trademark white New York Central frame stripe at Altoona, Pa., in July 1979 with minimal trace of interim owner Penn Central. It is coupled to Conrail-painted No. 3130. Brian M. Schmidt collection


Conrail No. 3640 is a former Reading Co. GP35, shown October 1978. It displays a hastily applied patch job covering the original Reading road number on the hood and logo on the cab. Brian M. Schmidt collection


Conrail No. 5487 is a former Lehigh Valley RS3 with a high nose to accommodate a steam generator for passenger service. It still shows is Cornell red paint in November 1977. Brian M. Schmidt collection


One of the more unexpected combinations is this former Baltimore & Ohio SD40 wearing Conrail reporting marks in April 1980. Built as a B&O unit in 1967, it was later transferred to subsidiary Central of New Jersey, which was a component road of Conrail. Brian M. Schmidt collection


Four units in three predecessor paint schemes move freight through Conway, Pa., on April 28, 1976, less than one month after Conrail's startup. They include former Penn Central C628 No. 6309, former Reading Co. C424 No. 5204, and unidentified former Lehigh Valley and PC C628s. Lowell Suttman, Brian M. Schmidt collection


Early Conrail freight trains would have power from different railroads mixed together. This consist included a Lehigh Valley unit, a Reading unit, and Penn Central unit. July 1976, David Lustig

EMDs in three flavors. Conrail blue, Erie Lackawanna maroon-and-gray, and Penn Central black, line up for a family portrait in July 1977. Brian M. Schmidt collection

Looking for more on Conrail, check out Conrail history remembered.