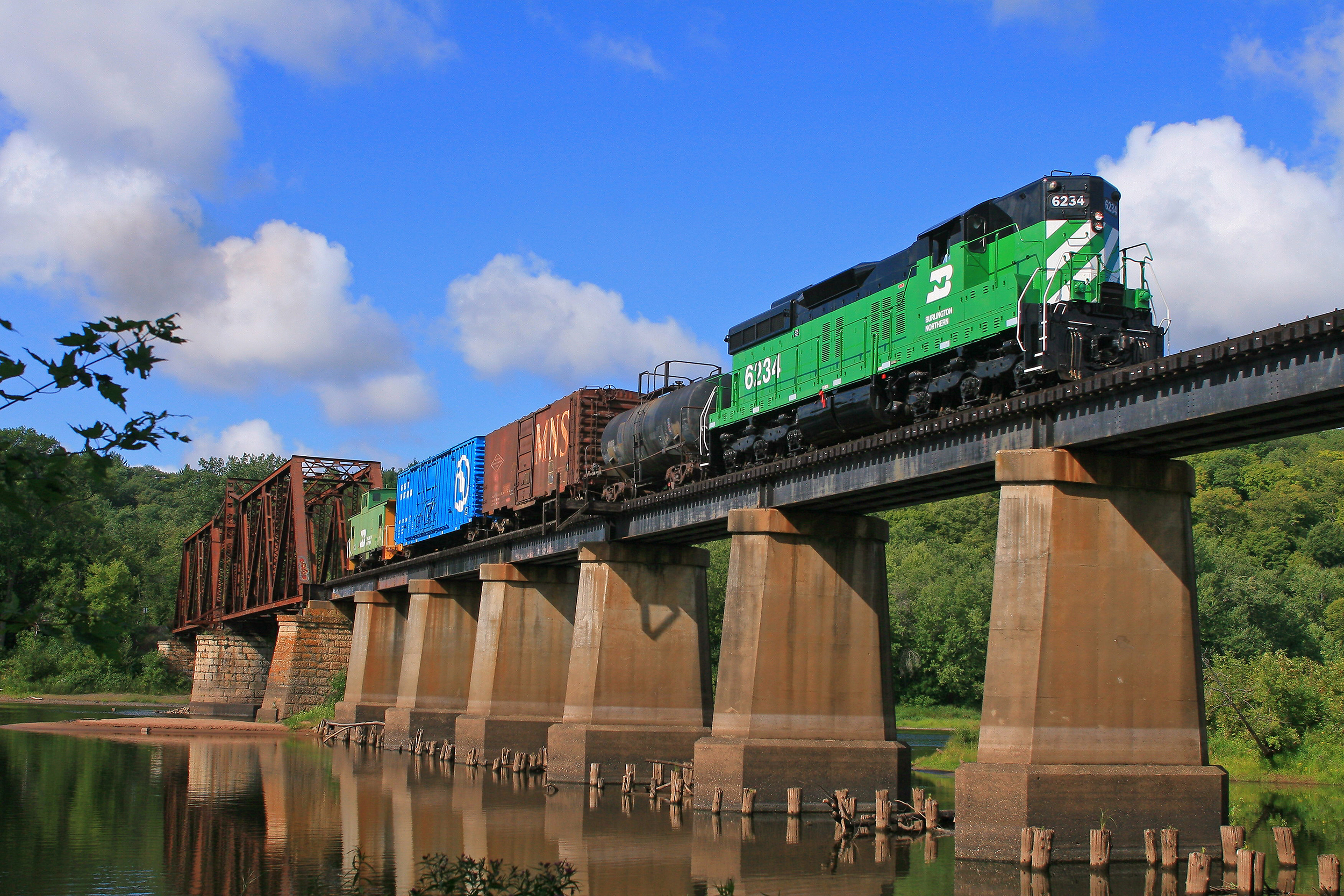 ---
The Minnesota Transportation Museum's Osceola and St. Croix Valley Railway offers rides through the scenic St. Croix River Valley every Saturday and Sunday from May to October on former Soo Line tracks now owned by Canadian National.
Choices
The Osceola and St. Croix Valley offers both open and closed-window coaches. Two routes can be ridden from Osceola. One head west 10 miles to Marine on St. Croix, Minn., while the other heads east 5 miles to Dresser, Wis., a former Soo Line junction town, which still sports its beautifully restored original wooden Soo Line depot. We'd recommend the Marine trip since it follows the beautiful St. Croix Valley. The railroad offers a variety of special trips, such as wine tastings, pizza trains, fall color, and "pumpkin patch" trips.
When to go
For the best views of the St. Croix River, May is the time to ride before the leaves have a chance to obstruct river views. The first or second week of October is best to view the autumn colors. There's nothing more enjoyable than riding open-window coaches on a crisp, blue sky autumn day in the St. Croix Valley.
Good to know
Osceola is a small town of slightly more than 2,000. There are several good local hotels, restaurants, and bed and breakfasts, but those who desire all the amenities may wish to drive south to the larger communities of Stillwater, Minn., or Hudson, Wis.
Worth doing
Take the 90-minute train ride to Marine and ride over the scenic 1887 vintage Cedar Bend swing bridge across the St. Croix River from Wisconsin into Minnesota. While the 675-foot bridge no longer opens, it's a classic steel structure.
Don't miss
The restored 1916 Osceola Soo Line Passenger Depot. The brick structure stood vacant for years until it was restored in 1994-96. The exterior brick and limestone trim are original, but all of the awnings and woodwork had to be replaced. It was added to the National Register of Historic Places in 2000.
Getting there
Minneapolis/St. Paul, Minn., about 50 miles south, has Amtrak, airline and bus service, but the only way to reach Osceola is driving. The scenic path is State Route 95 along the east bank of the St. Croix from Stillwater north to Osceola.
Location: 114 Depot Road, Osceola, WI
Phone: 1-651-228-0263
Website: transportationmuseum.org
E-mail: office@trainride.org