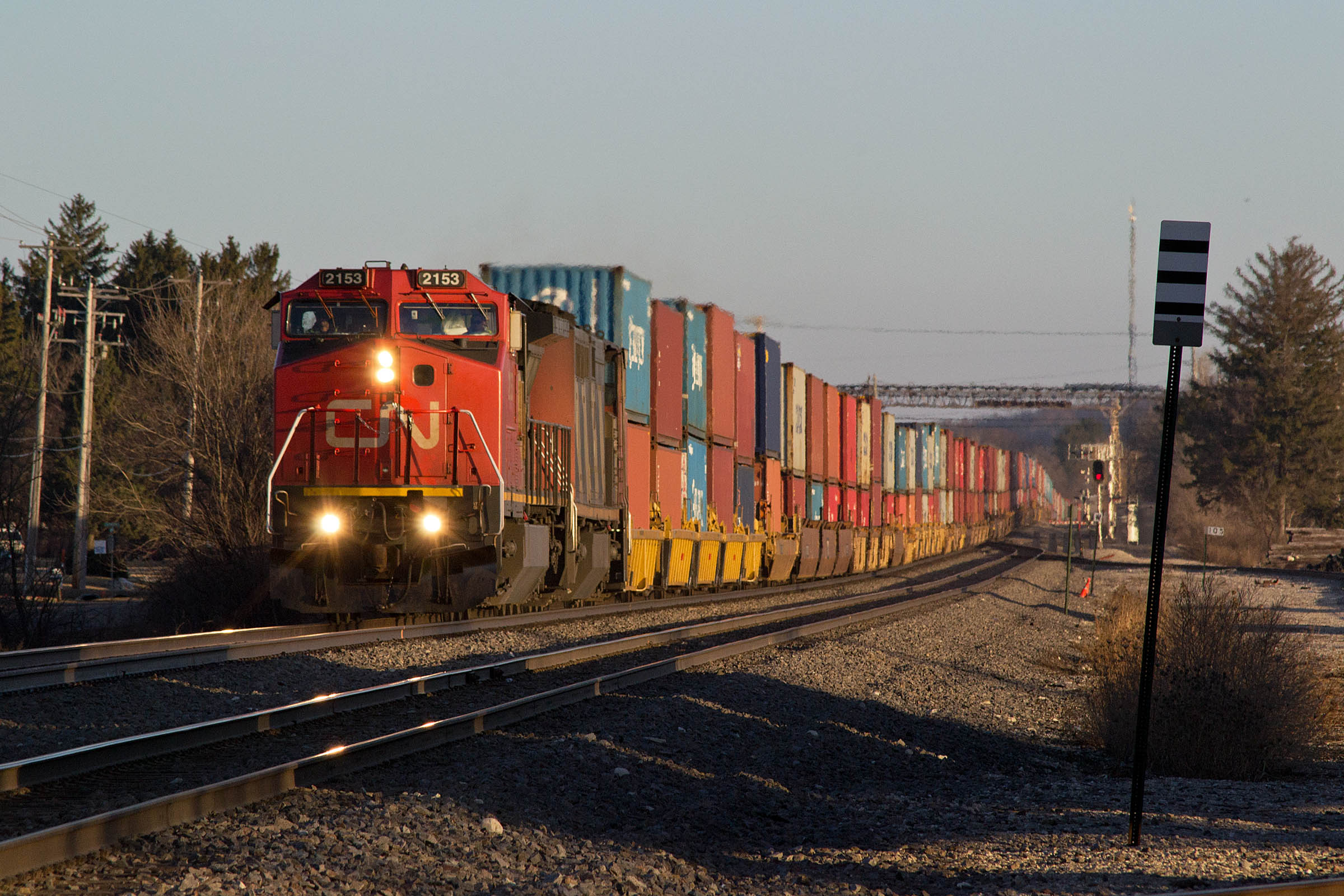 TRAINS: Brian Schmidt
Canadian National summary
Canadian National Railway Company (
CN
) is a Montreal, Quebec-based railroad operating over approximately 20,000 route miles connecting the Atlantic and Pacific oceans and the Gulf of Mexico throughout Canada and the central U.S. It connects principal cities such as Chicago; Halifax, Nova Scotia; Montreal; New Orleans; Toronto; Prince Rupert and Vancouver, British Columbia. Canadian National connects with all Class I railroads in North America. It's network forms a broad T-shape across the continent enabling it to cooperate or compete with all Class I railroads.
The railroad employed 25,975 employees as of Dec. 31, 2019.
History
The railroad was incorporated on June 6, 1919 to operate three financially ailing railroads that had come under the control of the Canadian government. The name Canadian National had already been in use for six months prior to the road's incorporation as a convenient way to refer to the government's combined operation of the Intercolonial Railway, the Canadian Northern Railway, and the Canadian Government Railways.
With the addition of the Grand Trunk Pacific and the Grand Trunk Railway, CN's main routes in Canada and the northern U.S. were in place. CN remained a government corporation until November 1995, when it was privatized.
CN subsidiary Grand Trunk Corporation is designated by the AAR as a U.S. Class I Railroad in its own right, with a main line stretching from Port Huron, Mich., to Chicago and two secondary lines to Detroit. From 1971, GTW was a part of CN's U.S. subsidiary Grand Trunk Corp., which also owned Duluth, Winnipeg & Pacific and Central Vermont. In 1980 it acquired the Detroit, Toledo & Ironton, from Detroit to Cincinnati, and in 1981 the Detroit & Toledo Shore Line. Portions of the former DT&I south of Toledo were later spun off and are now operated as the Indiana & Ohio Railway. In 1995, CN sold CV and was granted permission by the ICC to integrate its U.S. holdings into the CN system.
Although both GTW and DW&P still exist on paper they are operated as part of Canadian National.
On February 11, 1998, CN purchased the Illinois Central Railroad for $2.4 billion, adding 2,642 miles to its route map and a north-south trunk to what had previously been an east-west railroad. CN officially merged with IC on July 1, 1999, retaining the CN name and identity. By Oct., 2000, after a changeover in computer systems and operations, IC ceased to exist as a common carrier. On October 9, 2001, Canadian National purchased the Wisconsin Central Transportation Corp. for $1.2 billion, forming the missing link in CN's Y-shaped transcontinental system. (Prior to the merger, CN was WC's largest customer, the result of an August 1998 haulage rights agreement that saw CN trains use WC's rails between Superior and Chicago.)
WC's 2,850-mile rail network served the upper Midwest and Canada, with a main line from Chicago to Superior, Wis., and principal branches running west to Minneapolis and East Winona, and east across Wisconsin and Michigan's Upper Peninsula to Sault Ste. Marie and Hearst, Ontario. CN expanded again in 2004, acquiring two other railroad systems: Great Lakes Transportation and BC Rail.
See Canadian National's railroad predecessors, or family tree!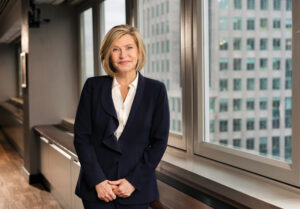 Tracy Robinson, Canadian National CEO. Canadian National Railway
Officers (as of November 2022)
Tracy Robinson — President and Chief Executive Officer
Ghislain Houle — Executive Vice-President and Chief Financial Officer
Doug MacDonald — Executive Vice-President and Chief Marketing Officer
Dominique Malenfant — Executive Vice-President and Chief Information and Technology Officer
Rob Reilly — Executive Vice-President and Chief Operating Officer
Olivier Chouc — Senior Vice-President and Chief Legal Officer
Dorothea Klein — Senior Vice-President and Chief Human Resources Officer
Helen Quirke — Senior Vice-President and Chief Strategy Officer
Marlene Puffer — President and Chief Executive Officer — CN Investment Division
History provided by Matt Van Hattem.