Montana Rail Link summary
Montana Rail Link (MRL) is a Class II regional railroad that operates over 900 miles of standard-gauge track in Montana and Idaho. It's owned by Washington Companies, a transportation and industrial conglomerate under businessman Dennis Washington. Headquartered out of Missoula, Mont., the railroad leases the former Northern Pacific Railroad's main line from BNSF Railway between Huntley, Mont., and Sandpoint, Idaho. MRL owns an additional 200 miles of branch line to Harrison, Alder, Philipsburg, Darby, St. Regis, and Polson, Mont.
History
Montana Rail Link was formed in 1987 by Washington to acquire the ex-Northern Pacific line in Montana from BNSF's predecessor, Burlington Northern. At the time, the BN solely owned both the NP and ex-Great Northern Railway main lines from Minneapolis to Seattle. Looking to concentrate freight traffic on just the GN, the railroad spun off 529 miles of track to the MRL. Operations began on October 31, 1987, followed by the reopening of both the 64-mile main line from DeSmet to Paradise, Mont., and the Livingston shops as a contract repair facility in 1988. Montana Rail Link has since made additional expansions for efficient improvements, including building a new staging yard west of Laurel, Mont., and adding new or extending passing sidings.
Operations
Montana Rail Link's principal commodities are paper, lumber and other forest products, grain, and BNSF overhead freight between Spokane, Wash., and Billings, Mont. The Gas Local is another operation under MRL serving as a bridge for a pipeline which hauls gasoline, diesel and aviation fuel between Missoula and Pipeline, (Thompson Falls) Mont.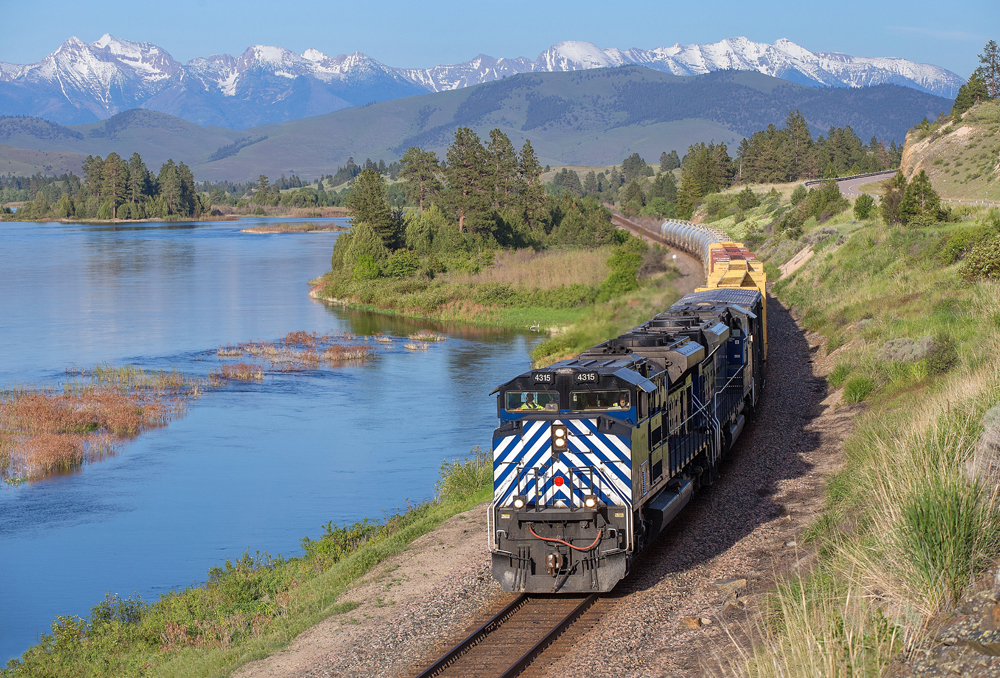 A fleet of second-hand EMD diesel locomotives made up the railroad's roster all the way up to the mid-2000s. While the SD45s and SD45-2s served as the most notable motive power, GP9s, SD9s, SD35s, F45s, and a rare SDP40 were also included. Several of the locomotives were rebuilt at Livingston shops, with more heavily upgraded. Sixteen EMD SD70ACes were acquired in 2005, marking the very first new power in Montana Rail Link's history.
While interchanging at each end of its main line at Jones Junction, Mont., and Sandpoint, Idaho, the MRL also has trackage rights on BNSF as far west as Spokane, Wash. On January 10, 2022, Montana Rail Link announced the end of its long-term lease. BNSF will resume all operations including the branch lines which will remain under Washington Companies' ownership.
Read more about Montana Rail Link in Trains' June 2022 issue.