TRAINS: David Lassen
BNSF Railway summary
Burlington Northern Santa Fe LLC is a railroad holding company formed in 1994 and incorporated in Delaware that owns BNSF Railway Company, a Fort Worth, Texas-based railroad with roots in Western U.S. railroading. It is primarily an East-West railroad serving Chicago, Texas, Los Angeles, the Pacific Northwest and point in between. The holding company and the railroad are wholly owned by Berkshire Hathaway, based in Omaha, Nebraska.
The Class I railroad operates over about 32,500 route miles throughout the West and three Canadian provinces and employed about 40,750 employees by Dec. 31, 2019. Its primary competitor is Union Pacific. BNSF Railway connects with five other class I railroads in Chicago. Other major interchange points are in Kansas City and Memphis.
History
The product of the Sept. 22, 1995 merger of the parent companies of the Atchison, Topeka & Santa Fe Railway and the Burlington Northern Railroad, BNSF is one of the west's two giant railroad systems. Its 32,000-mile network (24,000 owned route miles plus 8,000 route miles of trackage rights) covers the western two-thirds of the U.S., serving 27 states and two Canadian provinces. In 2005, Burlington Northern & Santa Fe Railway became BNSF Railway, and introduced a new logo concurrent with the launch of the railroad's new brand. (The corporation name remains Burlington Northern Santa Fe.)
Burlington Northern had been formed on March 1, 1970 by the merger of Chicago, Burlington & Quincy; Great Northern; Northern Pacific; and Spokane, Portland & Seattle. BN operated in three principal corridors: Chicago and Minneapolis-St. Paul (the Twin Cities) to Portland and Seattle in the Pacific Northwest; Chicago to Omaha, Denver and Montana, including the coal-rich Powder River Basin in Wyoming; and from Denver, Kansas City, St. Louis to Dallas-Fort Worth, Memphis, and Birmingham, Ala. On November 21, 1980, BN acquired the St. Louis-San Francisco Railway (the Frisco), once owned by the Santa Fe in the 1890's, whose main lines formed an "X" from St. Louis through Oklahoma to Texas and from Kansas City to Birmingham and Pensacola, Fla., (making BN and successor BNSF a true transcontinental railroad).
The Atchison, Topeka & Santa Fe Railway Company was chartered in 1859 and operated under that name, or its better known nickname "The Santa Fe," since 1863. The Santa Fe stretched from Chicago via Kansas City and Albuquerque to California, serving the Los Angeles and San Francisco areas, plus Denver, Phoenix, and extensive parts of Oklahoma and Texas.
BNSF announced its intent to merge with Canadian National on December 20, 1999, creating a 50,000-mile rail network. In response, the Surface Transportation Board imposed a 15-month moratorium on rail mergers on March 17, 2000, in order to rethink the rules under which future merger proposals would be evaluated. As a result, BNSF and CN called off their proposed merger on July 20, 2000.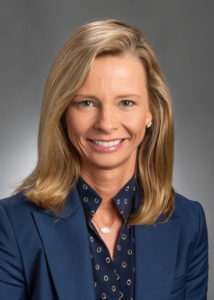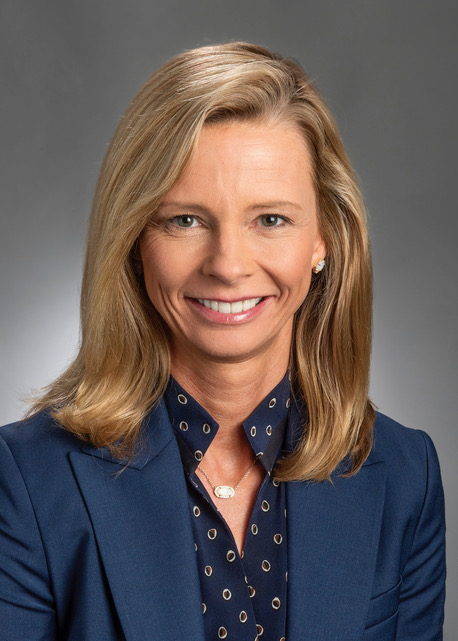 Katie Farmer, BNSF CEO. BNSF Railway
Executive officers (as of November 2022)
Katie Farmer — President and Chief Executive Officer
Steve Bobb — Executive Vice President and Chief Marketing Officer
Matt Igoe — Executive Vice President and Chief Operations Officer
Roger Nober — Executive Vice President — Law and Corporate Affairs — Chief Legal Officer
Paul Bischler — Executive Vice President and Chief Financial Officer
Judy Carter — Vice President and Chief Human Resources Officer
History provided by Matt Van Hattem.