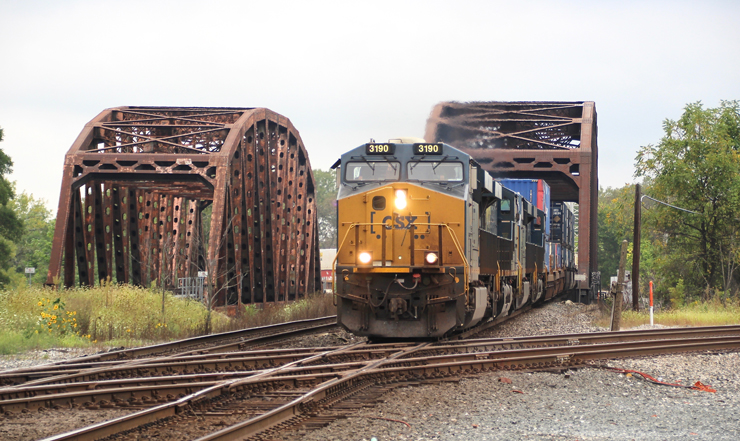 TRAINS: David Lassen
CSX summary
CSX Corporation is a railroad holding company incorporated in Virginia. The company's corporate headquarters are in Jacksonville, Florida. CSX Transportation Incorporated (CSXT), a large subsidiary of the company, operates a network of rail lines in the Eastern United States and primarily moves traffic on East-West routes. It's main competitor is the Norfolk Southern Corporation, and it connects with NS and four other Class I railroads in Chicago. CSX Corp. and its subsidiaries employed nearly 21,000 people in 2019. The railroad hauled freight over about 20,000 route miles between Midwest rail hubs in Chicago and St. Louis, and other places such as New Orleans, the New York City region, and as far south as Miami.
History
On November 1, 1980, the Chessie System and Seaboard Coast Line Industries merged to form the CSX Corporation. The two railroads were operated as separate subsidiaries until July 1, 1986 when the Seaboard System's name was changed to CSX Transportation. In 1987, the Chessie System was officially merged into the railroad, which then became the sole rail subsidiary of the company.
The Chessie System had been comprised of three railroads: the Baltimore & Ohio, Chesapeake & Ohio, and Western Maryland railroads.
Seaboard Coast Line Industries was the parent company of the Seaboard Coast Line Railroad, whose predecessors were the Seaboard Air Line and Atlantic Coast Line railroads.
Seaboard also controlled the Louisville & Nashville Railroad, which it officially merged in 1982, at which time the company was renamed the Seaboard System Railroad. Later additions to the Seaboard included the Clinchfield Railroad, the Georgia Railroad, and Georgia Railroad affiliates Atlanta & West Point Railroad and the Western Railway of Alabama.
In 1991 CSXT absorbed the Richmond, Fredericksburg & Potomac Railroad, in which it had a controlling stake, and in 1992 completed acquisition of the Pittsburgh & Lake Erie.
CSX Transportation expanded considerably on August 22, 1998 when it purchased 42 percent of Consolidated Rail Corporation, also known as Conrail, with the remaining 58 percent purchased by Norfolk Southern. Operations over former Conrail routes began on June 1, 1999.
The railroad received lines originally belonging to the old New York Central, including the eastern half of the famed Water Level Route between Boston, New York and Cleveland, and the Cleveland-Indianapolis-St. Louis route (part NYC, part Pennsylvania Railroad). CSXT also received an ex-Reading line between Philadelphia and northern New Jersey, over which predecessor B&O once operated passenger trains.
The Conrail acquisition necessitated the creation of shared area operations with Norfolk Southern in three regions: North Jersey, Philadelphia/South Jersey, and Detroit. CSX Transportation and NS both operate trains into the Monongahela coal fields of southwest Pennsylvania.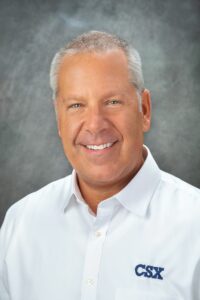 Joseph Hinrichs, CSX CEO. CSX Corp.
Executive officers (as of November 2022)
Joseph R. Hinrichs — President and Chief Executive Officer
Kevin Boone — Executive Vice President of Sales and Marketing
Jamie Boychuk — Executive Vice President of Operations
Stephen Fortun — Executive Vice President and Chief Digital and Technology Officer
Nathan Goldman — Executive Vice President, Chief Legal Officer and Corporate Secretary
Sean Pelkey — Executive Vice President and Chief Financial Officer
Diana Sorfleet — Executive Vice President and Chief Administrative Officer
Arthur Adams — Senior Vice President of Sales and Marketing
Brian Barr — Senior Vice President of Network Planning and Services
Farrukh Bezar — Senior Vice President and Chief Strategy Officer
Ricky Johnson — Senior Vice President of Engineering and Mechanical
History provided by Matt Van Hattem.