Silence on railfan photo lines is growing in importance as technology evolves and we find new, exciting ways to capture the essence of railroading when participating in rail photography charters.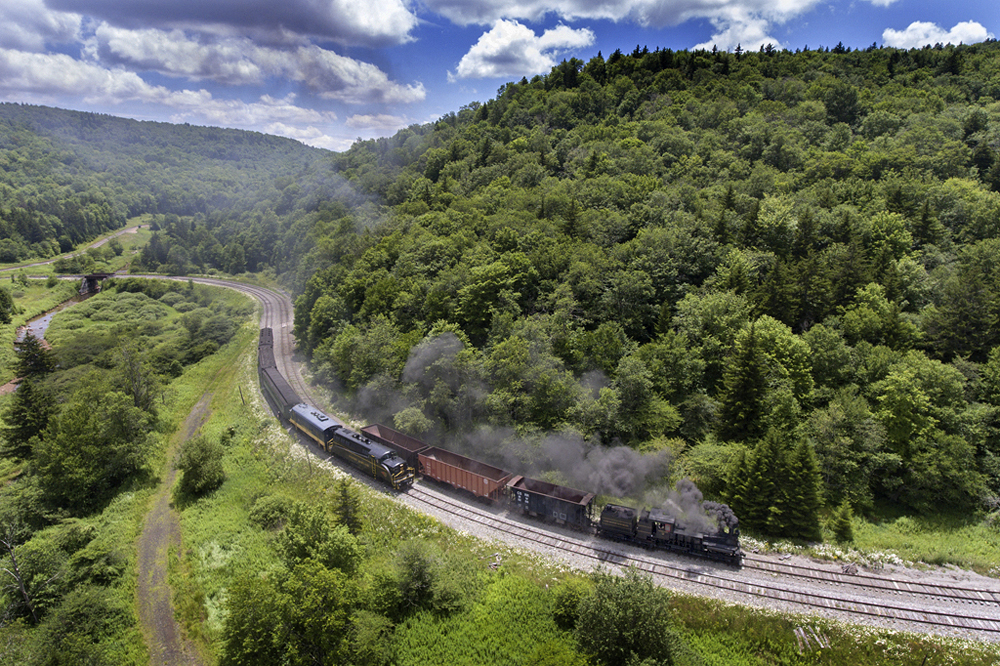 Those of us more enamored with still photography than videography may need to dial in on our photo line etiquette in consideration of how these new gadgets encroach on those capturing not just the sights of railroading, but the sounds, as well.
Photo lines can be serious business. While part of the allure is the social camaraderie among your camera-toting comrades, it's important to be respectful of one another at all times.  Respect will ensure that everyone enjoys their time trackside and comes away from an event satisfied.
One unintentional drawback to tech-savvy picture-taking gadgets is propeller noise from camera drones. While drones are relatively quiet when socially distant from the photo line, the take-off and landing can distract from the atmosphere the videographer is attempting to capture in the moments leading to, and after, the photo runby.
In photography, we are infatuated with an exact moment – the fraction of a second – that is the ideal image. The ideal moment in videography may last a couple minutes. I'm guilty of this, especially in fast-paced settings, or informal photo lines, and it's something I am working on being more cognizant of trackside. You may have captured the ideal shot, but the next guy could still be working on or waiting for his.
And on the subject of drones: Don't only silence your cell phones on a photo line (out of respect for the obvious) but go the extra step into Airplane Mode, so that an ill-timed text message or phone call doesn't interfere with your ability to pilot your unmanned aerial vehicle. I have a recurring fear that an incoming notification when synced to the drone's mobile app will interfere with its picture-taking abilities at the most inconvenient moment.