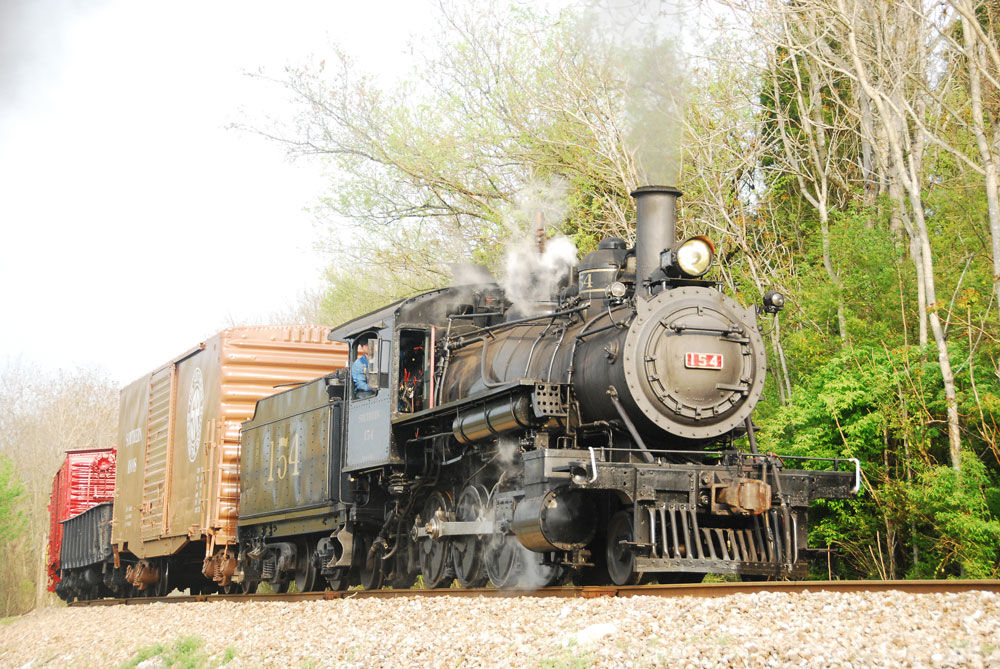 2022 steam locomotive list spring update: It's time for the active steam list update. Since we debuted the list last fall, we've gotten great feedback, updates, and added to the list.
New to the list is Southern Railway 2-8-0 No. 154 at the East Tennessee tourist carrier, Three Rivers Rambler, a part of Gulf & Ohio Railways. The Knoxville, Tenn.-based locomotive has quite the history. It was built in 1890 by Schenectady and was on display in the city for years until its restoration in 2010. It got a full 1,472-day inspection this time, as well.
Now for a quick look ahead to restorations we're anticipating.
Testing on Reading & Northern's Reading Co. 4-8-4 No. 2102 should begin in March. Having missed the T-1s on the American Freedom Train and the Chessie Steam Special and elsewhere, I'm super excited to see this one return. R&N has scheduled a series of trips with the T-hog in the spring and fall, and we'll look forward to this landmark locomotive.
In wild, wonderful West Virginia, Cass Scenic Railroad is wrapping up a 1,472-day inspection and repairs to the last Shay built, Western Maryland No. 6. The massive 162-ton brute of a Shay will be back out in 2022 pulling trains up and down the mountains above Cass. A fixture at the railroad since 1981, this super Shay will soon be back in service at the nation's unofficial operating museum of geared steam.
Speaking of Cass, the railroad announced that it will be building a new boiler for Buffalo Creek & Gauley 2-8-0 No. 4, which came home in 2015. The 1926 Baldwin last operated at N.C. Transportation Museum in 2001. It will be the featured power on the Cass-Durbin line whose restoration is nearing a close. The railroad needs the fan community's support to complete the project. For details and how to help, see www.steamthe4.com. As one who has stoked No. 4's boiler and pulled its throttle (when it ran at N.C. Transportation Museum as No. 604, 1987-2001), I wholeheartedly endorse this project. Bring back Old Slobberface!
Speaking of rebuilds we'd like to see, the two-state commission that oversees the Cumbres & Toltec Scenic Railroad has approved rebuilding a K-37 Mikado, either No. 492 or 497. No. 497 last ran in 2002, No. 492 in the 1960s. It would be great to see either one climbing Cumbres Pass.
Remember, to qualify for the active steam list, a steam locomotive of 2-foot gauge and up must run in a public venue at least one day each year. The locomotives listed here should have had some sort of prior life in regular service. Replicas of historical significance are recognized.
Here's the list.
Trains' 2022 steam locomotive list, spring update
Total: 154
Methodology:
•Locomotives of 2-foot gauge and up.
•Must run in a public venue at least 1 day per year or be capable of doing so.
•Must have had some sort of prior life in regular freight or passenger service before preservation or be a replica of national significance.
Alabama – 0
Alaska – 2
•Alaska Railroad 0-4-0T No. 1 coal narrow 1899
•White Pass & Yukon 2-8-2 No. 73 oil narrow 1947
Arkansas – 0
Arizona – 1
•Grand Canyon Railway 2-8-2 No. 4960 oil standard 1923
California steam locomotive list – 19
•Disneyland Railroad No. 3 2-4-4T (Baldwin 1894)
•Disneyland Railroad No. 4 2-4-0 (Baldwin 1925)
•Disneyland Railroad No. 5 2-4-4T (Baldwin 1902)
•Eastern California Museum's Southern Pacific 4-6-0 No. 18 oil narrow 1911
•Knott's Berry Farm 2-8-0 No. 340 oil narrow 1899
•Niles Canyon Railway's Clover Valley 2-6-6-2T No. 4 oil standard 1924
•Niles Canyon Railway 2-4-4-2 "Skookum" No. 7 oil standard 1909
•Niles Canyon Railway's Robert Dollar 2-6-2T No. 3 oil standard 1927
•Placerville & Sacramento Valley Railroad/Stathi Pappas 0-4-0T No. 2 oil standard 1909
•Poway Midland 0-4-0 No. 3 oil standard 1907
•San Bernardino Railroad Historical Society's ATSF 4-8-4 No. 3751 oil standard 1927
•Sierra Railway 2-8-0 No. 28 oil standard 1922 oil standard
•Roaring Camp & Big Trees 0-4-2T No. 1 oil narrow
•Roaring Camp & Big Trees 2-truck Heisler Tuolomie oil narrow
•Roaring Camp & Big Trees 2-Truck Shay Dixiana oil narrrow
•Roots of Motive Power 2 Truck Heisler No. 1 oil standard
•Roots of Motive Power 2-6-2T No. 1 oil standard
•Yosemite Sugar Pine three truck Shay No. 10 oil narrow
•Yosemite Sugar Pine three truck Shay No. 15 oil narrow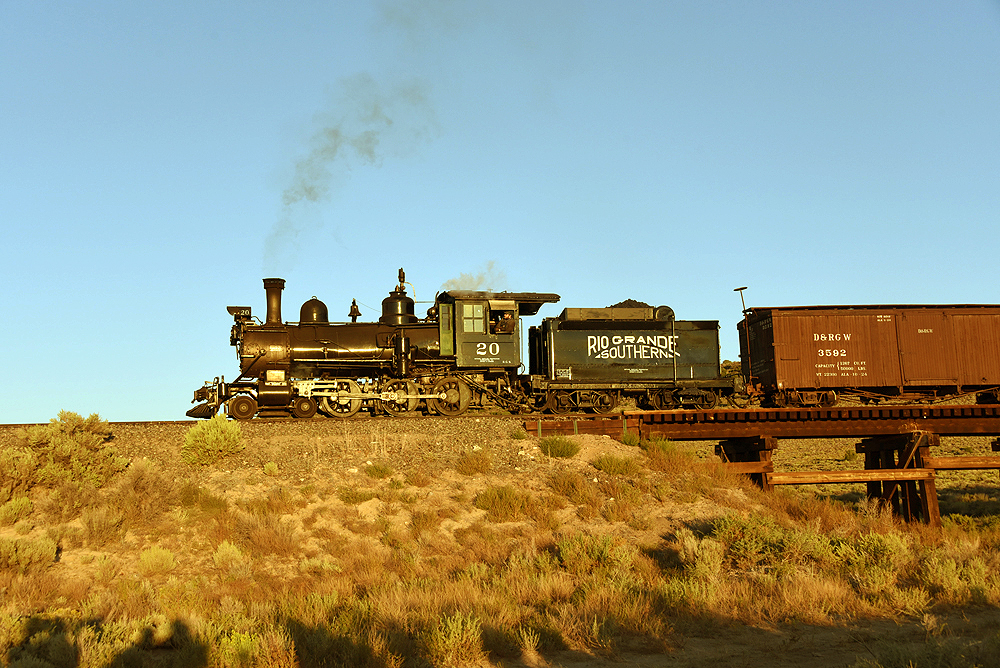 Colorado steam locomotive list – 16
•Cripple Creek & Victor 0-4-4-0 No. 1 coal narrow
•Cripple Creek & Victor 0-4-0T No. 2 coal narrow
•Cripple Creek & Victor 0-4-0 No. 3 coal narrow
•Colorado Railroad Museum's Rio Grande 2-8-2 No. 491 coal narrow
•Colorado Railroad Museum's Rio Grande 2-8-0 No. 346 coal narrow
•Colorado Railroad Museum's Rio Grande Southern 4-6-0 No. 20 coal narrow
•Durango & Silverton 2-8-2s Nos. 473, 476, 480, 481, 486, 493 //// 2 coal 4 oil narrow
•Durango Railroad Historical Society's Denver & Rio Grande Western 2-8-0 No. 315/425 coal narrow
•Georgetown Loop 2-8-0 No. 40 oil narrow
•Georgetown Loop 2-8-0 No. 111 oil narrow
•South Park Rail Society 2-6-2 No. 4 oil narrow
Connecticut — 3
•Connecticut Antique Machinery Association Hawaii Railway 2-4-2 No. 5
•Valley Railroad 2-8-2s Nos. 40 and 3025 coal standard
Delaware – 1
•Wilmington & Western 0-6-0 No. 58 coal standard
Florida – 1
•U.S. Sugar 4-6-2 No. 148 oil standard 1920s
Georgia – 1
•Georgia Museum of Agriculture 0-4-0T No. 2
Hawaii – 2
•Grove Farm Museum 2-4-0T "Paulo" (Hohenzollern, 1887) and 0-6-2T "Wainiha" (Baldwin, 1915)
Illinois -2
•Illinois Railway Museum's Frisco 2-10-0 No. 1630 coal standard
•Illinois Railway Museum's J. Neils Lumber 3-truck Shay No. 5 coal standard
Indiana – 5
•Hesston Steam Museum 2-6-0 No. 2 coal standard
•Fort Wayne Railroad Historical Society's Nickel Plate Road 2-8-4 No. 765 coal standard 1944
•Gramling Locomotive Works' Jeddo Coal 0-4-0T No. 85 coal standard
•Gramling Locomotive Works' Lehigh Coal 0-6-0T No. 126 coal standard
•Privately-owned Bock Lumber Co. 0-4-4T No. 1 at Hoosier Valley Railroad Museum standard
Iowa -3
•Iowa Interstate 2-10-2 No. 6988
•Midwest Central 2-6-0 No. 6
•Midwest Central's Westside Lumber Co. 3-truck Shay No. 9 oil narrow
Kansas – 1
•Abilene & Smokey Valley Railroad's Santa Fe 4-6-2 No. 3415 oil standard
Kentucky – 0
Louisiana – 0
Maine – 4
•Boothbay Railway Museum 0-4-0T No. 6 (Henschel 1934)
•Wiscassett Waterville & Farmington 0-4-4T No. 9
•Maine Narrow Gauge Museum B&SR No. 7
•Maine Narrow Gauge's Monson 0-4-4T No. 3
Maryland – 1
•Western Maryland Scenic 2-6-6-2 No. 1309 coal standard 1949
Massachusetts – 1
•Edaville 0-4-0 No. 11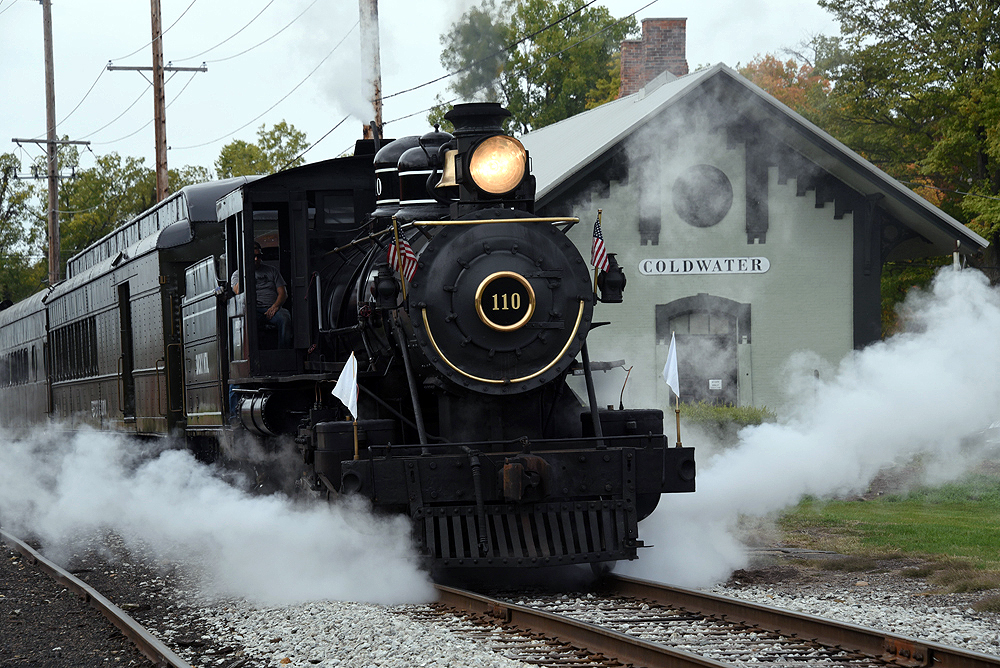 Michigan – 7
•Buckley Old Engine Show's Army 0-4-0T
•Henry Ford's 0-6-4T No. 3 Torch Lake (oldest operating locomotive in U.S. 1873)
•Henry Ford's Detroit & Lima Northern 4-4-0 No. 7
•Huckleberry Railroad 4-6-0 No. 2
•Pere Marquette 2-8-4 No. 1225 coal standard 1940s
•Little River 0-4-0T No. 1
•Little River 4-6-2 No. 110 coal/wood standard 1911
Minnesota – 4
•Lake Region Steam Threshers 0-4-0T No. 2
•Milwaukee Road 4-8-4 No. 261 coal standard 1944
•Western Minnesota Steam Thresher's Soo Line 0-6-0 No. 353
•Western Minnesota Steam Thresher's 0-4-0 No. 3
Missouri – 4
•Silver Dollar City 0-4-0T No. 14
•Silver Dollar City 0-4-0T No. 43
•Silver Dollar City 0-4-0T No. 76
•Silver Dollar City 0-4-0 No. 504
Mississippi – 0
Montana -0
Nebraska – 1
•Henry Doorly Zoo's 30-inch Austrian 0-6-2T
Nevada – 7
•Dan Markoff's Eureka & Palisade 4-4-0 No. 4 wood narrow
•Nevada Northern 2-8-0 No. 81 coal standard 1917
•Nevada Northern 2-8-0 No. 93 coal standard 1909
•Nevada State Railroad Museum 4-6-0 Glenbrook
•Nevada State Railroad Museum's Virginia & Truckee 4-4-0 No. 22 Inyo
•Nevada State Railroad Museum's Virginia & Truckee 4-6-0 No. 25
•Virginia & Truckee 2-8-0 No. 29 oil standard
New Hampshire – 4
•Conway Scenic 0-6-0 No. 7420 coal standard
•Mount Washington Cog 0-4-4-0 Nos. 2, 6 & 9
New Jersey – 2
•Black River & Western 2-8-0 No. 60 coal standard
•SMS 0-6-0 No. 9 coal standard
New Mexico — 7
•New Mexico Steam Locomotive & Railroad Historical Society's ATSF 4-8-4 No. 2926 oil standard 1940s
•Cumbres & Toltec Scenic 2-8-2s Nos. 463, 484, 487, 488, 489 //4 coal 1 oil narrow 1920s
•Cumbres & Toltec's Denver & Rio Grande 4-6-0 No. 168 coal narrow
New York – 1
•Scott Symans American Viscose 0-4-0T No. 6
North Carolina – 3
•Great Smoky Mountains Railway 2-8-0 No. 1702 oil standard 1940s
•Tweetsie 4-6-0 No. 12 coal narrow
•Tweetsie 2-8-2 No. 190 coal narrow
North Dakota – 0
Oklahoma – 0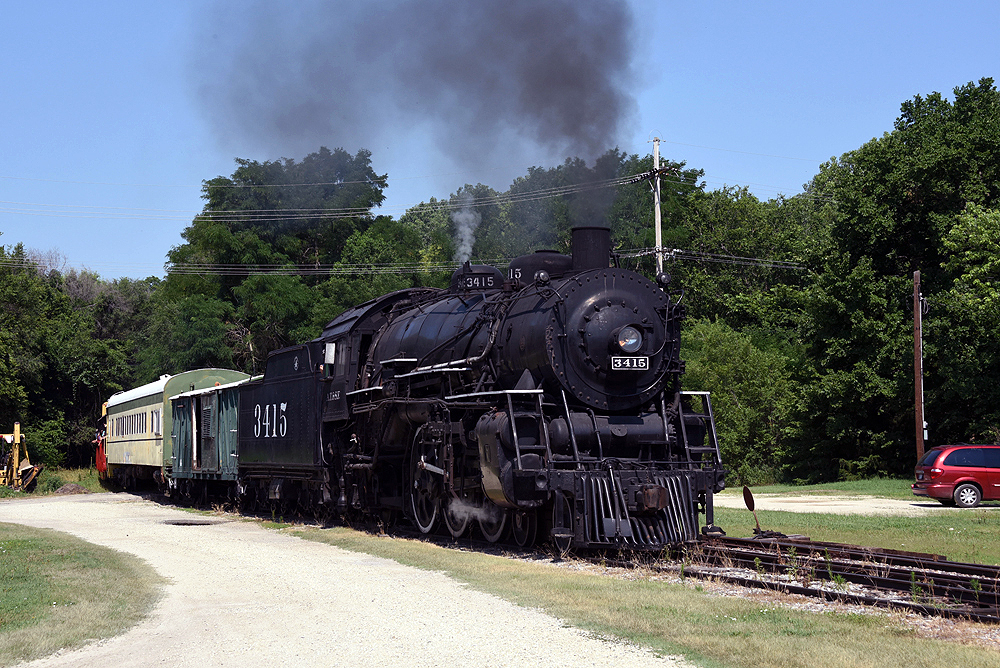 Ohio – 7
•Cedar Point & Lake Erie No. 1 2-4-0
•Cedar Point & Lake Erie No. 4 2-4-0
•Cedar Point & Lake Erie No. 5 2-4-0
•Cedar Point & Lake Erie No. 22 2-4-0
•Hocking Valley 0-6-0 No. 3 coal standard
•Age of Steam's Morehead & North Fork 0-6-0 No. 12 coal standard
•Youngstown Steel Heritage 0-4-0T No. 58 coal narrow
Oregon – 8
•City of Prineville's Mount Emily 3-truck Shay No. 1 oil standard
•Oregon Coast Scenic's Craig Mountain Lumber 2-truck Heisler No. 3 oil standard
•Oregon Coast Scenic's McCloud River Railway 2-6-2 No. 25 oil standard
•Oregon Coast Scenic's Polson 2-8-2 No. 2 oil standard
•Albany & Eastern's Santa Maria Valley 2-6-2 No. 205 oil standard 1920s
•Sumpter Valley 2-8-2 No. 19 oil narrow
•Sumpter Valley's W.H. Eccles 2-truck Heisler No. 3 wood narrow
vOregon Railroad Heritage's Southern Pacific 4-8-4 No. 4449 oil standard 1941
Pennsylvania steam locomotive list – 13
•Bucksgahuda & Western 0-4-0T No. 1
•Strasburg 4-8-0 No. 475, 2-6-0 No. 89, 2-10-0 No. 90 coal standard
•New Hope & Ivyland 2-8-0 No. 40 coal standard
•Everett 2-6-0 No. 11 coal standard
•Pioneer Tunnel 0-4-0T No. 1
•Railway Restoration's Central of New Jersey 0-6-0 No. 113 coal standard
•Reading & Northern 4-6-2 No. 425 coal standard
•Star Barn's 4-4-0 No. 63 oil standard
•Steamtown's Baldwin plant switcher 0-6-0 No. 26 coal standard
•Steam into History's Northern Central 4-4-0 No. 17 York oil standard
•Williams Grove Historical Steam Engine Association's Pennsylvania Railroad 0-6-0 No. 643 coal standard
South Carolina – 0
South Dakota – 3
•Black Hills Central 2-6-6-2Ts Nos. 108 and 110 oil standard
•Prairie Village 0-6-0 No. 29
Tennessee – 5
•Southern 2-8-0 No. 630 coal standard 1904
•Southern 2-8-2 No. 4501 coal standard 1911
•Dollywood 2-8-2s No. 70 and 19
•Southern 2-8-0 No. 154
Texas – 3
•Six Flags Texas 2-4-2 No. 2
•Six Flags Texas 2-4-2 No. 2
•Texas State Railroad 2-8-0 No. 30 oil standard
Utah – 2
•U.S. National Park Service replica of Union Pacific 4-4-0 No. 119 coal standard 1970s
•U.S. National Park Service replica of Central Pacific 4-4-0 Jupiter wood standard 1970s
Vermont – 0
Virginia – 1
•Virginia Museum of Transportation's Norfolk & Western 4-8-4 No. 611 coal standard 1950
Washington State – 1
•Northwestern Railway Museum's Northern Pacific 0-6-0 No. 924
Wisconsin – 2
•Soo Line 2-8-2 No. 1003 coal standard
•Rock River Threshers 0-4-0 No. 7
West Virginia – 6
•Cass Scenic Railroad Shays Nos. 2, 4, 5, and 11 coal standard 1905,
•Cass Scenic Railroad Climax 9 coal standard 1919
•Cass Scenic Railroad Heisler 6 coal standard
Wyoming – 2
•Union Pacific 4-8-4 No. 844 oil standard 1944
•Union Pacific 4-8-8-4 No. 4014 oil standard 1941