Repowering locomotives is essential for a railroad to meet its needs. This is installment, number three, on our quest to find mishmashed locomotives, which reinforces the notion that railroaders will do anything and everything necessary to keep the daily routine fluid. Sometimes they ask a builder to create what they need, other times they make it themselves.
In the late 1950s and into the 1960s, many railroads were starting to become financially shaky, and their managements had to figure out ways to pare back expenses.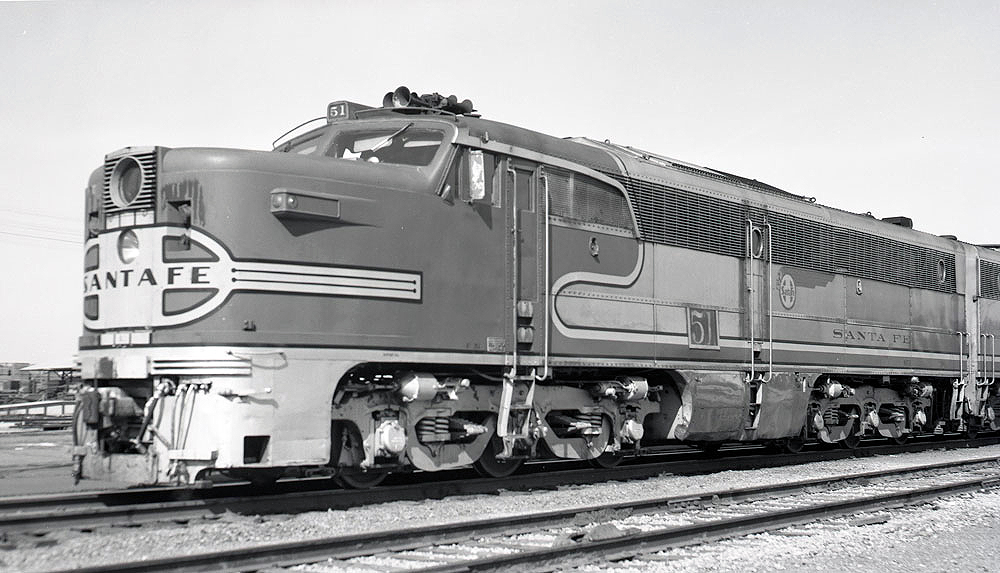 CLICK THE LEFT AND RIGHT ARROWS FOR THE FULL PHOTO GALLERY
Santa Fe rostered 44 Alco PA1 and PB1 models. The sleek looking units were perfect to power the road's varnish, except their model 244 prime movers could be finicky and maintenance heavy. Santa Fe experimented by sending units 51A, 51B, and 51L, an A-B-A set, back to EMD for 1,750-hp 567 prime movers. They worked well, but the idea was not repeated, and the trio, more often than not, could be seen working San Diegans between Los Angeles and San Diego. Here's 51L at Santa Ana, Calif., on Feb. 26, 1966. H.N. Proctor, Lloyd Transportation Library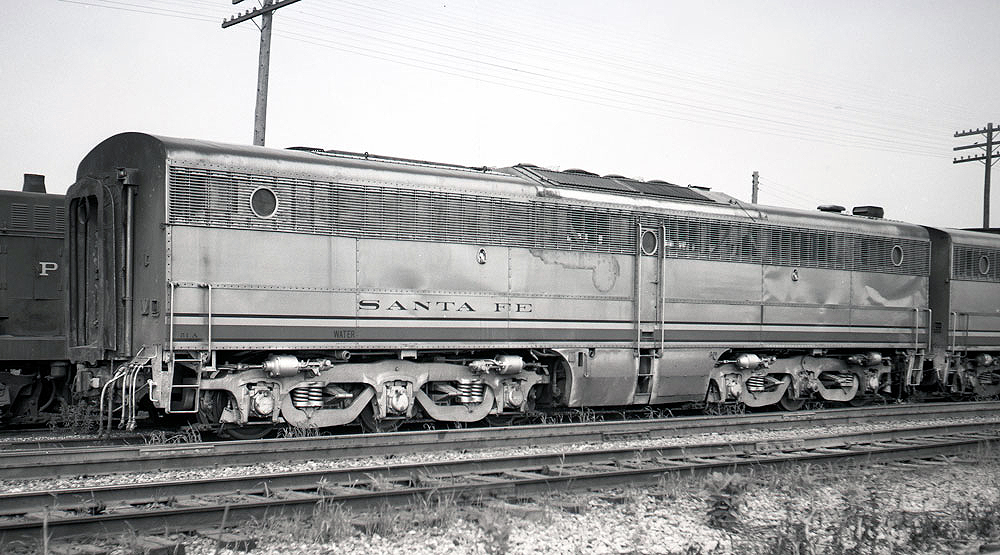 Santa Fe's only PB1 re-engined by EMD. In June 1968, 51B had been retired and spotted as a trade-in on the deadline of builder EMD at La Grange, Ill. The raised hump on the roof gives its rebuilding away. Notice the Santa Fe emblem has already been removed. Lloyd Transportation Library


Missouri-Kansas-Texas Railroad, as previously mentioned, re-engined many diesels with EMD engines. Among them was Baldwin DS-4-4-1000 1,000 hp switcher No. 22. That's a 567C rated at 1,000 hp under that modified EMD hood. Dallas, Texas, no date given. Lloyd Transportation Library.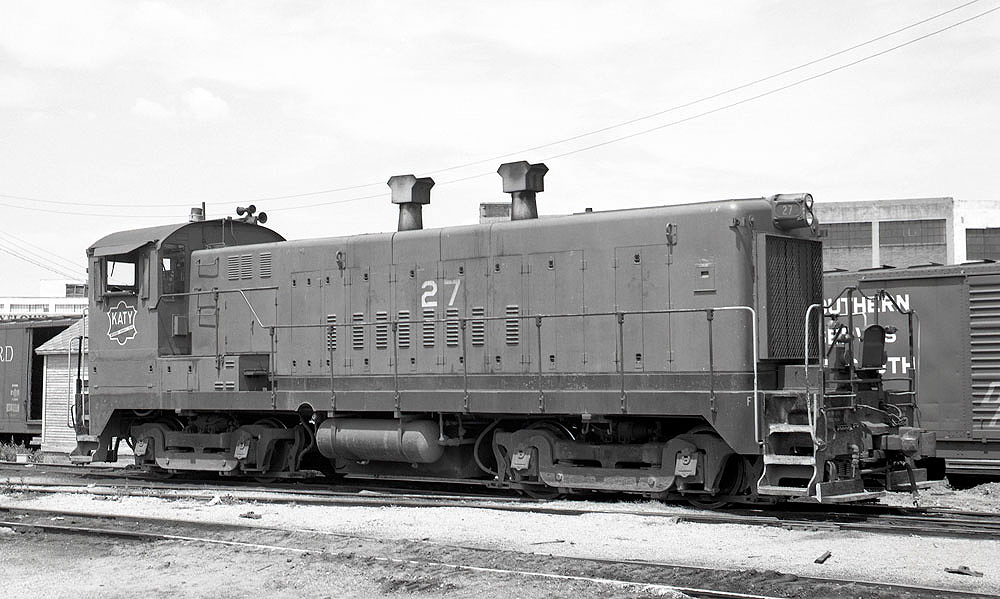 Another MKT DS-4-4-1000 switcher, this time at Fort Worth, Texas, June 1, 1965. This unit is in the previous Deramus red paint scheme. Lloyd Transportation Library.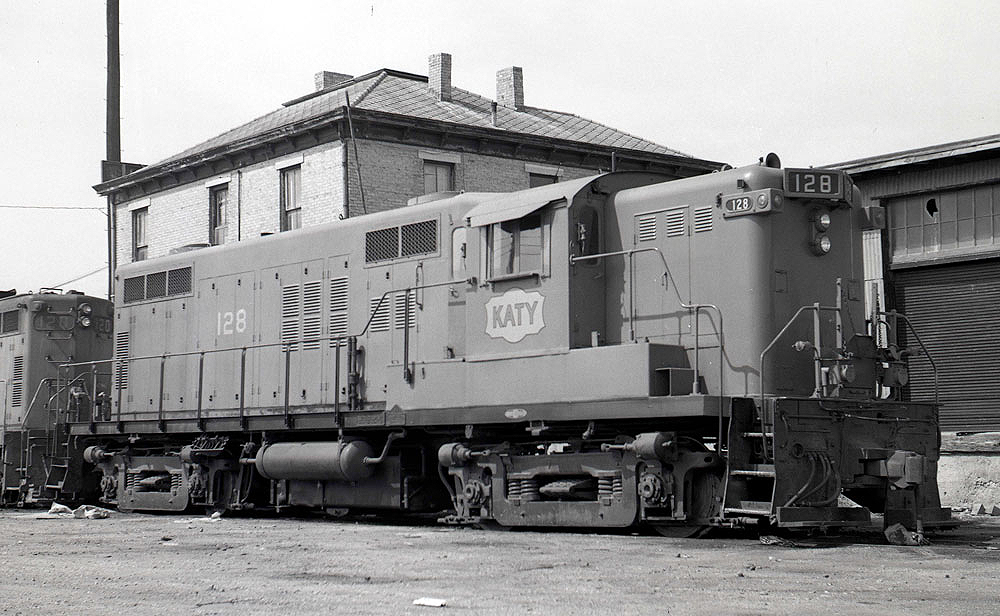 MKT 128 started life as a Baldwin AS-16, a four-axle, 1,600-hp road switcher with a long hood similar in design and style as the short hood in this Austin, Texas photo from the mid-1960's. It came back from EMD with a Geep-style long hood and m.u. capabilities, enabling it to match the rest of the Katy fleet. Note the EMD builder's plate on the frame. Jim Hickey, Lloyd Transportation Library.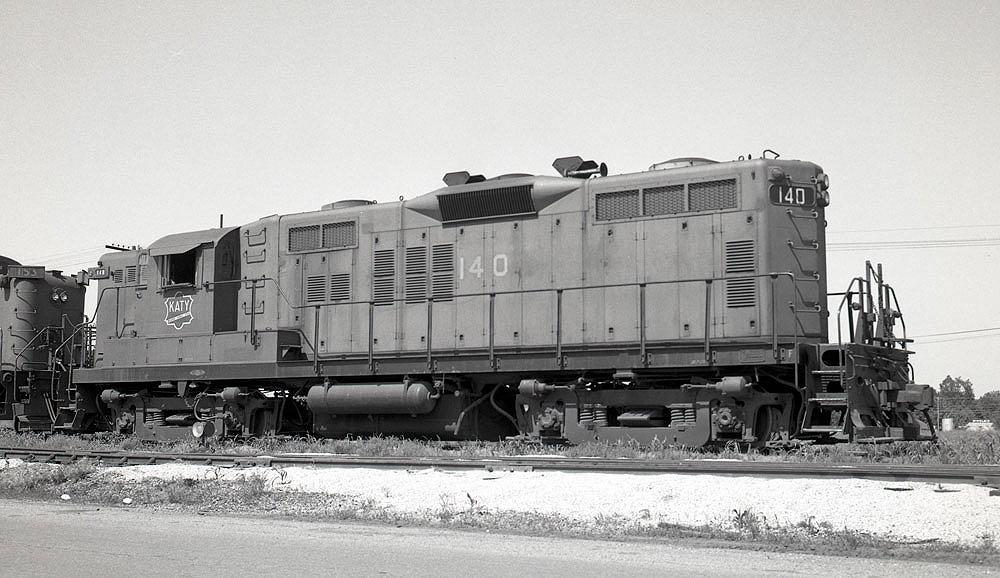 No. 140 is another MKT Baldwin AS-16 re-engined with an EMD 567 prime mover. This unit has dynamic brakes – hence the "blister" on the top of the long hood. It's still set up for long-hood forward and has an EMD builder's plate on its frame. May 26, 1970, at Parsons, Kan. Lloyd Transportation Library.


Not every rebuild went to EMD. Nickel Plate had four Baldwin road-switchers, eventually sending two to EMD and two to Alco. This is AS-16 No. 320 at Brewster, Ohio on June 26, 1966, with an Alco 251 prime mover humming under the long hood. The Baldwin builder's plate is still attached, next to the longer trust plate on the frame. Another example of Alco getting the nod for repowering was a set of Norfolk & Western FM H-24-66 Train Masters. Pennsylvania re-engined a few Baldwin Sharknose diesels with Alcos, as well. David H. Hamley, Lloyd Transportation Library.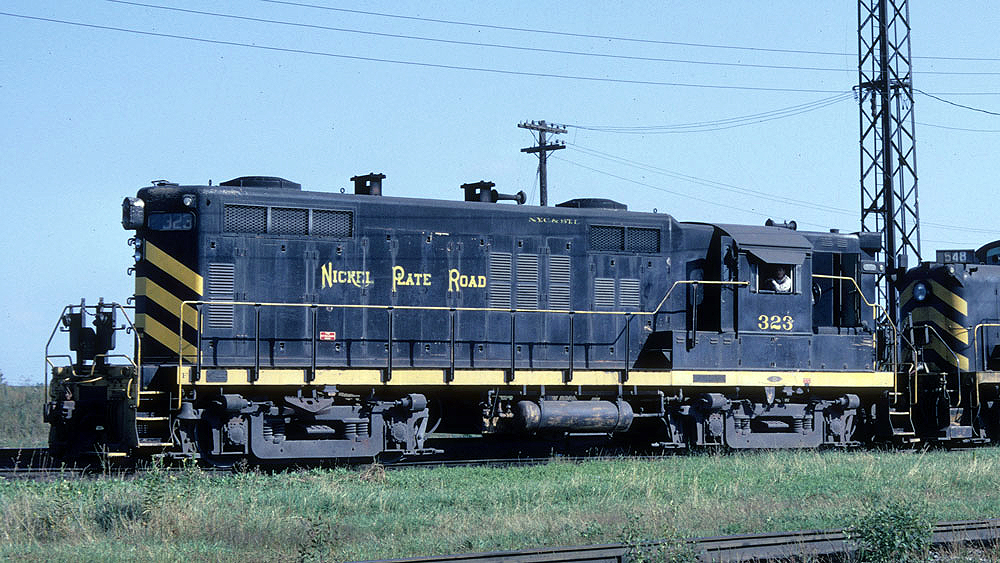 Here's one of the other pair of Baldwin road-switchers Nickel Plate re-engined with EMD 567's. Photographed September 1966, at Toledo, Ohio, it is still set up long-hood forward. Note the Baldwin builder's plate on the front of the unit's frame, and the EMD plate under the cab. Lloyd Transportation Library.


Frisco also got into the rebuilding game and had a number of Alco and Baldwin units sent to EMD for new prime movers and associated electrical equipment. No. 204 started out as a 1,000-hp Baldwin VO-1000 built in late 1941. Spotted at Memphis, Tenn., Sept. 19, 1968, it's still 1,000 hp but now also sports a modified EMD switcher hood. Lloyd Transportation Library.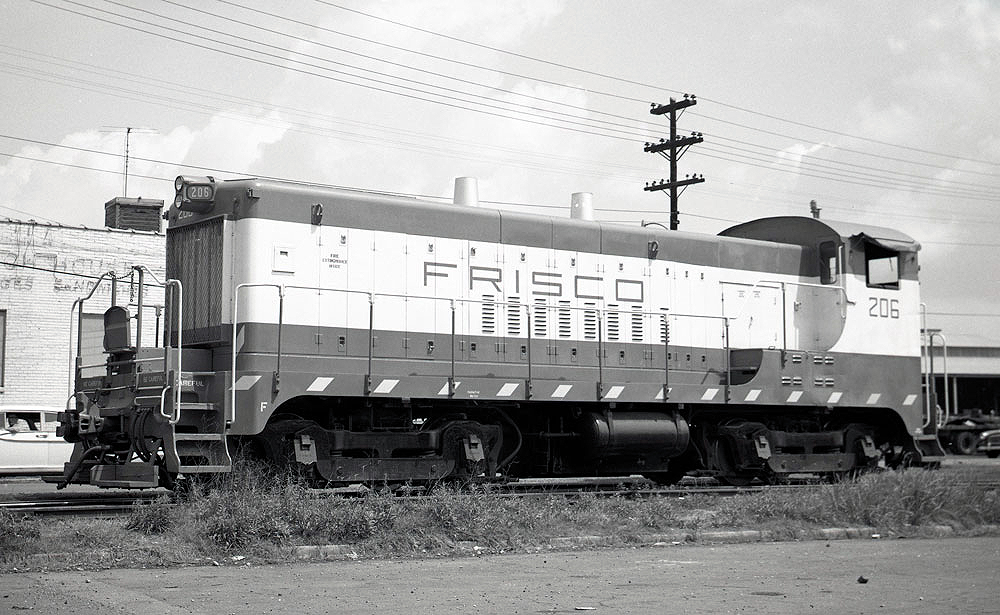 The latter red and white Frisco paint scheme worked well on this re-engined Baldwin photographed in Birmingham, Ala., Nov. 25, 1966. No. 206 is a late 1952 product that definitely stayed on the roster longer due to its new prime mover. Lloyd Transportation Library.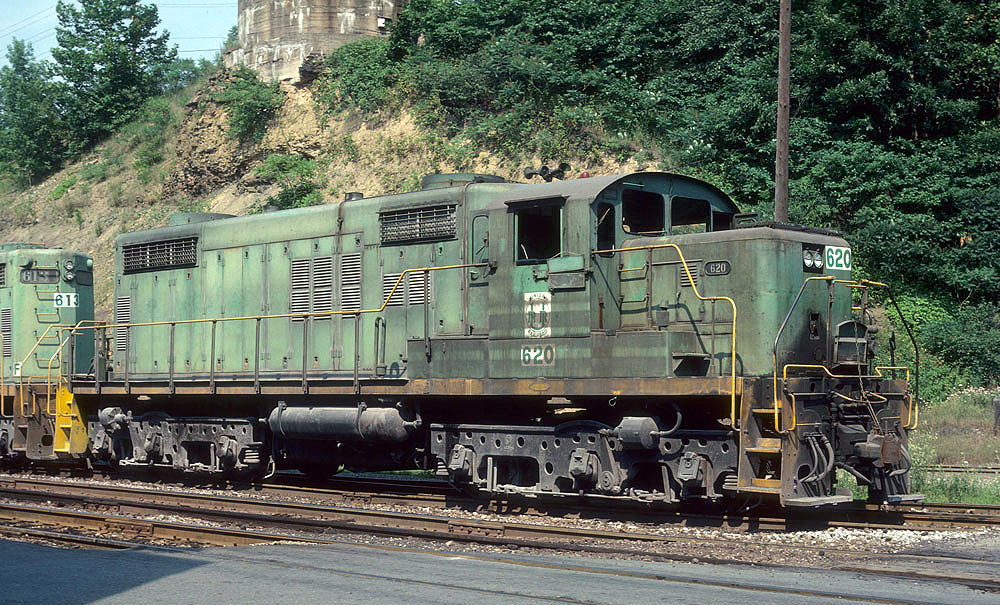 Union Railroad No. 620 is almost unrecognizable as a Baldwin DRS-6-6-1500. Built in 1949, Union had a number of them rebuilt at EMD. They operated in that configuration for a number of years afterward until Union ran them through their own shops and cut down the short hood. Look carefully and you'll see the EMD builder's plate under the yellow frame stripe. Gordon Lloyd, Jr., Lloyd Transportation Library.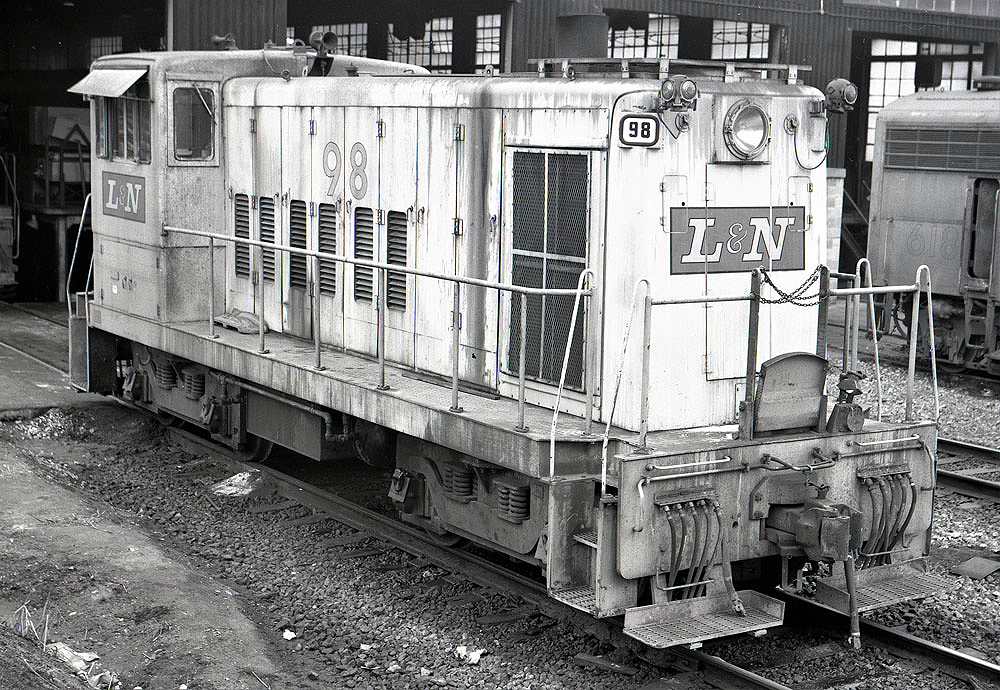 Louisville & Nashville GE 70-tonner No. 98 – What looks like a out-of-the-box GE 70 tonner, the hood seems slightly higher. That's because L&N re-engined the unit with an Alco 251 prime mover in their own shops. Successful, it eventually wound-up switching refrigerator cars for Tropicana in Florida. Tim Morris caught it in Nashville, Tenn., in 1966.

Railroaders' ingenuity knows no bounds
One area of possible savings was in motive power. Stocking parts from five different builders, plus making sure the mechanical department was able to service and repair the different units, required a substantial chunk of cash. But you just don't sideline a portion of your roster and buy new just to slim down the number of builders. One answer was repowering the lesser locomotive models of the odd builders with components of the major builders, simplifying the roster, cutting daily expenses, and keeping the trains rolling.
Using as an example the Missouri-Kansas-Texas Railroad, look at its original motive-power roster; diesels from EMD, Alco, GE, Baldwin, and Fairbanks-Morse, all operating on a route map of less than 3,000 miles, serving Kansas, Missouri, Texas, and Oklahoma.
With the exception of a handful of FM road-switchers that management allowed to be rebuilt by the original builder, MKT had everything else re-engined with a new EMD prime mover and the various sundry equipment to make it work well. Some railroads managed to tuck the EMD prime mover into the existing cab or hood unit, others opted for a modified Geep or SW hood to replace the original.
Some of the other railroads that actively took this path included Missouri Pacific, Rock Island, Frisco, and Penn Central. Others dabbled with the idea and created rosters with original units idling next to re-engined models.
For the most part, it gave extended life to many units that would have been retired earlier and motive-power devotees a whole new group of locomotives to watch and photograph.