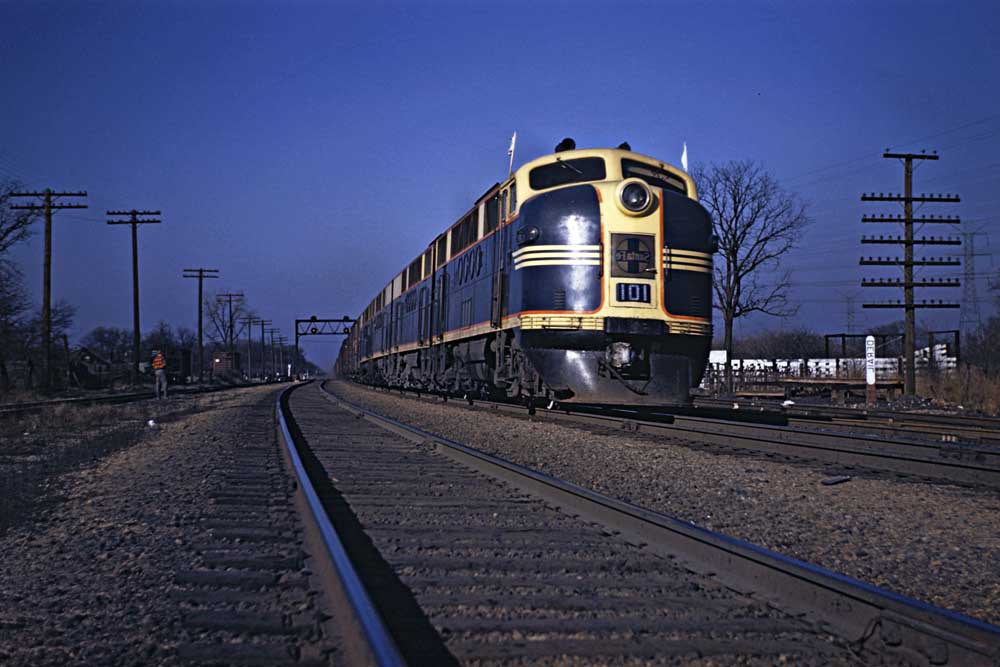 Electro-Motive history: Steam was king, its supremacy uncontested, in 1922 when Harold L. Hamilton and associates rented office space at 17th and Euclid in Cleveland, Ohio, for their fledgling Electro-Motive Engineering Co. Established to design, market, and maintain gas-electric railcars for light-density passenger service, the modest enterprise could hardly be considered a threat to the Big Three steam locomotive builders, let alone to all of steam locomotion.
Why, the little upstart — its name abbreviated to simply the Electro-Motive Co. soon after its founding — had no factory, no shop, and not even a proprietary product line. EMC was reliant upon suppliers: Winton for most of its gas engines; General Electric for control and electrical systems; and carbuilders such as St. Louis Car and Pullman to assemble its self-propelled "doodlebugs."
Sales of EMC's gas-electric doodlebugs boomed at first, with several hundred cars delivered in the firm's first few years of business. The Great Depression emptied the order books, though, and but for the intervention of General Motors, little Electro-Motive might have quietly withered away. Instead, GM purchased EMC, along with its major supplier, Winton Engine Co., in 1930
With General Motors at the wheel, EMC moved beyond distillate and doodlebugs, providing prime movers and expertise in the construction of power cars for lightweight passenger trains, from Union Pacific's bulbous City streamliners to Illinois Central's Green Diamond and Burlington Route's legendary Zephyrs. Meanwhile, Winton, under the tutelage of GM's Charles F. Kettering, set to developing a diesel engine.
The result was the two-cycle, 750-rpm Winton 201, which soon found favor with the U.S. Navy as a lightweight diesel suitable for submarines. In 1934 the Winton was introduced to railroading when an 8-cylinder, 600 hp 201A was lowered into the slope-faced, stainless-steel power car of the Edward G. Budd Manufacturing Co.'s original Burlington Zephyr.
Railroading would never be the same.
Moving the masses
With a name honoring the Greek god of the west wind, the articulated three-car Zephyr set the world afire. A breathtaking vision of stainless steel and glass, the Zephyr, true to its name, could run like the wind. On its inaugural tour, the train dashed from Denver to Chicago without stopping. While the public was seduced by the Zephyr's good looks and speed, her greatest asset was the Winton 201A beneath her shiny skin. The rhythmic chant of a two-cycle Electro-Motive diesel was the sound of the future.
Even the steam builders took notice. It was one thing to build a business around light-weight doodlebugs and marginal back-road passenger operations, but quite another to steal premier passenger trade from the rightful province of Pacifics, Hudsons, and Northerns. The Big Three builders (Alco, Baldwin, and Lima) scowled and pointed fingers at the finite capacity and limited power of the lightweight speedsters. Electro-Motive, of course, had more up its sleeve than pocket streamliners.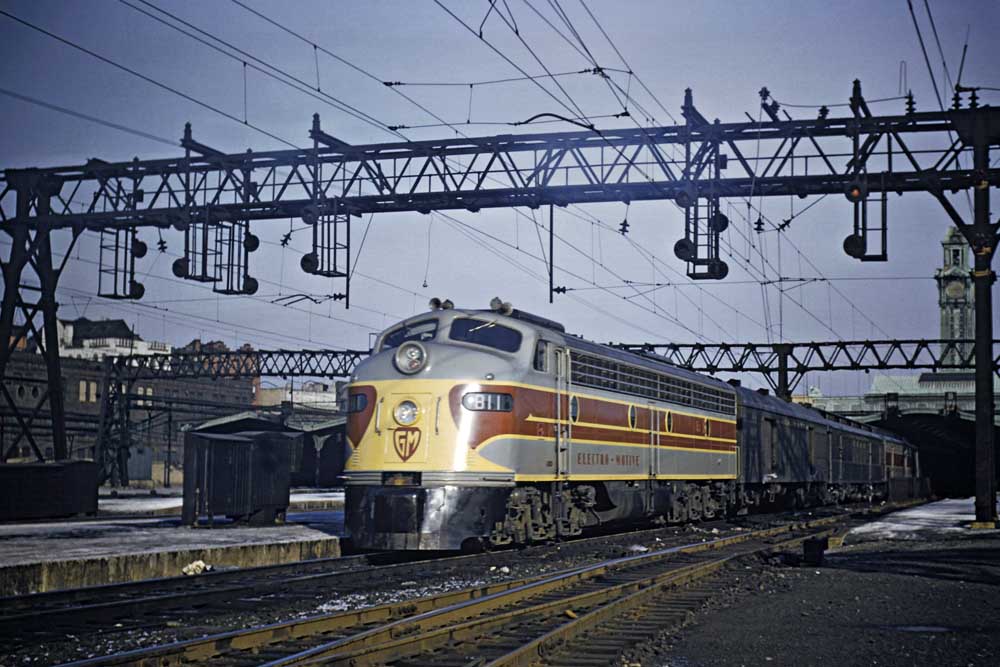 Hot on the heels of the Zephyr, Electro-Motive boldly took on the steam establishment with Winton-powered diesel-electric locomotives. Still without a factory of its own, the brash newcomer contracted General Electric, St. Louis Car, and Bethlehem Steel to construct nine proto-type locomotives in 1935-36.
Electro-Motive history shows its first locomotives took shape in Erie, Pa.; St. Louis, Mo.; and Bethlehem, Pa. Concurently, EMC broke ground for its own factory in the Chicago suburb of McCook, Ill. Better known for its mailing address in adjacent La Grange, the 200,000-square-foot plant would soon be celebrated as "the home of the diesel locomotive." At the time, the groundbreaking was little more than local news, but history would prove that the fate of American steam was sealed when a polished steel shovel cut into the cold earth of a farm field next to Route 66 and the Indiana Harbor Belt/B&OCT belt line in McCook on March 27, 1935.
General Electric's Erie works (which also supplied electrical equipment for early EMC's) completed Electro-Motive's first diesels, Lackawanna 600 hp end-cab SC switchers 425 and 426, in February and March 1935. Also in March, EMD 518, a 900 hp, off-center cab switcher, was built by Bethlehem Steel at Wilmington, Del., and sold shortly thereafter to subsidiary Philadelphia, Bethlehem & New England
Lacking the glamour of the Zephyr were EMC's passenger prototypes, 511 and 512. The twin-engined, 1,800 hp, B-B box-cabs were the brainchild of EMC designer Dick Dilworth, who chose function over form in creating a "four-axle boxcar" designed to match the performance of such steam thoroughbreds as New York Central's J-1 Hudsons. The two demonstrators were completed at Erie in May 1935, followed by Baltimore & Ohio 50, a nearly identical unit finished in August for service on the Royal Blue. St. Louis Car turned out a final pair of passenger box-cabs, Santa Fe 1 and 1A, for the all-Pullman Chicago-Los Angeles Super Chief.
The oddball in EMC's early lineup was an 1,800 hp, twin-engined, articulated-frame center-cab transfer locomotive outshopped by St. Louis Car in May 1936, Illinois Central 9201. It remained a one-of-a-kind but presaged drawbar-connected "TR" duos that IC would commission from EMC a few years later. The ungainly center-cab unit would also mark the end of EMC's dependence on other builders. Even as IC 9201 came together, the erecting floor of the brand-new EMC La Grange plant was crowded with SC switchers . . . and drafting boards stacked with drawings of bigger and better things to come.
Among those things was a sleek, slant-nosed, twin-engined, 1,800 hp A1A-A1A passenger diesel that bore no external resemblance to Dilworth's boxy prototypes. B&O signed up for the first production models, designated EA for cabs and EB for boosters.
Possessed of "the most famous face in dieseldom," the Electro-Motive E unit became the standard passenger locomotive of American railroading, and would be such for generations. Evolving from EA to E1 through E9, trading Winton 201A's for successor 567's and shaving its elegant, slanted nose to a pug bulldog style, the E unit reigned supreme over American varnish, dethroning the monarchs of steam.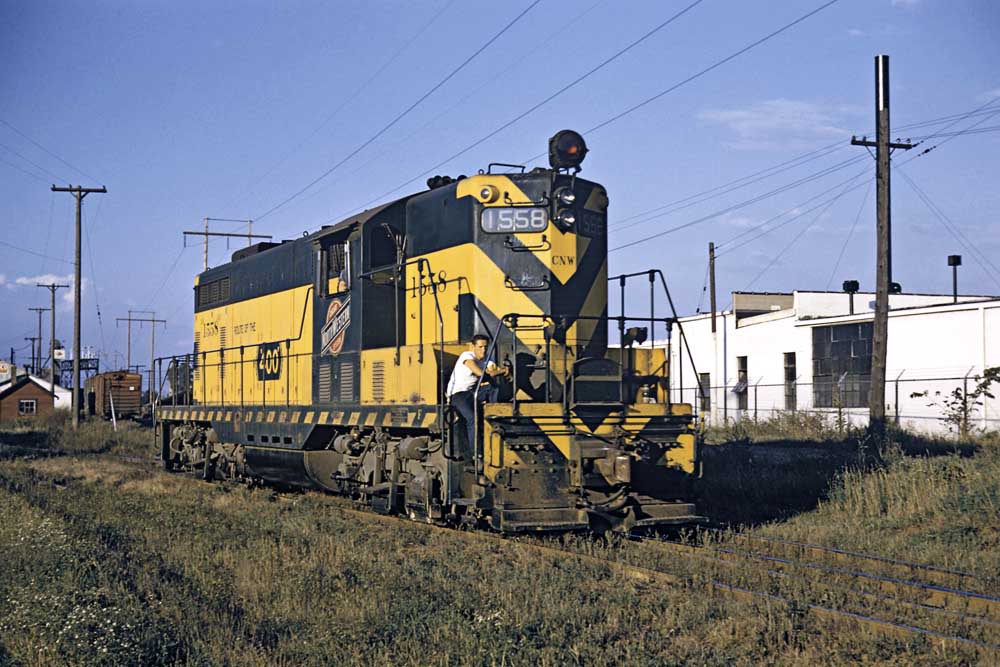 Elegance defined, the E unit was just the beginning. In 1938, EMC introduced a successor to the pioneer Winton 201A, the two-cycle, V-type 567. The engine would power a new line of locomotive models, from the 6-cylinder, 600 hp SW1 to the 12-cylinder, 1,000 hp NW2 and the twin-V12, 2,000 hp E3. A road-freight diesel was the only thing missing from the lineup.
FT is for freight
But not for long. Enter the FT, a 1,350 hp B-B road locomotive offered singly, in cab and booster versions, or in multiples, from 2,700 hp A-A or A-B sets to a 5,400-h.p. A-B-B-A configuration. The FT debuted in November 1939 as EMC 103, an A-B-B-A demonstrator set that embarked on an 11-month, 35-state, 83,764-mile barnstorming tour that would sound the death knell for steam.
Spearheading the first wave in the assault on steam, the FT sold 1,096 units to 23 carriers by 1945. The FT, wrote Trains magazine Editor David P. Morgan, "must be ranked as perhaps the most influential piece of motive power since Stevenson's Rocket, for in one stroke, it broke steam's historic monopoly of freight traffic and thereby forecast total dieselization . . ."
General Motors formally merged Electro-Motive and Winton Engine Co. to form its Electro-Motive Division in 1941. No longer "the new kid on the block," EMD was a force to be reckoned with. Packing a full arsenal of ever-improving and more powerful models, EMD catapulted to the top.
By the end of World War II, steam was doomed. Dieselization was no longer a question of if, but when. And La Grange led the way, outselling all the other builders combined.
EMD wasn't perfect. It was uncharacteristically slow, for instance, to respond to the road-switcher, an innovative concept introduced in 1941 by the Alco RS1 and adopted right after the war by Baldwin. After briefly stumbling with the "Branch Line" locomotive, though, La Grange got it right as the 1949 introduction of the GP7, Dick Dilworth's "Ugly Duckling," delivered the coup de grace to steam.
After that, there was no stopping Electro-Motive. Production spilled out of La Grange, forcing EMD to establish a second assembly plant in Cleveland and a Canadian subsidiary in London, Ontario. By the early 1950s, EMD had steam on the ropes and the Big Three builders playing a life-or-death came of catch-up that left Alco fighting for survival and delivered Baldwin and Lima a knockout punch from which neither would recover.
EMD turned up the heat as the 1,500 hp F7/GP7 line gave way to 1,750 hp F9/GP9 line in 1954. One by one, the great steam bastions fell — more often than not, to diesels bearing the words "Electro-Motive Division" on their oval-shaped builder's plates.
The builder would retain its supremacy until 1983, when, after more than two decades of effort, General Electric unseated EMD as the top U.S. locomotive builder. Following years of lukewarm feelings for its La Grange subsidiary, GM finally sold off EMD in 2005.
But when the last fires of revenue Class I railroad steam were dropped in 1960, seven of every 10 diesels credited with the victory bore the EMD stamp.