Locomotives with two diesel engines: The recent announcement by Union Pacific to donate a portion of its heritage steam and diesel fleet has lowered the number of Class I railroads owning double diesel locomotives to one. A double diesel locomotive features two prime movers on a single frame to increase the horsepower beyond what's available in a single prime mover.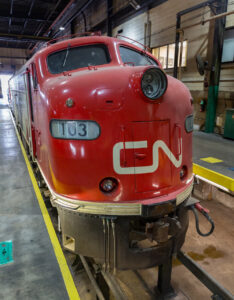 Union Pacific announced in late April it was donating a number of steam and diesel locomotives along with other equipment to Railroading Heritage of Midwest America. This included the last operating DDA40X locomotive, a model built by EMD and exclusive to Union Pacific. Only 47 were built between 1969 and 1971 and would be the final design of locomotives with two diesel engines, or double diesels for heavy-haul freight locomotives in North America.
The last stand for the DDA40X locomotives in revenue service would be in the 1980s when Union Pacific found itself power short and revived a number of them for a short period of time. UP No. 6936 would continue to stay on the roster following the retirement of the rest of the fleet, retained for excursion service across the system. It continued to serve Union Pacific until its last trip, which was made in July 2016 and has been parked ever since.
While the double diesel design was used extensively on early passenger locomotives, they were less commonly purchased for freight service across North America. Following World War II, railroads across the country demoted their double diesel passenger locomotives to freight service during the decline of passenger service in the 1950s and 1960s.
Following Union Pacific's recent donation, Canadian National has become the last Class I railroad to roster locomotives with two diesel engines with its pair of E units. Built for the Chicago, Burlington & Quincy, both locomotives arrived on Canadian National's roster following its acquisition of Illinois Central. Officially, the two E9As are in long-term storage on CN's roster with their future powering future business trains uncertain at this point.