EMD DDA40X: In 1968, Union Pacific purchased 50 20-cylinder, 3,600 hp EMD SD45s for high-speed service. However, the units did not meet management's expectations in that role. So, UP commissioned EMD to design and build a locomotive that would develop more horsepower than the DD35, U50, or C855 models. The result was the largest double-diesel locomotive ever produced, the EMD DDA40X.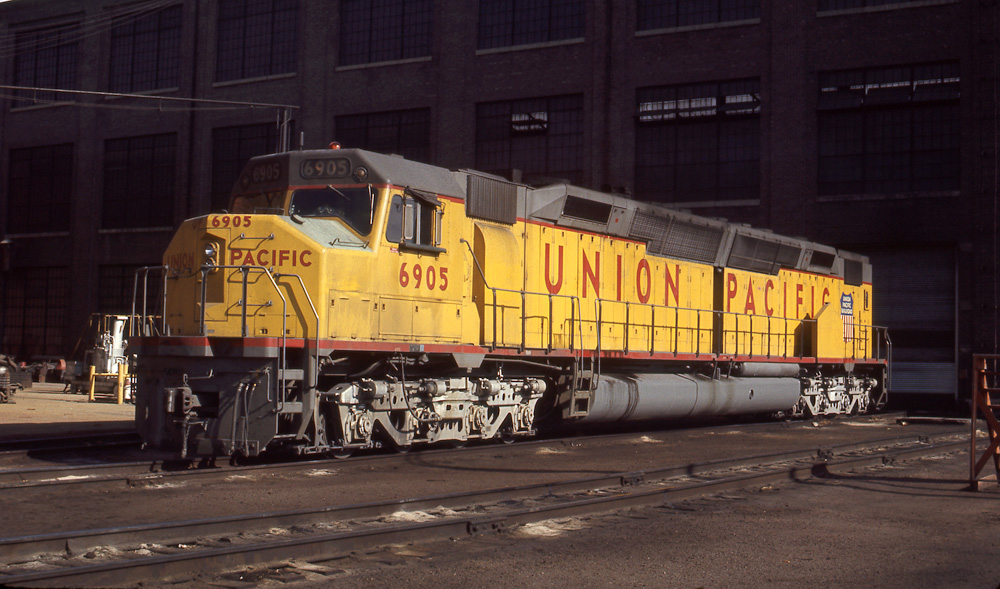 The first one built, No. 6900, was completed just in time to participate in ceremonies commemorating the 100th anniversary of the driving of the Golden Spike in Utah on May 10, 1969. To honor that event, the class was dubbed "Centennials."
The locomotives were powered by two 16-cylinder, 3,300 hp, 645E3A engines arranged in the same fashion as the DD35As — one alternator near the rear of the carbody and the other behind the cab. (Alternators replaced generators beginning in 1965–66.) The radiators flared out at the middle of the unit with an open passageway between the engine compartments, again like the DD35As. The unit rode on two, four-axle Flexicoil trucks, and all axles were geared to D-77X traction motors. The cab was similar to that on EMD's F45 and FP45 and had a small nose door.
The "X" in the model designation was to indicate a number of experimental features, notably new modular electronics that would appear in the upcoming Dash 2 series models. The new components made maintenance and trouble-shooting easier. The DDA40Xs also had a self­loading feature that enabled them to be tested independent of an external load box.
Delivery dates were staggered over a two-year period. The last unit, No. 6946, was delivered in September 1971.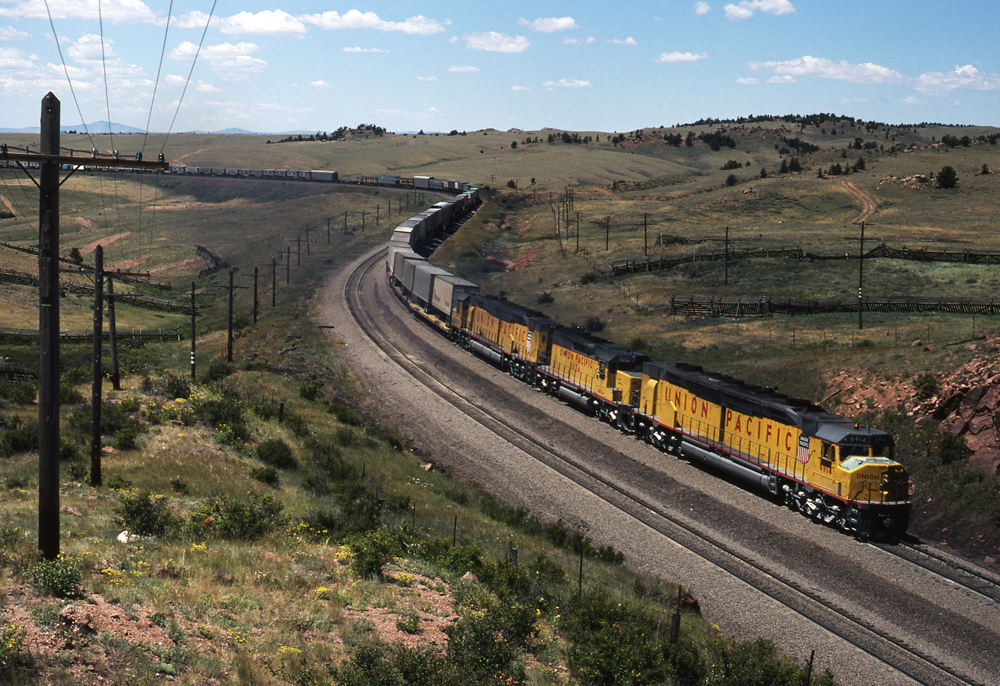 By the mid-1970s, the EMD DDA40X Centennials had each accumulated more than a million miles of service. To improve their reliability, UP initiated a "fail safe" program in 1976, which was completed the next year. The apex of DDA40X operation was during 1976-1979 when they were paired with one or two 8000-series SD40-2H "Fast 40s" on priority freights across the system. With increasing maintenance costs and coupled with a nationwide economic recession, all were in storage by August 1980.
An upturn in business in late 1983 and a shortage of power saw 25 returned to service in February 1984; the others were unserviceable and stripped for parts. All 25 were again stored by December 1984, but 14 saw limited service in early 1985. The last regular run of a DDA40X occurred May 5-6, 1985, on a Los Angeles to Chicago run, with No. 6936 and SD40-2 3680 as the lead power.
Of the 47 Centennials, two were wrecked and scrapped, Nos. 6903 and 6921, but an amazing 13 are preserved — nearly 28 percent of the fleet! No. 6936 is still on the UP roster in its heritage fleet, but is committed for donation to Railroading Heritage of Midwest America in Silvis, Ill.