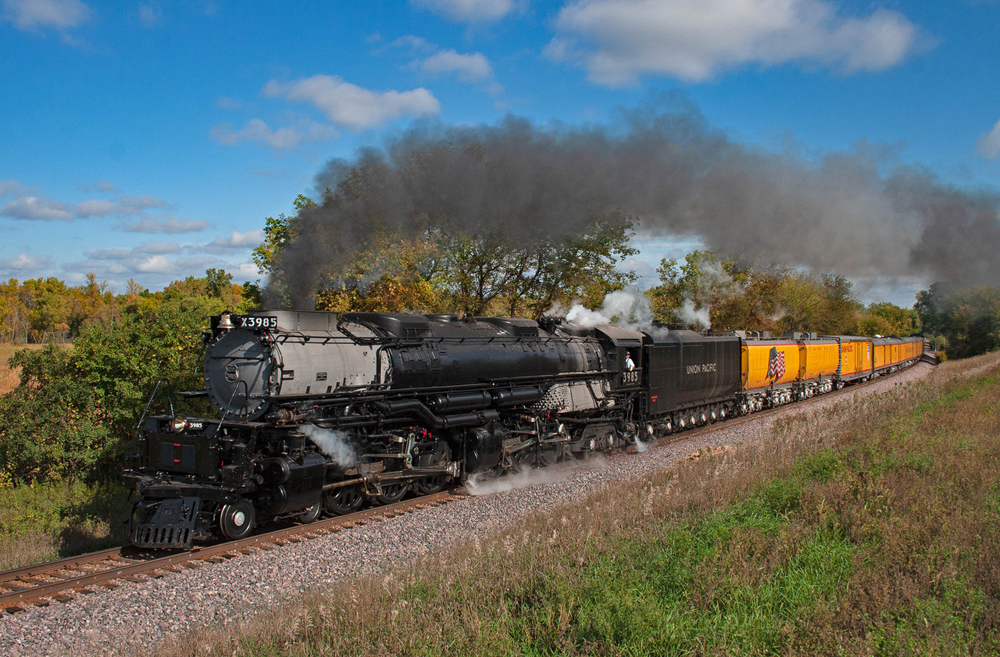 ---
OMAHA, Neb. and MINNEAPOLIS, Minn. — Union Pacific Railroad and the non-profit Railroading Heritage of Midwest America today announced an agreement that will see Challenger No. 3985, 2-10-2 No. 5511, DDA40X No. 6936, and other equipment from UP's Heritage Fleet donated to RRHMA, which plans to restore both steam locomotives to operating condition.
Also being donated are an unrestored former E9B locomotive, four coaches, a diner-lounge car, ex-Western Pacific business car Selma, former Southern Pacific business car Stanford, a baggage car, and a caboose. The equipment will be moved by UP to RRHMA's recently acquired shop complex in Silvis, Ill. later this year.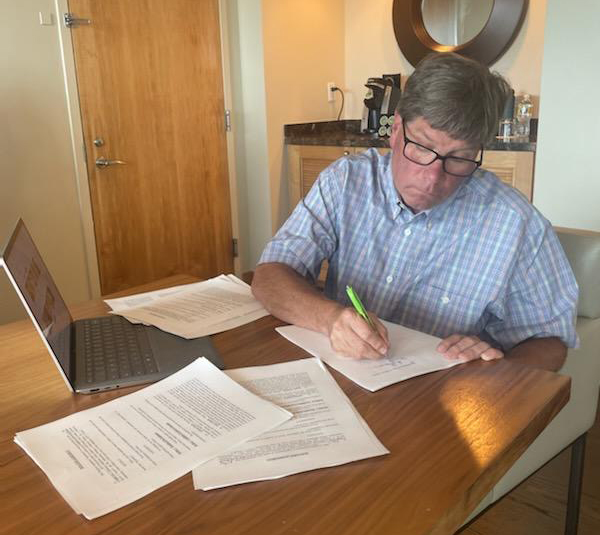 RRHMA plans to return the steam locomotives to service in a multi-year, multi-million-dollar restoration project at Silvis, which has the space for the work and the large overhead cranes needed to lift the locomotive boilers off their frames for restoration. No. 3985 will be restored first to UP's specifications, similar to how the company rebuilt Big Boy steam locomotive No. 4014. No. 5511, which last ran in the mid-1950s, will be restored after 3985 is complete. With Iowa Interstate's two Chinese-built QJ 2-10-2s now out of service, No. 5511 will be the only the only operating 2-10-2 in the United States when completed.
Union Pacific determined the equipment was surplus, but sought a way to preserve it as part of the railroad's history. UP emphasized in a press release that is not ending heritage steam operations and will continue to operate Big Boy No. 4014 and 4-8-4 No. 844. With RRHMA's long experience as owners and operators of Milwaukee Road steam locomotive No. 261 and a fleet of historic passenger cars, transferring them to the non-profit is a win-win for UP and RRHMA.
"UP was seeking the best way possible to preserve this equipment so it could still be enjoyed by the public, and find a way to return No. 3985 to operation. Working with RRHMA allows us to restore and preserve these locomotives, have them available for the public, and recognize the long history of Union Pacific," Steve Sandberg, RRHMA president and chief operating officer, told Trains News Wire.
Scott Moore, UP senior vice president, corporate relations, and chief adminstrative officer, emphasized that the railroad will continue its own heritage operations.
"Union Pacific is proud to be the only Class I railroad with steam locomotives on its roster, part of the finest heritage fleet in the world," Moore said in an email to the UP Steam Club. "We are pleased with RRHMA's plans to restore the donated equipment for the public to enjoy. Union Pacific remains dedicated to the maintenance and operation of our remaining heritage fleet, including hosting future tours and sharing UP 4014 and UP 844 with the rail community."
Financial commitments in place for steam projects
RRHMA has already lined up significant financial commitments for the rebuilding of the two steam locomotives, with a founding grant from John J. Gray, who established his "UP in Smoke Foundation" to fund historic preservation of UP steam locomotives. It will be setting up a two-for-one matching donation program, with every dollar pledged matched with two dollars by other donors.
Challenger No. 3985 was constructed by American Locomotive Co. in 1943. It made its last revenue run for UP in 1957, then was held in the Cheyenne, Wyo. roundhouse. In 1975 it was moved for display next to UP's Cheyenne passenger depot. With the approval of the railroad, in 1979 a group of UP employees organized to restore it and it was moved back to the Cheyenne roundhouse. It was returned to service in 1981. In addition to 4-8-4 No. 844, No. 3985 was part of UP's steam program until 2010. After the railroad returned Big Boy No. 4014 to service in 2019, No. 3985 was again retired in 2020. One other UP Challenger was preserved, No. 3977 in North Platte, Neb.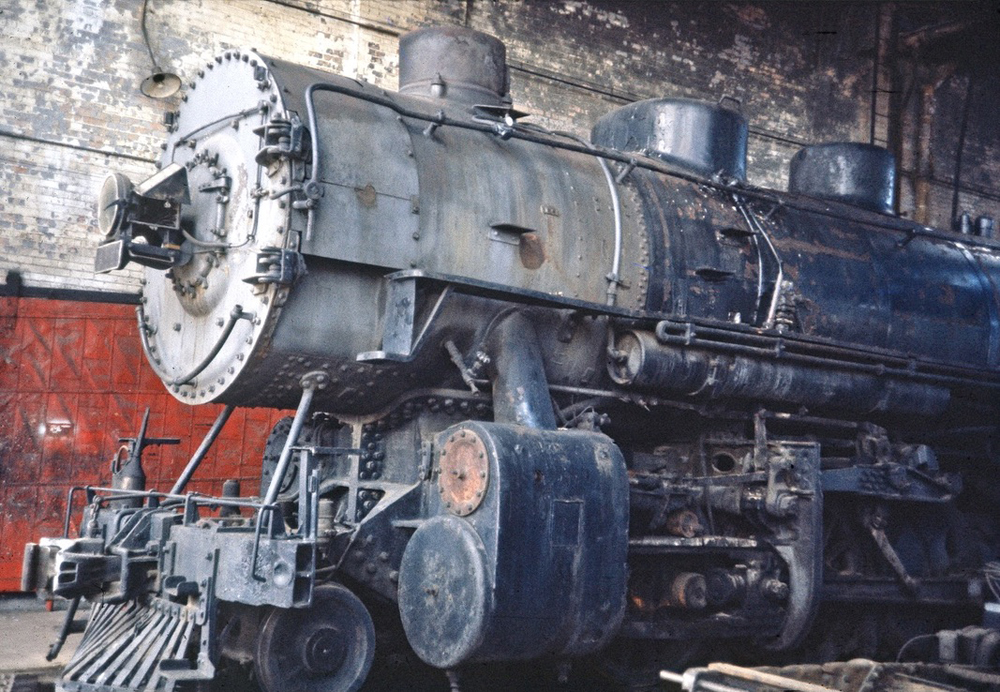 UP No. 5511 was built by Baldwin in 1923 and leased to UP subsidiary Los Angeles & Salt Lake until the early 1940s. It is the last remaining UP 2-10-2 of a fleet of over 150 locomotives. In 1958 it was used in the UP film "Last of the Giants," but was not steamed — tires were burned in the firebox, and was it pushed by a diesel at the back of the train. After the film work it was stored in the Green River, Wyo., roundhouse and formally retired in 1962; it was moved to Cheyenne in the 1970s. It will need new piston rods as they were cut when the engine was moved from Green River to Cheyenne. The locomotive uses Young Valve Gear, employed on UP's 2-10-2s and 4-8-2s (no UP 4-8-2s survive). Young Valve Gear eliminated the need for an eccentric crank. It took advantage of the quartering of the drivers by using piston rod motion on one side of the locomotive to control the steam valves on the other side of the locomotive.
"The RRHMA is a wonderful home for this historic equipment," said Ed Dickens, steam locomotive engineer and UP Steam Program manager. "Railfans will look forward to seeing UP 3985 and UP 5511 return to the rails, as well as enjoy the opportunity to experience the various cars being donated."
Donation include only operable Centennial unit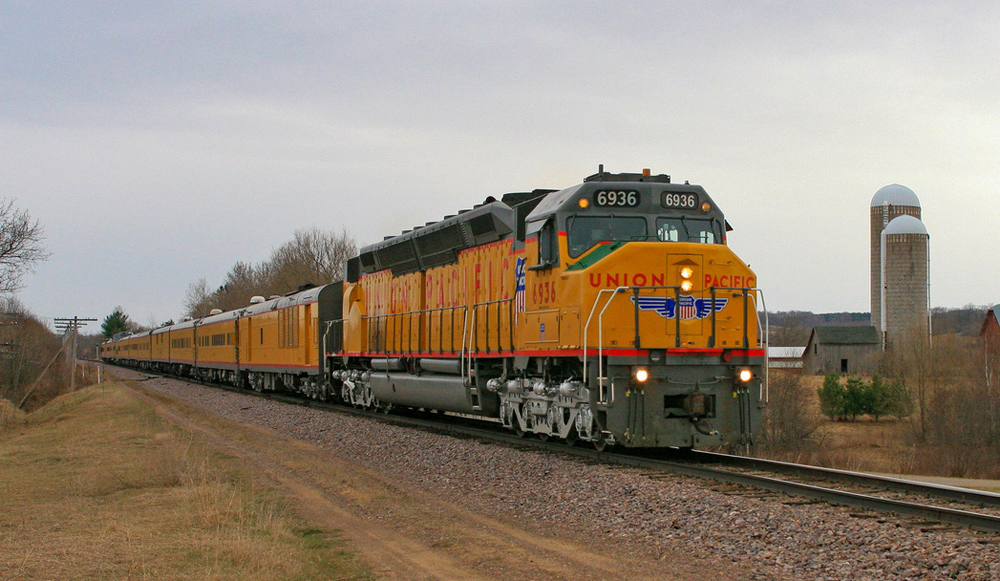 "Centennial" DDA40X No. 6936 was constructed by EMD in 1971, one of 47 examples of this UP-only model. The first was delivered in 1969 in time to mark the 100th Anniversary of the completion of the first transcontinental railroad. At 6,600 horsepower it is one of the most powerful diesels ever built on a single frame, using two 16-645E3A prime movers. When the last of the Centennials was retired in 1986, UP retained No. 6936 for special movements. Thirteen Centennials survive but 6936 is the only operating example of the type.
Also being donated is former UP E9B No. 966B, built by EMD in 1955. It was sold to Amtrak in September 1972 as number 466, and retired in May 1974. The following year it was rebuilt by Illinois Central Gulf's Paducah, Ky. shops into an unpowered steam generator car. In May 1983 it was sold to Heart of Dixie Chapter, NRHS. UP reacquired it in February 1995 with plans to restore it to powered operation, but those plans were never implemented, and it has been stored at Cheyenne ever since.
Sandberg said RRHMA will initially be talking to regional and short line railroads to explore opportunities to operate the steam locomotives after restoration. RRHMA plans to repaint and redecorate the business cars into their WP and SP liveries and offer them for charter on Amtrak and private trips. Most of the remaining cars will be repainted in RRHMA's Milwaukee Road orange and maroon colors. Open houses at Silvis to see the equipment will be scheduled in the future.
RRHMA is seeking donations for the restoration of the locomotives and cars at www.rrhma.com, 261.com, and Support RRHMA | Railroading Heritage of Midwest America.
— Updated at 1:30 p.m. CDT with Union Pacific comments.