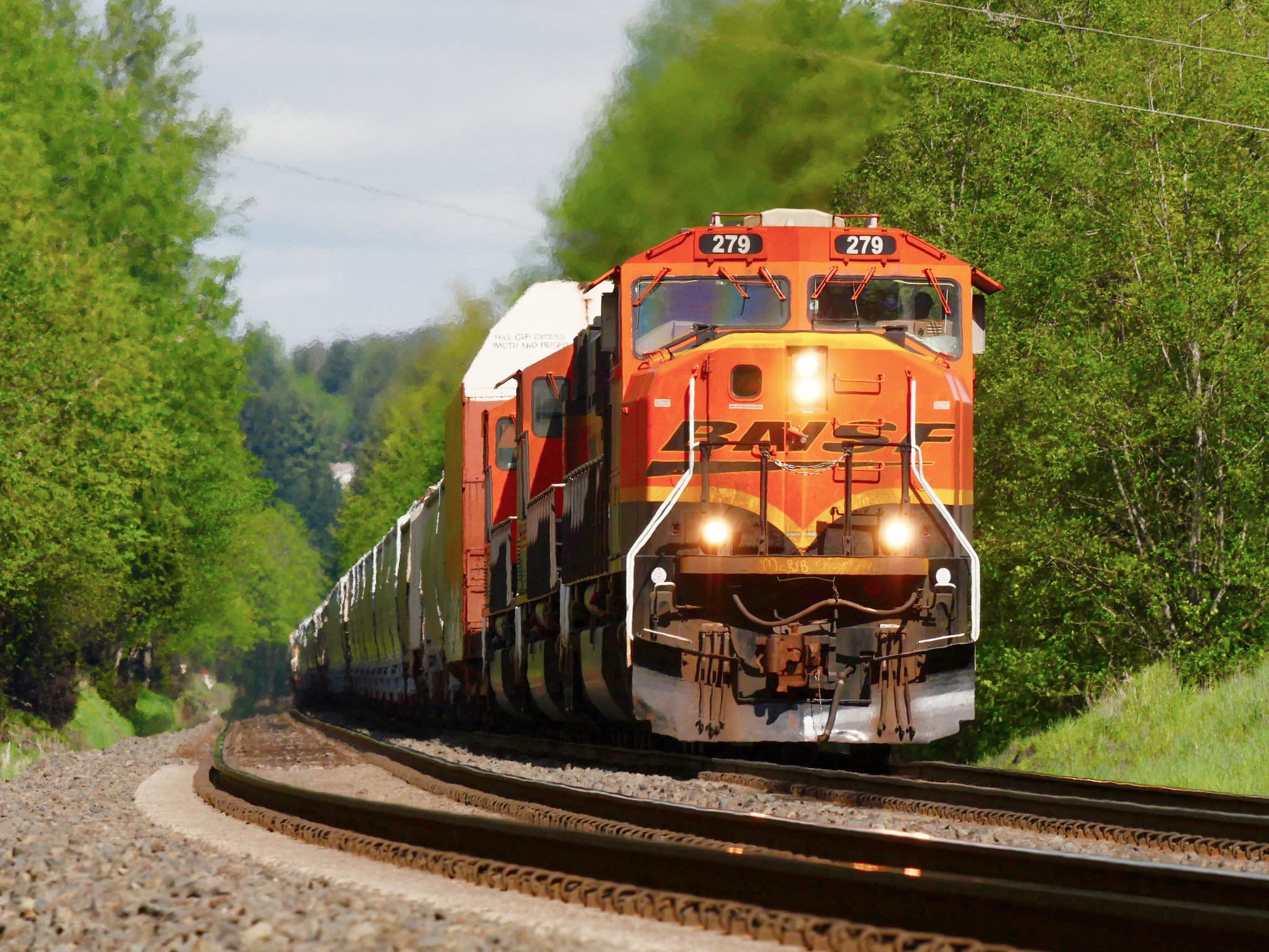 BNSF SD75 locomotives: Working out their days in the Pacific Northwest, nearly two dozen former Santa Fe and BNSF Railway SD75s have called this corner of the country home. They are now assigned some of the heaviest trains in and out of the northwest.
The design of the SD75 was in part due to compete with orders for with the General Electric C44-9W models, the SD75 was poised to enact several safety and mechanical upgrades over previous models built by EMD. The SD75 model was produced between 1994 and 1996 with only a total of 280 units being delivered to its primary customers for the models: Santa Fe, BNSF Railway, Canadian National, and Ontario Northland Railway.
SD75Ms built for BNSF Railway in 1995-1995 include road numbers 8251-8275. Santa Fe units 200-250 were build in 1995. SD75Is were built for BNSF Railway in 1997 with road numbers 8276-8301.
The SD75s also sported a new truck design called the HTCR-II which reduced rail wear and helped the locomotive trucks better negotiate curves.
Out of the SD75 models in use by Santa Fe and BNSF there were two different models built for orders including an SD75M and an SD75I model. Both models were equipped with a reworked 16-cylinder engine that was upgraded from 4,000 to 4,300-horsepower. The "M" model denoted it was a "North American Cab" or wide-cab style. The SD75M model was delivered to both Santa Fe and BNSF with 51 units going to the Santa Fe with 25 going to BNSF Railway.
The SD75I models represents noise isolation for the cab which is denoted by the "I" designator for "isolated cab" also known as a "whisper cab". The "I' designation is a result from the cab being isolated from excess noise and vibration by employing a rubber seal around the cab attachment points to the locomotive that results in reduced noise and vibration for the crews. BNSF purchased a total of 26 SD75I models. The SD75I model can be easily distinguished with a visible insulation band near the front of the nose of the cab.
The SD75M model was not as popular for EMD with only 76 units being produced. The more popular SD75I garnered over 200 orders BNSF, CN, and Ontario Northland. The SD75M was the last locomotive model ordered by the Santa Fe prior to the BNSF merger with the last SD75M, No. 250, being delivered to the Santa Fe in 1995.
Today, two groupings of SD75s (75M and 75Is) call the Pacific Northwest home, based in the Everett, Wash., and Seattle area. Never venturing too far out of the northwest, these units are routinely assigned to heavy trains into and out of western Washington. The primary role for the SD75s has been on the rotation of two separate trains, Northwest manifests and northwest municipal garbage trains.
A nearly daily H-EVELVJ (priority manifest, Everett to Longview Jct., Wash.) and its counterpart H-LVJEVE call upon two or three SD75s to lead its consists. This freight routing sees heavy southbound tonnage of petroleum coke in hoppers along with assorted general freight. With southbound tonnage approaching 10,000 tons on some days, a trio of SD75s are usually assigned to this train. A short, but challenging 5 mile, 1.1% Napavine Hill grade can cause an operations headache for these trains but in most cases, the SD75 have been a reliable workhorse.
BNSF runs two loaded municipal garbage trains per day (H-EVEROO Priority train, Everett, WA to Roosevelt, WA) and (H-INBROO Priority train, Interbay Yard Seattle to Roosevelt, WA) along with two daily return empty trips which frequently calls upon a duo or trio of SD75s to lead depending on the tonnage of the day.
On any given day trackside on the Seattle Sub, one may get a chance to see at least a few SD75s rolling on mainline trains, not regaled to yard or transfer service. The best place to watch SD75s from afar is by viewing one of the many railroad live cameras. At Chehalis, Wash., each passing SD75 is tracked by railfans watch live streams. The passing SD75s have created its own railfan following and can be seen just about every day.