Belt Railway of Chicago locomotives: I recently photographed an ex-Belt Railway of Chiacgo Alco in, of all places, Olean, N.Y., on the Western New York & Pennsylvania.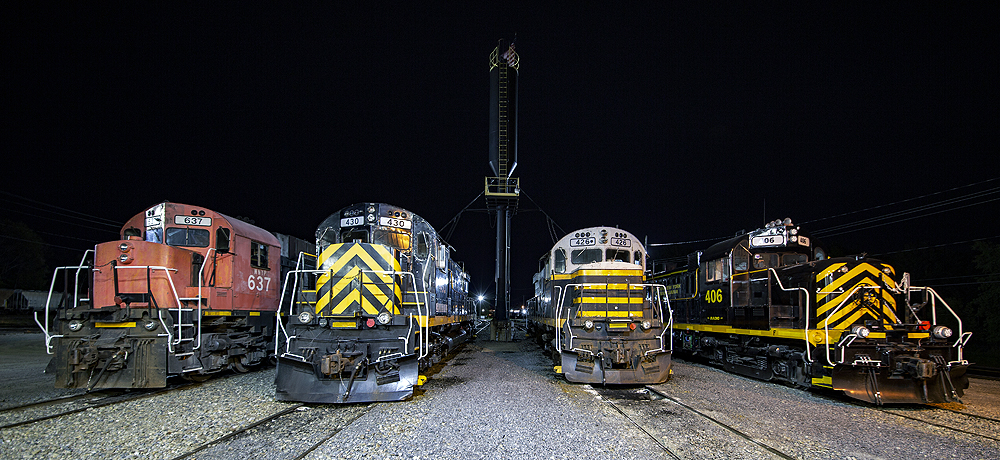 Belt Railway of Chicago ex-No. 603 smiles among family at the Western New York & Pennsylvania shops at Olean, N.Y., with ex-Cartier M630, ex New York, Susquehanna & Western/New York Central C430 along with ex Delaware & Hudson RS3M in October 2014. William Beecher Jr. photograph


The Belt Railway of Chicago was one of the last in the United States to operate a locomotive in its 1976-inspired bicentennial paint scheme, in fact, BRC No. 534 was repainted in the early 1990s to show the flag and represent BRC's national pride. Here 534 is shown under the Interstate 290 overpass at Soo Lines' Bensenville Yard before she was touched up. William Beecher Jr. photograph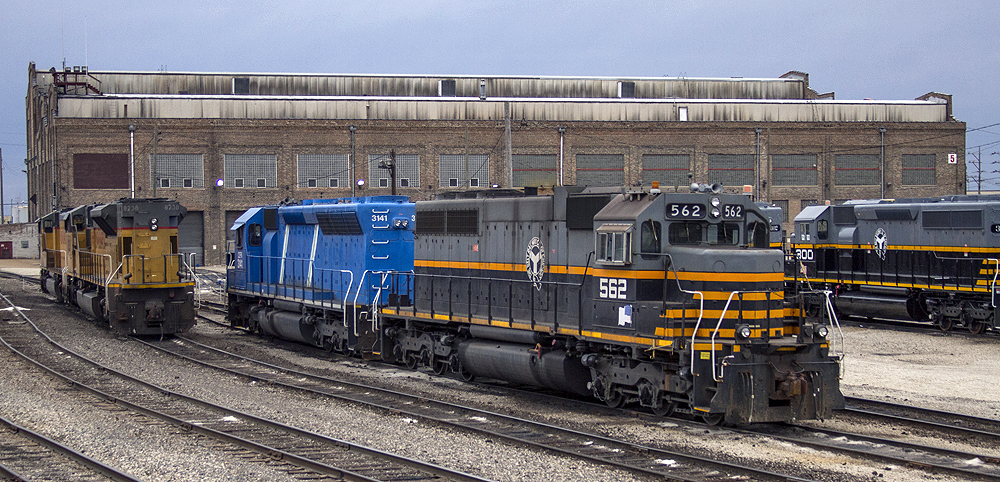 Belt Railway, leased CIT Rail, Union Pacific and newly rebuilt BRC No. 300 power gather east of the Belt Railway's diesel shop, whose size can be greater appreciated in this Feb. 29, 2012 view. William Beecher Jr. photograph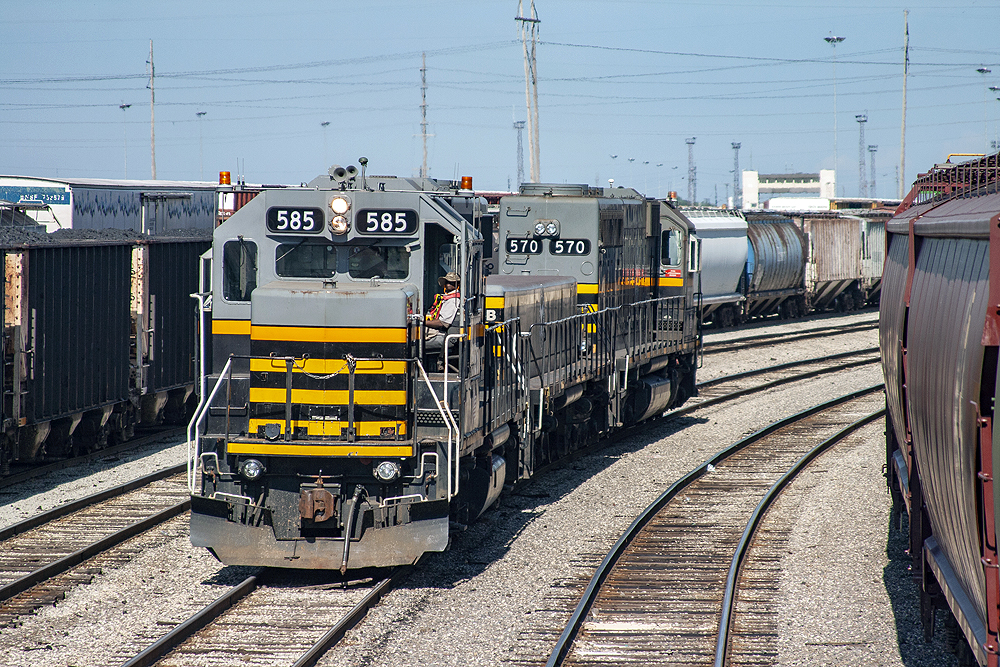 A modern hump set of locomotives with mixed GP/SD and slug, runs "light engine," west in the Belt Railway's west receiving yard, under the close control of the conductor sitting on the right side of the cab via remote control. The conductor will couple onto another cut of waiting freight cars and shove back east under the hump tower and over the yard hump in the distance in July 2018. William Beecher Jr. photograph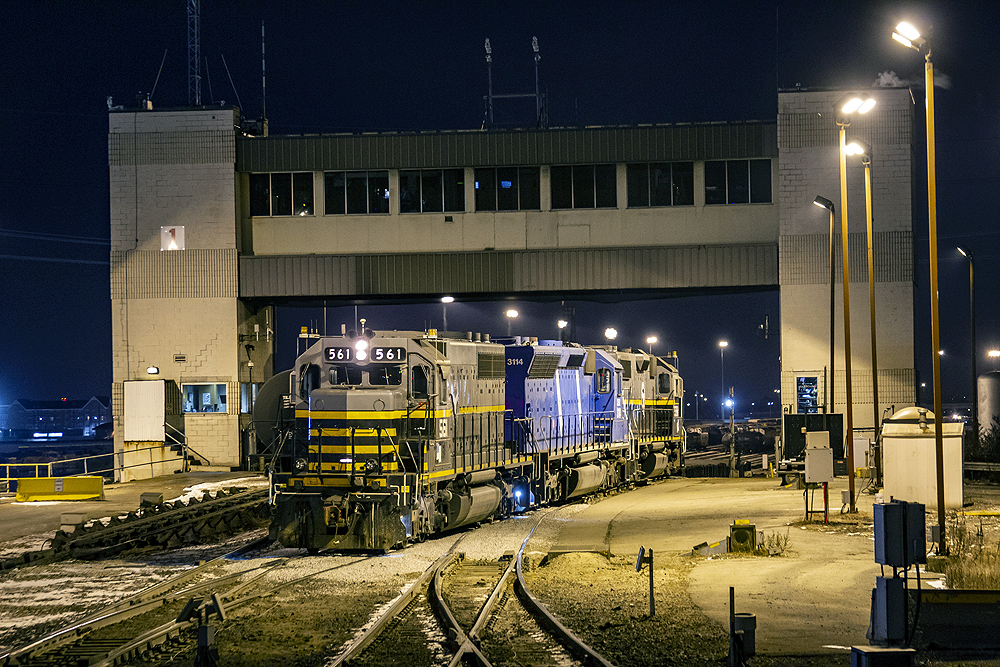 View from the west receiving yard on approach. This yard hump set of locomotives has just pushed its last car east under the hump tower — toward the east classification yard. A tank alongside rolls west into the west classification yard in December 2011. William Beecher Jr. photograph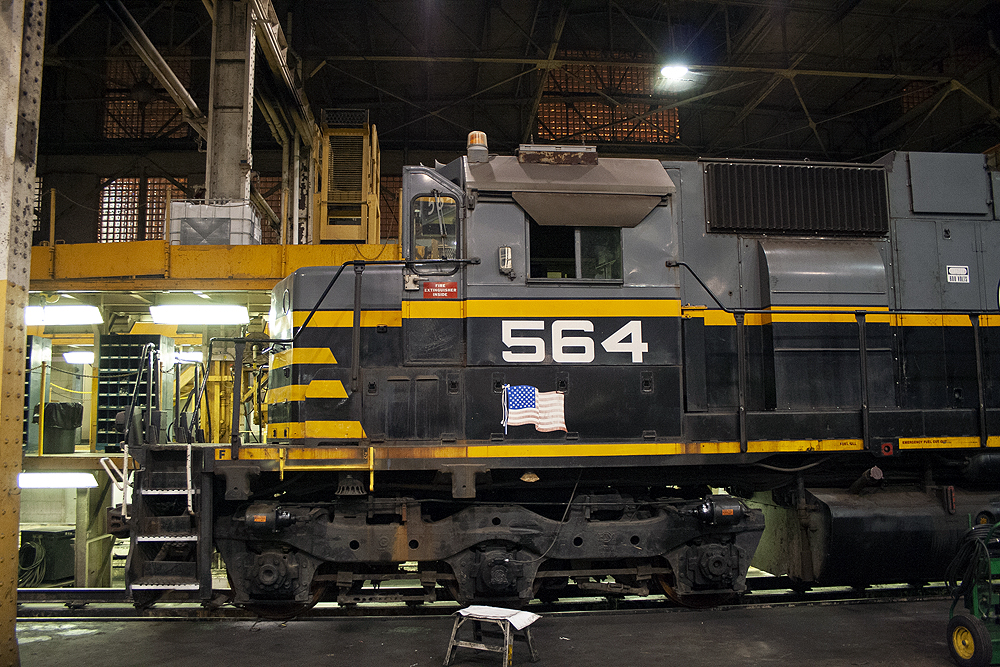 Belt Railway of Chicago six-axle No. 564 rests overnight in an inspection stall having an annual test performed and certifications met under Federal Railroad Administration rules, in the Clearing Yard engine house in October 2009. William Beecher Jr. photograph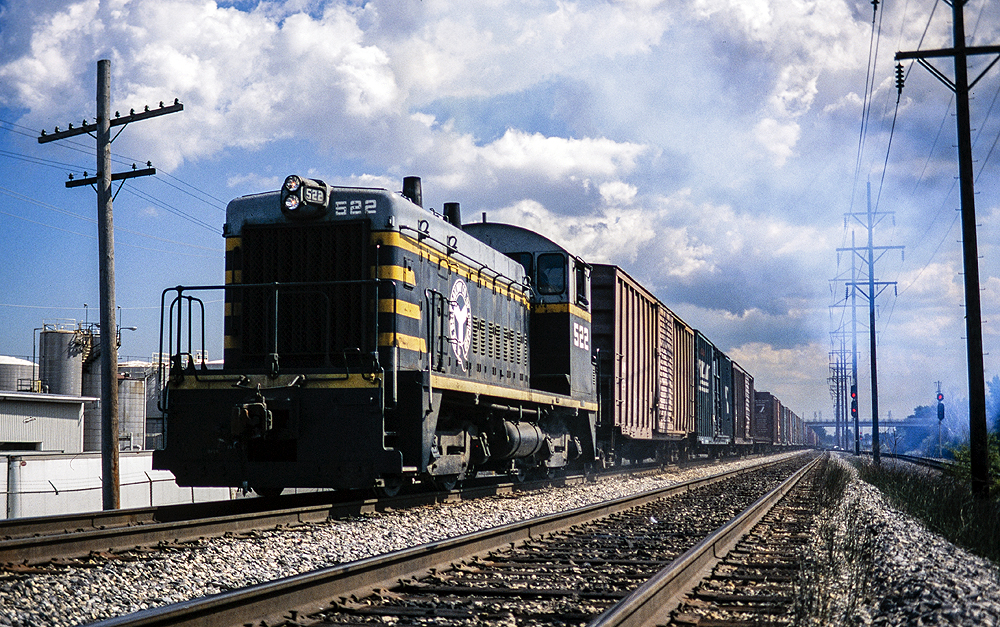 A northbound Industry job splits the signals at 31st Street in Chicago with ancient SW9 No. 522 headed for MJ interchange at 22nd Avenue Yard and work at the Brach's Candy plant off of North Avenue in July 1997. William Beecher Jr. photograph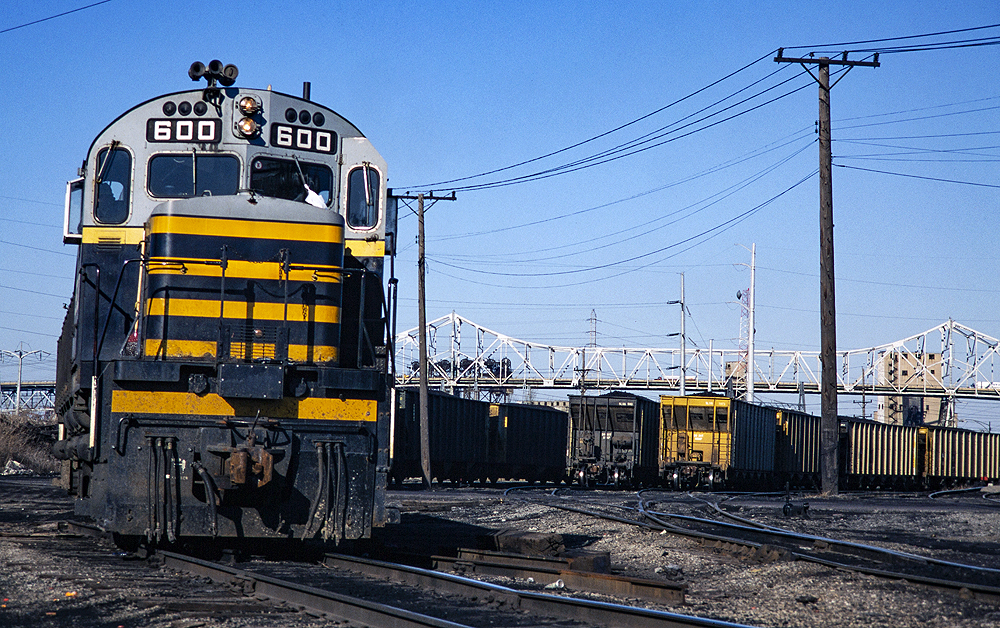 Belt Railway No. 600 muscles a cut of Union Pacific Powder River hopper loads out for the KCBX dumper, under the shadow of the Chicago Skyway. KCBX loaded barges for Wisconsin and Michigan power plants along the great lakes, and was a huge source of traffic from UP, Southern Pacific, Soo Line/Milwaukee Road and Illinois Central Gulf over the years. No. 600 ended up in Springdale, Arkansas, on the Arkansas & Missouri, although never turned a wheel with the new owner, donating parts to other Alco survivors. William Beecher Jr. photograph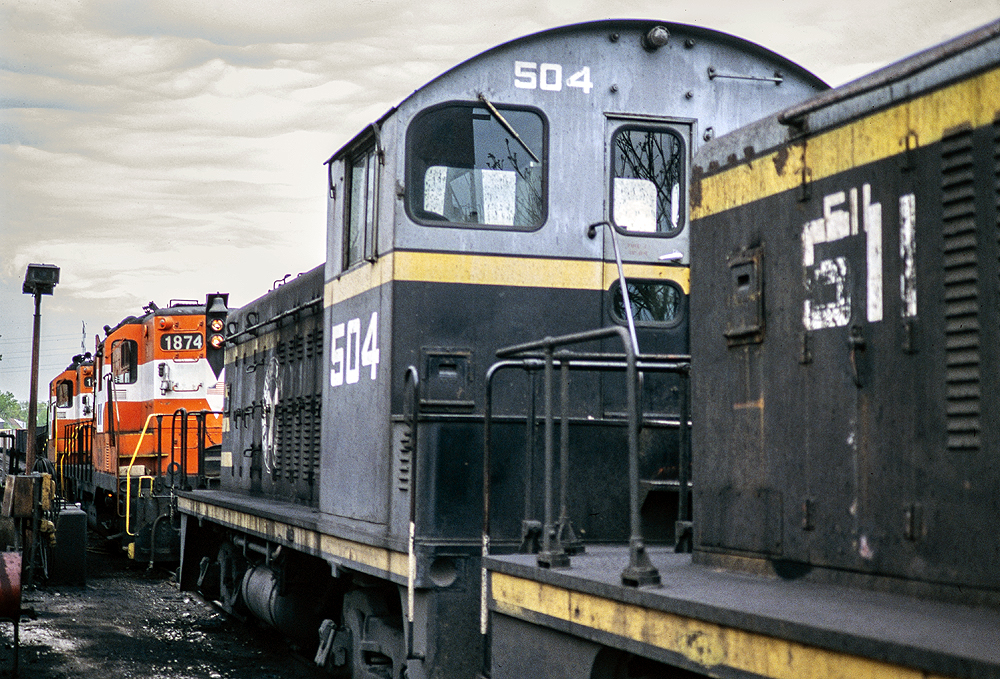 A BRC TR4 cow-and-calf set meets the Koch-owned KCBX dumper GP9 one late afternoon in September 1996. Draw-bared together, 504 was coupled to the 512 thru the early 1990s before getting permanently changed to the 511 sometime after 1994. William Beecher Jr. photograph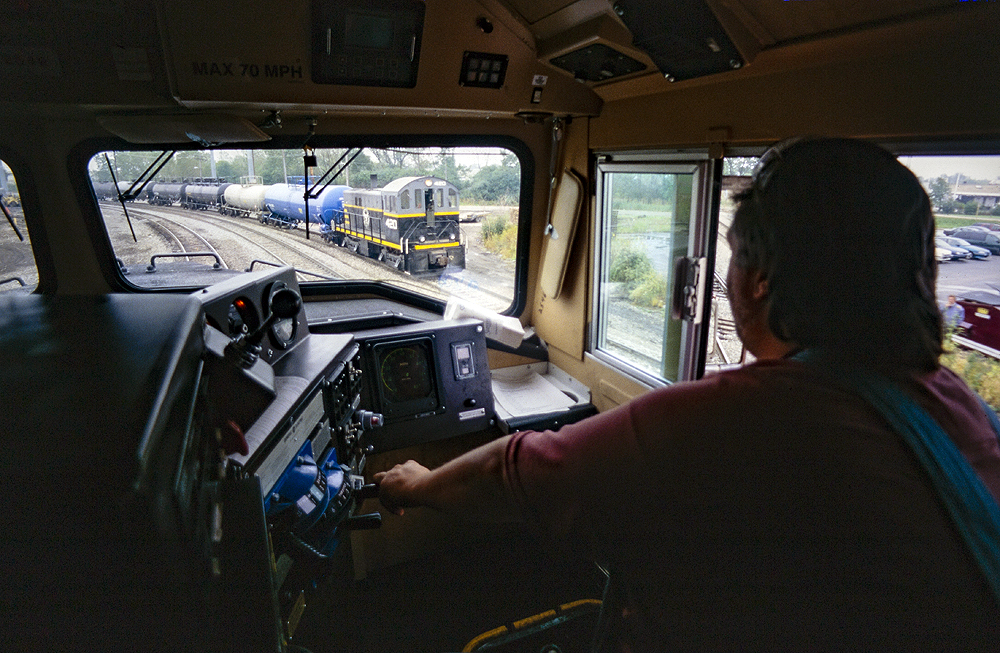 Wisconsin Central engineer, the late Robert Chupka Sr., strolls around rare Belt Railway Alco S-6 No. 420 pulling into the BRC West Receiving Yard. The 420 built-in 1957 was the only S-6 owned by the BRC, and she lasted until the end of Alco power — in and out of storage until 1998, heading to CF Industries in Roseport, Minnesota, to be used in Industrial switching. William Beecher Jr. photograph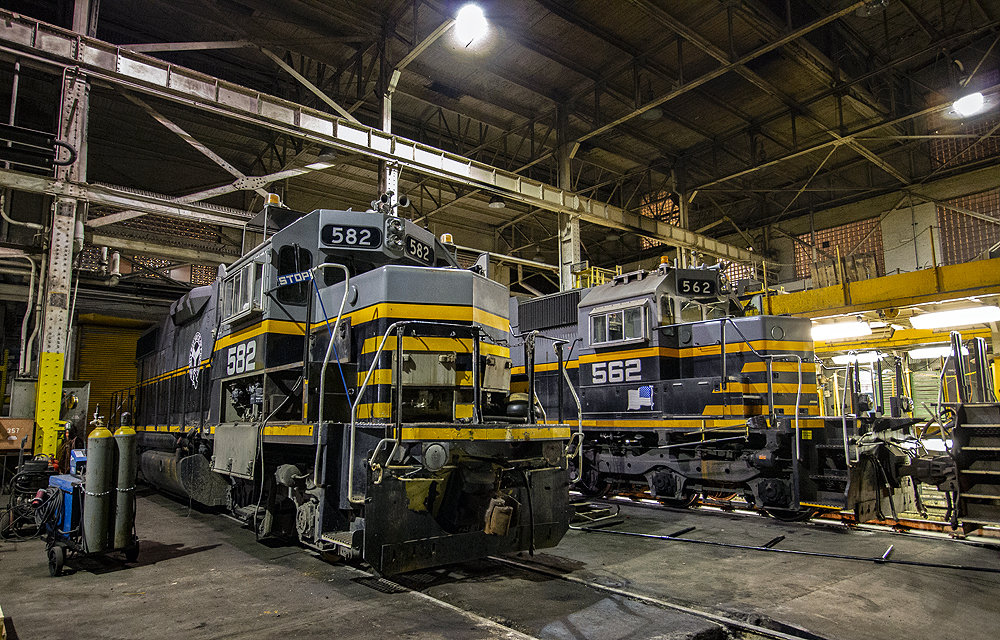 Belt Railway No. 582 seems to have made a rough joint. One cannot imagine it wasn't in remote control mode when she hit, just another casualty of technology — March 2011. William Beecher Jr. photograph

That old Alco and I go back to the mid 1980ss when I first laid eyes on her and a stable of other exotic beasts at BRC's Clearing Yard as a 13-year-old, and helped progress the thoughts and images leading to this missive.
Far from the halcyon days of 20-plus Class I railroads, terminals, and industrials – Chicago is still the heart of American railroading. Each day, its railroaders and locomotives pump out hundreds of trains toward all corners of the continent. With so many railroads in such a small geographic area, it became apparent that an independent, neutral railroad could offer both efficient connecting services and profit as a clearinghouse to industrial districts, offering great flexibility to local commercial businesses that settled along the BRC's lines.
These days, the Belt Railway is down to six Class I owners, with the exception of Kansas City Southern. BRC connects all Chicago carriers and still offers terminal and some industrial services in the bustling city. At the heart of the railroad, BRC's massive Clearing Yard is still arguably the busiest yard in the city and is one of the few remaining hump yards left in the Chicago terminal district located in Bedford Park, Ill. Clearing's dual east-and-west humps scream day and night and connects north with south and east with west or any other combination of interchange through the nation's labyrinth as originally intended. Unfortunately BRC has become somewhat of an elusive railroad to photograph.
Like everything else, the only thing constant is change, and the BRC has adapted to focus on the things that profit the six remaining owners – CSX Transportation, Norfolk Southern, Canadian Pacific, Canadian National, BNSF Railway, and Union Pacific. Historically, normal Belt Railway protocol was to offer interchange using BRC power and crews to Non-BRC owners. Transfers to the former Chicago & North Western's Proviso Yard, had daily Alco C424 powered trains pointed into the afternoon sun to Proviso. A daily transfer with MP15 switchers could also occur to the Milwaukee Road's Bensenville Yard or Baltimore & Ohio Chicago Terminal's Barr Yard. But through mergers such as the Union Pacific buying owner road Missouri Pacific and then the C&NW and also Soo Line buying the Milwaukee Road or the merger of owners Monon/Louisville & Nashville into CSX has negated the need for BRC to go anywhere.
Today, it's all in the family!
Industrially speaking, the Belt Railway of Chicago had several outside yards loaded with TR cow-and-calf sets and EMD SW's handling industrial customers at places like 22nd Street on the "Kenton Line" and 87th Street and "Commercial Ave" on the south side, worked daily shuttling thousands of cars into huge customers like Brach's Candy, Ford, Nabisco's Oreo Cookie plant and others. No BRC account was bigger than the KCBX Coal transload terminal in the shadow of the Chicago Skyline expressway at 100th and Commercial Avenue. It was here access to BRC's Alcos on Belt "Boat Job's" was easiest, pushing and pulling the heavy cuts (while smoking) of mostly Wisconsin and Michigan-bound coal via barges and the Great Lakes water system.
In 2022 it's all gone (as are the Alcos), leaving the only real public BRC view, off the Pulaski Avenue overhead bridge across the south receiving and departure yards at Clearing.
You see, the BRC has basically retreated to within the limits of Clearing Yard, the BRC still operates dozens of jobs and hosts dozens off thru trains on its mainlines, but few ever leave the limits of the massive yard. An industry job occasionally still runs up the Kenton line doing what little remains of the dozens of industries (like Continental Can) in Chicago's near west side and inner city. Illinois-financed NRE Gensets reduce emissions where locally built EMD switchers and Alcos once smoked alongside the hundreds of thriving local industries to the delight of railfans in the area. Clearing Yards narrow, but wide, brick engine house still maintains the stable. A must-see place for locomotive fans in the past had most owner railroads with ample views for roster pictures.  As a young 6th-grader on my first visit we found "factory new" Seaboard System B36-7 TOTE BOATS sitting next to consists of Detroit, Toledo & Ironton, "oranges" (Grand Trunk Western) and countless Mopac Blue "Eagles". Sprinkle oddities like Clinchfield/Seaboard Coast Line and BRC Cow and Calf TR sets left the impression that this was my kind of place!
Today, BRC police are not so friendly to the innocent wandering fathers and impressionable children wandering in the front door Central Avenue entrance. Luckily for me, I've had the pleasure of boldly strolling into the BRC West Receiving Yard aimed at a rarely clear receiving track, or knuckling up to pull a recently dumped coal hopper set at Commercial Avenue, or watching the "Cookie Man" spot sugar at Oreo, from a run-through potash train's headend, in the employ of one of BRC's owners. These are a few images of the BRC I know, and love.