Alco locomotives on NY shortline railroads
Alco locomotives on NY shortline railroads: A drive along twisting mountain byways through freshly fallen snow, ears straining for the slightest hint of the groan from the horn atop an ALCO RS-3, camera at the ready for the first sign of a brightly colored locomotive is how my trip into New York's ALCO-rich territory began.
Amidst scenes and motive power that could be mistaken for the 1970s, I explored the landscape across New York in search of all things Alco. Growing up on the Norfolk & Western's Lower Clinch Valley as it was merged with the Southern Railway to form Norfolk Southern, I always had an interest in our older railroads close-by that operated the great American Locomotive Company diesel engines (Alcos) of Schenectady, New York. This list is certainly not all of the scenic short lines in New York that still operate Alcos and Montreal Locomotive Works cousins, but it is a list of my favorites from my time spent In New York and research prior to my trips.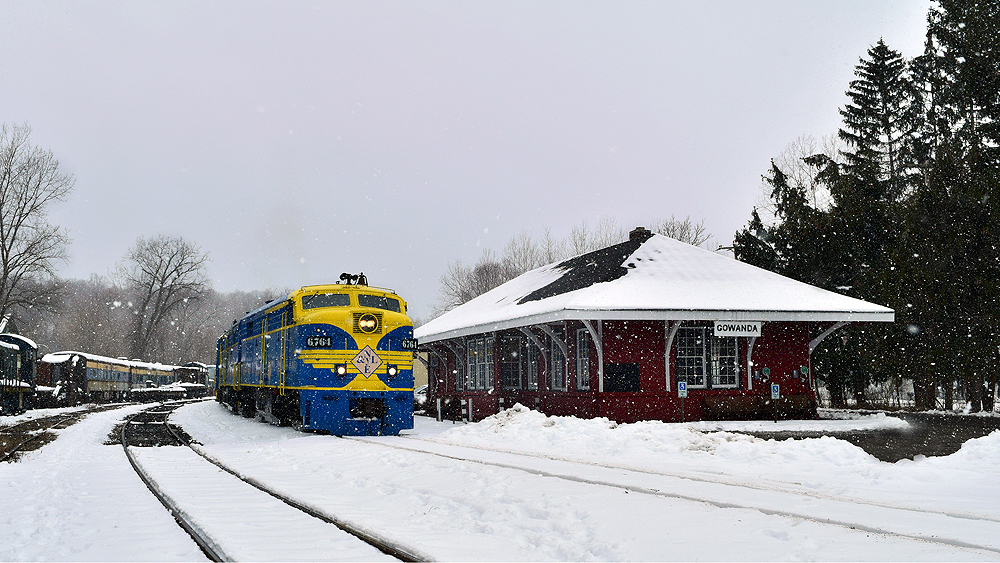 NEW YORK & LAKE ERIE RAILROAD
Formed in 1978 and currently extending less than 50 miles of track, the New York & Lake Erie Railroad (reporting mark NYLE) takes passengers back to a simpler, more relaxing time of life on the rails. Using primarily their FPA-4 number 6764 and FPA-2 number 6758, numerous seasonal and holiday excursion trains run throughout the year between Gowanda and South Dayton, New York. Also on the railroad's roster of locomotives is number 308, a former Erie model S1 Alco.
Once part of the Erie Railroad, the NYLE also connected to Salamanca and Jamestown. Interchanging with the Buffalo Southern between Gowanda and North Collins, the railroad served as freight service provider for many customers along its route like many other short lines of its era of formation. Some readers might remember NYLE from its role in highlighting Cattaraugus County by serving as backdrops in the movies Planes, Trains and Automobiles in 1987 and The Natural in 1984.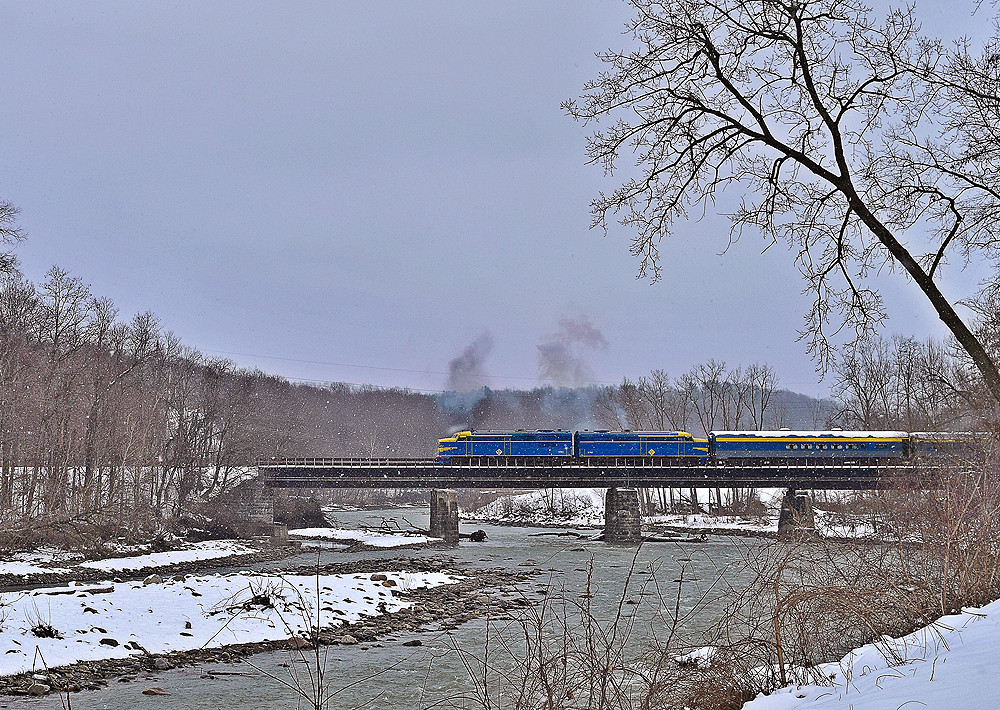 On my visit in March of 2018, the railroad was gracious enough to let me join crews on their nearby Pennsylvania tourist line Oil Creek & Titusville Railroad for a day of snow damage assessment. After the workday ended, the crew in Gowanda brought their passenger train out of storage to oblige me with some photo opportunities seldom experienced on NYLE. It was quite the surprise when the crew pulled the train beyond the Gowanda Depot crossing and onto the bridge over Cattaraugus Creek toward Cherry Creek and Persia (N.Y.). It had been several years since passenger service had crossed Cattaraugus Creek, a move that would later be repeated carrying a charter group in early 2022.
FALLS ROAD RAILROAD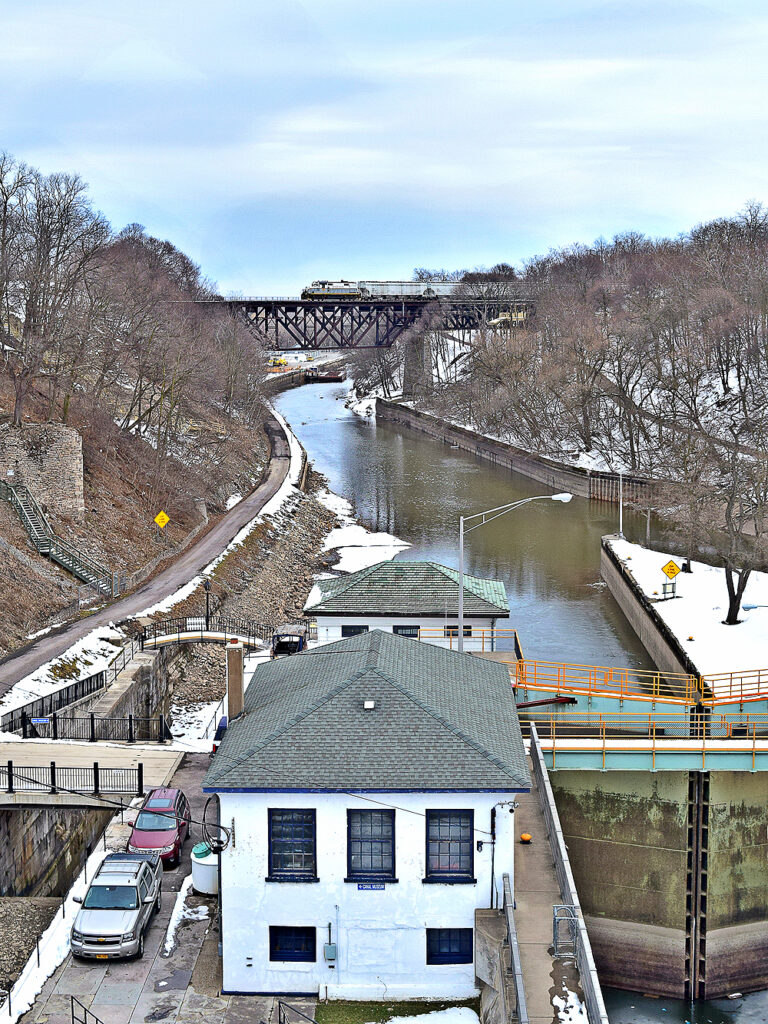 Operating over 40 miles of track in Niagara, Orleans, and Monroe counties, the Falls Road Railroad (reporting mark FRR) is a Class III short line railroad owned by Genesee Valley Transportation Co., Inc., of Batavia, N.Y. From the yard and engine house in historic Lockport, to the canal town of Brockport, products moved several times per week by FRR include agricultural, perishables, petrochemicals, and plastics.
Using locomotives number 2035 (RS-32) and number 1802 (RS-11,) crews also provide regular switching of the 3T transload facility located at Lockport Yard. FRR moves products between over-the-road trucks and rail allowing products to reach consumers in an economical and efficient fashion.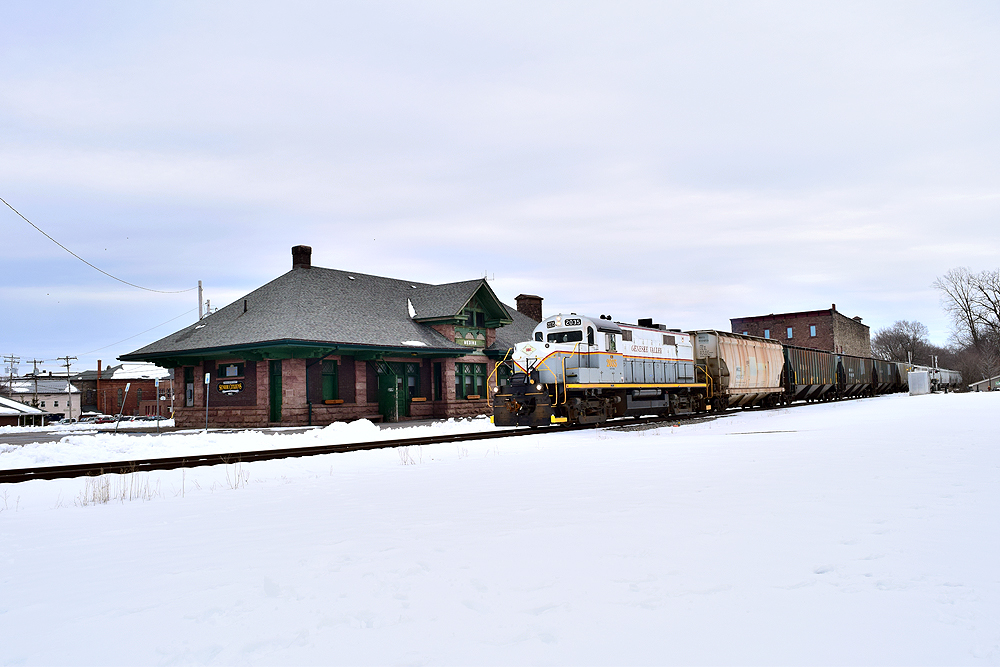 Whether providing transload switching, servicing the many industries along the branch, guiding the snow plow to clear rails, or leading passenger excursions, ALCO still remains the locomotive brand of choice on the Falls Road Railroad.
LIVONIA, AVON & LAKEVILLE RAILROAD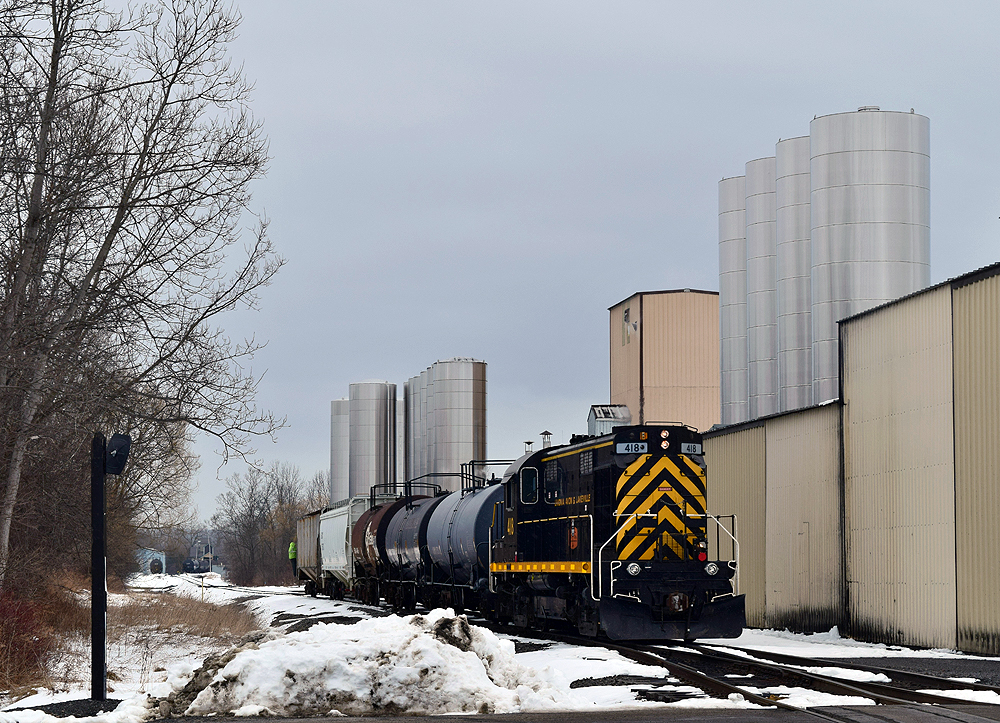 Incorporated in 1964, the Livonia, Avon & Lakeville Railroad (reporting mark LAL) is the parent company of B&H Rail Corporation and the Western New York & Pennsylvania Railroad — the latter recently covered by Trains contributor William Beecher, Jr. LA&L recently acquired controlling ownership of the Ontario Midland Railroad Corporation bringing its overall rail service to over 450 miles of trackage, mostly in Western and Central New York State.
LAL serves businesses throughout Livingston and Monroe Counties, with ALCO being their choice of motive power. Beginning passenger excursions shortly after inception powered by steam locomotives and General Electric 44 and 45-toner diesels, LA&L acquired its first ALCO locomotive number 20 (RS-1) in 1972. As locomotives were retired, customers added, the railroad continued to add ALCOs to their fleet to become an all-ALCO powered provider.
Except for celebratory trips upon the company's 50th anniversary, passenger excursions are no longer offered by the railroad or its subsidiaries. Instead, they choose to focus on their freight forwarding "first mile and/or last mile" services moving primarily food products such as grains and corn syrups. With over 60 years in operation, and a dedication to safety and customer satisfaction, I expect to see their ALCO maintained for more generations to enjoy.
BUFFALO SOUTHERN RAILROAD
Locally owned and operated, the Buffalo Southern Railroad (reporting mark BSOR) serves various industries in Western New York. Operating under a long-term lease agreement with the Erie County Industrial Development Agency, BSOR covers 32 miles of trackage owned by Erie County, New York. The line is known as Line 1246 and runs south from Buffalo to Gowanda, New York where it interchanges with the New York & Lake Erie Railroad.
Serving several industrial customers, BSOR trains run on-demand several times per week. The railroad offers switching services to local plants along its line, and moves products such as propane, fertilizers, lumber, scrap metal, animal feed, and grains. BSOR maintains a mostly ALCO fleet largely made up of model S-2s used as road power and units designated for plant use at various businesses along their line.
BSOR is also host to the Buffalo, Cattaraugus & Jamestown Scenic Railway Co. (BC&J,) a non-profit organization focused on operating diesel and steam-powered passenger excursions in the Hamburg, New York-area. Diesel power is provided by BSOR for the passenger excursions for BC&J.
BATTEN KILL RAILROAD
Every railroad photographer wants to catch the rare move, the elusive run, the railroad that seems to be a once-and-done in a lifetime visit. When I first mentioned to fellow railfans that I was venturing into New York's ALCO-rich terrain, everyone had the same response: "Go see the Batten Kill!" That response was usually quickly followed with "…but good luck catching it." At the time, this was a railroad I had not happened upon in my readings and my interest was certainly piqued.
Formed in 1982 from nearly 30 miles of abandoned trackage purchased from the Delaware & Hudson Railroad, the Batten Kill Railroad (reporting mark BKRR) has seen both freight and passenger excursion service in its 40 years. Then owner of Mohawk-Hudson Transportation, Virginia-raised Ronald E. Crowd, perhaps recognized in 1982 a similarity in the scenery to his childhood home along the Pennsylvania Railroad when purchasing the property to form BKRR.
Passenger excursion service has ceased along the line after a decline in ridership, but you can still find ALCOs pulling freight trains through the interchange at Eagle Bridge, New York. With its current ties to Schenectady, and continued use of ALCO motive power, Batten Kill rounds out my list of Top 5 scenic short lines that are a must if you are venturing into New York in search of the greats built by the American Locomotive Company. On my two recent trips, the Batten Kill has managed to elude me. Growing up in the coalfields of southwestern Virginia in the heart of the Appalachian Mountains, the allure of happening upon an ALCO RS-3 lugging freight across a high trestle over crystal clear waters keeps the BKRR on the top of my list for return visits.