Dirt the railroad cat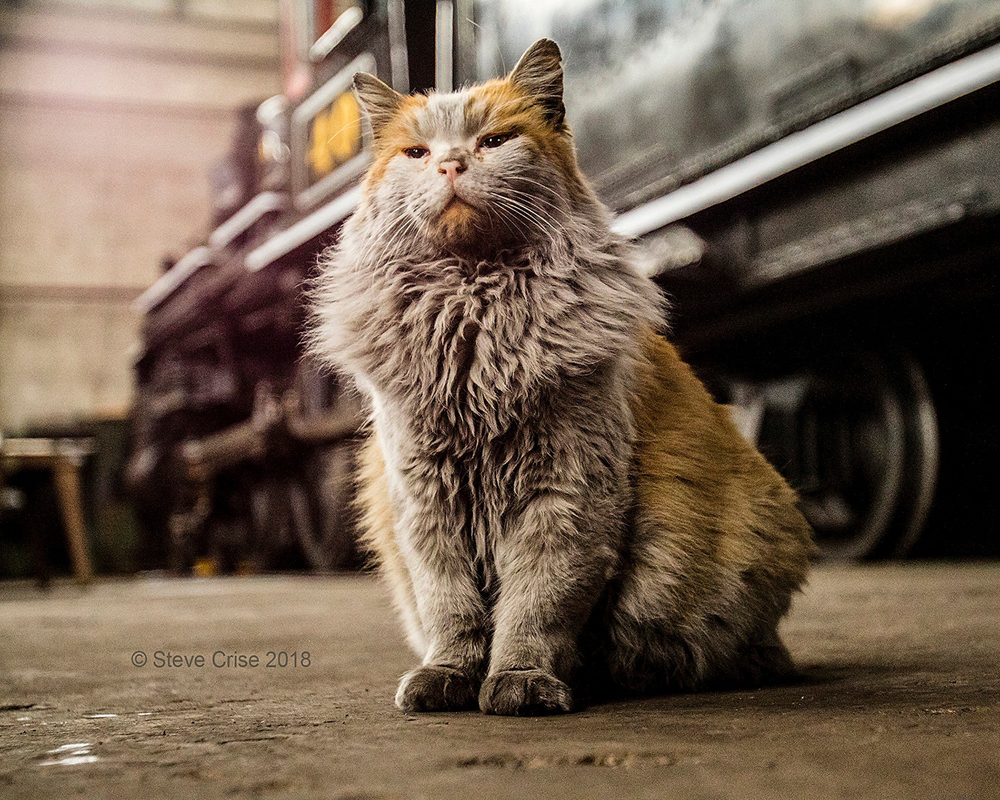 Within a few hours of announcing Dirt's death to the public in a Facebook post on January 11, 2023, Nevada Northern Railway Museum's page flooded with thousands of people posting their condolences and sharing their fondest memories and pictures of Dirt. From a small stray kitten found in the enginehouse to a big, tough, and dirty shop cat — proudly adopted by this National Historic Landmark— Dirt held his own among the NNRy crew for over a decade. The thousands of posts are just a mere glimpse as to what this cat means to some people. Approximately 24 hours later, 610,000 people had viewed the post with 18,500 likes, 3,100 comments, and 7,800 shares (and counting).
Unfortunately, as most animal lovers know, our four-legged companions don't live as long as we'd like, and on January 10, 2023, a dozen or so of the NNRy crew said their final goodbyes to their furry co-worker. The end-of-life process and burial were performed with the crew, allowing them to be with Dirt on his final day. "We picked a spot, we dug a grave, we had our own in-house service, and it was just perfect," says Con Trumball, trainmaster and museum archivist.
According to Con and Mark Bassett, NNRy president, this intense response from the public was not expected. All responses have been "overwhelmingly positive" says Mark. Other museums and preservation groups have reached out, wanting to assist with the memorial.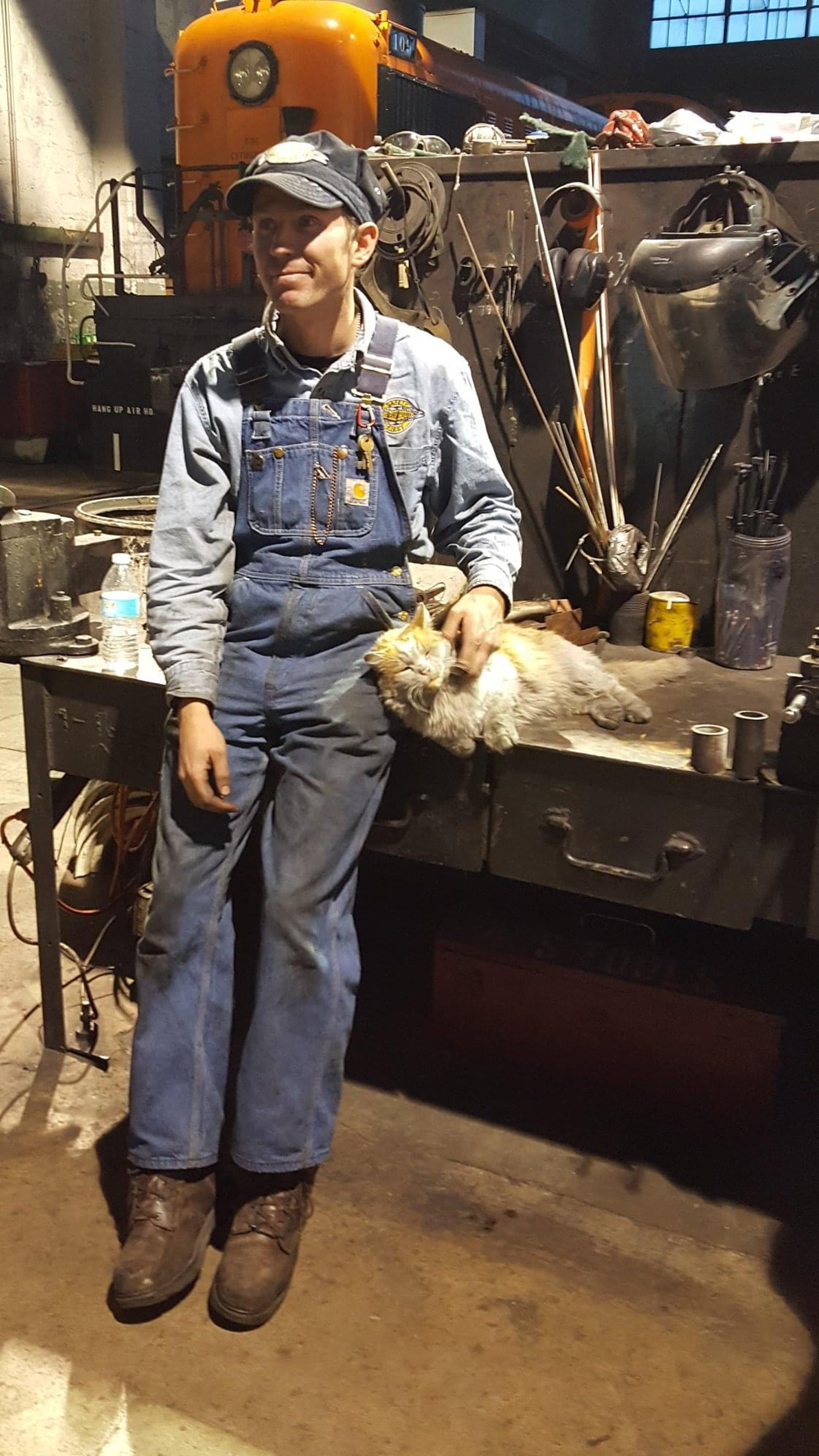 Stealing the spotlight
The NNRy has an active enginehouse and machine shop, and people would walk into those areas often unfazed by the loud noises and work being done in front of them, and ask, "Where's the cat?" Con explains that tours and other posts — not about Dirt — would receive the same type of reaction. Dirt had a strong following.
In the last five years, Dirt became a worldwide celebrity. However, for those who worked alongside him he was just their cat. He wasn't the first shop cat at the museum, but there was something people loved about Dirt. People even asked Bassett to create a separate Facebook page completely dedicated to Dirt, but he refused. Dirt was an ambassador for the museum and will remain one.
The mayor of Ely, Nev., recognized Dirt as a staple in the community and when visiting the museum with a guest one day — a dentist that was not too fond of cats —said, "Oh, I don't like cats," when meeting Dirt, elicited a humorous response from the mayor who then said, "That cat makes more money than you." It was true. The museum's fund named "Dollars for Dirt" often brought in more money than any other fundraising effort they were doing at the time.
Dirt's life was filled with many loving individuals who helped with his daily care. Searching "Dirt the Nevada Northern Cat" brings up a plethora of articles, images, and videos published over the years about this railroad celebrity. But what made Dirt so famous?
Born to reign a railroad
Born under a 1907-built rotary snowplow, Dirt was a runt left behind by his mother and siblings. Thanks to open cans of tuna left out at night, the kitten began to warm up to the NNRy crew. He developed a fondness for rolling in the dirt and climbing up the trains. Fur that was once white and orange became gray over time, stained by such a job — one that made him appear as if he'd been working on a locomotive and was covered in soot.
Throughout his years residing on the railroad, Dirt made countless friends, from the train crew to residents to people visiting from faraway places. He knew he was famous and loved it.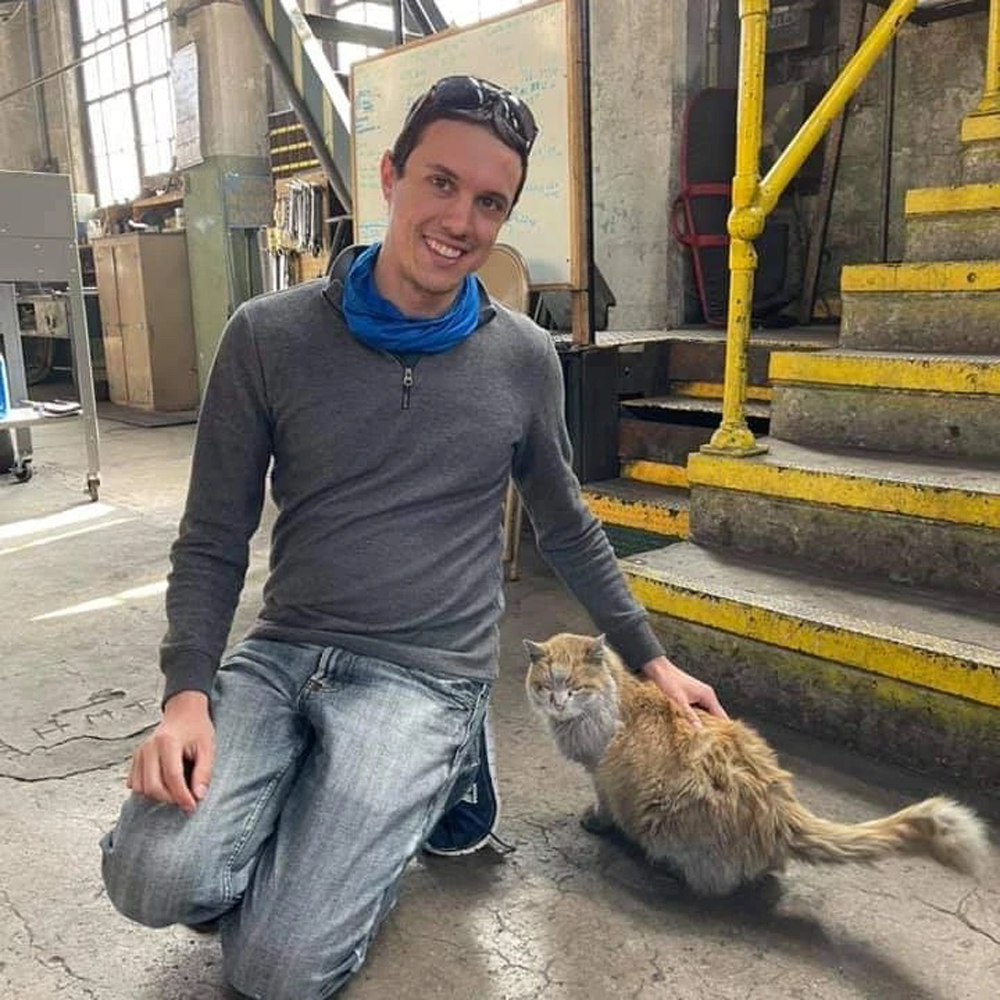 Eric Mencis, former NNRy guest services manager from 2016 to 2021, knew Dirt during his years of fame and was instrumental in Dirt's notoriety. "I saw a cat with a proud attitude, a rough look, and a friendly heart," says Eric. "He looked like he was going to come over and kick your butt if you didn't pet him [though]." Eric became Dirt's "agent," posting his first candid photo on Facebook.
"What Dirt truly needed was a voice … I was his voice for many years," says Eric. Dirt was an old railroad soul — a crew member, climbing in and around trains, and inspecting them as if he was trying to tell you how to do your job. His favorite memory, outside of his everyday caretaking of Dirt, was when he posted "We gave Dirt a Bath" on April Fool's Day. "I spent the morning Photoshopping the whitest cat I could find into a picture of the shop and posted it online early on April 1. All the post said was "We Gave Dirt A Bath" and the world went nuts; some believed it, but some got the joke right away."
Madison Purinton — whose husband, Lennox Purinton, is the shop foreman — knew Dirt for three years. In 2021, Madison took on the membership coordinator role for NNRy and became one of Dirt's primary caretakers.
Lennox, who started off volunteering, knew Dirt since he was 6. One of his fondest memories was of filming Ghost Adventures at the museum, known for its haunted yard. "I was involved with the filming in the enginehouse, and during the investigation, Dirt scared the life out of the investigators when he came out from the shadows," says Lennox.
As his official "cat wrangler," Madison was responsible for the majority of the "Dirt & DJ" posts on Instagram/Facebook, as well as preparing him the night before to go to the vet. Even though she didn't work there long, she and Dirt quickly became buddies. Dirt showed up for a lot of tours over the years, and never missed any of the ones she ran.
"People would only join tours in hopes of seeing him, and I remember one time, I had a group of around 40 to 50 people. We had just hit the enginehouse when he made his appearance. Sometimes he chose to follow for the whole tour, other days he'd stop in the enginehouse or at his caboose." Well, on this tour, Dirt decided to stay in the enginehouse while Madison continued the tour. "It went from 40 to 50 people to about 15 to 20 people. Talk about stealing the spotlight!" recalls Madison.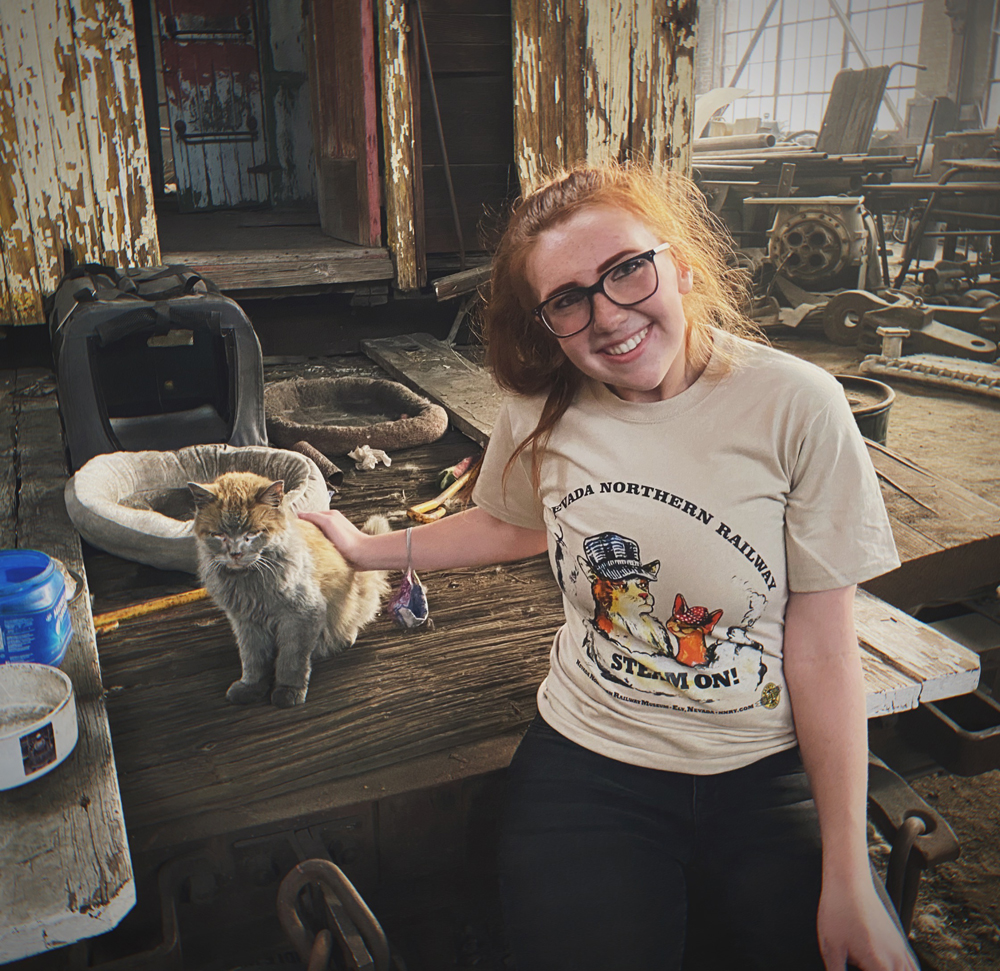 "He knew exactly how popular he was, and he owned it!" says Madison. "It's almost like when large groups of people saw him, he turned into a show-off and had such a big head. Then when it was me and him, he was just like any old house cat."
The legacy continues
Two life-size bronze statues of Dirt will be cast. One will be put on his gravestone at his gravesite, and the other will be in the machine shop where he can continue to watch over his fellow crew members. The gravesite is easily accessible to the public for visiting. It's on a knoll right outside of the East Ely Depot. A livestream memorial service is being planned; date and time are yet to be determined.
The Nevada Northern, as most railroads, has a long history of animals working side by side with their shop employees. From dogs to cats, they have all been loved by the crews, but none have made such a lasting impact as Dirt according to the NNRy's Facebook post on January 12.
"Dirt's passing is not the end of his story; it's just the beginning. In much the same way that Chessie became a lasting symbol of the C&O, Dirt will continue to be a symbol of the NNRy, and his story will continue to be told to the thousands of visitors that will be exploring his former home." There have already been sightings of Dirt's ghost, according to Con.
As another official tribute to Dirt, Con had the honor of placing Dirt's official railroad I.D. card into the archival collection. The card, food bowl, and collar will eventually be on display in the depot. Dirt also holds the honor of being formally listed in the employee roster on their archive site.
In the end, the NNRy saved a stray and gave him a good life. Eric says, "the reality of Dirt is he touched thousands of people's lives and made them a little better for knowing and following his adventures. He was truly a special cat."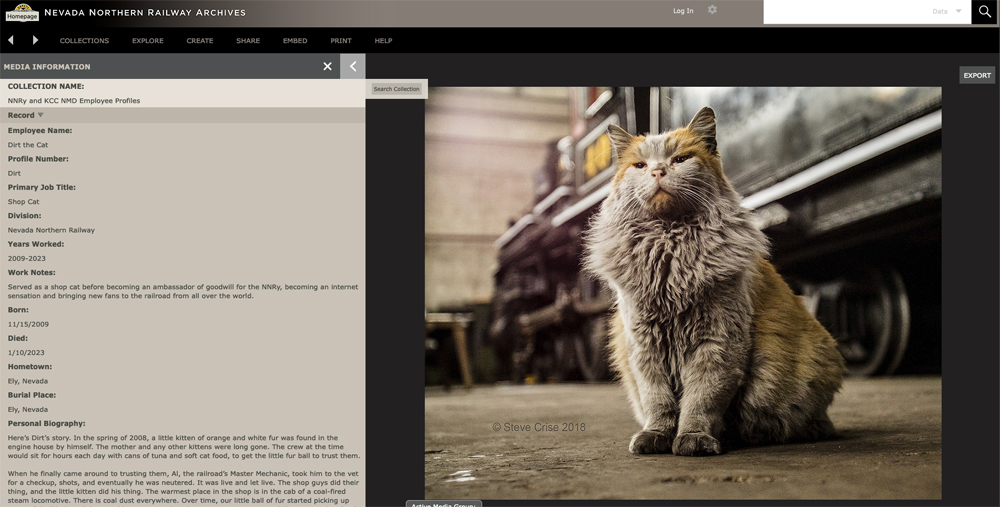 Dirt the railroad cat facts:
Employee name: Dirt the Cat
Nickname(s): Boss Shop Cat and That darn cat!
Primary job: Shop Cat
Division: Nevada Northern Railway
Years worked: 2009 to 2023
Born: March 2008
Died: 1/10/2023
Hometown: Ely, Nevada
Favorite food: Temptations (seafood flavored cat treats)
Favorite people: Al Gledhill (master mechanic), Mike Calchera (track crew), and Eric Mencis (guest services manager, aka, Dirt's Agent)
Favorite place: caboose
Likes: food, people, attention (pets), rolling in dirt
Dislikes: super loud noises and dogs
Dirt also has his own merchandise
Dirt has a protege named D.J. or Dirt Junior
Check out the News Wire article and previous story on Dirt.