Dirt the Cat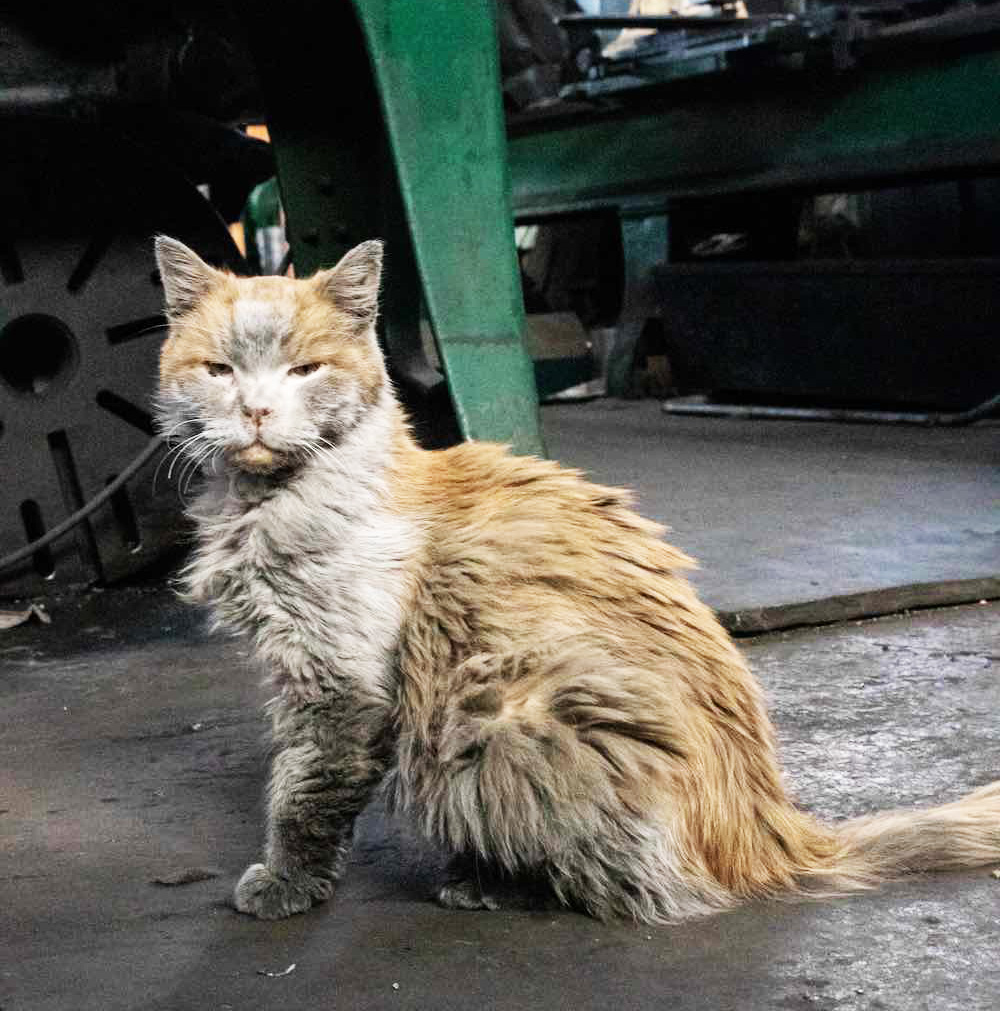 One of the world's most famous cats is a railroader. Dirt, his fur coat stained by a lifetime amid the soot and grease of Nevada Northern Railway's 114-year-old engine-servicing facility, is nobody's pet and everybody's friend. The people-loving shop cat has an international following thanks to a series of widely shared social media posts.
His fame is even more remarkable given his humble start. In 2008, a feral cat gave birth to a litter of kittens under the railway's rotary snowplow, which was parked on a shop track. The mother soon moved her kittens, but for some reason Dirt was left behind. Shop workers and locomotive crews noticed the abandoned kitten hiding in a floor drain in the shop and, thanks to strategically placed open cans of tuna fish, won his trust. He has lived in the shop ever since. Despite the noise, smoke, and steam, it's the only home Dirt has ever known, and the shop workers are his family.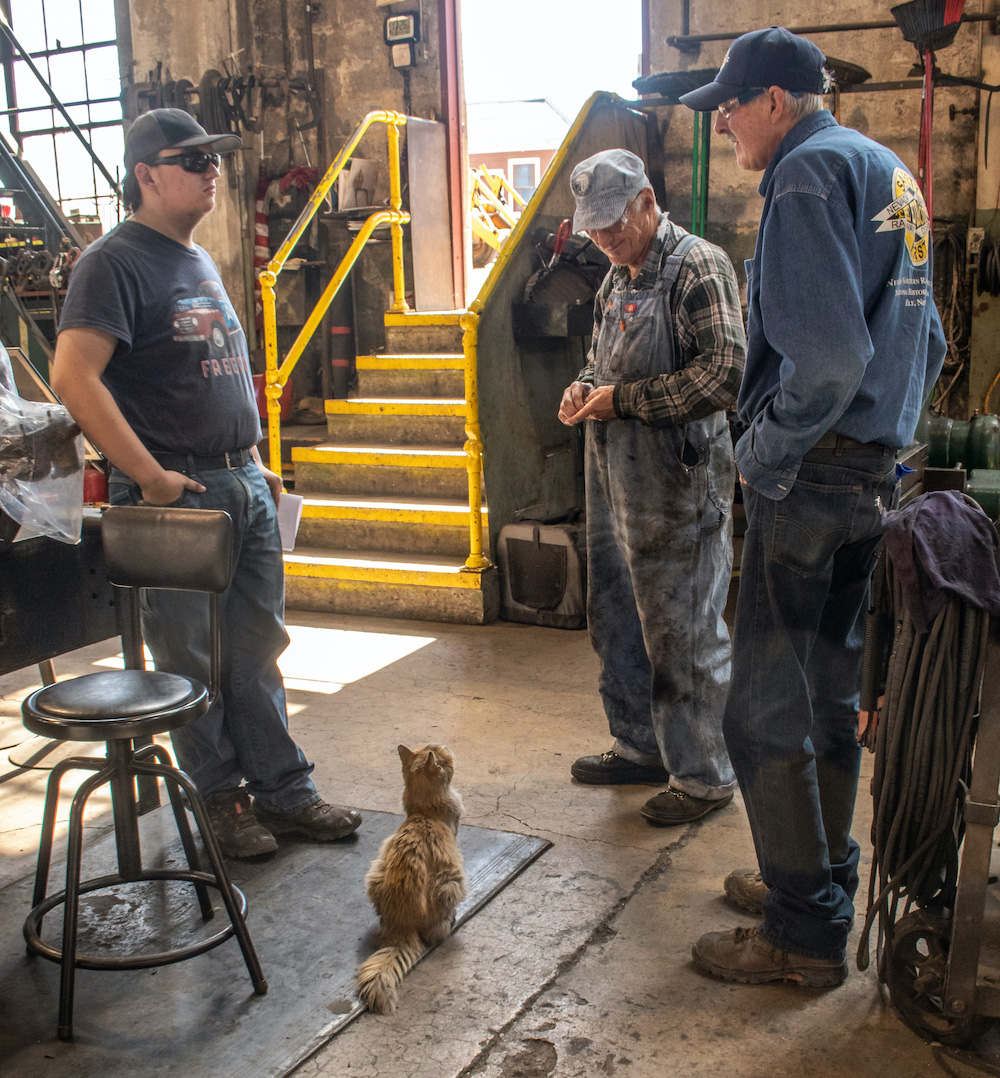 The Nevada Northern Railway, a designated National Historic Landmark located in Ely, Nevada, prides itself on authentically recreating steam-era operations and Dirt fits that mission. After all, maintenance facilities in railroading's early days often had a resident cat to keep mice and rats in check. But Dirt had his own ideas of his role, and decided it was his job to greet visitors to the cavernous engine house and machine shop complex he calls home. Now 15 years old and showing his age, he still manages to meet most tour groups, pose for photos, and doesn't mind the occasional gentle scratch behind the ears.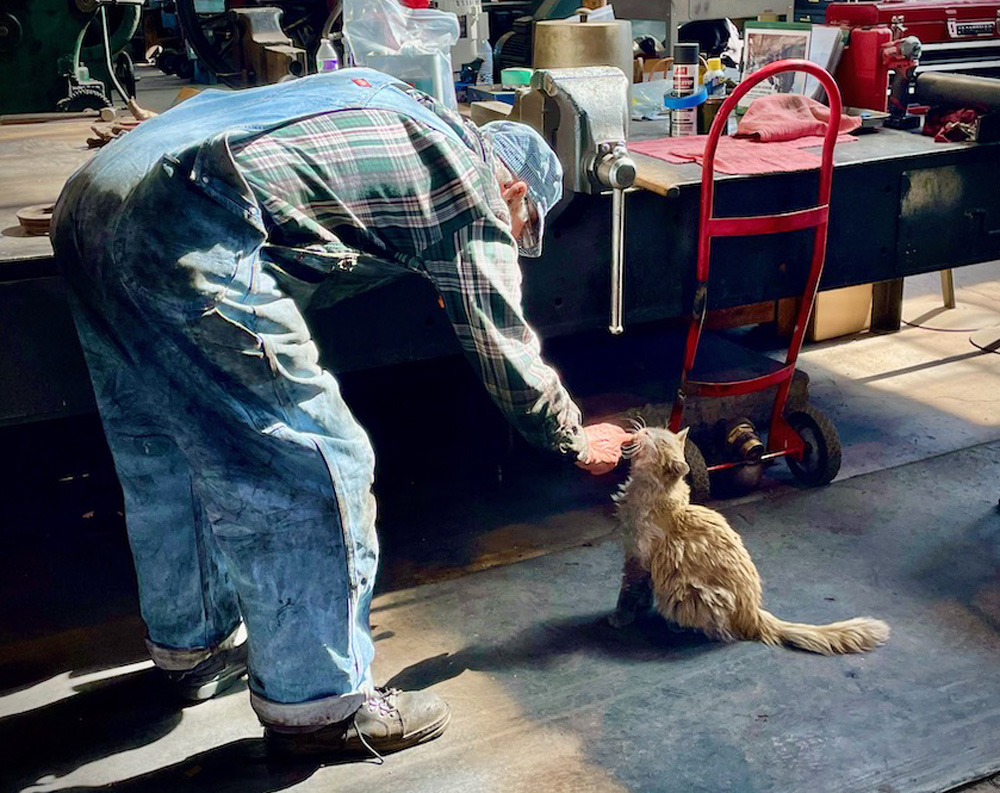 His habit of rolling on the shop floor and sleeping on coal piles left its mark on his orange and white markings, but he is well cared-for by the railway's staff and volunteers who make sure he has plenty of food, an electric heating pad to sleep on when winter comes, and regular veterinary care. You would expect nothing less considering Dirt's nickname around the railroad is "King of the Shop."
For information on visiting the Nevada Northern Railway, visit its website at www.nnry.org