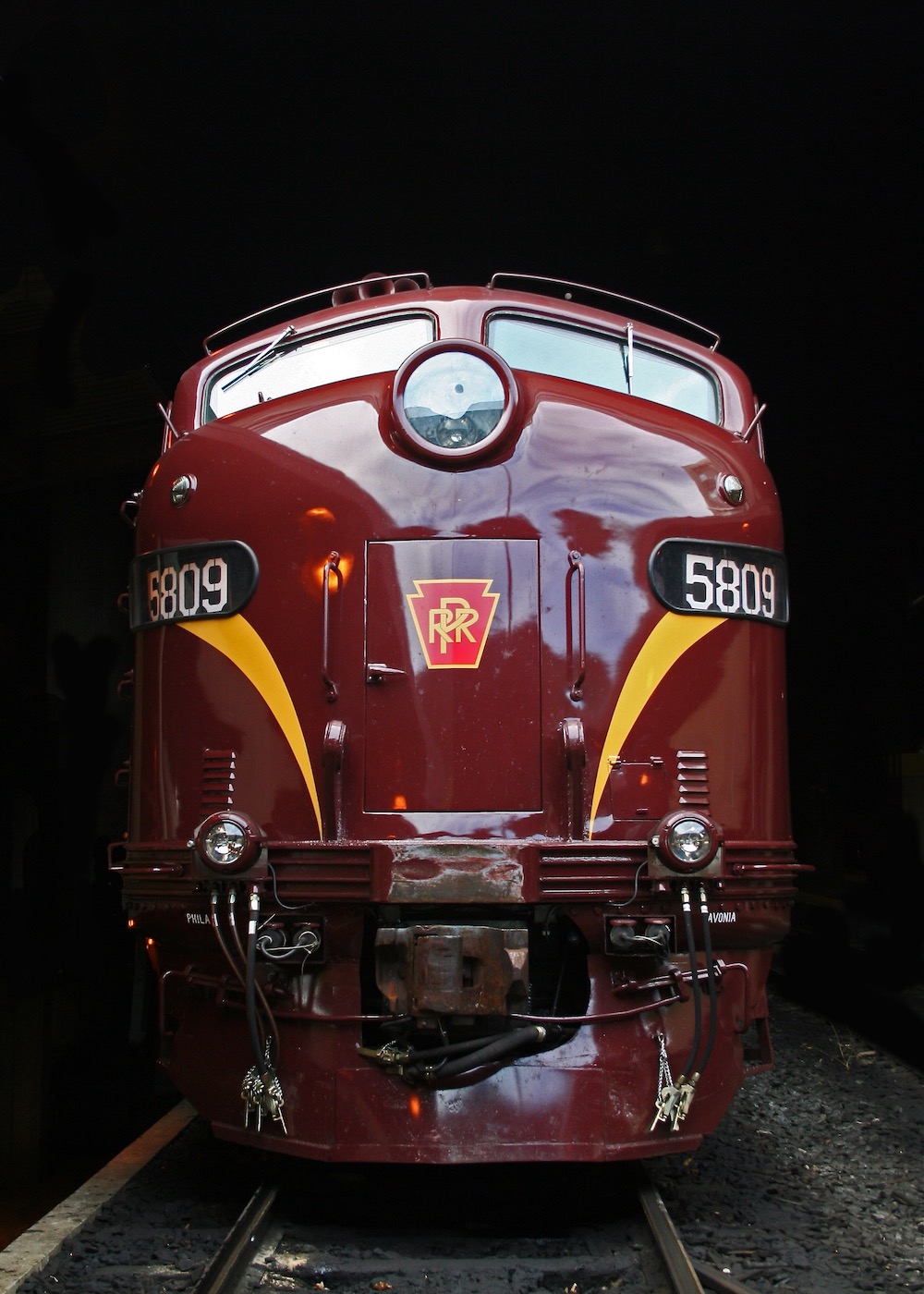 ---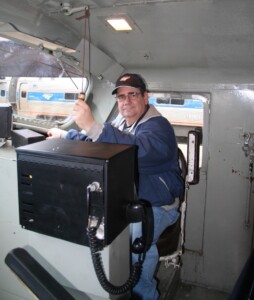 When the Amtrak car inspector standing in the doorway of one of Bennett Levin's majestically restored EMD E8 locomotives asked if I used to run them, I replied, "You bet I did."
"Remember how to do a brake test on one?" he asked, hinting that he didn't. "If anyone does, it has to be you." I reminded him that everything comes at a price. "Only if you use my camera to take a shot of me at the throttle — for old times sake."
"You got yourself a deal, Doug."
Nearing the end of my railroad career, the sleek Keystone speedster and her twin, sat joined at the hip, their four shared prime movers played a railroad symphony, in disjointed harmony. Poised to power the annual Army-Navy Special from Washington to Philly, they bought tears of joy to my eyes. As I squeezed my overabundant posterior through the cab door, and eased into the right-hand seat, I became painfully aware that some things never change. The dimensions of locomotives are rigid. Those of the men they were designed to accommodate aren't. (You should have witnessed me attempting to get into the cab of a Pennsy GG1. On second thought, I'm glad you didn't.)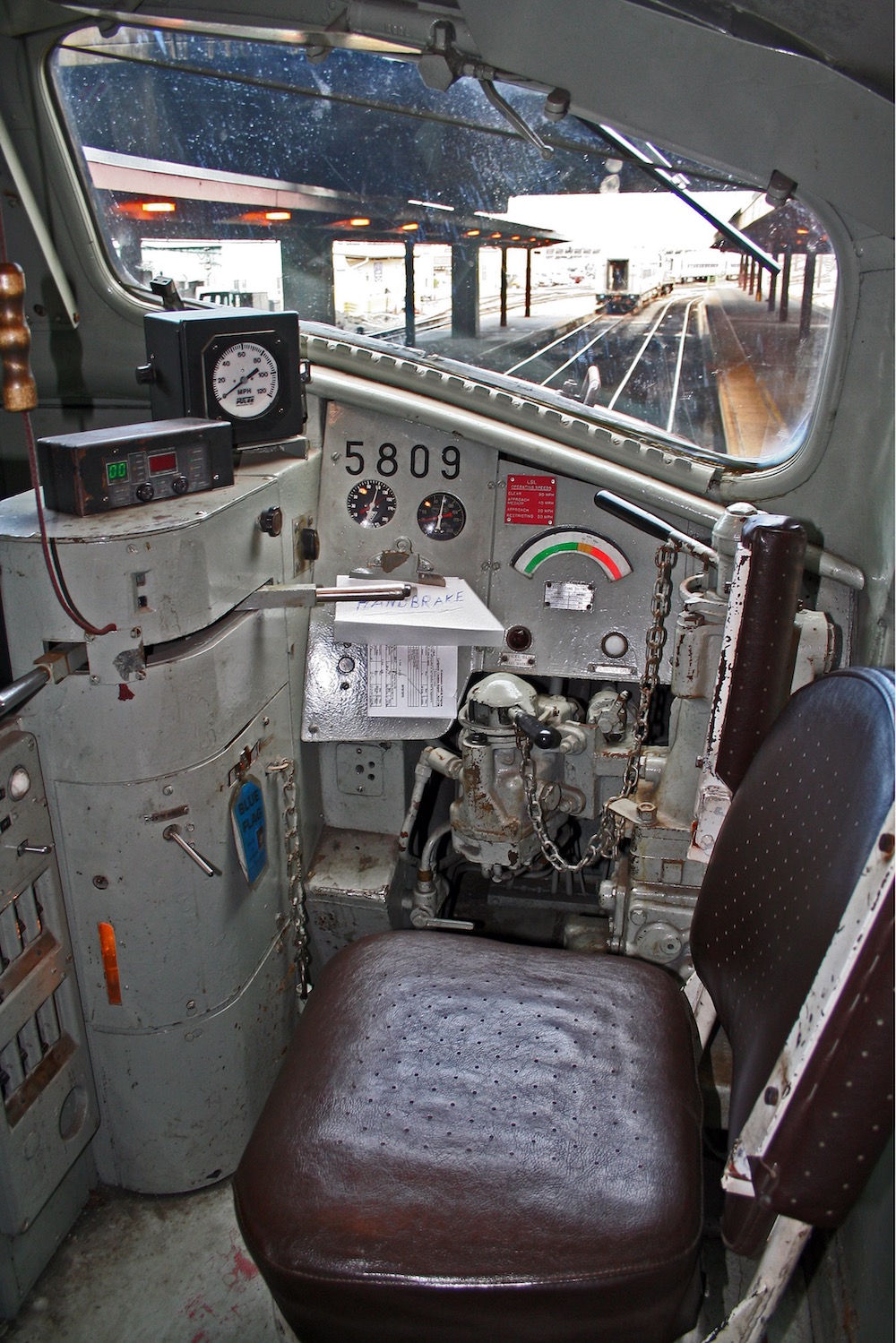 I cut my teeth on E8s and GP7s when I was hired by the Seaboard Coast Line in 1977. After I moved over to Amtrak, I was sure that my hands would be holding the grab irons of an Electro-Motive Division F40PH when I climbed down from the cab at the end of my final run. Instead, my dear friend, Amtrak President, Joe Boardman, saw to it that I was at the throttle of freshly scrubbed General Electric P42 No. 156 — painted in Amtrak's red-nose Heritage scheme —when I halted the Silver Star, (on time, of course), at Richmond, Va., on Dec. 17, 2012, for the last time.
Ten years and three books later, along with appearances in print and on cable news, another voice from the past beckoned. "Amtrak, locomotives, and someone who can tell readers about them from a personal perspective," said Trains Magazine Editor Carl Swanson. "Who else but Doug Riddell?"
Carl — along with Brian Solomon, Trains Travel columnist — first invited me to spin my tales of the rails, in the original Passenger Train Journal in 1996. Carl's invitation was like hearing the voice of Plug Stegall, the SCL crew clerk: "Mr. Riddell, are you ready to mark up and work?" You bet!
My son, Ryan, now a tenured Amtrak locomotive engineer in his own right, forever quizzes me about signals, rules, and locomotives, attempting to see if he can stump his ol' man. We have a daily ritual: a phone call during his commute to work. The mere mention of a former coworker or the location of a station in the timetable triggers memories. The words pour out.
I hope you'll climb into the cab with me once again, or, for the first time. Railroading is as much a story about the people who enable the wheels to turn, as much, or more than the trains themselves. I'll promise you; it won't be a dull ride.
Clear signal. Let's roll!
Like this? Read "From the Cab: Locomotive controls then and now."