Mind-blowing Conrail facts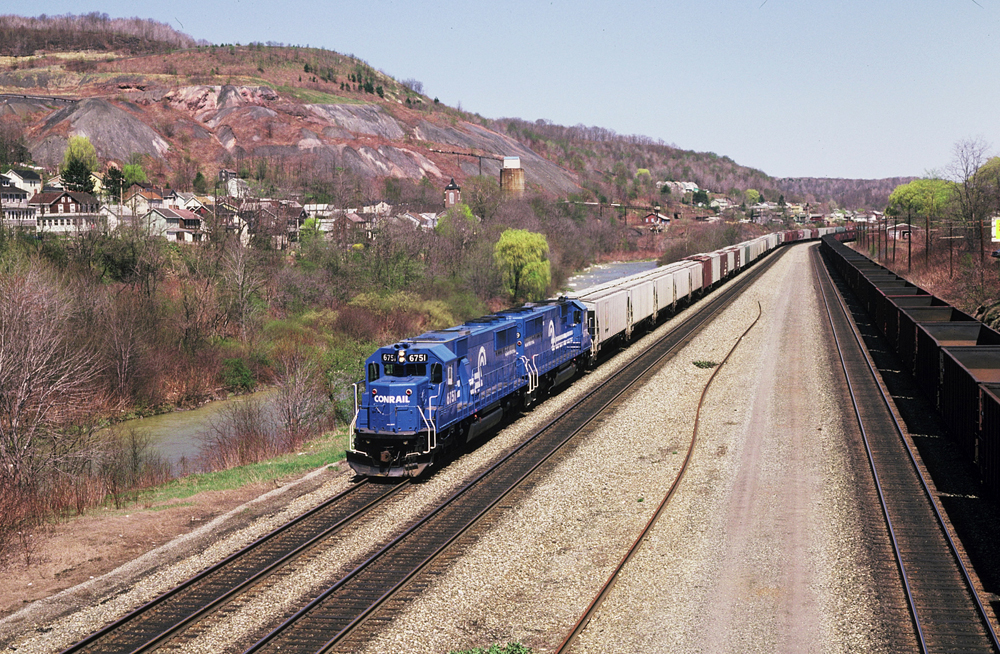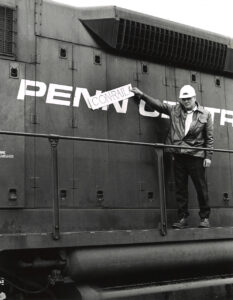 ---
Arguably, the Consolidated Rail Corp. story is one of the darkest and yet brightest chapters in American railroad history. Consolidated Rail Corp. or Conrail — originally spelled ConRail — was the government-led and financially backed bailout of six Northeastern railroads. In the late 1960s and early 1970s, the demise of the Penn Central, Central of New Jersey, Erie Lackawanna, Lehigh & Hudson River, Lehigh Valley, and Reading, plus the near collapse of the Pennsylvania-Reading Seashore Lines, brought about a situation that, without help, would have had a dramatic negative impact on the industrial Northeast and shaken the entire U.S. economy.
The federal government stepped in, reorganizing the six railroads into one quasi-governmental corporation, and giving them the financial assistance with which to attempt rebirth. Considering that Conrail began operations on April Fool's Day — April 1, 1976 — the enterprise was not expected to survive. Advance 22 years to July 23, 1998, the day the Surface Transportation Board approved the division of Conrail between CSX Transportation and Norfolk Southern. They paid $10.2 billion for what, at the time, was America's fourth-largest railroad.
Here's five mind-blowing Conrail facts:
No.1  Conrail lives
When Conrail was divided, three areas were left to the common ownership of CSX and NS — North Jersey, South Jersey/Philadelphia, and Detroit. Sole ownership of the Shared Asset Areas would have given one railroad the advantage over the other in these areas. Today, Conrail operates nearly 1,200 miles of track on behalf of CSX and NS in the three shared districts. It operates as a switching and terminal railroad, but do not handle any customer commercial matters. Today's Conrail simply moves outbound freight to either CSX or NS and delivers inbound loads or empty cars to customers.
No. 2 At the time, Conrail's initial stock offering was the largest ever
When the U.S. government moved to sell its 85% share of Conrail, the results were record breaking. The initial stock offering on March 26, 1987, hauled in $1.65 billion ($4.25 billion in 2023). The stock opened at $28 per share, but soon climbed to $31.50. By the end of the first day, 18 million shares had changed hands with the stock settling back to $30.75.
No. 3 Cutting track and locomotives
On day one, Conrail started with over 26,800 miles of track covering nearly 17,000 routes miles. It was noted, however, that 50% of the route miles produced 80% of the revenue. Needless to say, Conrail did some pruning in the upcoming years.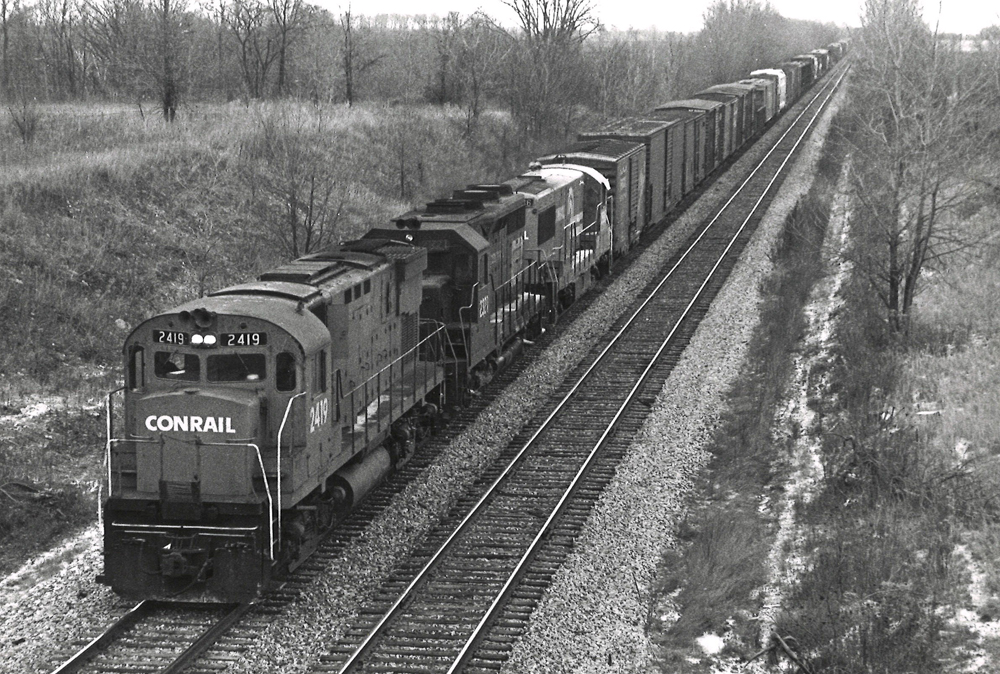 ---
The same was true of its inherited locomotive fleet. Depending on how they were counted, Conrail began with 4,877 to over 5,000 locomotives. Of this number, 10% (493 units) were not serviceable. In 10 months, the unserviceable list ballooned to 775 locomotives. Complicating matters, the fleet was 73% EMD, 11% Alco, and 11% GE, and was accented with 31 Baldwin locomotives and 160 electric units. Shop crews battled through Conrail's first winter, fighting not only the brutally cold, wet weather, but a maintenance backlog that sidelined locomotives on a regular basis. From this patchwork roster, Conrail moved to purchasing new locomotives culminating in orders for EMD SD70MACs and SD80MACs.
No. 4 A GG1 in Conrail blue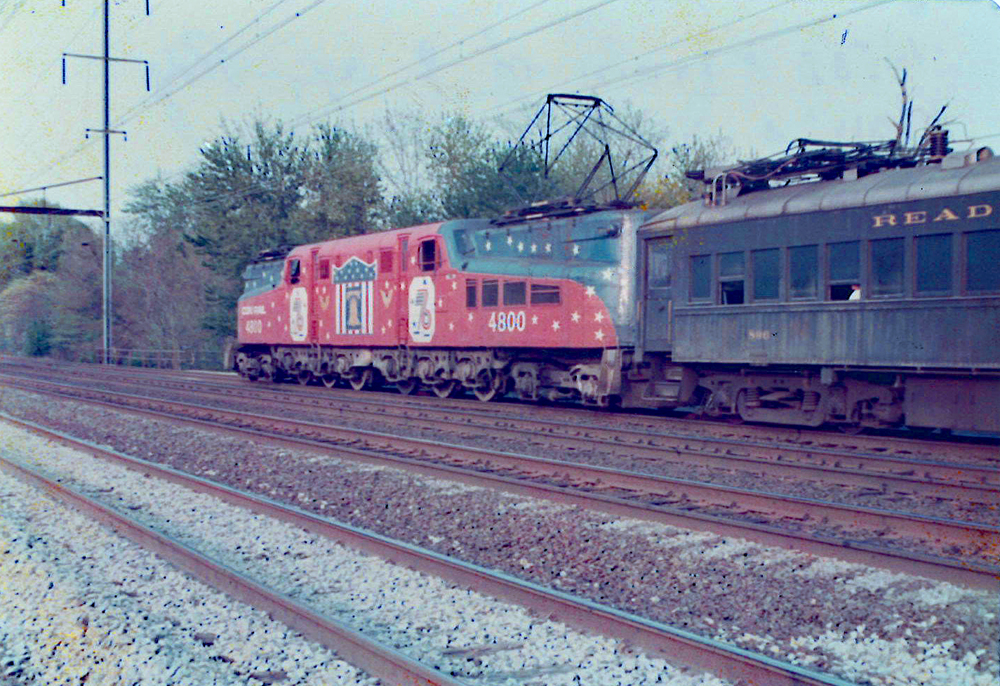 ---
In retrospect, the idea of an ex-Pennsylvania Railroad GG1 receiving Conrail's blue paint seems odd, unusual, or even mind-blowing. Consider that 139 GG1s were rostered by the Pennsy. Conrail inherited 66 of the big electric motors, adding to the initial eclectic mix of its locomotive ranks. From this perspective it would be natural that a GG1 would turn blue. What is unusual, or purely coincidence, is that the only GG1 to wear Conrail blue is No. 4800, the first of the class, which was nicknamed Old Rivets. (No. 4800's body was riveted together, while the balance of the GG1s had welded body panels.) Another distinction for No. 4800 is that it was the only GG1 to wear a Bicentennial paint scheme. Before Conrail blue, the railroad painted No. 4800 with one of the wilder salutes to America's 200 years to grace a railroad locomotive.
No. 5 Conrail brown and the can opener
We know Conrail blue and the semi-abstract wheels-on-rails logo as the railroad's corporate identity. There was, however, an alternative considered. How about ConRail brown with imitation gold lettering? Both blue and brown paint schemes were considered, along with different ways of spelling the company name. Blue beat out brown and a lowercase "r" was chosen over the capital letter. Such a bright blue color was not being used by any other Class I railroad in Conrail territory at the time. It was also a break from the darker colors of predecessor railroads, especially Penn Central black. Credit for the logo goes to Tony Palladino (1930-2014). Palladino was a New York artist with a stable of notable clients. In the realm of pop culture, he is recognized for work on the jacket of Robert Bloch's 1965 novel "Psycho." The typeface Palladino developed for the cover later influenced the graphics in Alfred Hitchcock's film version of classic horror film. Many thought Palladino's wheels-on-rails logo resembled an older-style can opener at work.