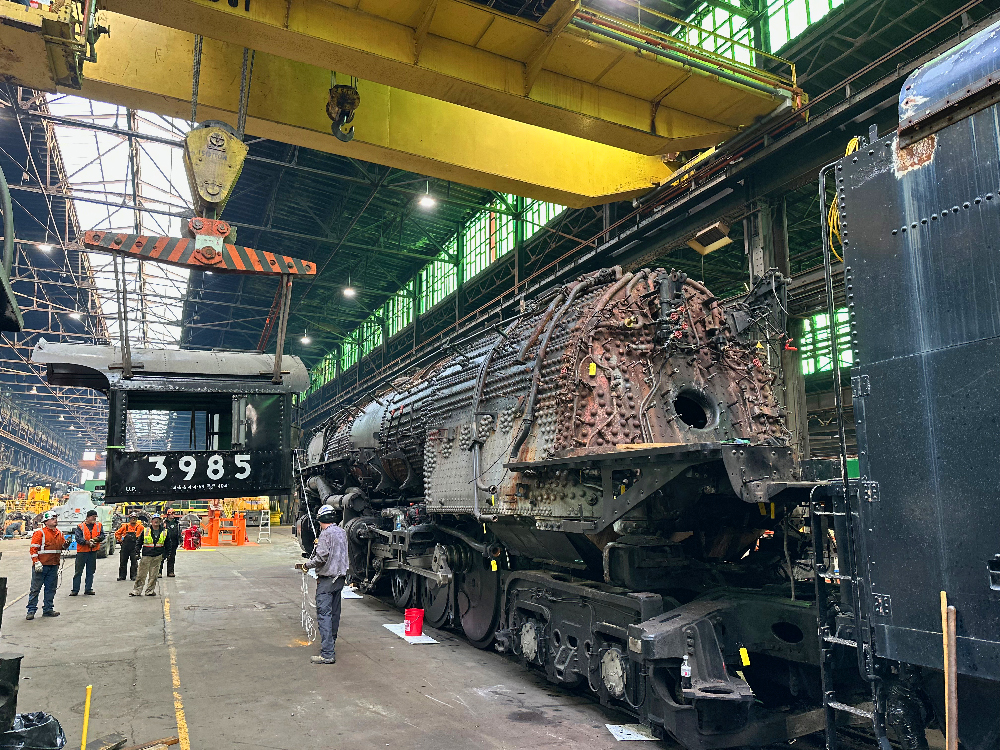 SILVIS, Ill. – Railroading Heritage of Midwest America crews have taken the first steps toward returning Union Pacific Challenger No. 3985 to operation this week by stripping parts off the 4-6-6-4. Today crews lifted the cab off the locomotive.
"RRHMA crews have been making good progress all week striping down [No.] 3985," says Steve Sandberg, president and COO of RRHMA. It's the first step in the process that will eventually result in No. 3985 returning to operation. The locomotive last operated for UP in 2010 and was stored at Cheyenne, Wyo., until last year as UP shifted its steam program's focus to the restoration and operation of Big Boy No. 4014.
In addition to No. 3985, the Milwaukee Road turntable from Bensenville, Ill., donated by Canadian Pacific is being moved to the Silvis sandblasting booth where it will be cleaned and painted, Sandberg says. A local steelworkers union has offered to repair steel on the turntable as part of a training program for new steelworkers, Sandberg added. When the turntable is finished a pit will have to be dug out on the footprint of the original Rock Island turntable, which was removed decades ago.
In April 2022, RRHMA and Union Pacific jointly announced an agreement through which the railroad would donate Challenger No. 3985, 2-10-2 No. 5511, DDA40X No. 6936, and other equipment from UP's Heritage Fleet to RRHMA. The equipment was moved by UP to Silvis in November 2022. RRHMA plans to restore both steam locomotives to operating condition. [see "Top 10 stories of 2022: No. 7, Railroading Heritage of Midwest America makes its mark in Silvis," "News Wire," Trains.com, Dec. 27, 2022]
RRHMA is still seeking donations through a double matching grant program. Any donation will be matched twice by other donors. For example, a $100 donation will result in a $300 donation through the matching program. Donation can be made by visiting the RRHMA website.