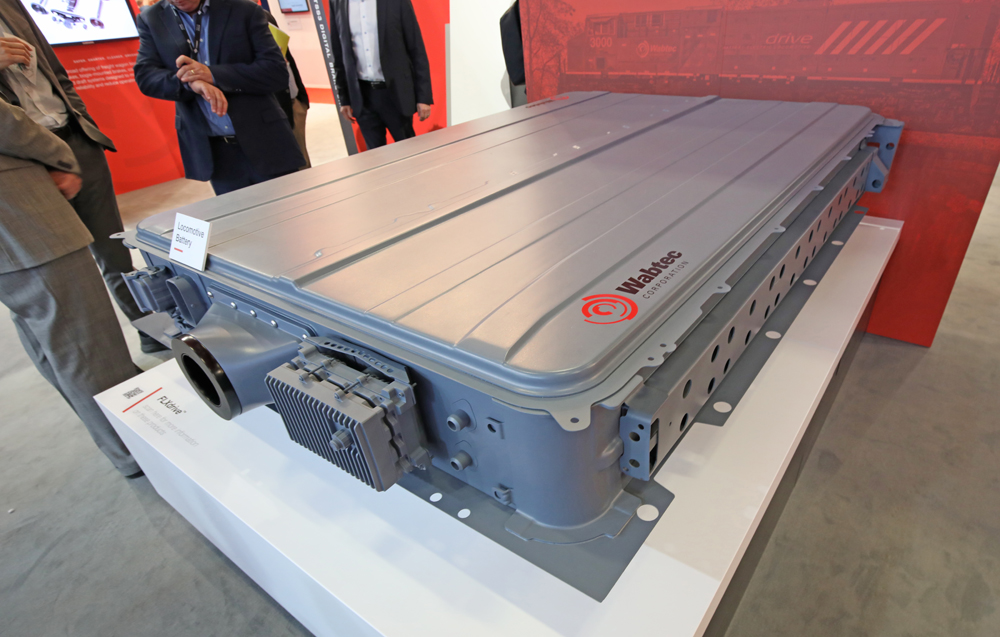 ---
BERLIN — Wabtec has presented a range of new technology at the InnoTrans trade fair intended to enable rail operators to reduce fuel bills while offering shippers more efficient and predictable service. In a series of exclusive interviews with Trains News Wire, Wabtec executives outlined the likely transition from diesel to alternative fuel types for North American and global rail operators over the next two decades.
Major North American railroads have set emissions-reduction targets in response to pressure from investors, government and other stakeholders. By the 2030s, Wabtec foresees North American freight railroads using locomotives powered by a mix of hydrogen and battery power, although the process will not be an overnight transition and depends on technological advances making alternative energy sources economically viable.
Batteries everywhere
Wabtec and predecessor companies such as GE Transportation have been looking at battery and other alternative energy sources for locomotives for several decades. However, as Philip Moslener, corporate vice president advanced technologies, explained, the cost of battery power in the past was too high to be economical. A kilowatt-hour (KWh) of battery power cost $1,100 in 2010, but thanks to huge investments in battery technology by the auto industry, this has fallen dramatically — to $137 now with $100 forecast by next year.
Realizing that rail industry use of batteries would never compete in scale with the auto industry, which now produces thousands of electric vehicles daily, Wabtec has partnered with General Motors, which is building lithium-ion batteries at several sites in the USA [see "Wabtec, GM sign deal …," Trains News Wire, June 15, 2021]. While a new car might have one battery, these batteries can also be used in multiple to store energy to power locomotives.
Wabtec launched its FLXDrive battery-powered demonstrator in 2021, which subsequently tested on BNSF Railway in service between Stockton and Barstow, Calif. That unit had a power rating of 2.4 megawatt-hours (one MWh = 1000 KWh) and achieved net energy savings of 11% compared to diesels in tests [see "Wabtec, BNSF conclude initial tests …," News Wire, April 30, 2021]. Unlike diesels, which lose energy created when braking — as heat through roof mounted resistor — the battery locomotive can recover the energy and use it again to power the train when it re-starts. Such technology has been in use in electric passenger trains for decades but until now hasn't been available to diesel-operated freight.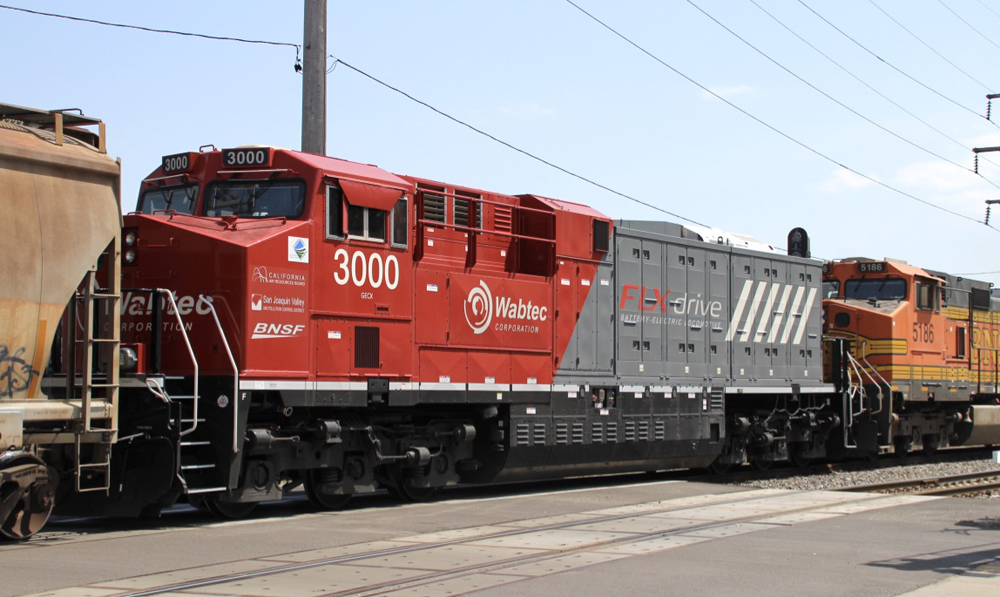 With advances in battery technology, the next FLXDrive units should have an 8 MWh power rating. As Moslener points out, this is still substantially less power than a locomotive's full tank of diesel fuel. A 5,000-gallon tank on a current locomotive is the equivalent of 76 MWh; with current battery technology, this would require more space than is available on any locomotive. The newer locomotives use larger batteries than the original FLXDrive unit, so the locomotive configuration will change. Batteries will take up the width of the long-hood area, eliminating the central walkway between the battery packs in the original demonstrator.
Hydrogen future?
Wabtec believes hydrogen and other possible fuels, such as ammonia, are likely to enable rail operators to move from pure fossil-fuel diesel over the next decade or two. Currently the economics don't favor the switch, despite record high diesel prices. Liquified Natural Gas is also an option, although while cleaner in emissions terms, it is not carbon neutral.
The change to using substantially more hydrogen is likely to come in the late 2020s when the price of so-called "green hydrogen" has come down to that of diesel. Hydrogen can be used in locomotives either as a fuel burned in internal combustion engines (as can LNG), or in fuel cells to generate electricity. A gallon of diesel offers the same power as a kilo (2.2 lbs) of hydrogen. Current prices for "grey hydrogen," made by reforming natural gas, are slightly lower than diesel ($1 vs. $3), but as both are fossil fuels, do nothing to help reduce carbon emissions. Green hydrogen, made by electrolysis of water using renewable or zero-emission electricity (wind, solar, hydro, and nuclear) currently costs $5-10 a kilo, but this is projected to come down to $1 by 2030.
Wabtec says it sees hydrogen as the means to give non-diesel-powered trains the ability to run long distances, whilst battery locos can provide a major power boost in starting trains, as well as recovering energy and storing it when they stop. It is clear the two technologies will work best together, although the best combination of hydrogen and battery locomotives will depend upon the route and train makeup.
The company see storage space for hydrogen as one issue, with the concept of tender cars, already in use by Florida East Coast with LNG-powered units, likely to make a comeback. Whether new units built to run on hydrogen will outnumber existing ones retrofitted to burn the fuel is unclear and will depend upon how quickly the price of  green hydrogen comes down.
Other alternatives to hydrogen do exist, but Moslener points out rail is competing with other transport modes for finite amounts of fuel. The aviation sector is moving to "sustainable aviation fuel" made from bio fuels such as recycled cooking oils, but unlike rail or other surface transport modes such as ships, aviation cannot use hydrogen due to space and safety reasons.
Big battery order
Wabtec has previously sold 30 FLXDrive locomotives: 18 to Australian mining companies, 10 to Union Pacific, two to Canadian National. At InnoTrans, the company announced a major order for 150 battery-powered switch engines for railroad Kazakhstan Temir Zholy (KTZ) in the central Asian country, which has previously bought GE Transportation-built diesels and used GE kits to modernize its fleet of Soviet-built locomotives as well. The $600 million order is for 1.5MWh FLXDrive switchers. These four-axle locos will be 100% battery powered and should enable KTZ to reduce the fuel cost of its yard operations by approximately $75,000 per locomotive per year whilst reducing scheduled maintenance costs by up to 97% annually compared to diesels.
The contract also includes modernization work to transform the existing KTZ mainline diesel fleet, which includes several hundred GE ES44ACi locomotives (KTZ Class TE33A), into "NextFuel" LNG locomotives. This will more than double the locomotives' operational range, from around 800 miles to nearly 2,000, whilst cutting fuel costs by up to 26%. Wabtec and KTZ also plan to collaborate on digital solutions for the fleet, using Wabtec's Trip Optimizer system to further reduce fuel consumption by at least 5%.
Digital future for freight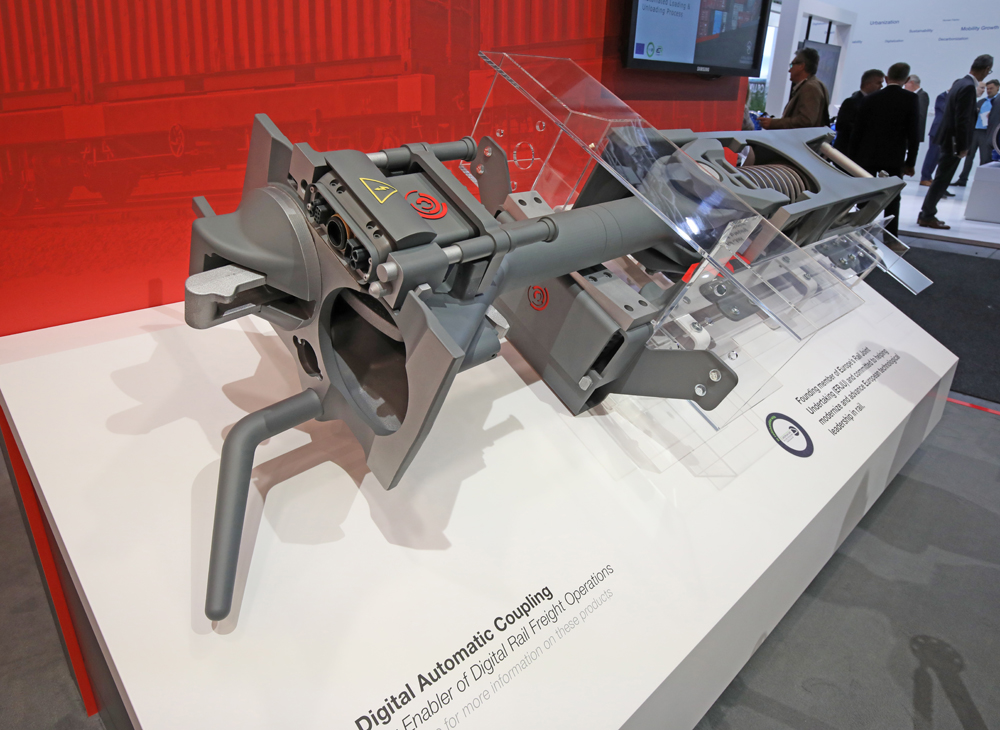 Freight railroads' focus on cost reduction and operational efficiencies is well known and applies equally in Europe as in North America. Digital systems such as Trip Optimizer, akin to automotive cruise control, enable rail freight operators to make fuel savings of up to 10% depending on the route. In Europe, Wabtec is one of the leading companies involved in the pan-European introduction of digital automatic couplers for most freight cars.
Several years of discussion and testing of alternatives in Europe, funded mainly by the German government, has led to the adoption of the Scharfenberg automatic coupler design as the new Europe-wide standard for freight cars. The couplers, already widely used for passenger trains in Europe, combine mechanical, pneumatic, and electrical connections, enabling simplification of coupling and train building. In Europe, ground crews currently physically check each car before leaving a yard. With the digital automatic coupling, this can be done from the locomotive by the engineer. Eventually, the digital couplers may allow automated uncoupling by yard staff using tablet computers or smartphones.
Wabtec, along with a small number of European companies, are planning to manufacture the new digital couplers once the design standards are finalized. Around 460,000 freight cars will potentially be converted at an estimated cost of $10-12 billion, although how that will be financed is still under discussion.