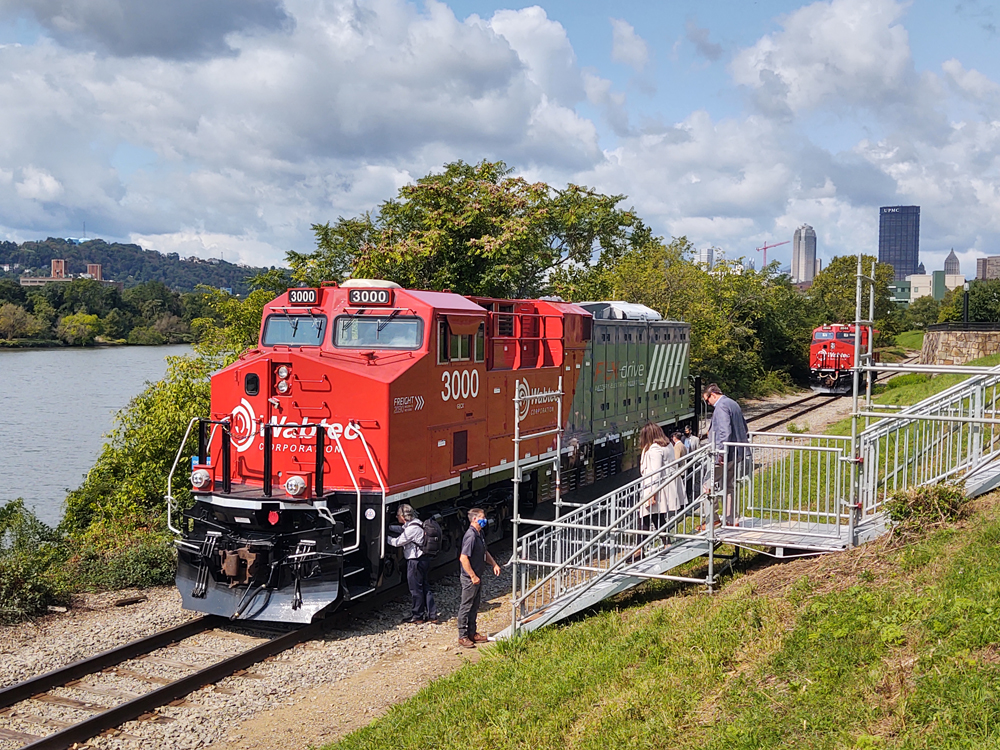 PITTSBURGH — A rail manufacturer, shortline holding company, and university have announced formation of a consortium that they hope will revolutionize American railroading and eventually reduce the industry's carbon footprint to zero.
Pittsburgh-based Wabtec Corp.; Carnegie Mellon University, known for its engineering curriculum; and shortline and regional railroad operator Genesee & Wyoming announced Friday, Sept. 10, that they have signed a memorandum of understanding to work to create a more sustainable rail freight network.
The parties will work on two fronts — developing locomotive fleets using alternative energy sources such as batteries and hydrogen fuel cells, and advancing current signaling and digital technologies to increase rail capacity and safety.
Elected officials and other speakers hailed the effort as a first step toward "decarbonizing rail freight transport." U.S. Senator Robert P. Casey, Jr. (D-Pa.) noted Pennsylvania's longstanding transportation leadership role, from the Main Line of Public Works canal-and-rail system of the 1830s to the consummate railroad town, Altoona, Pa., which once employed 16,000 workers in the Pennsylvania Railroad shops complex there.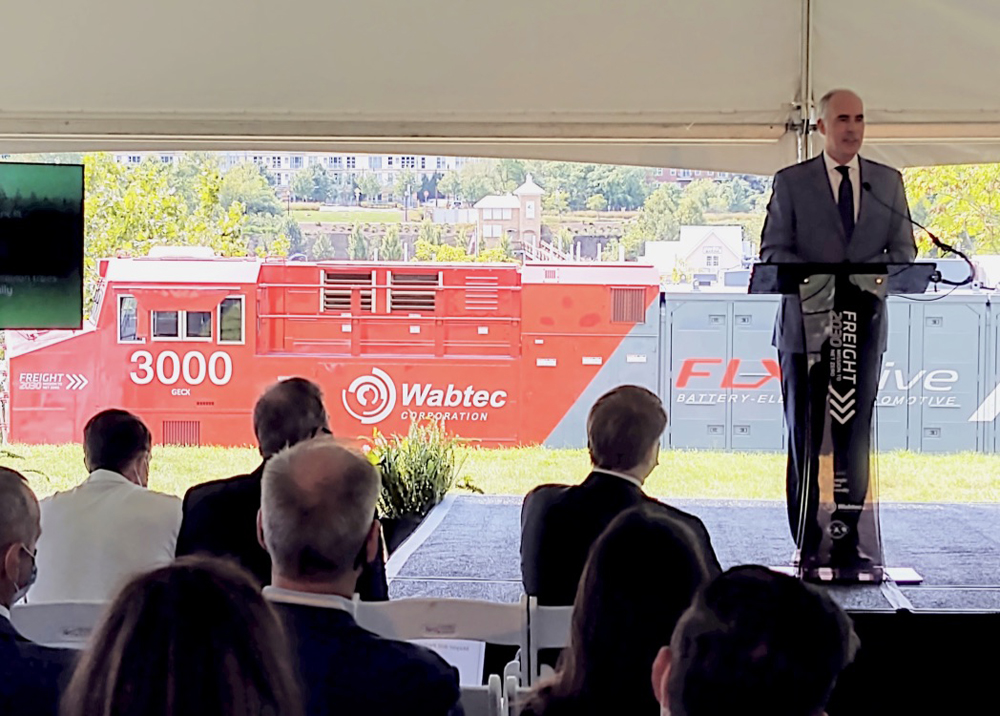 "Today's announcement will place Pittsburgh at the center of efforts to address climate change through transportation policy," Casey said, "and will also spur significant job growth, reduce greenhouse gas emissions and allow the U.S. to lead internationally in creating zero-emission solutions for rail."
In May, Casey introduced a bill, S.1732, which would allocate $600 million for a Freight Rail Innovation Institute to research and develop alternative-power locomotives. U.S. Rep Conor Lamb (D-Pa.), who also spoke Friday, was a co-sponsor of the house version of the bill [see "Digest: Industrial development firm launches rail affiliate …," Trains News Wire, May 26, 2021].  The agreement announced Friday will see Wabtec, Carnegie Mellon, and G&W formally join efforts in a partnership to pursue creation of that institute.
G&W, which owns 116 freight carriers in North America, the United Kingdom, and Europe, will provide a place to test technologies developed by the group on its Buffalo & Pittsburgh Railroad.
G&W president and CEO Jack Hellmann told Trains News Wire that Buffalo & Pittsburgh is ideal testing territory for new technology, having rugged grades, operating 130-car manifest consists, and experiencing extreme weather contrasts along its approximately 220-mile mainline run between New Castle, Pa., near Pittsburgh, and Buffalo, N.Y. "We're the incubator, we're the testing ground for these new technologies," he said. G&W anticipates operating a battery-powered and hydrogen-powered set in revenue service on the B&P within three years
Joe Parsons, president and CEO of Iowa Interstate Railroad, was in attendance and said his railroad would be interested in exploring battery-powered technology. A preliminary step, he said, would be for Iowa Interstate to upload event-recorder data to Wabtec to provide information on grades, fuel burn, and other indices that are specific to that railroad's operating profile. Iowa Interstate Chairman Henry Posner III serves on the CMU faculty.
FLXdrive details, and plans for its successor
As part of the announcement, Wabtec displayed its initial effort in alternative-energy locomotives, the six-axle FLXdrive battery-electric locomotive developed in cooperation with BNSF Railway. The locomotive completed 13,000 miles of testing in California earlier this year [see "Wabtec, BNSF conclude initial tests of battery-electric locomotive," News Wire, April 30, 2021].
The locomotive, labeled GECX 3000, is the result of several years of testing and development and was built at Wabtec's former GE Transportation plant in Erie, Pa. Wabtec acquired GE's locomotive business in 2019.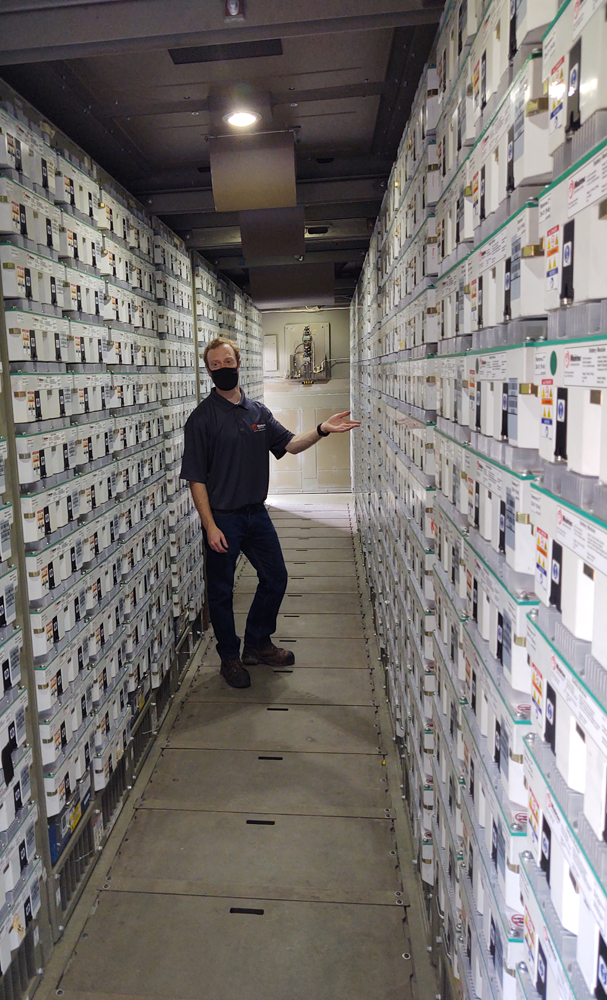 From the front, the bright red locomotive resembles other GE road power, but the resemblance stops about 15 feet behind the cab, where the carbody flares out to full width to accommodate 500 lithium-ion battery modules comprising 18,000 individual cells. An interior walkway down the centerline of the battery compartment provides crew access from the cab to the rear platform and steps. Air is constantly circulated to cool the batteries, according to Wabtec controls engineer John Dick, who added that a large HVAC unit mounted above the battery section is designed to keep the interior at a steady 74 degrees Fahrenheit, year-round.
Like a typical GE diesel-electric Tier 4 ES44 road freight model, the FLXdrive is rated at 4,400 horsepower, but it can generate sustained maximum power for only 30 to 40 minutes, according to Bruce Bloomster, a Wabtec commercial project manager. Its electricity output is 2.4 megawatt-hours, he said, but Wabtec is designing a next-generation model that will be capable of generating 7 megawatt-hours, with the increase attributable to improvements in battery technology. The next prototype is due in 2023.
From December 2020 to March 2021, GECX 3000 operated in revenue manifest-freight service on BNSF Railway between Stockton and Barstow, Calif., a run of about 370 miles. Although the engine's cab is equipped with a control stand, the prototype is designed to operate in trailing configuration only, so it typically worked with BNSF diesel units fore and aft.
Wabtec's former-GE Trip Optimizer technology, employed on diesel locomotives to serve as a kind of cruise control, was modified to allow the distribution of power loading among units operating in multiple-unit configuration, drawing on battery power first, then diesel power. To an engineer, the transition would be invisible. Another aspect of the crew cab environment is that the unit is much quieter than a conventional diesel locomotive.
Between trips, the unit is plugged into a 480-volt supply that takes eight hours to recharge. Engineers say the next iteration of the unit will reduce that to four hours, and the method of recharging may eventually be changed to a pantograph on the carbody roof.
In place of the fuel tank are two frame-mounted electrical cabinets. The front section handles charging, while the rear section is devoted to managing low-power auxiliary electricity, that is, everything not needed for propulsion.
The unit rides on a C4 configuration, having four powered axles per truck. Two center idler axles on each truck function as they do on a diesel unit, distributing the weight dynamically for maximum traction. The FLXdrive unit uses regenerative (dynamic) braking to recharge the batteries.
Using a yard track of the former Monongahela Connecting railroad (now operated by Allegheny Valley Railroad), the event was staged at CMU's Entertainment Technology Center campus along the east bank of the Monongahela River, with the Pittsburgh skyline rising behind. Speakers, in addition to Casey, Lamb, and Hellmann, included Wabtec President and CEO Rafael Santana, and William H. Sanders, dean of CMU's College of Engineering.