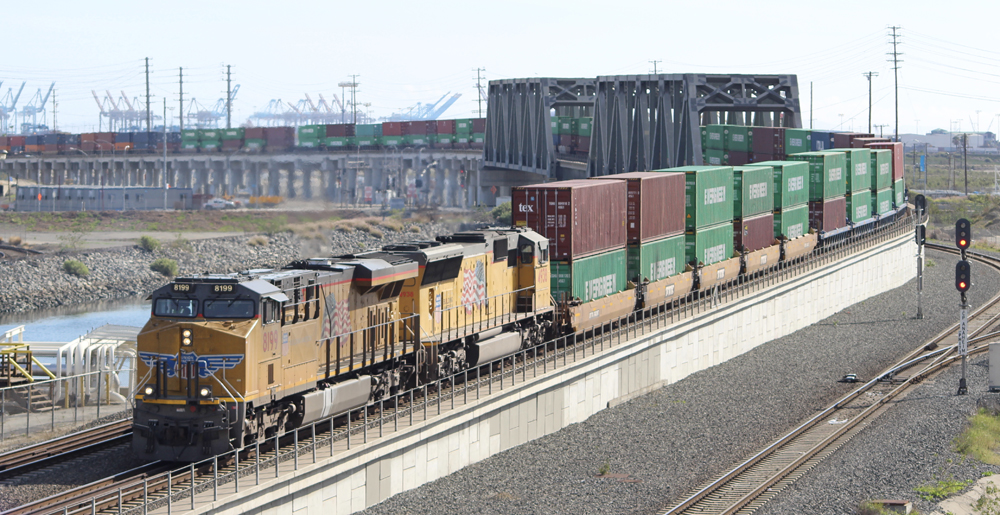 ---
OMAHA, Neb. — Union Pacific will begin using a higher percentage of biodiesel fuel in its Wabtec locomotives, the companies announced Tuesday, as part of its effort to increase its use of low-carbon fuels.
On Wednesday, Wabtec and BNSF announced similar testing plans.
Union Pacific will test the use of B20 biodiesel (20% biofuel) and R55 renewable diesel in locomotives with Wabtec FDL engines in California, beginning in 2022's second quarter. The expectation is that higher percentages of biofuels will be used as the testing progresses.
"Increasing the use of renewable diesels and biofuels currently represents the most promising avenue to help Union Pacific meets its environmental goals," Beth Whited, Union Pacific's executive vice resident-sustainability and strategy, said in a press release. "We want to drive emissions down as quickly as possible, and we believe this new project with Wabtec will make a difference."
Wabtec locomotives had previously been approved for B5 R30 (5% biodiesel, 30% renewable diesel fuel.
UP had previously worked with Progress Rail to increase the percentage of biodiesel fuel used in its EMD locomotives [see "Union Pacific to boost biofuel blend …," Trains News Wire, Aug. 19, 2021], with Progress Rail subsequently approving the 20% blend industry-wide for locomotives with 645 and 710 engines.
The testing on BNSF will involve use of B20 and R55 fuels in Tier 3 and Tier 4 locomotives operating between Barstow, Calif., and Los Angeles, and will begin in the second quarter.
"Rail is already the most carbon-efficient mode of land freight transport, and the use of these lower carbon fuels is another means for BNSF to reduce its emissions and help meet its carbon reduction goal," John Lovenberg, BNSF vice president, environment and sustainability, said in a press release.  "Wabtec continues to be a good innovation partner for us — last year, we piloted the first battery-electric freight locomotive in North America." [See "Wabtec, BNSF conclude initial tests …," News Wire, April 30, 2021].
— Updated at 7:20 a.m. on March 10 to include additional announcement of BNSF-Wabtec fuel testing.